Field Executives are the frontline resource consultants for Theta Chi Fraternity. They are experts in the fields of recruitment, expansion, chapter operations, best practices, and fraternity knowledge—both historical and current. A recruit for the Field Executive position is a charismatic gentleman, a purposeful listener, and a concrete-thinking troubleshooter; Field Executives are selected from the best-of-the-best of Theta Chi Fraternity's recent graduates.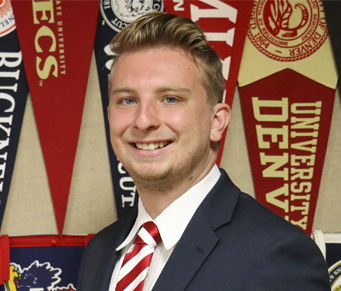 Nick Bottiglieri (Iota Theta/Central Florida 2020)
Brother Bottiglieri graduated from the University of Central Florida (Orlando, FL) with a Bachelor of Science in kinesiology. He served the Iota Theta Chapter as Housing Manager and Athletics Chairman. On campus, Nick was involved with raising money for Knight-Thon, Ronald McDonald House, and the Sports and Exercise Science program. He enjoys soccer, golf, and traveling with his family.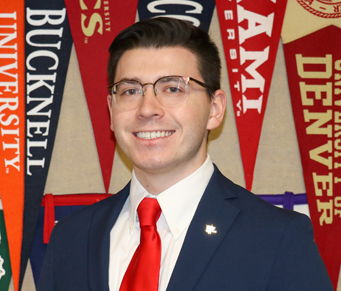 Braden Dickey (Delta Pi/Indiana State 2020)
Braden graduated from Indiana State University (Terre Haute, IN) with a Bachelor of Science in mathematics and a minor in computer science. He served the Delta Pi Chapter as President, Treasurer, Recruitment Chairman, and Social Chairman. He also served as the Volunteer Coordinator for Camp Kesem. He enjoys playing basketball, golf, and the drums.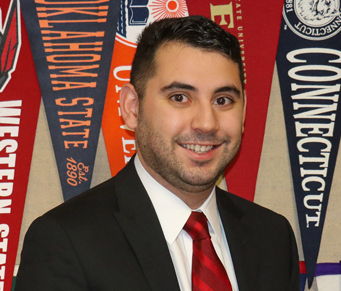 Tony Elias (Beta Lambda/Akron 2020)
Tony graduated from the University of Akron (Akron, OH) with a Bachelor of Science in accounting. He served the Beta Lambda Chapter as Treasurer, Chaplain and Historian. Brother Elias was involved in various organizations on campus including Pi Sigma Epsilon professional marketing and sales management fraternity, RooCatholic Campus Ministry, and Accounting Association. Brother Elias comes from a family of 8 and describes himself as very Lebanese. In his spare time, he enjoys cooking, playing music, sports and traveling. During Spring of 2019, Tony was recognized as "Outstanding Man on Campus" by the Beta Lambda Chapter.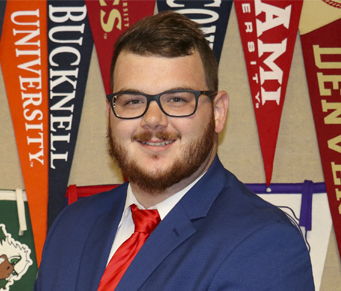 Hunter Gaglio (Iota Gamma/Grand Valley State 2020)
Hunter graduated from Grand Valley State University (Allendale, MI) with a Bachelor of Science in biomedical sciences and a minor in Spanish. He was instrumental in the rebuilding of the Iota Gamma Chapter and held many positions, most notably Recruitment Chairman and Philanthropy Chairman. In his downtime, Brother Gaglio enjoys cooking (mostly Italian food) and reading books about medical phenomena and breakthroughs that have remained relevant in modern medicine. He is a diehard fan of any sports team from his hometown of Detroit. As Hunter puts it – "It's a rough life being a Detroit sports fan but someone has to do it."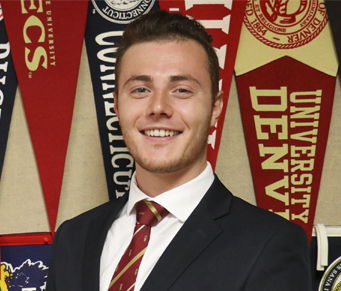 Derek Hatzenbuhler (Phi/North Dakota State 2018)
Brother Hatzenbuhler graduated from North Dakota State University (Fargo, ND) with a Bachelor of Science in strategic communication with a minor in art. He served Phi Chapter as Secretary and President. On campus, Derek was involved with numerous organizations including Student Government, Pi Kappa Phi Honor Society, and Blue Key Honor Society. Before becoming a Field Executive, he was a fellow at Dakota Medical Foundation and worked primarily on Giving Hearts Day, North Dakota's largest day of giving. Derek is the recipient of the 2017 Reginald E.F. Colley Memorial Trophy and was recognized as a Resolute Man during the 2018 International Convention.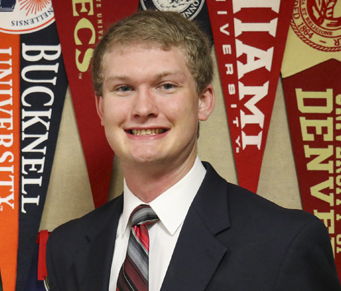 Dakota Watson (Epsilon Tau/Stephen F. Austin 2020)
Dakota graduated from Stephen F. Austin State University (Nacogdoches, TX) with a Bachelor of Arts in history with a minor in anthropology with an archaeological emphasis. He served Epsilon Tau Chapter as Marshal and First Guard. On campus, he was a founding member of the College Diabetes Network (Stephen F. Austin Chapter) and also served as the Treasurer. He was briefly on the Central Heights Volunteer Fire Department prior to graduation. After his tenure as a Field Executive, Brother Watson plans to attend fire academy and EMT training to join a professional fire department as well as work towards a masters in emergency management.
Interested in becoming a Field Executive? Email your cover letter, resume, and unofficial transcript to apply@thetachi.org. On the subject line of your message, please write "Attn: Mitch Nolan – Field Executive"