Gamma Omega/Nashville, TN Recolonized
Nashville, TN – Theta Chi has recolonized Gamma Omega in Nashville, TN. This colony is working to become the first active chapter in the state of Tennessee since 1960.
The thought to start a new fraternity came about when several friends weren't able to find an organization on campus that fit what they were looking for. Through various discussions, they came to the conclusion to try and start a new fraternity. After researching many fraternities, they decided on Theta Chi because the men felt it fit with their ideals and group dynamic the best.
In spring 2018, the interest group reached out to Taylor Dahlem, Director of Recruitment and Expansion, about reviving the Gamma Omega Chapter. From that time, and throughout the summer, Dahlem worked with the group for a hopeful recolonization. After visiting the group in early fall 2018, he was convinced the men were a great fit for Theta Chi. The group then submitted a petition to the Grand Chapter and was approved for recolonization.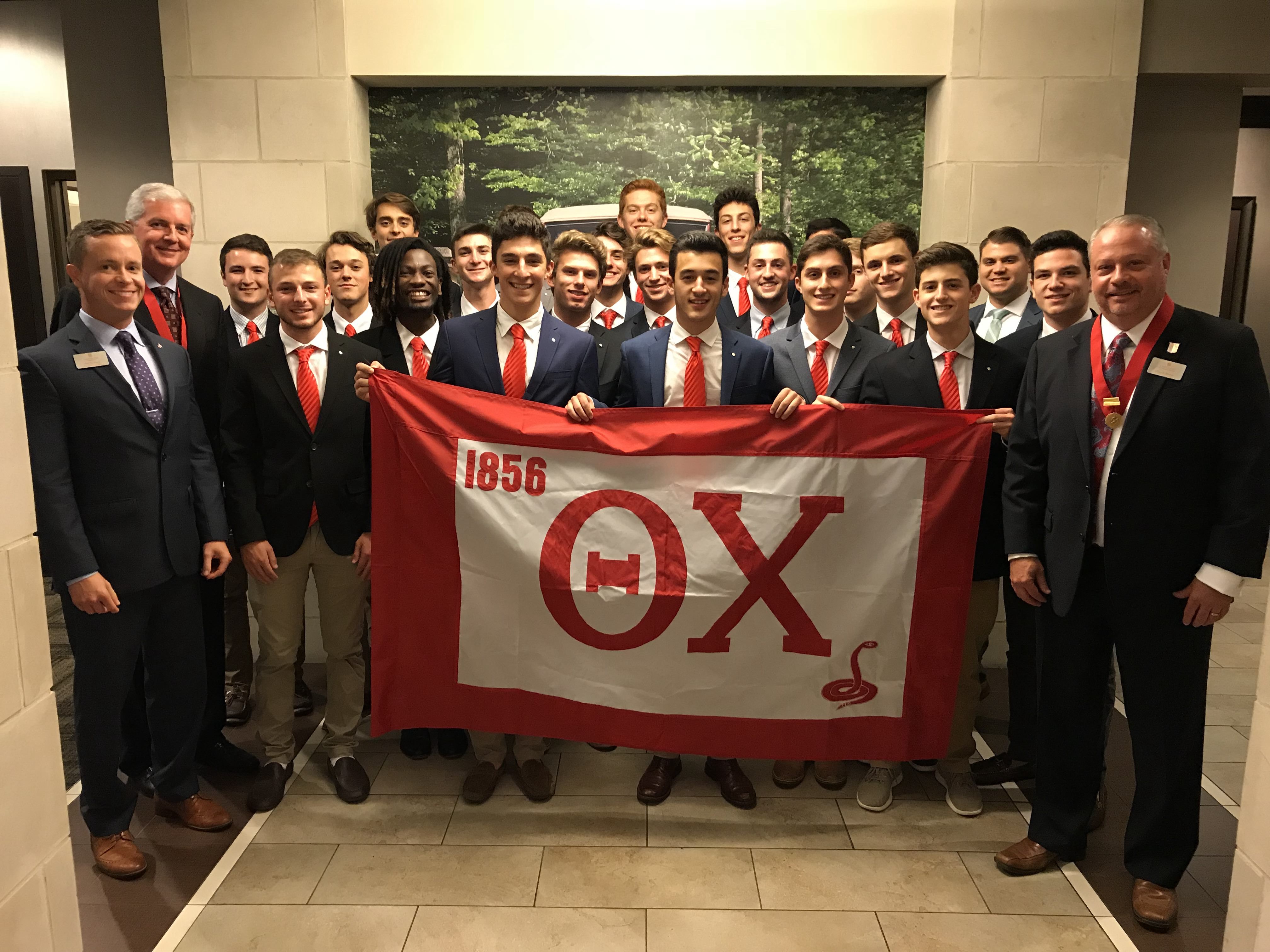 The Recolonization Ceremony was held October 14, 2018 at the Homewood Suites Nashville Vanderbilt with International Vice President Darick Brown presiding. Other members in attendance for the ceremony included International Marshal Toby Roth, Chief Operating Officer Ray Vanlanot, Director of Recruitment and Expansion Taylor Dahlem, Director of Volunteer Development Zack Brown, along with brothers from Chi/Auburn, Alpha Epsilon/Stanford, Beta Xi/Birmingham-Southern, Gamma Omicron/Wake Forest, Delta Pi/Indiana State, Eta Rho/Centenary, and members of the Young Harris, GA Colony.
The 21 members of the Gamma Omega Colony include: Trace Arbuckle, Nicholas Benson, Peter Dinella, Jake Freeman, Adam Geffner, Simon Gibbs, Zach Greenhoe, Ari Herzog, Spencer Hunt, Alexander Jacobs, Jaden Jules, Alex La Poche, Jonathan Mansbach, Eddie Mleko, Joshua Newman, Liam O'Brien, Kyle Pearlman, Andrew Pittman, Avery Salsberg, Matthew Solomont, and Matthew Swill.
The colony members are current students at Vanderbilt University and are involved in many areas on campus including: American Medical Student Association, Alpha Epsilon Delta Pre-Med Fraternity, Alpha Lambda Delta National Honor Society, Business Careers in Entertainment Club, Class of 2021 Commons Leadership Council, Club Swim Team, College Democrats, Delta Sigma Phi Business Fraternity, Finance Club, HeForShe, Innovation and Entrepreneurship Society, Intramurals, Investment Club, Martha O'Bryan World Cup, MentADore, Men's Lacrosse, Phi Eta Sigma National Honor Society, Project Safe, Real Estate Club, Student Alumni Board, Vanderbilt Consulting Club, Vanderbilt Dance Marathon, Vanderbilt Hustler student newspaper, Vanderbilt Slant, Squash Team, VUcept, and VURadio.
"The journey to recolonization has been very time consuming and challenging, but many people have stepped up to help whenever possible, so the work went smoothly," stated Colony President Spencer Hunt. "I can't wait to see everyone continue to contribute in the future as we set out on the journey to become a chartered chapter."
Congratulations to our new Gamma Omega Colony members!
Congratulatory notes may be sent via email to Colony President Spencer Hunt.
Founded in 1856, Theta Chi Fraternity is a men's collegiate fraternity with more than 191,000 initiated members and has established 240 chapters. Leadership development, personal development, and service to alma mater are fundamental to Theta Chi Fraternity's mission.