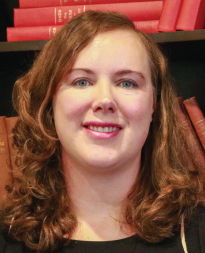 As Development Data Coordinator, Kristyn Cooper manages gift entry and the scholarship application process for the Foundation Chapter and offers additional support where needed.
A part-time contract grant writer, Kristyn has previous experience in development with the Sigma Theta Tau Foundation for Nursing in Indianapolis and The de Paul School in Louisville. Kristyn has also held positions with Special Olympics Indiana, The Association of Fundraising Professionals of Kentuckiana, and Charitable Gift Planners of Kentuckiana.
Kristyn graduated in 2004 with a Master of Arts in Philanthropic Studies from the Lilly School of Philanthropy at Indiana University on the IUPUI campus, and she also has a Bachelor of Arts in Philosophy from IUPUI.
When she can find free-time, Kristyn has a passion for teaching group fitness classes—specifically, high intensity cycling classes for her YMCA. She also enjoys spending time with her husband and two daughters, cooking, and reading historical nonfiction.