National Hazing Prevention Week 2022: Day 1 - What is Hazing?
During HazingPrevention.org's National Hazing Prevention Week, Sept. 19-24, 2022, Theta Chi will be posting content on social media and the web detailing the truth of hazing, sharing real stories of those who endured and combated hazing in their own organizations, and providing resources and information to help you prevent and report hazing.
Day 1 defines hazing outright in order for all of our members to identify it, stop it, and prevent it. For reference, hazing and the Fraternity's position on hazing can be found in Article V, Section 11 of The Constitution and Bylaws of Theta Chi Fraternity, Inc., wherein it states: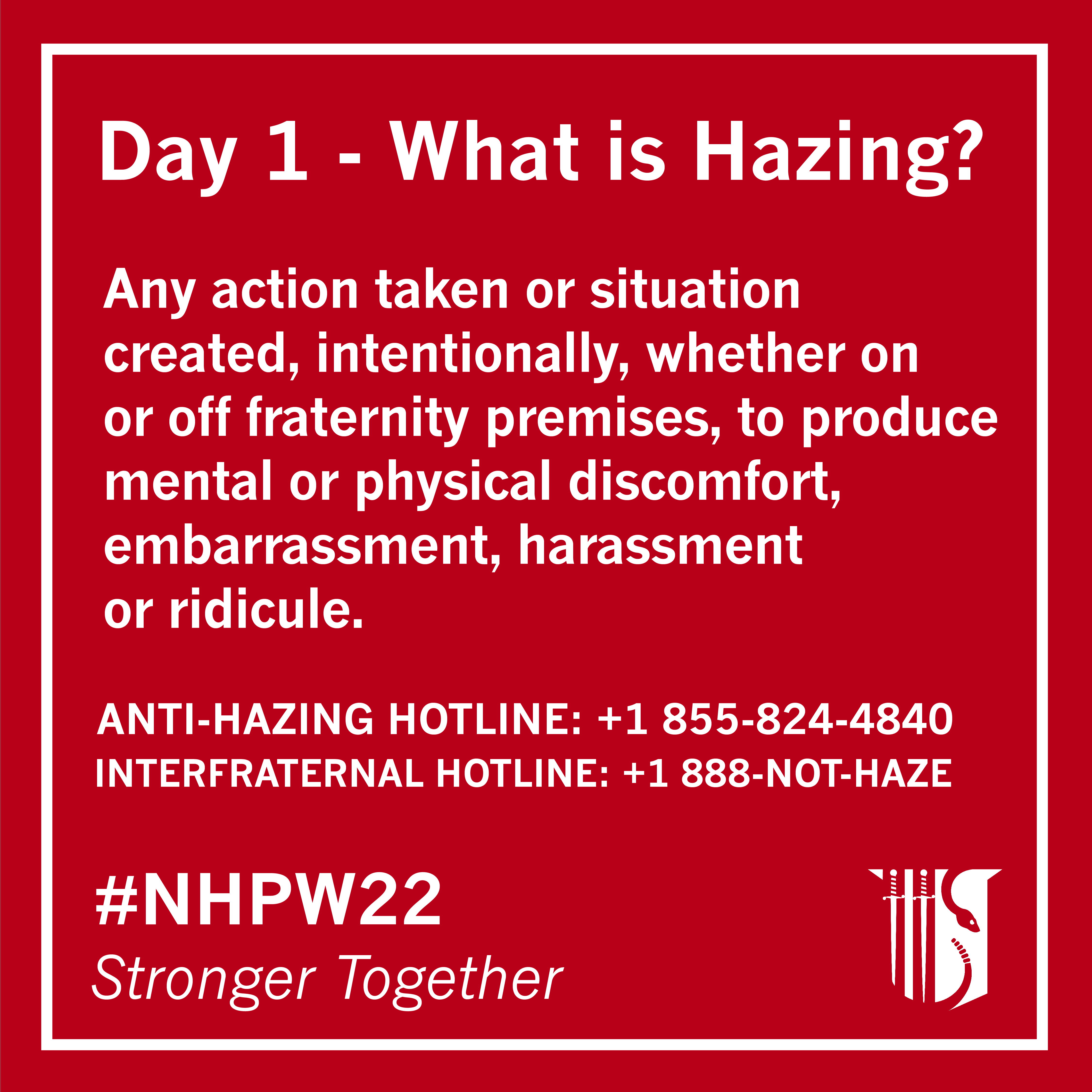 "The Fraternity prohibits all physical hazing, paddling, uncalled-for-humiliation, and public display in connection with Pledge education and pre-initiatory activities. The Fraternity condemns all forms of hazing in connection with Pledge education and pre-initiatory activities. The active chapters shall carry out the Fraternity's policy and conform to this policy, not only to avoid danger of bringing discredit to the Fraternity and injuring members, Pledges, and the entire fraternity cause, but also to build higher respect for the chapters and the Fraternity in the minds of Pledges and to instill loyalty. The Fraternity prohibits all forms of public initiation, and pre-initiatory and initiation activities shall not be permitted to interfere in any way with the scholastic obligations or class attendance of those involved."
Further, Theta Chi's "Position on Human Dignity," further outlines the Fraternity's position on hazing and is as follows:
Theta Chi's position is that all people are to be respected. Every person is due respect and dignity regardless of race, creed, color, sex, religion, handicap, sexual orientation, or gender. No member or new member should be required, coerced, forced, or influenced in any way to do anything that would be unbecoming of a member of Theta Chi Fraternity.
It follows that hazing would cause a member to lose dignity and is against Theta Chi's policies and position. Theta Chi Fraternity is unequivocally opposed to hazing in any form.
Membership in Theta Chi Fraternity requires us to uphold and live by the ideals and principles of Theta Chi as described in the Fraternity's Ritual, Creed, The Constitution and Bylaws of Theta Chi Fraternity, Inc., and the Safety Standards Manual of Theta Chi Fraternity, Inc.
Theta Chi Fraternity will not tolerate any hazing-related activity which demeans, embarrasses, threatens, frightens, implies one member is superior to another or that initiation must be earned through personal services or meaningless activities for initiated members.
Theta Chi has created its own anti-hazing hotline. If you are being hazed or are aware of others being hazed, call our anti-hazing hotline at +1 855-824-4840. Alternatively, if you are not comfortable reporting hazing to a Theta Chi line, you may report it anonymously to the Interfraternal Anti-Hazing Hotline at +1 888-NOT-HAZE.
To close Day 1, we invite you to take the pledge found at HazingPrevention.org