Alternatives to Hazing
The Courage to Take a Stand
It takes courage to take a stand against hazing and provide alternatives to years of what some in the chapter may consider 'tradition'. While some think hazing may seem like the only option to produce a sense of "belonging" or "earning the right" to join a chapter, there are countless alternatives available to our chapters that exemplify the ideals of Theta Chi, provide an example of a team-led accomplishment, and offer something each pledge can look back at and point to in order to remember their first formative semester in the Fraternity.
Chad Ellsworth (Alpha Upsilon/Nebraska 2001) knows the flip side to these alternatives. While pledging a different fraternity at the University of Nebraska, Chad was hazed. "There was a chapter, who I won't name, that was just coming off suspension for hazing-related issues. They ultimately kicked out around twenty guys," explained Chad. "But now they had the highest GPA on campus, so I was interested.
The unnamed fraternity extended Chad a bid and he became a pledge. From the first day, however, the hazing began. "What started as small-letter "h" hazing soon evolved to capital-letter "H" Hazing," Chad said. "It clearly morphed into illegal—not good—things." The hazing was so terrible Chad remembers a young man in his pledge class crying in the lead up to their initiation. "Before our initiation, we went a retreat at a casino," Chad recalls. "This guy in our class sat outside of the casino in one of the cars we drove up in and had tears streaming down his face. He wasn't ready and didn't want to go through 'Hell Week.' I knew he genuinely feared for his own life. We made a commitment to each other that night that if we made it through, we'd do our absolute best to change the future of the fraternity and abolish all hazing outright."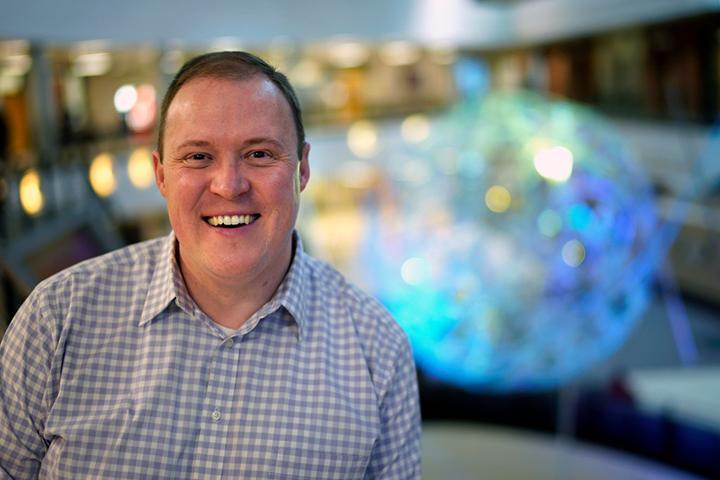 The next summer, now a member of the unnamed fraternity, Chad attended a LeaderSHAPE conference to learn more about chapter operations and experience interfraternalism. He returned to his campus in the fall with a new vision for his fraternity, and he shared these thoughts and ideas with the campus's Greek advisor. Chad was extremely passionate and fired-up—so much so his Greek advisor knew something was going on. She asked Chad if he had been hazed in his fraternity. Chad admitted he was, and his advisor asked if he'd be comfortable sharing his story in printed form. He agreed and began writing all aspects of how he and others in his fraternity had been hazed and impacted by hazing. He decided to share this letter with his current roommate at the fraternity house, thinking his secret would be safe.
Later in the weekend, Chad and the rest of his chapter were summoned to an emergency meeting held downstairs in their secret chapter room. Unbeknownst to Chad—but eventually very evident to him—this meeting was being held to accuse and question Chad. His roommate, whom he trusted, shared Chad's letter with the executive board of his fraternity. During the meeting, the board announced a letter had been written detailing their hazing practices. The board began to read the letter out loud, inviting whoever had written it to come forward and read it.
"That was a very real and scary situation for me," said Chad. "I think I decided to raise my hand and come forward to read that small font, single-spaced 6-page letter, because I wanted to protect people. I never regret keeping people out of harm's way. So, I said a prayer, raised my hand, and went forward to read the letter."
As Chad read the lengthy letter, members began harassing him. They yelled insults, curses, and anything else they could think of. Almost all were screaming, and some even threated to kill him. Chad knew he wasn't safe. "I wasn't sure where I could go," he explained. "My only thought was to contact my old friend Chris from Theta Chi. I got him on the phone, explained to him what was going on, and he was there within an hour with a truck and three other Theta Chis."
Friends he had known in Theta Chi, Chris Wegener (Alpha Upsilon/Nebraska 1999), Joe Kopp (1998), and Trevor Johnson (2000), lent a "Helping Hand" that night to Chad. They packed everything up and took Chad out of what was a very real and dangerous situation. That summer, Chad studied abroad in Mexico going into his junior year. He felt he'd be safe being out of the country, but it also helped him decompress and evaluate the trauma he had been subjected to.
Now, Chad tells his story to students across the country, encouraging them to stand up against hazing. He even served HazingPrevention.Org as the President of the Board from 2010-2011. With hazing behind him, Chad offers a framework for alternatives to hazing. "Come up with something the entire class can do and accomplish that they can look back at and point to later in their lives," he says. "Maybe you could build a home with Habitat for Humanity. Make it a class effort, with assistance from the older guys in the chapter. Theta Chi exists to serve, and this type of work for Habitat exemplifies our ideals and what we stand for while providing a physical example of the group's accomplishments."
Discouraged by his experience and inspired by the demonstration of the Helping Hand, Chad petitioned to be released by that fraternity and ultimately "returned to true brotherhood" in Theta Chi.
There are real consequences to hazing. Chad's decisions to speak with his Greek advisor, to write a letter detailing the hazing he endured, to speak out against hazing ultimately closed that fraternity at the University of Nebraska. His decision to call his friends in Theta Chi and to move out of that fraternity's house saved his life.
Now, Chad travels the country leading Caped Coaching, providing personal coaching to a variety of groups and individuals while also offering speaking engagements and educational programming, including content for Fraternities & Sororities, while also working as the Associate Director of the Career Center at Carleton College in Northfield, MN.
Will you stand up to hazing in your chapter? Will you think of Chad's story when you decide to stomp out hazing? Will you contact your chapter's Assistant Director of Development to obtain resources to help your chapter with anti-hazing education?
Remember Chad's story.
Remember the reservations he overcame.
Remember the outcome.
Remember the lives he saved.