National Hazing Prevention Week 2022: Day 5 – The Resolute Journey
Today, as the 2022 National Hazing Prevention Week concludes, we'll take a look at Fraternity's pledge education program, The Resolute Journey, and reflect on the oaths we took, education we received, and memories we created, all the way back to our Pledging Ceremony.
The word "pledge" is derived from "promise," or "oath." During the Pledging Ceremony, all members of the Fraternity are reminded to protect one another from harm by the Vice President of Health and Safety as he says, "The enemies of the Fraternity are not our rivals in the halls of academia or on the field of competition; rather, they are the influences, attitudes, and actions that may endanger our brothers, our Fraternity, and our friends… We must also remain watchful of our brothers who fail to understand or meet their obligation to protect themselves and those around them."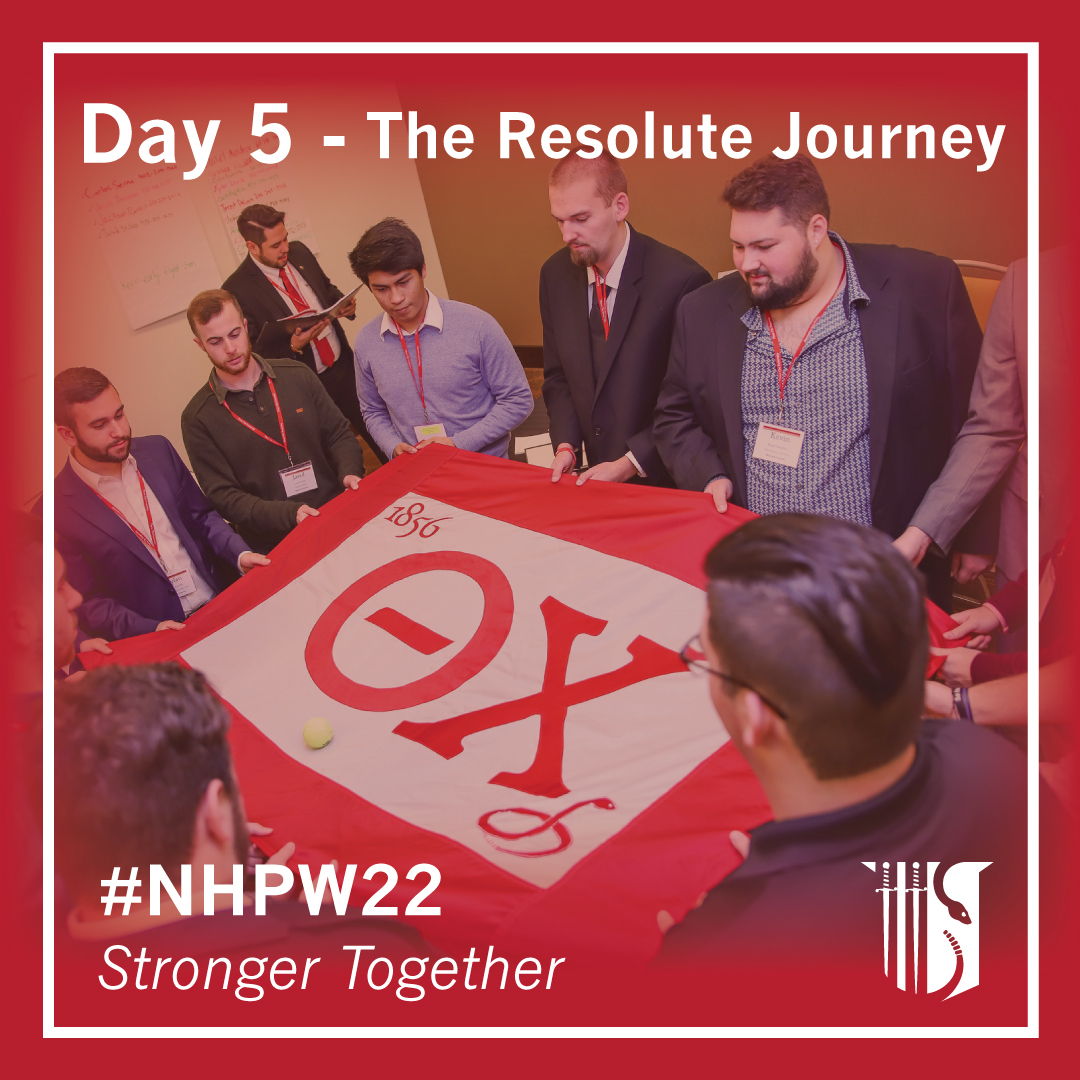 Throughout The Resolute Journey, tools and resources are provided for our Marshals and a guidebook is available for each pledge. Paramount in the journey is equipping each brother and pledge with the ability to recognize and stand against hazing. The Fraternity's stance against hazing is clear. The following reminder can be found in The Safety Standards Manual, as well as in The Resolute Journey guidebook: "Theta Chi is based on the firm conviction that one of the most damaging instruments to the fraternity system is the employment of a pledge education program which involves hazing, and that this unproductive and hazardous practice has no place in the fraternity system."
After reading this article, what thoughts or questions do you have? Do you remember making your pledge? Do you believe you need to take action to improve your chapter's pledge education and/or delivery of The Resolute Journey? Is it time to reach out for help from others?
As we've reached the end of National Hazing Prevention Week 2022, remember that hazing prevention, much like recruitment, is a 365-day-long initiative. While we used this week to spotlight hazing prevention, you should always remain vigilant. Don't treat this week as the only time to speak about the dangers of hazing and the importance of hazing prevention. Encourage your Vice President of Health and Safety to organize educational programs around the topic for your chapter and your campus. Reach out to your Assistant Director of Chapter Development to obtain resources to help your chapter with hazing prevention education. You can find The Resolute Journey (both Marshal and pledge guidebooks), the Constitution and Bylaws of Theta Chi Fraternity, Inc., The Safety Standards Manual, information on the Resolute Man initiative, and other resources in the Documents folder on myThetaChi.
If you are being hazed or are aware of others being hazed, call Theta Chi's anti-hazing hotline at +1 855-824-4840. Alternatively, you can make an anonymous report to the Interfraternal Anti-Hazing Hotline at +1 888-NOT-HAZE.