Aditya Rengaswamy Named the 2016 Reginald E. F. Colley Award Recipient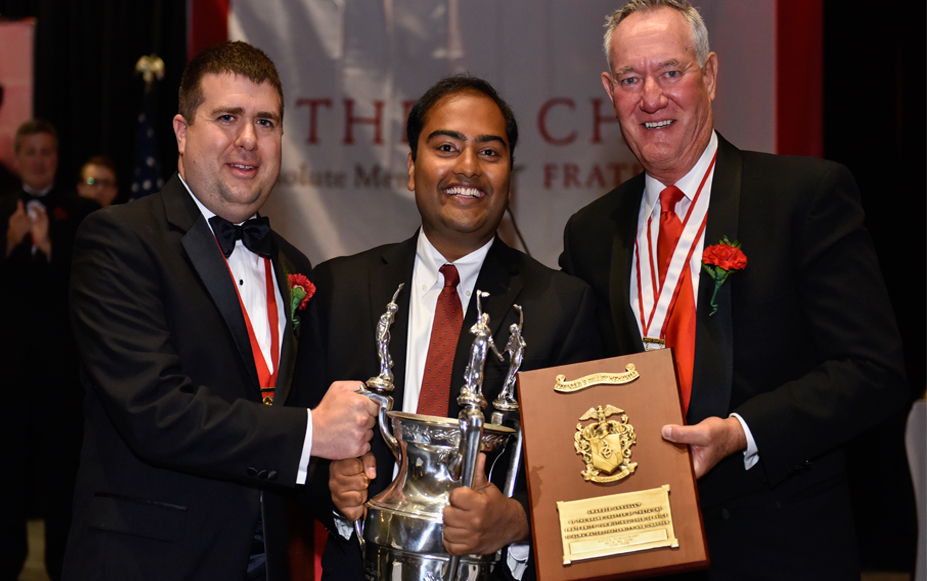 Carmel, IN - Theta Chi Fraternity is proud to announce Aditya Rengaswamy (Beta Nu/Case Western 2016) as the 2016 Reginald E. F. Colley Award recipient. Through his collegiate career, Brother Rengaswamy has consistently exemplified what it means to be a Theta Chi.

In keeping with Theta Chi's maxim of Alma Mater First, and Theta Chi for Alma Mater, Aditya worked tirelessly to improve Case Western Reserve University. During his three years in student government, Aditya spearheaded initiatives surrounding the smoking policy on campus, transparency with meal plans, and advocating for more electricity outlets in areas where students study. He also served as a representative for the Student-Life Faculty Senate Committee. As a student coordinator for Share the Vision, Aditya worked with faculty to spread inclusiveness and define university values. This passion for advocating for diverse populations led Aditya to start the organization Sustained Dialogue, which created a 25-page document addressing diversity and inclusion proposals for Case Western Reserve University administration. He also served on the student executive board for the What You Do Matters Summit, an event where 300 participants discuss social justice topics. Mindful of global issues as well, Aditya participated as vice president of finance for the Global Ethical Leaders Society, which examines the ethical implications of complex international issues.

While working for the Orientation and First Year Experience Office, Aditya served as an international student ambassador helping to transition international students to life at Case Western Reserve University. He then went on to serve on the orientation student executive board where he managed 13 orientation leaders and 20 international student ambassadors. Outside of this, Aditya also acted as a mentor for the Emerging Leaders Program, where many of his mentees went on to become presidents of Greek organizations and prominent leaders in other student organizations. Aditya's commitment to alma mater traveled along with him when he spent his last semester of college abroad in Tallinn, Estonia, where he volunteered to coordinate social and service-based programs for the other students studying abroad.

Theta Chi's motto, an Assisting Hand, emblematic of service to your fellow man, has long been a guiding force in Aditya's life. While in high school, Brother Rengaswamy engaged in a program called Kids Against Hunger, making meals for local food kitchens. Upon arriving at college and finding out that Cleveland didn't have a branch of Kids Against Hunger, Aditya raised over $8,000 to start a group there. Since its founding, Kids Against Hunger has packaged over 250,000 meals for the Cleveland Food Bank and over 20,000 meals for families worldwide.

While in his freshman year Aditya noticed a unique problem when he wondered, "What kind of greeting cards do the blind enjoy on their birthdays?" This led Aditya to start Birthdays for the Blind, which supplies the Cleveland Sight Center with hundreds of singing birthday cards annually. Through his extensive service work, Aditya was named as a Civic Engagement Scholar; an honor given to students who serve at least 50 hours to their community every school year. He also worked on the executive board for the Center for Civic Engagement and Learning, where he helped to plan their 2015 Civic Engagement Conference, which hosted over 1200 participants. Even while abroad, Aditya found time to tutor Estonian middle schoolers in English language learning for two hours a week.

Despite majoring in Accounting, Aditya's true passion was entrepreneurship as evident by the many clubs and groups he founded while in college. This included co-founding a chapter of the North East Ohio Student Venture Fund at his university which teaches venture capitalism. The group also funds $50,000 to $100,000 annually for start-ups in the northeast Ohio region. Aditya also worked as chief financial and marketing officer for the following start-ups: NanoHary, Zypr Shift, and FGC Plasma. The latter received a $100,000 grant from NASA and was recognized by President Barack Obama for its work on plasma-based fuel injection systems for jet and other engines. Aditya used his experience in entrepreneurship to co-author two books: "The Franchise MBA" and "The Franchise MBA Workbook." Both books are best sellers in the franchise business category on Amazon.

Aditya was able to balance all of his involvement while also maintaining an impressive 3.76 GPA. His high GPA and extensive resume earned him a place in multiple honor societies: the Greek honor society Lambda Eta Mu, the Wolstein Society, Beta Alpha Psi accounting honorary, and the Student Turning Point Society which selects no more than 1% of the student body as members. He was recognized as the Outstanding Freshman of the Year, Who's Who Among Students and Universities, and Outstanding International Student Ambassador.

During all of this, Aditya was a model brother for Beta Nu Chapter. After completing his pledge process, Aditya became Assistant Treasurer, Service Chairman, and served as a member of his chapter's judicial board. As Service Chairman, Aditya organized his chapter's philanthropy event which was able to raise $1,000 for Community Greenhouse Partners.

During his junior year, Aditya transitioned into an advisory role for many of the groups he had founded on campus, allowing him to serve as Marshal for Beta Nu. Aditya's leadership was contagious as 90% of his pledge class went on to hold executive positions in the chapter. As president and founder of so many groups on campus, Beta Nu naturally chose Aditya to serve as Chapter President for the 2015 year. While President, he focused on initiatives that included improving alumni engagement, growing his chapter's annual Mental Health Awareness Week, and overhauling his chapter's financial system.

As a collegian, Aditya interned for General Electric as a controller, where he was the first intern at GE Lighting to be nominated for the prominent GE-wide Early Finance Development Program. He also interned at PricewaterhouseCoopers where he outperformed his fellow interns' work paper completion rate by 50%.
A remarkable student, leader, and brother of Theta Chi Fraternity, it is our honor to recognize Aditya Rengaswamy from Beta Nu Chapter at Case Western Reserve University as the 2016 Reginald E. Colley Award recipient.
---
---
First presented in 1929, the Colley Award is named for Reginald E.F. Colley, a World War I veteran and past member of Theta Chi's board of directors, the Grand Chapter. As a member of Phi Chapter, Brother Colley developed a celebrated reputation as a campus, community and civic leader. He graduated in 1915 and eventually headed overseas to fight for the U.S. Army on the Western Front. Brother Colley died at the age of 39, but his legacy of leadership continues to inspire future generations of talented Theta Chis. Today, the Colley Award is treasured as the Fraternity's most prestigious honor that can be bestowed upon a collegiate member.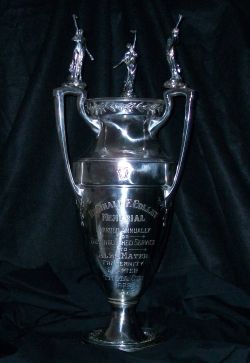 ---
---