Theta Chi Fraternity depends on attracting top men with values that meet its mission, vision and goals. It is imperative for the organization to have time to get acquainted with and evaluate these interested men to ensure that they are consistent with the standards of the Fraternity.
Likewise, Theta Chi hopes not to overlook a man worthy of membership simply because of a timing issue. This requires the expansion of recruitment from a one- or two-week formal recruitment period to an ongoing recruitment process 365 days a year. The chapter must constantly seek prospective members, learning more about them and having them become interested in the organization.
Resources and best practices to support the chapter's recruitment efforts can be found in Collegiate Resources.
If you have any questions contact recruitment@thetachi.org.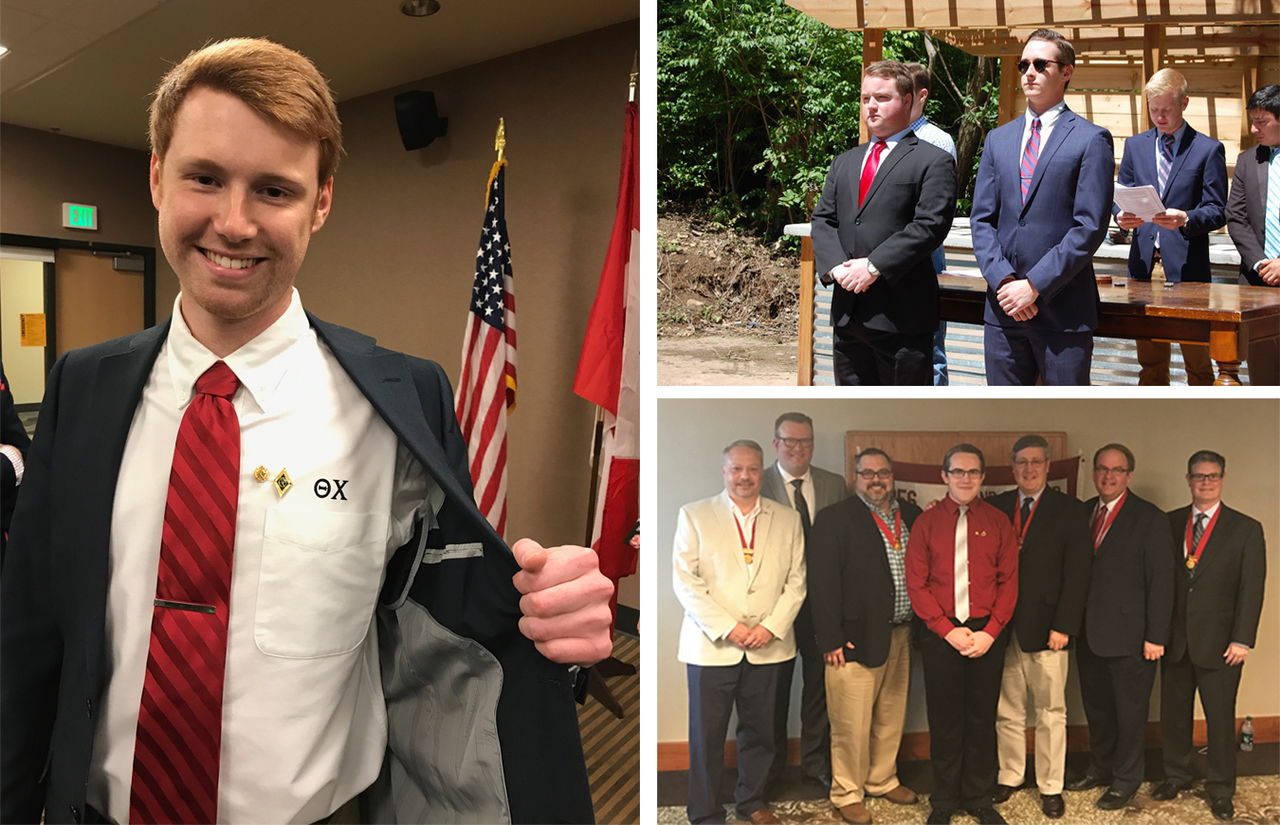 Do you know a potential new member? Recommend them today by filling out the Recommend a Recruit Form!
Interested to see what programs Theta Chi Fraternity offers to its members? Click here to see a list of our upcoming events.
What is the pledging period like?
All pledges will learn about the history, traditions and ideals of Theta Chi in an 8-week new member education period. This is a time for new members to meet each other, current members, and chapter alumni. In addition to Fraternity-specific information, the pledge education period is designed to encourage an appreciation for campus leadership, academic excellence, moral conduct, and personal growth.
The goal of the Pledge Education program is to prepare pledges for full membership in Theta Chi Fraternity by empowering them to take active roles in the fraternity's affairs. The eight-week program culminates with the initiation ceremony.
What about Hazing?
Theta Chi Fraternity has a strict policy against hazing during any part of the fraternal experience. If you are concerned about hazing or have any questions related to hazing, feel free to call our Theta Chi Anti-Hazing Hotline at 855-824-4840. You may also contact the Interfraternal Anti-Hazing Hotline at 888-NOT-HAZE.
What does Theta Chi do?
Becoming a member of Theta Chi opens the doors to a lifetime of learning and personal growth. Our members have access to a global network of alumni, as well as to leadership opportunities on campus and beyond. Part of Theta Chi's educational mission is to prepare its members for the demands of life after graduation; we help by providing a variety of leadership and education events throughout the year.
What costs are involved?
It's true - most, if not every, fraternity assesses some sort of membership dues. Each pledge is required to pay a one-time new member and initiation fee to the International Headquarters. The local chapter may assess additional dues to cover or mitigate the cost of events, lodging and other activities throughout the year.
What role do parents play?
Joining a fraternity is a milestone decision in your son's life and it can sometimes be challenging to know exactly what your role as parent during this period. Your son will be looking for an organization that he can benefit from and have fun with, and may feel unsure about who to join. Supporting your son through making this decision can be the the greatest assistance a parent can provide.