The Foundation Chapter of Theta Chi recognizes our generous alumni through annual and lifetime giving societies. Giving to Theta Chi is critically important to supporting our students across North America. We recognize annual giving because we need the support of our brothers each and every year.
Lifetime giving levels allows us the opportunity to thank our brothers for their continual commitment to the principle of the Helping Hand. We hope you will join thousands of brothers in making an annual gift to the Foundation, and begin a long-lasting relationship in supporting Theta Chi students.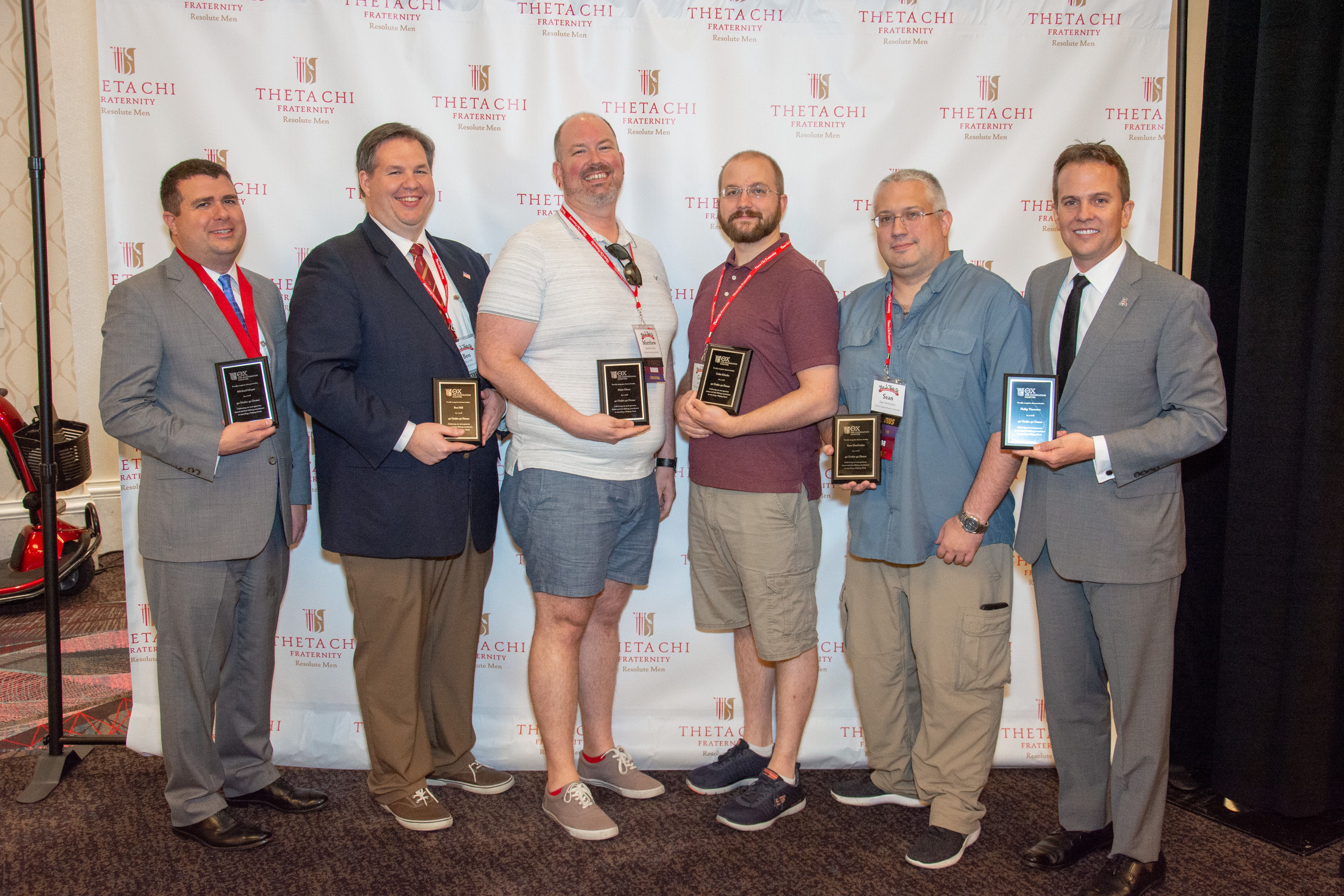 Annual Giving Societies
Θηρόποσα Χείρ: $10,000+

Diamond Badge Society: $5,000 - $9,999

Ruby Eye Society: $2,500 - $4,999

The Grand Society: $1,000+

Trenton True: $500 - $999

Norwich Noble: $250 - $499

Granite Guard: $100 - $249

Carnation Club: $99 and below

Lifetime Giving Societies
Presidents Circle: $250,000+

Leadership Club: $100,000 - $249,000
Benefactor Club: $50,000 - $99,999
Board of Visitors: $25,000 - $49,999

Chairman's Council: $10,000 - $24,999

Freeman Fellow: $5,000 - $9,999

Chase Council: $2,500 - $4,999

Century Club: $1,000 - $2,499

Men Since '56: $500 - $999

Snake & Sword: $250 - $499

Founders Club: $100 - $249

Heritage Club: $99 and below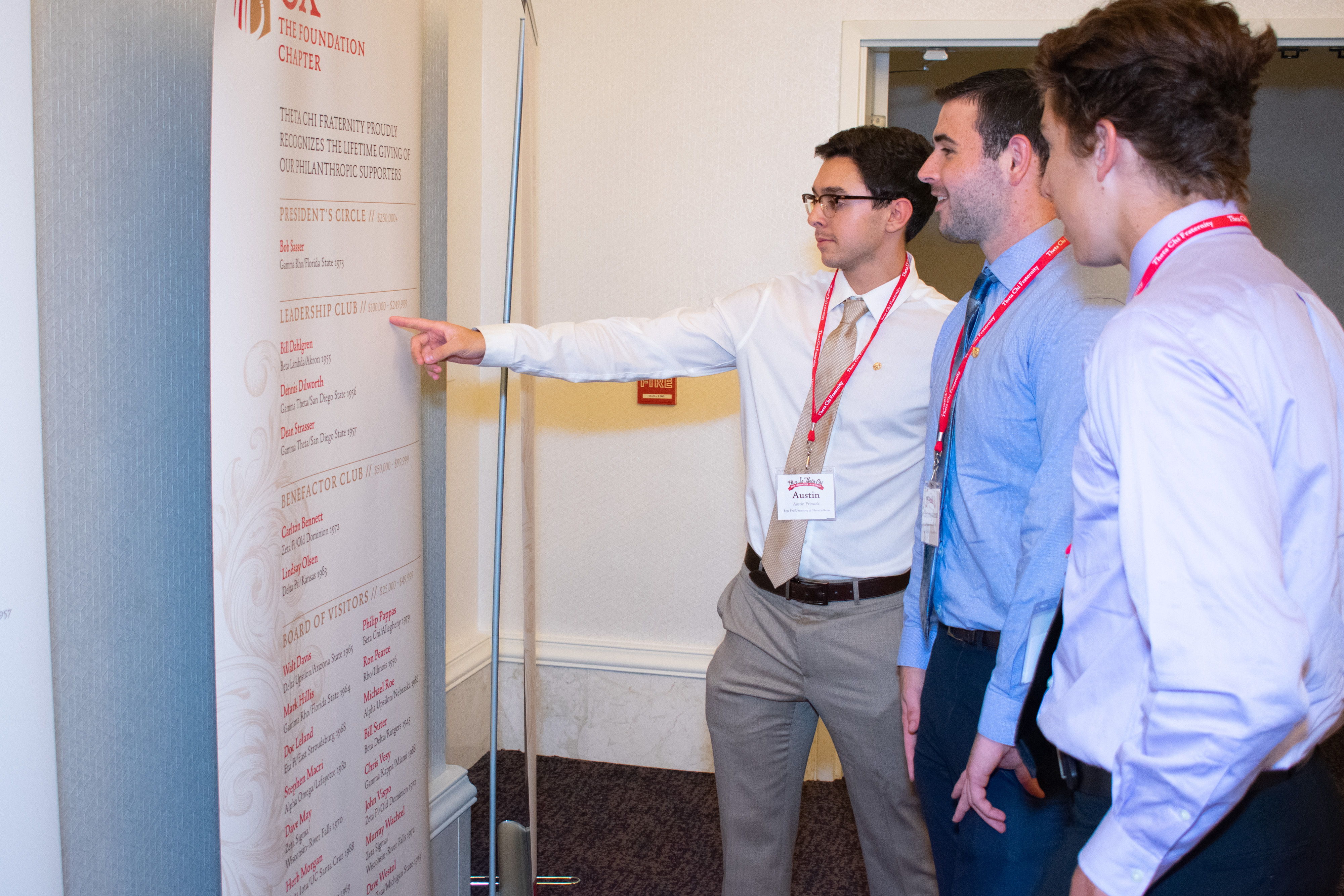 The GOLD Society
When a brother completes his collegiate experience and begins his career, his love and commitment to the Fraternity is very strong. He wants to give back to Dear Old Theta Chi, however, his resources may be limited. These Graduates of the Last Decade (GOLD) want to make a difference in the future of Theta Chi. By making a modest monthly gift, a GOLD Society member can have a significant impact over the course of a year.
The GOLD Society asks our young alumni to make a monthly tax-deductible gift of $18.56, in support of Theta Chi's Excellence Fund. We want to honor our young alumni who have completed their college degrees within the last decade, and who are taking the first step to support the future of our Fraternity.
The Grand Society
In our post-college lives, we become busy with our careers, starting a family, and being involved in our communities. One thing that never wavers is our love for Dear Old Theta Chi. In order for Theta Chi to succeed and our members to grow and thrive, we need all our alumni to give of their time, talent, and treasure. The Grand Society is an exclusive giving society for established professionals, to recognize those brothers wanting to make a greater impact by increasing Theta Chi's academic scholarships and leadership grants. This can be accomplished by making an annual tax-deductible gift of $1,000 or more to the Excellence Fund.
A $1,000 gift (or $83.33 monthly) has an incredible effect on our brotherhood and enhances the Fraternity experience for our men. We are thankful for those alumni who want to maximize their support of our students by joining the Grand Society.