Kappa Zeta/Arkansas Chapter Receives 2021/2022 Westol Sacred Purpose Award
Washington, D.C. – Theta Chi Fraternity is proud to announce Kappa Zeta Chapter at the University of Arkansas as the 2021/2022 recipient of the David L. Westol Sacred Purpose Award, presented at the 166th Anniversary Convention held in Washington, D.C.
The mission of Sacred Purpose is to protect our brothers and the broader campus community by providing health and safety education. By offering programmatic support at the chapter and international levels, Theta Chi inspired its members to live up to our Fraternity's highest calling.
Kappa Zeta takes a hands-on approach to educating their members on health and safety, reflected by the multiple partnerships held with health and safety related organizations on their campus and community. Specific examples include partnering with a local sexual relationship violence center to host an on-campus event for fraternity men to learn more about the topics of consent and sexual misconduct prevention as well as working with the local fire department to host fire safety training that provided best practices for fire and life safety to their members.
Most notably, Kappa Zeta brought the first-ever Out of the Darkness Walk to their campus which involved more than 320 participants and raised over $17,000 for suicide prevention efforts. The event is now planned to take place annually and will only continue to gain momentum and grow in size throughout the years to come.
The gentlemen in this chapter continue to exceed expectations of implementing Sacred Purpose in their daily operations and this year was no exception. We are proud of their commitment to the health, safety, and well-being of our members and others.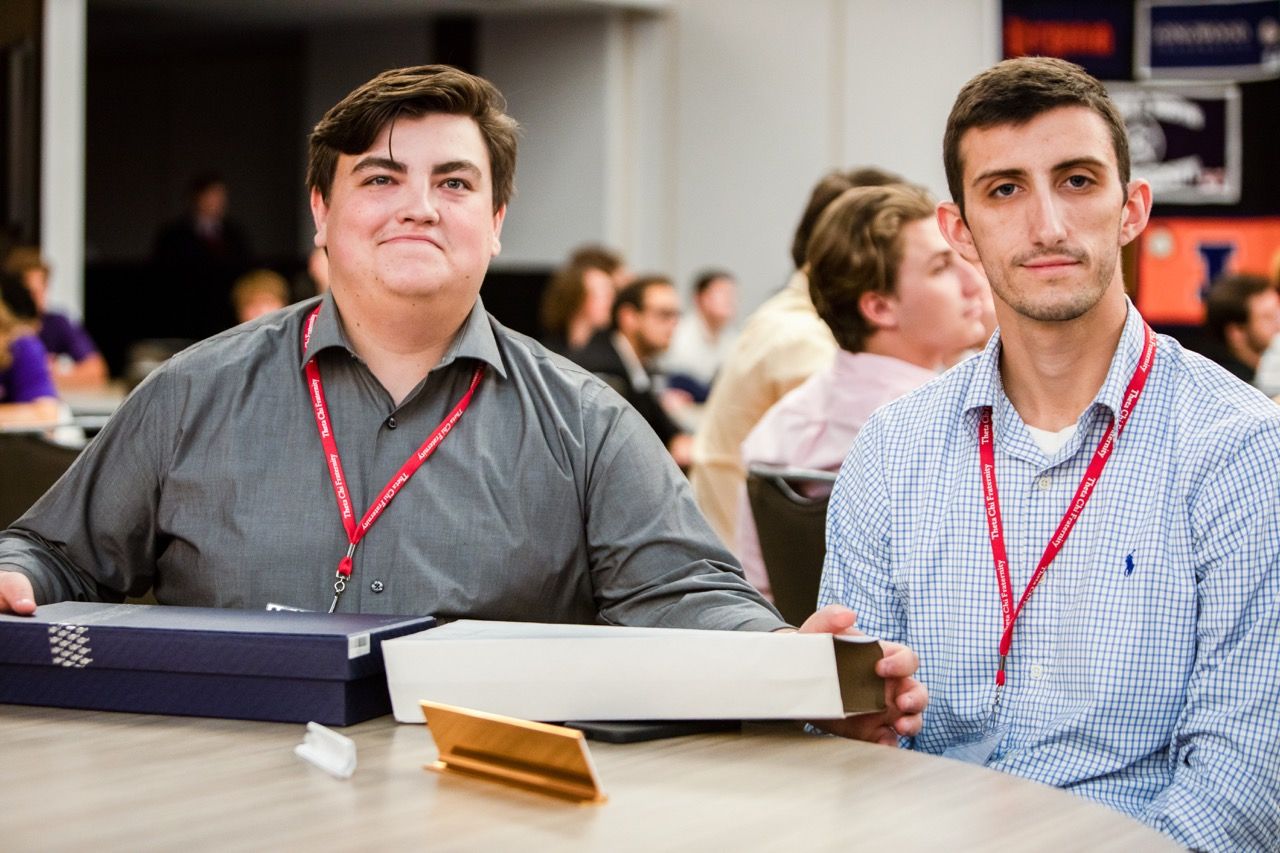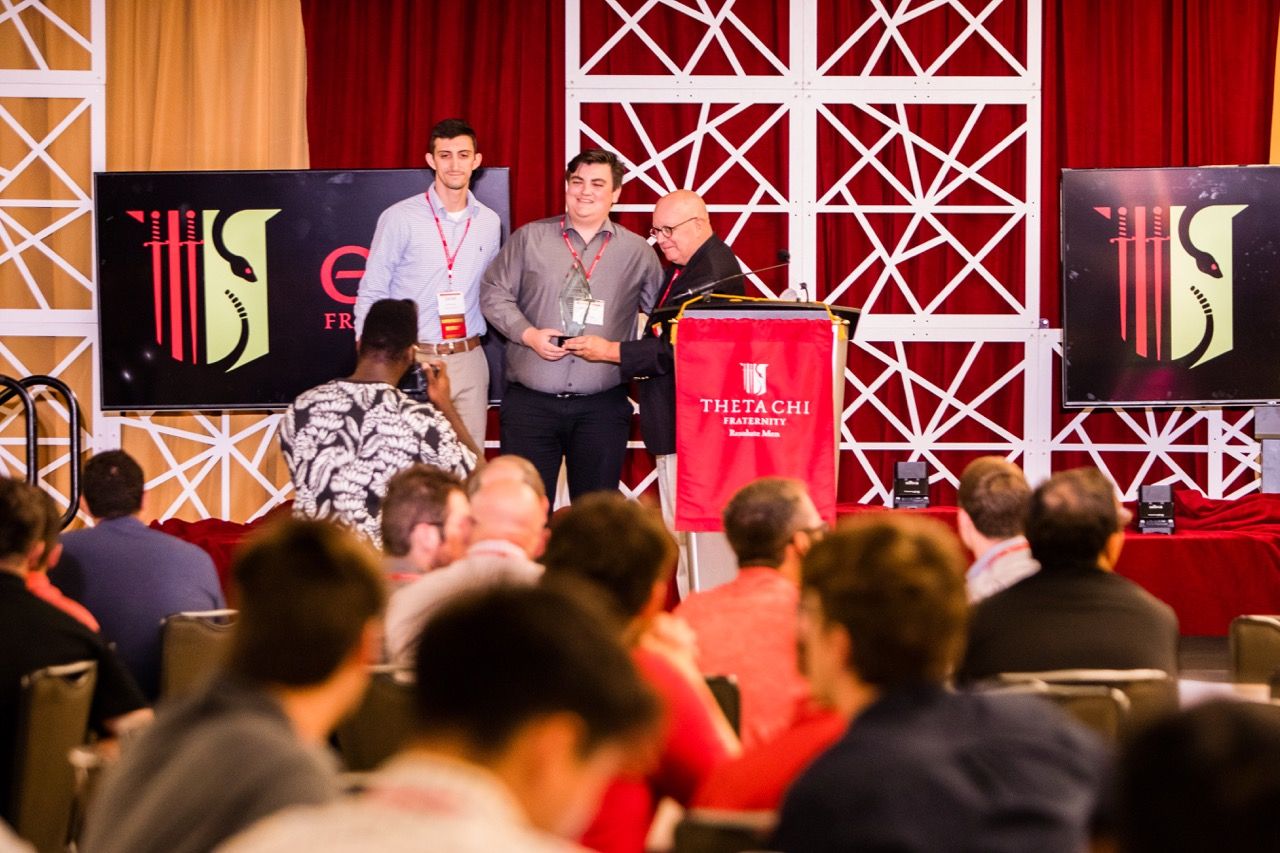 The Sacred Purpose award is named in honor of David L. Westol (Beta Zeta/Michigan State 1973), whose volunteer and professional career have been devoted to the health, safety, and protection of fraternity and sorority members.
After graduating from Michigan State, Dave worked for his alma mater as Assistant Director of Student Activities and Advisor to Fraternities. He was admitted to the Michigan Bar in November 1979 and became an assistant prosecutor for the Office of the Prosecuting Attorney in Kalamazoo County, MI.
From 1975-1980, Westol served as a Regional Counselor for Theta Chi before being elected to the Grand Chapter as International Vice President in 1980. He remained in that role until completing his maximum second term in 1988. In December of that year, he was named the Fraternity's Executive Director and held that position for 18 years. Today, he is the founder, owner and CEO of Limberlost Consulting.
Westol's interfraternal career is equally impressive. He was elected to the board of directors of the Fraternal Information and Programming Group (FIPG) in 1993 and also served FIPG in the roles of Director of Policy Interpretation and Administrator. In July 1998, he was elected to the Fraternity Executives Association board of directors and served as president from 2002-2003. He has also served on the board of directors for HazingPrevention.org and on the Association of Fraternal Leadership and Values.
Dave has become a universal figure at fraternity and sorority leadership development events. He has performed his signature anti-hazing presentation "Hazing on Trial" over 1,800 times since 1981 and has spoken on more than 350 campuses and at over 200 Greek leadership events. Dave has served as a faculty member for the Association of Fraternity Leadership and Values, the Northeast Greek Leadership Association, the Southeast Interfraternity Conference, and the Fraternal Risk Management Trust, Inc. From its first session in the early 1990s through 2010, he was a faculty member for "Risk Management on the Road," an annual workshop for traveling consultants of women's national fraternities and sororities.
In 2012, Dave Westol was named a recipient of the North-American Interfraternity Conference's Gold Medal, the most prestigious honor in the inter-fraternal world. Brother Westol is one of only four Theta Chi members to have received the Gold Medal.
About Theta Chi: Founded in 1856, Theta Chi Fraternity is a men's collegiate fraternity with more than 200,000 initiated members and has established 245 chapters. Theta Chi's mission is to develop college-age men into successful students, good citizens, lifelong brothers, and resolute leaders.