5 Chapters and 2 Individuals Receive the 2021/2022 Lewis Award
Washington, D.C. – Theta Chi Fraternity awarded the Sidney Ann Gilpin Lewis Memorial Trophy to five deserving chapters and two individuals for exemplifying the Fraternity's motto of "The Helping Hand." The chapters that took home this year's award were Zeta Beta/Adrian, Eta Beta/Eastern Kentucky, Eta Gamma/Morehead, Eta Omicron/Northwestern State, and Theta Rho/McNeese. This year's individual winners were Joe D'Amore (Eta Pi/East Stroudsburg 1977) and Tim Tinnin (Epsilon Phi/Central Missouri 1982). Award plaques were presented to these chapters and individuals during the 166th Anniversary Convention in Washington, D.C.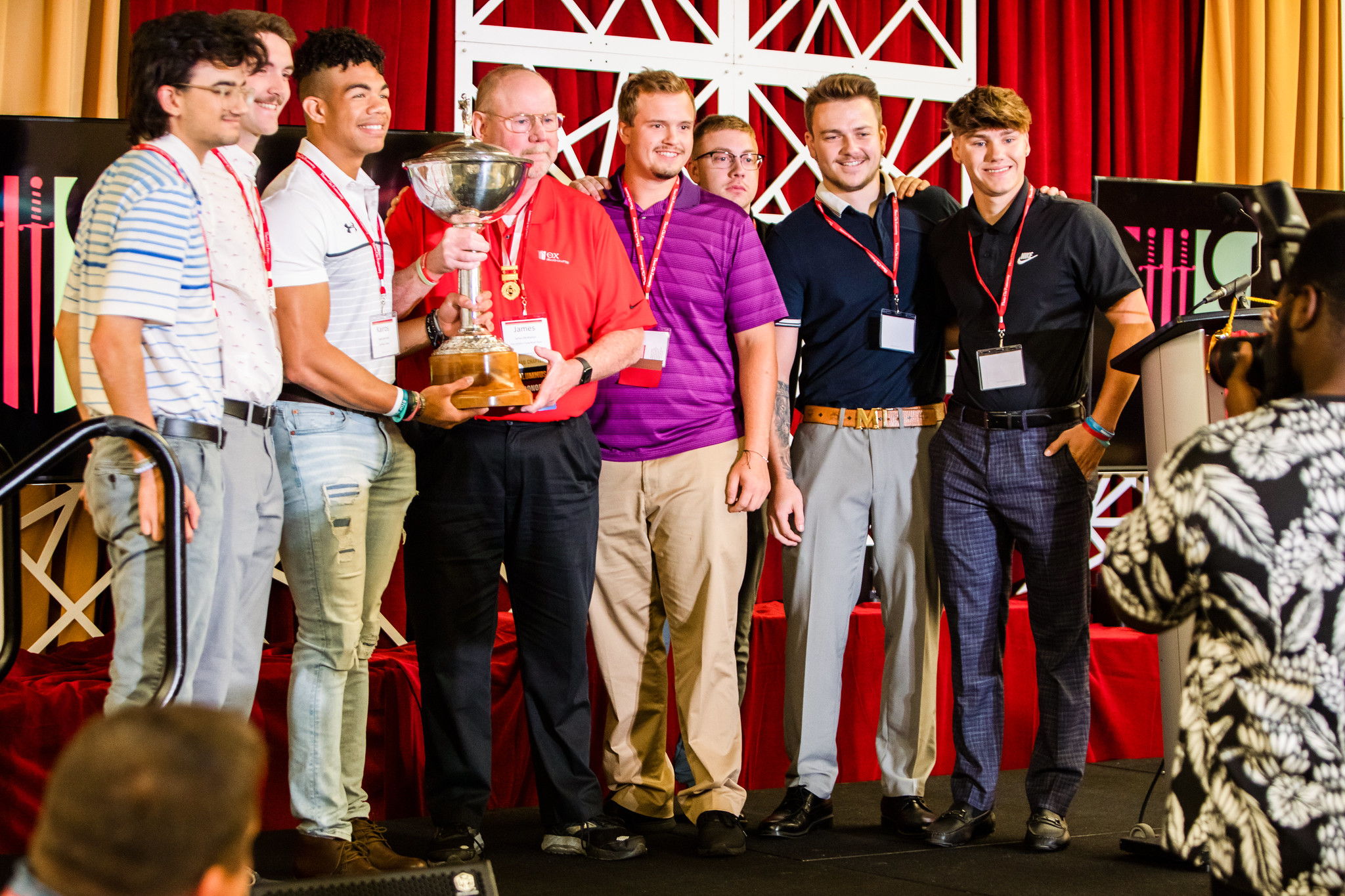 Zeta Beta/Adrian's next-door neighbor, Beverly Reeves, was so moved by the actions of the chapter-next-door, she wrote a letter to President of Adrian College Jeffrey Docking. In the letter, she wrote, "I have been a neighbor of Theta Chi since 1999. They always tell me if I need help with anything to let them know! They are a great asset to Adrian College." Brothers of Zeta Beta Chapter extended the Assisting Hand by shoveling Beverly's driveway, caulking her windows, painting hard-to-reach areas of her windowsills, and filling cracks in her driveway. "They're the best neighbors, ever!" she added.
Eta Beta/Eastern Kentucky extended the Helping Hand to nearby Graves County and Mayfield community after a tornado ripped through Mayfield, KY, in December 2021. The vicious storm left over a thousand homeless and killed more than 80 residents. After reaching out to a brother in their chapter from Mayfield to see how they could be of service to his devastated community, the chapter hosted a disaster relief fundraiser and raised over $2,000. While raising these funds, Eta Beta sent a group of brothers to assist in-person wherever they could. In particular, the brothers helped with the organization of donated goods and items that arrived from all over the country. In observance of the holiday season (which then did not seem like it could even be celebrated by residents), the chapter organized mass donations arriving from around the world for the children and families of the community.
Just over an hour away at Eta Gamma/Morehead, members of the chapter received the esteemed Governor's Service Award from Kentucky Governor, Andy Beshear. Beshear wrote, "When snowstorms in early 2021 left many in their community unable to leave their homes, Theta Chi spent six days shoveling the city's main street, sidewalks, and many individuals' driveways." He goes on to say, "When the spring rains led to catastrophic flooding in their area, Theta Chi spent a day helping the Beattyville's Three Forks Historical Center lay out old documents to dry in the sun, cleaning damaged items, drying the water-damaged floors, and removing items that could not be saved. In April, Theta Chi's vaccinated members helped a church return some normalcy to children by helping with its Kid's Carnival. In June, the fraternity helped another church put on its annual Joy Prom for community members with special needs. In addition to their people-oriented volunteer service, the fraternity also held multiple litter clean-up events and cleaned more than 20 miles of roads throughout the spring semester. In total, Theta Chi completed 1,188 service hours for the 2021 spring semester."
The final chapter award went to a chapter duo—Eta Omicron/Northwestern State and Theta Rho/McNeese. Following the aftermath of 2020's Hurricane Laura, the two chapters partnered together and, with assistance from Eta Omicron alumni via Shade Dufrene (1999), Chase Stepp (2013), Frank Griffin (1998), Chris Young (1993), and Vanner Erikson (2011), immediately traveled to the Lake Charles community in Calcasieu Parish to remove debris from three homes. The group of brothers removed destroyed furniture, carpet, and appliances for those who would not have been able to do so on their own. Chapter adviser Van Erikson shared, "It's easy to talk about servant leadership and The Assisting Hand, but when it is put into action, you truly see the good that can be done in the world by putting others before yourself."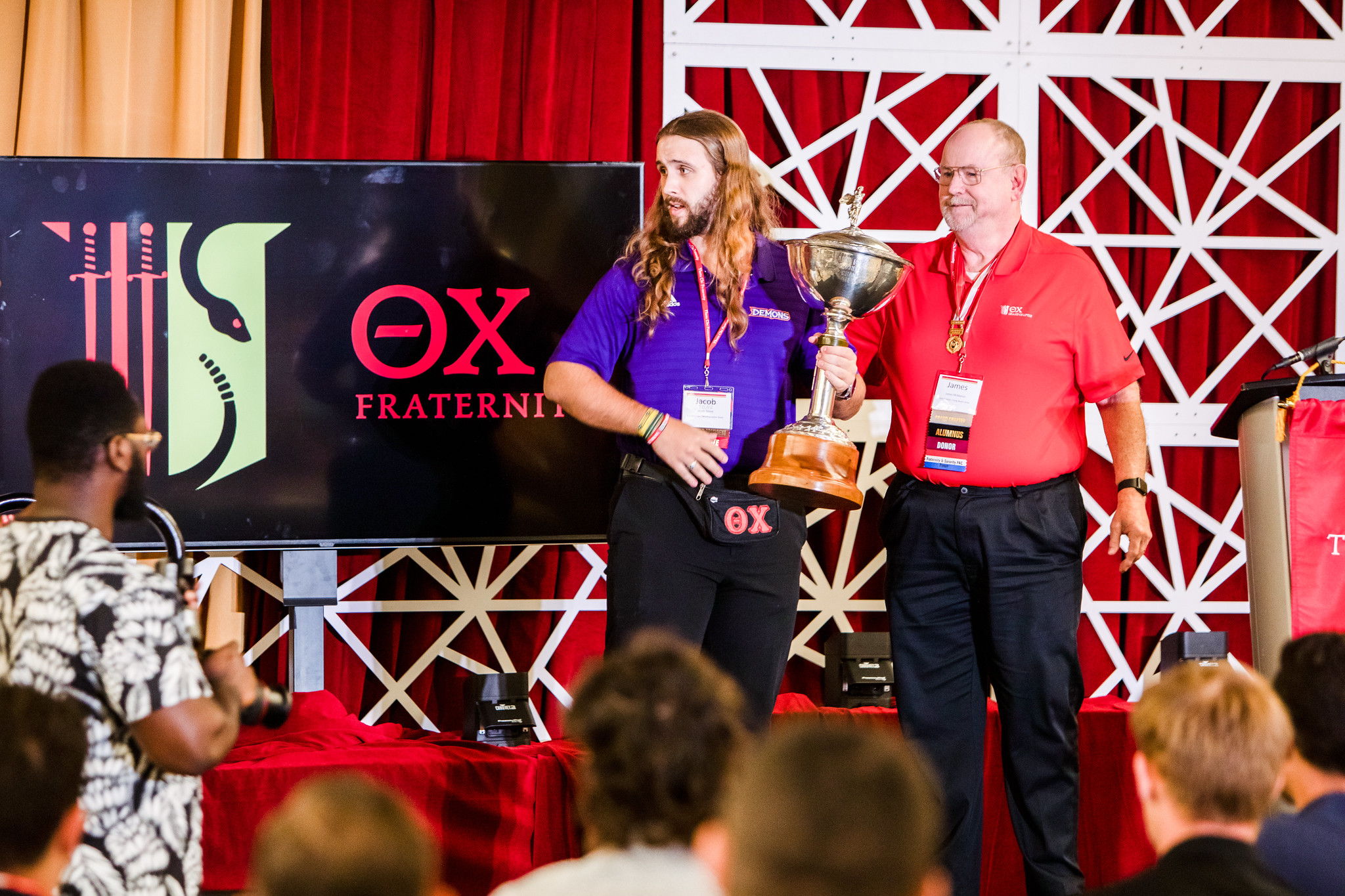 In the original spirit of the Lewis Award, Joe D'Amore (Eta Pi/East Stroudsburg 1977) received his award for donating over 15 gallons of blood throughout his life to the American Red Cross—that's 120 donations! D'Amore hit his lifetime goal with this mile, or "gallon"-stone, of an achievement. You can read more about the original story of the Lewis Award further on at the bottom of this article.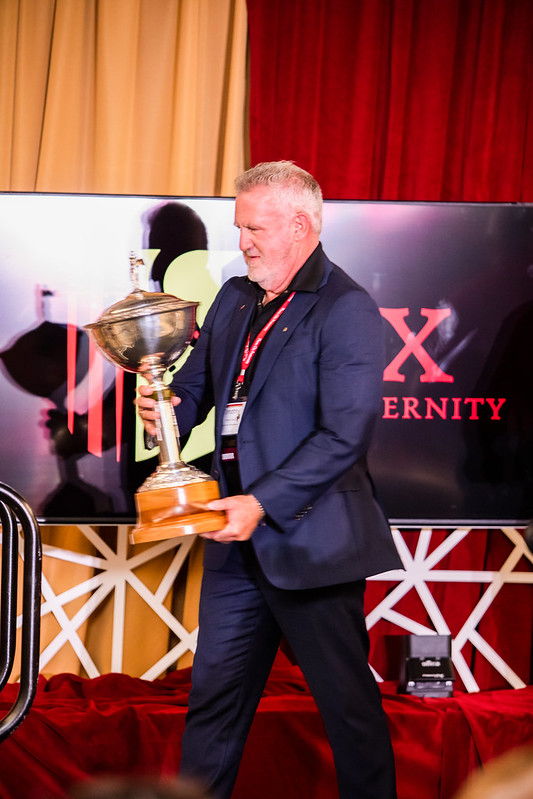 Finally, the second individual recipient of the Lewis Award was Timothy R. Tinnin (Epsilon Phi/Central Missouri 1982). After losing his wife to cancer, Tinnin kept thinking about the words she said to him on several occasions, "I've lost my hair. I feel lousy, I look lousy, and I don't even feel like a girl anymore. I just feel like cancer is all I am." Tinnin used his 32-years of experience with the Missouri State Highway Patrol (including eight years on the SWAT team) to identify a way to foster a "Warrior Mindset" within women and girls going through a cancer diagnosis. He believed creating a warrior, invincible, bulletproof mindset was as important in SWAT as it was in tackling cancer treatments.
He developed the Red Slipper Warrior Project to help and empower women and girls fighting cancer.
The Project provides a package containing red sequined, super comfy slippers to serve as a reminder that the warrior is still a woman (or a girl) and they are still beautiful, even while they are in the middle of a fight. Second, to emphasize a SWAT mindset, warriors are given a backpack-styled "go-bag" to use for their items they take to treatments. Younger warriors also receive "Hope"—a stuffed lop-eared bunny (wearing her Red Slippers!) to assure them they are never alone, even during extended stays for treatment.
As part of the fundraising efforts, he hosts an annual benefit concert called Angie-palooza. During last fall's Angie-palooza he was able to partner with country music legend and fellow Theta Chi, Phil Vassar (Eta Kappa/James Madison 1984)! He is now operating the Red Slipper Warrior Project in 18 states and Canada, and just launched partnerships with three children's hospitals in Missouri.

The Fraternity once again congratulate and thank these five chapters and two individuals for their efforts in exemplifying our motto of An Assisting Hand.
---
The Lewis Award, represented by the Lewis Memorial Trophy, is based on the account of past National Vice President James G. Lewis. In 1930, his daughter, Sidney Ann, was stricken with spinal meningitis, which developed from an infection following a serious operation. Lewis gave blood transfusions but when doctors refused to use his blood again, it was essential that others be found whose blood would match Sidney Ann's. Fellow Grand Chapter officer Dr. Robert L. Irish, of Alpha Chapter at Norwich University, was in constant contact with the situation and informed the officers of Upsilon Chapter at New York University.
The next day several of Upsilon's members arrived at the hospital offering to donate their blood. Two more transfusions were made, but tragically, Sidney Ann passed away at midnight. Later that year, Brother Lewis presented a trophy to the Grand Chapter in memory of his daughter. He did not specify a purpose, but merely wanted to thank the Fraternity for its assistance during the period of his daughter's illness.
Today, the Lewis Award recognizes Theta Chi members and chapters that most exemplify lending a helping hand to their campus and community, matching the true Theta Chi spirit demonstrated by Dr. Irish and Upsilon Chapter's desire to help Brother Lewis in his time of need.
About Theta Chi: Founded in 1856, Theta Chi Fraternity is a men's collegiate fraternity with more than 200,000 initiated members and has established 245 chapters. Theta Chi's mission is to develop college-age men into successful students, good citizens, lifelong brothers, and resolute leaders.