A Delta Alpha is Linfield's Fraternity Man of the Year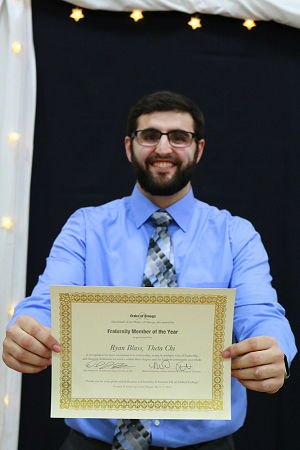 McMinnville, OR - Ryan Blass (Delta Alpha/Linfield 2020) was recognized as the Fraternity Member of the Year by Linfield College's Order of Omega. A peer-nominated award, it is presented to a fraternity man who lives their Fraternity and Sorority Life values daily. The individual who is given this award shows commitment to scholarship, acts in multiple roles of leadership within or outside of the FSL Community, and shows dedication to service within their chapter as well as in the Linfield community as a whole.

"I've had the pleasure of advising Ryan this year and have gotten to see him really grow into an amazing leader and fraternity member," stated Mikenna Whatley, College Activities and Fraternity & Sorority Life Program Assistant for Linfield College. "Our office has been so incredibly impressed with the example he sets for the IFC community."
Ryan's peers stated that he, "works tirelessly to make FSL the best it can be. He puts in an incredible amount of time and effort into building a sense of interfraternal brotherhood at Linfield. He is an influential leader and lives by his values every day. He is also a dedicated student, putting a lot of time and effort into his studies and getting good grades. He helps our chapter engage in community service opportunities, putting in countless hours himself. He treats his brothers and other members of the FSL community with respect, fostering positive, productive relationships between chapters. Ryan is an example of what a brother and FSL community member should be."
Congratulations to Brother Blass on this great honor!
Founded in 1856, Theta Chi Fraternity is a men's collegiate fraternity with more than 188,000 initiated members and has established 239 chapters across North America. Leadership development, personal development, and service to alma mater are fundamental to Theta Chi Fraternity's mission.