Abdi Lugundi: A Young Born Leader
The following article was published on December 10, 2020, via Allegheny College (allegheny.edu). It was reprinted with permission by Emma Highland, Marketing Content Specialist for Allegheny College. The article highlights Abdi Lugundi (Beta Chi/Allegheny 2021).
---
Going to college provides students with opportunities to find themselves, start to build their future, and discover their passions. Abdikadir Lugundi — a senior at Allegheny, the current Allegheny Student Government (ASG) president, and a community leader — has been clearing a path behind him for others as he paves his own way forward. He created Young Bantu Leaders, a program and community designed to support high school students in Pittsburgh and ensure post-secondary success, in 2018, and has been leading and expanding its reach ever since.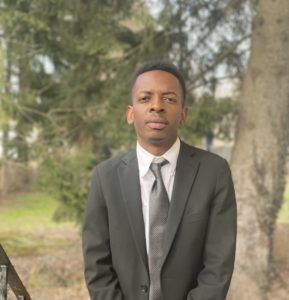 Lugundi's drive to help others on their path came from his experience as an immigrant, as he was often the only person with many of his intersecting identities. He also grew up in low-income housing, which added even more structural barriers in his way.
"I had problems trying to find my identity within America," Lugundi says. "In high school, being part of a Black male leadership program helped me in so many ways, but it lacked the cultural context and support I needed, being the only African mentee enrolled. As an immigrant, there are both cultural and language barriers. Being Muslim, foreign, and Black in America can be difficult, especially when you do not have a clear understanding of the social issues and prejudices that surround those identities."
When Lugundi came to Allegheny, he again found himself as the only student in a demographic — this time, as the only Somali Bantu student. Toward the end of his first year, that realization became the inspiration to create Young Bantu Leaders (YBL), hoping to help expose others like him to opportunities in higher education. "I always felt it has been my duty to help my community because I believe that if given a chance and the right support system, any youth can achieve success," Lugundi says.
Part of that concept was to build a relationship between Allegheny and Lugundi's home community of Pittsburgh. YBL partnered with the Somali Bantu Association of Pittsburgh, a nonprofit, and Lugundi brought the Islamic Cultural Association (ICA) at Allegheny in to help as well. At the time, Lugundi was the co-president of ICA, a student-led club that works with students of all religions to raise awareness of Islam through discussion and cultural events. With his leadership in both organizations, ICA began helping with programming, transportation, and coordination for YBL.
During the first summer that YBL was up and running, the program organized events in the Northview Heights community. Collaborating with the Center for Victims, YBL provided ice cream and 100 backpacks filled with basic toiletries, notebooks, pencils, binders, and electronics to youth in the community. With help from the Somali Bantu Community Association of Pittsburgh, a soccer and basketball tournament was held with participants joining from all over Pittsburgh. Adults and kids were able to enjoy cultural food and cheer on the teams.
Youth involved with the program also had opportunities to travel to Allegheny College, Duquesne University, and Carlow University for monthly specialized programming to gain exposure to campus life and develop leadership and communication skills to be able to be leaders in their respective communities. These programs paid off: six YBL youth have since graduated from high school and are attending CCAC (Community College of Allegheny County), Carlow University, California University of Pennsylvania, and Thiel College.
At the start of 2020, Lugundi chose to expand the program and rename it to Young Born Leaders. He says that he recognized that "no matter who the youth are, if they are facing the same structural barriers for success, the YBL program should be able to help them too. The program is now available for all eligible high school Northview Heights students, not just Somali Bantu. The college visits and mentoring continue while this new version includes more collaborations with organizations serving youth in Northview Heights, such as KeepItReal and the Alliance for Refugee Youth Support and Education (ARYSE), to help younger youth get signed up with activities, and to provide more resources to help the community."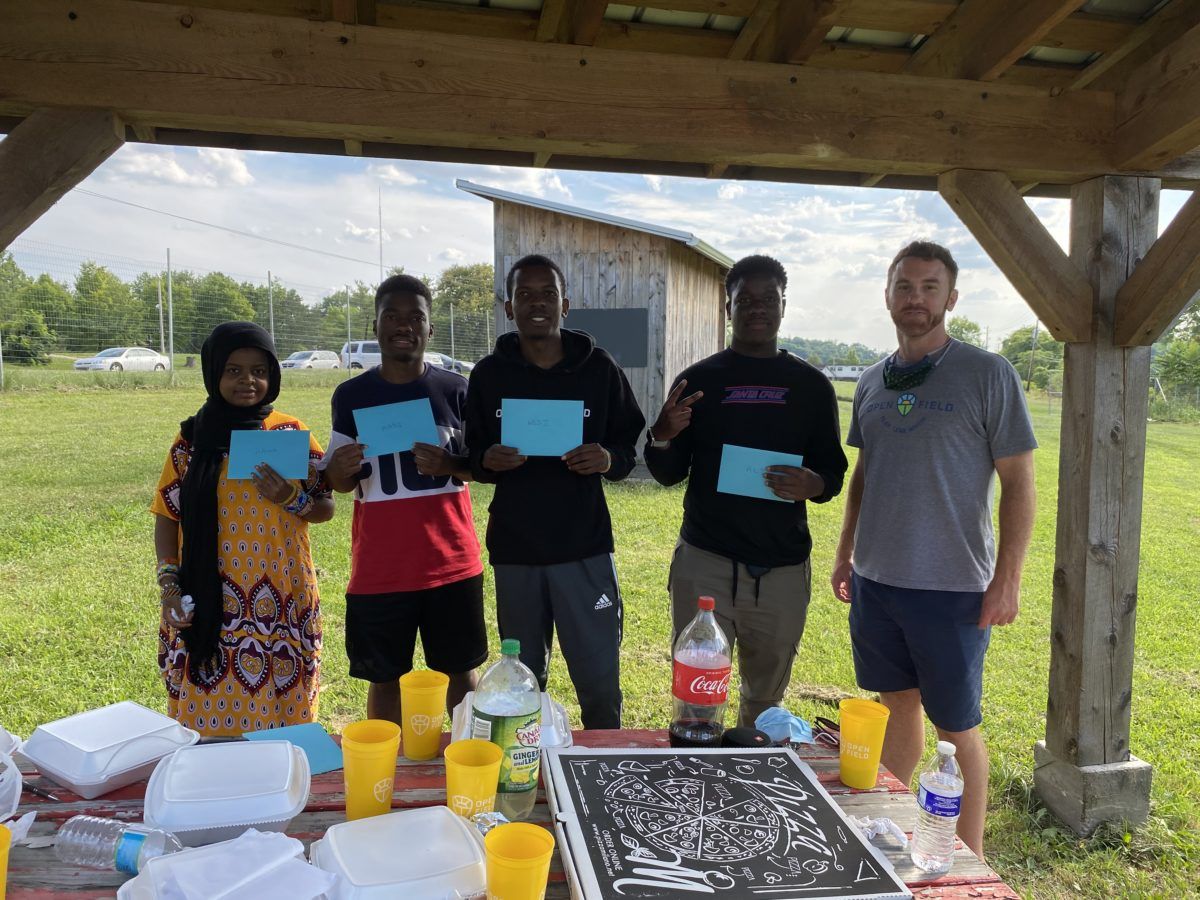 Now-graduated YBL youth at a senior give-away in the Northview Heights community garden. Lugundi is third from the left.
Mentoring is another aspect of the program that Lugundi is focusing on expanding, this time recruiting Allegheny students from his fraternity, Theta Chi. He recently created a diversity program within the fraternity called D.R.I.P.: The Diversity, Representation, Inclusion Program. "I felt there was a lack of cultural awareness and understanding within fraternity life, a situation that is not talked about in historically all-white fraternities," Lugundi says. "D.R.I.P. serves as an on-campus support system that inspires underrepresented groups to consider joining fraternity and sorority groups at Allegheny and fosters cultural pride within fraternity life."

Now, he's connecting the two programs by incorporating a mentorship program into D.R.I.P. that supports YBL youth. Lugundi also collaborates with students from Phi Beta Sigma and other multicultural clubs on campus to provide mentoring and educational support to the YBL youth. "Each mentee was paired up with a college student in hopes of answering any questions that the mentee may have and also provide support when needed," explains Lugundi.
YBL also now has new leadership: Maryam Osman, a current senior at Allegheny who was heavily involved in the early stages of the program. "As a person who came from the Somali Bantu community, I thought the program was very needed within our community and I really wanted to be a part of it," says Osman. As president, she will be the main administrative leader, and Lugundi will assist in the background as she transitions.
"These kids come from immigrant households where their parents are not able to help them with their college search and application process," says Osman. "Since they attend a public school where resources are not as accessible as they should be, they also won't be receiving assistance through their school. YBL is meant to fill these gaps. We provide college readiness, we help with the college application process, and we also make sure our students are successful through their four years of high school. As someone who has come from a similar environment as our students, I know that I could have used a program like YBL to help make my college process much less stressful."
Osman plans to expand the program to make it accessible to more students, connect students to other students outside of their communities to promote intercultural exchange, improve students' professional career skills, and continue to send students to college. The program will also provide resources and awareness for mental health, which Osman notes is something that is often ignored in these communities.
Lugundi's plans for YBL reach far into the future — "the next level and beyond," in his words. "I want to expand my program resources and finances to help more youth not only in Pittsburgh but around the world. YBL international sounds really nice to me. Simply, I want to take it as far as I can and help as many people along the way."
Says Osman: "I admire how ambitious Abdi is. He sets a goal he wants and he works so hard to achieve it. He continues to add to his list of achievements, surpassing limits that society may have set for him. He is a great leader and has helped me to become one myself."