Alumni at Convention Attain Milestone
They say what happens in Vegas, stays in Vegas. Well, this story is too good not to tell.
It begins in Indianapolis, as the International Headquarters staff was preparing for the 162nd Anniversary Convention this summer. Excitement loomed as alumni registration crept near 200 and total registrants exceeded 550 brothers.
In researching the alumni brothers set to attend, Chief Development Officer Philip Thornton discovered that their combined lifetime giving was $967,565. The staff marveled at the generosity of these brothers and immediately saw an opportunity to hit an impressive milestone at Convention: $1 million in total lifetime gifts.
On the second day of Convention, Former Foundation Chapter President Wes Wicker announced the goal to raise the remaining $32,435 in order to hit $1 million during his opening remarks at the Alumni Recognition Luncheon. That's when things really got interesting.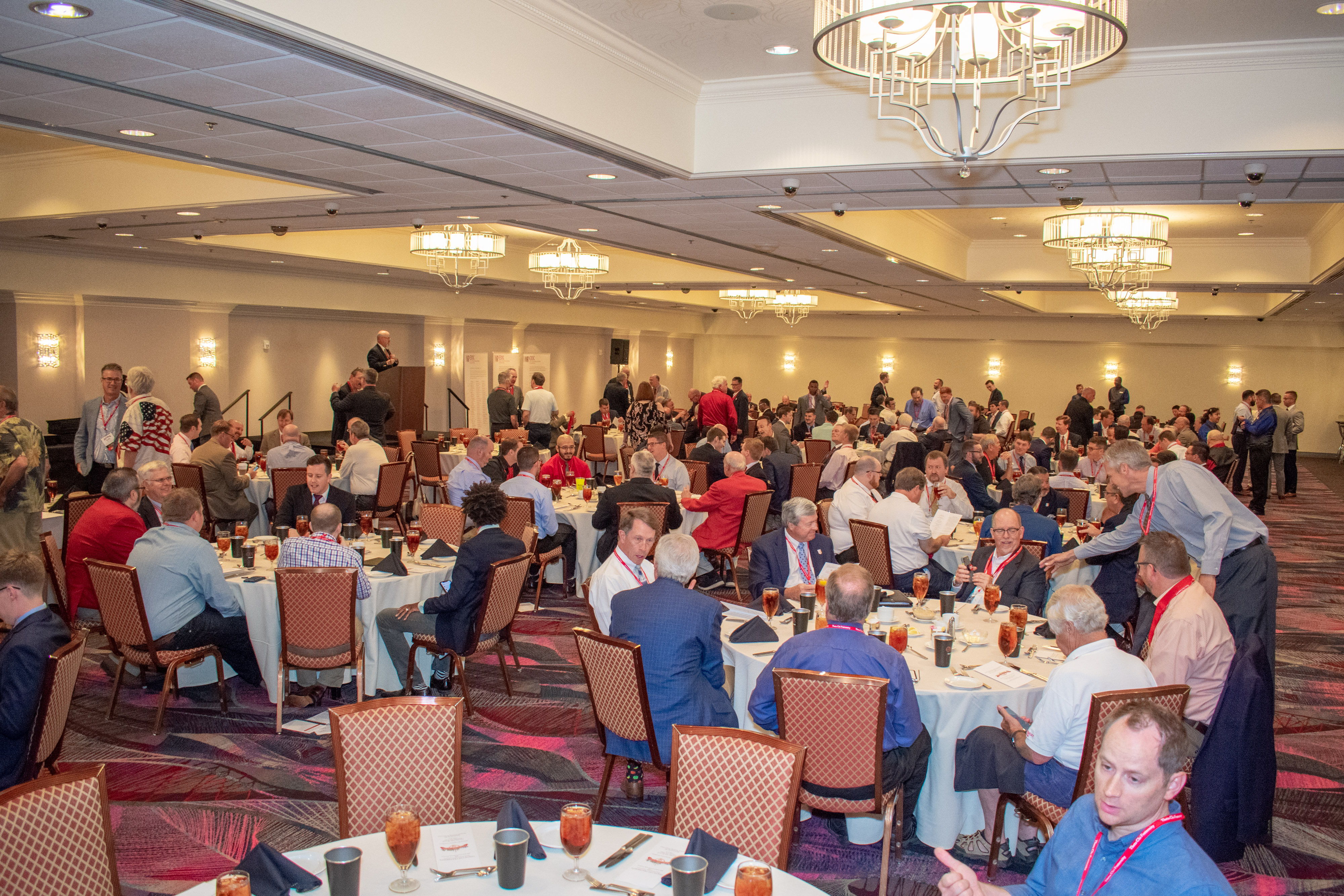 Almost immediately, a member of the Foundation Board of Directors, Kirby Montgomery, (Wicker's Alpha Phi/Alabama chapter brother) raised his hand and made an announcement. He pledged to provide a dollar-for-dollar match up to $12,500. Taking his lead, several other brothers raised their hands, exclaiming, "I'm in for $1,000!" The gifts rolled in and a couple minutes later, Kirby upped the ante:

"I'm going to match another $12,500. That's $25,000 total! Let's get there, brothers," he urged. The race to $1 million was on.
Momentum took another tremendous upswing during the Pre-Banquet Alumni Reception where The Foundation Chapter hosted a live auction. The highlight of the night was a trip to Washington, D.C. featuring day tours around the city, a gourmet dinner by celebrity chef and Brother Robert Wiedmaier (Alpha Psi/Maryland 1983), and a private evening tour of the U.S. Capitol by Dennis Cardoza (Alpha Psi/Maryland 1981), a former US Congressman and Foundation Board member.
Brothers Bill Dahlgren (Beta Lambda/Akron 1955) and Mike Kistler (Epsilon Upsilon/Central Michigan 1973) went toe to toe vying for the coveted prize. As the price tag exceeded $5K, only those two men were left in the ring. Back and forth they went…$6K…$7K…$8K…until they reached a whopping $11,500 a piece!
At that point, Brother Cardoza offered to host another separate trip so they could both enjoy the experience, as long as they each purchased it at the aforementioned price. Both brothers agreed and the auction ended on a dramatic high note.
The following day, at The Foundation Chapter Luncheon, a staff member announced the updated fundraising figures. The alumni helped obliterate the original goal of $32,435. Nearly half of them made gifts at Convention, raising an incredible $92,123 to support Theta Chi collegians across North America.
The generous donors at the 162nd Anniversary Convention are a huge part of the reason collegian brothers will receive over $400,000 in academic scholarships and leadership grants to attend Theta Chi conferences this year. We cannot thank them enough for extending an enormous Helping Hand to these men and for making Vegas a memorable experience for all.
Founded in 1856, Theta Chi Fraternity is a men's collegiate fraternity with more than 191,000 initiated members and has established 239 chapters. Leadership development, personal development, and service to alma mater are fundamental to Theta Chi Fraternity's mission.