Alumni Help Distribute Refurbished Ventilators
The following article was published on August 14, 2020, via Lafayette News (news.lafayette.edu). It was reprinted with permission from Bryan Hay, the author of the article, which highlights Alpha Omega/Lafayette alumni Warren Chaiken (1988) and Ed Gibbons (1988).
---
Almo Corp. using its national logistics network to ship needed ventilators to state agencies, hospitals

A Philadelphia-based distribution company under the leadership of two Lafayette College alumni has partnered with California-based Bloom Energy to refurbish and distribute unused, out-of-warranty ventilators.
Almo Corp. is using its national logistics network to ship ventilators to and from Bloom's manufacturing facilities in California and Delaware for refurbishment and out to state agencies and hospitals that need them most.
According to Warren Chaiken '88 (economics and business), president and CEO of Almo Corp., former U.S. Rep. Patrick Meehan of Philadelphia turned lobbyist helped connect Bloom and Almo to move the process quickly from refurbishing to distribution.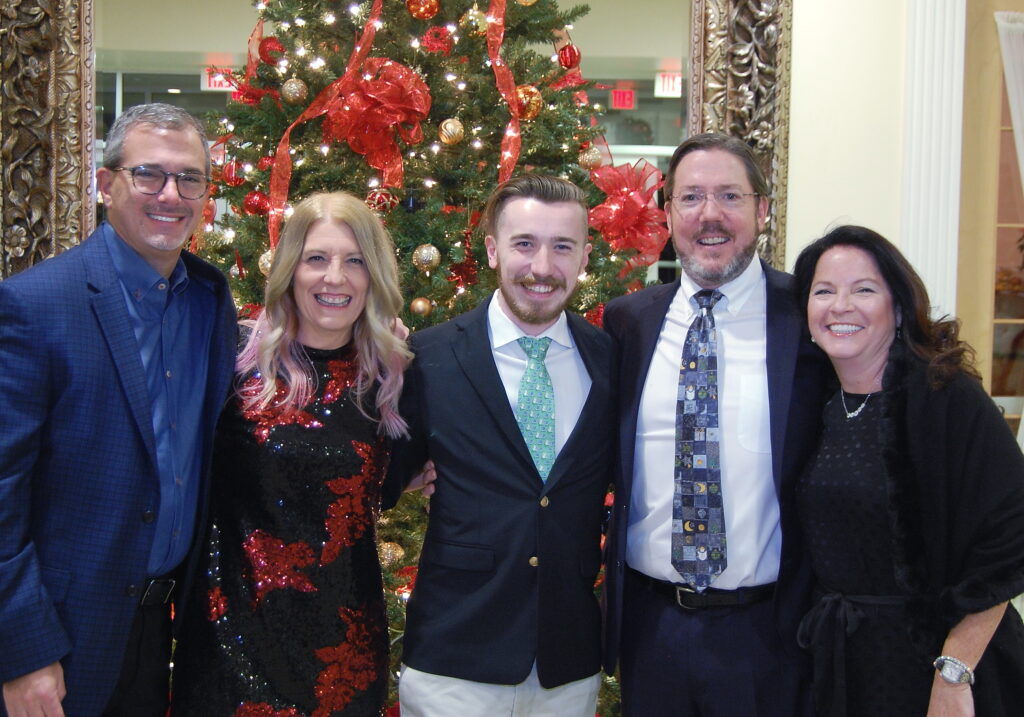 Almo holiday party. Left to right, Warren Chaiken, Kim Gibbons, Casey Gibbons, Ed Gibbons, and Diane Chaiken
"Pat saw the opportunity to connect our companies—he called me to see if Almo could help, and we said absolutely," Chaiken says. "Our focus has always been on family–the health and safety of our local community and people of this nation is our priority now, and we want to do what we can to help in this time of crisis."
Chaiken is the third generation in the family-owned business; his grandfather was one of its founders. Almo traces its beginnings to the post-World War II days of 1946 when Albert Margolis and Morris Green founded a wholesale distribution firm in center city Philadelphia at a site now occupied by the National Constitution Center.
Today Almo distributes major appliances, premium appliances, consumer electronics, professional audio-visual equipment, furniture, and housewares. It operates more than 2.5-million square feet of distribution space in eight strategically located warehouses throughout the United States.
Organized and efficient, Almo's logistics process "puts us in a great position to receive the refurbished ventilators from Bloom and quickly get them to state agencies and health care facilities so they can immediately be put to use," Chaiken says.
Almo's network of distribution centers across the U.S. and access to more than 50 freight carriers across the nation is used to collect the ventilators from hospitals and government stocks, deliver them to Bloom for refurbishment, and then return the equipment to the point of origin, says Ed Gibbons '88 (electrical engineering), Almo's executive vice president.
"Assisting Bloom Energy in this effort will not require any significant changes to our operations," Gibbons says. "Warehousing and logistics are what we do every day. These items do not require any special handling, other than there are some logistics challenges delivering to hospitals with COVID-19 exposure."

Friendship forged at Lafayette
Chaiken and Gibbons met and befriended each other on their first day at Lafayette. Chaiken lived in Ruef Hall 102, Gibbons in Ruef Hall 103.
"We became friends from day one, joined the same fraternity (Theta Chi), and have worked together for the past 24 years," says Gibbons, whose wife, Kim Checkur Gibbons '88, and son, Casey Gibbons '17, also went to Lafayette. Casey, who worked at Almo throughout high school, joined the company full time as an industrial engineer in 2018.

"Lafayette was a great community in which to grow up and mature," Gibbons says. "We learned the importance of education, social skills, and giving back to the community. Lafayette was a special place that had a special impact on our development, both personally and professionally."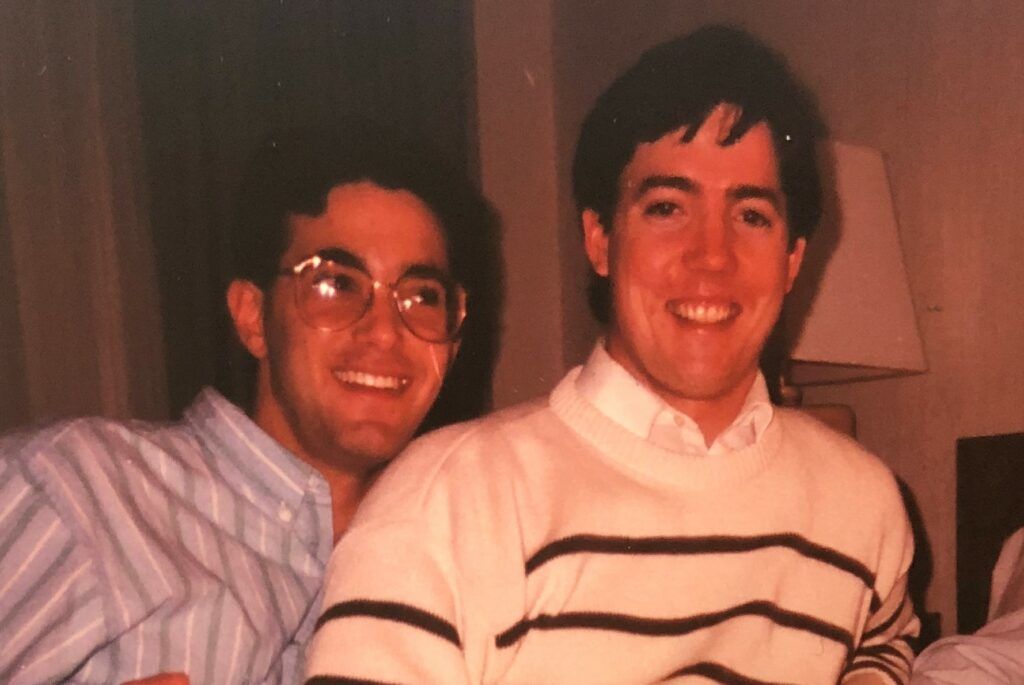 Warren Chaiken (left) and Ed Gibbons during their time at Lafayette