It sticks out like a bright, blue thumb along South University Drive in Fargo — that eye-grabbing, Smurf-colored building with the funny name: Gompf. So, what is it? And with so many grandparents (and even great-grandparents) in the area remembering it from their childhoods, exactly what is the history of that place?
Finding fun again
It all started in 1945. World War II was wrapping up, Harry Truman was just elected president of the United States, and people were generally ready to find some joy and laughter again. A Fargo man named L.F. "Andy" Gompf was ready to help.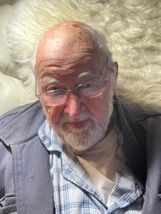 Gompf owned a Pepsi-Cola and Blatz Beer bottling company with his cousin when a friend asked him to help decorate at a state American Legion convention. It was then that Gompf realized he had a bit of a knack and a passion for such things, and a fun hobby was transformed into an entrepreneurial adventure. Gompf sold the bottling business to start a unique store that would prove sustainable decades later — Gompf Displays.
What started as a single home office nearly 80 years ago expanded into a business that specialized in providing hundreds of rental costumes and decorations for all seasons, building and decorating parade floats and assembling tents for celebrations, trade shows and political events.
And it would quickly become a family business as well, when Andy's son, Jim Gompf (Phi/North Dakota State 1951), moved back to Fargo to help run the store.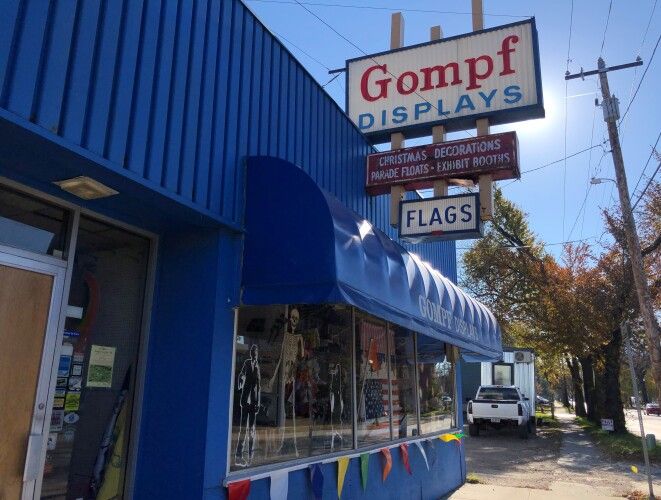 Jim says he remembers when Gompf Displays worked on the National Plowing Contest in the 1960s. In order to decorate and do the trade booths, they were also expected to set up over 60 tents for the event—something they had not dealt with yet.
"Nobody in Fargo was doing tents at the time, so we had to reach out to some acquaintances in Minneapolis," Jim said. "We didn't really know what we were doing or what to charge for them. In the end, we grossed $15,000 but had spent $16,000, so while it wasn't our proudest moment, it was a lesson learned for how to conduct good business."
The father-son team slowly but surely grew the business and built a client list by decorating for Bobcat, setting up for the North Dakota Winter Show in Valley City, and selling Christmas decorations to regional towns and cities. Eventually, Jim's son, Marty Gompf, joined the family business. And several years later, at the age of 14, Marty's son, Cory Gompf, joined his family members as the fourth generation to work and run Gompf Displays. In addition to the perk of working with family, Cory also loves that Gompf Displays allows him to be immersed in the community in ways he normally wouldn't be. The store was involved with the Downtown Fargo Community Partnership for many years, and that's a very fond memory for Cory.
"I remember getting up at 5 or 6 a.m. to go out into the freezing cold to put up lights all over Downtown Fargo," Cory said. "We would try to find the quietest, deadest time after everyone had gone home for the night or wasn't up for the day yet."
With family ties being so tightly woven into the business, Cory says Gompf Displays has kept them all close in what has remained a family business "through and through".
"Sometimes it's hard to sit down at Thanksgiving dinner and not talk about business, but that's just part of it," said Cory. "At the end of the day, and being in this for a while, the pros definitely outweigh the cons."
Founder Andy Gompf passed away in 1961, and just this past fall, at the age of 91, Jim's family encouraged him to finally hang it up.
"Retiring was a hard decision because I worked every day of my life until I was 91 years old, and my whole life has been wrapped up in this business," said Jim, who has always been a passionate and active member of the community. He's been a part of dozens of organizations including 30 years on The Salvation Army board, 55 years as a member of Fargo Kiwanis, and 25 years on the Fargo Housing Authority board. After decades of lighting up the town, Jim trusted his family to know when the time had come to rest a little. And as he adjusts to life in retirement at Touchmark retirement community, Jim has old friends from his time at Fargo Central High School and NDSU. He still loves to be involved with Gompf Displays and calls Cory and Marty almost every day to check in.
Running the business his grandfather loves so much is a responsibility Cory says he and his father do not take lightly. Cory says he wants to make his family proud by continuing their legacy.
Looking back on it all, Jim cherishes the life he created with his family and his community by being in the business of fun and celebration.
"As far as I'm concerned, I never worked a day in my life," Jim said, "I was able to make a living while doing something I love. I enjoyed just about every minute of our work, and it was a real pleasure."
You can read the original article here.