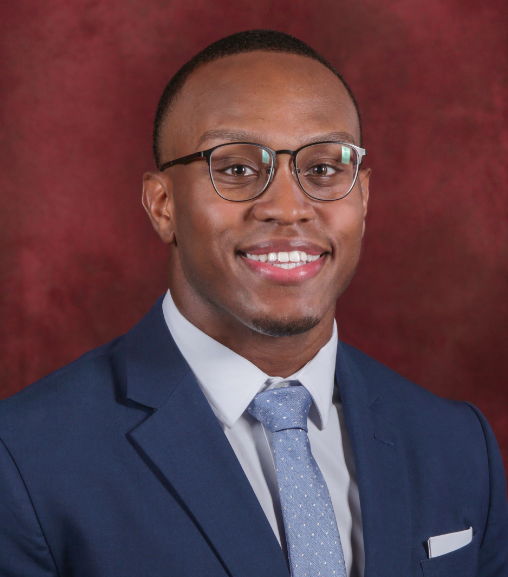 Askew at FSU
Florida State's most prestigious young alumni award goes to Gamma Rho brother
(Tallahassee, Florida) - In the fall of 2014, Nicholas Thomas (Gamma Rho/Florida State 2018) was looking to just get involved on campus. Now, seven years later, Thomas is not only the first man in his chapter to win the Reubin O'D. Askew Young Alumni Award, but also youngest at FSU to ever win this highest honor bestowed upon young alumni by the FSU Alumni Association.

While Theta Chi was a way for Thomas to more easily meet people at a university of over 32,000 collegians his freshman year, he now knows the Fraternity was instrumental in his success. "I wouldn't be here without Theta Chi," Thomas says while recalling his collegiate journey. "Really, being introduced to Theta Chi was a God-thing." Thomas explains his local Gamma Rho Chapter's involvement in Dance Marathon, a program of Children's Miracle Network Hospitals which aims to support over 10 million children at hospitals in the US and Canada, couldn't have been more perfect. "My nephew was born with cerebral palsy," explains Thomas, "So knowing the chapter's great involvement in Dance Marathon—it just couldn't be a coincidence."
Through the lessons Thomas learned in leadership and organizational management at his chapter as Vice President while a sophomore, and later as First Guard, he was equipped to join the local Dance Marathon CORE Board and then fix his gaze on his hometown of Lake Worth, FL. During his year off after college, Thomas moved back home to continue developing the Prescribed Pediatric Extended care facility he and his family opened in 2016. This medical daycare assists children with developmental disabilities. Beginning with just five kids enrolled, the program is now complete with occupational, physical, and speech therapists. The daycare is looking to expand as it approaches nearly 60 children enrolled this semester.
It is with these efforts Thomas was awarded the prestigious Askew Young Alumni Award, but he hopes his hard work, determination, and grit are something he can pass on to his brothers in both Gamma Rho Chapter and Theta Chi. "There are a few things I always like to tell guys in my chapter," says Thomas. "Think where you've been and how you've gotten there, continue to lift as you climb, and grow through what you go through."
Awarded a B.S. in 2018 and an M.S. in 2020 from FSU, Thomas is now in his second year of medical school at the Florida State University College of Medicine on track to become an Orthopedic Surgeon.
We congratulate Nicholas on this massive accomplishment and look forward to seeing what's in store for this young man's future. Thank you for making us proud and speaking about your Theta Chi journey, Nick!