Babson's New Board Chair and the Power of Creating Opportunities
The following article was published on August 4, 2021, via Babson Thought & Action (entrepreneurship.babson.edu). It was reprinted with permission from Eric Beato, Editorial Director for Babson College. The article highlights Jeff Perry (Eta Delta/Babson 1987).
---
Nearly 40 years ago, Jeffery Perry '87, P'23 was a promising high school student in Cleveland who had not even heard of Babson College when an unexpected opportunity arose that would change the trajectory of Perry's life and, ultimately, the College itself.
Perry was invited to attend the College's Management Expo, a weeklong summer program for Black and Latino students from around the country. Of the 65 high school students who gathered on campus that week, eight eventually attended Babson, including Perry.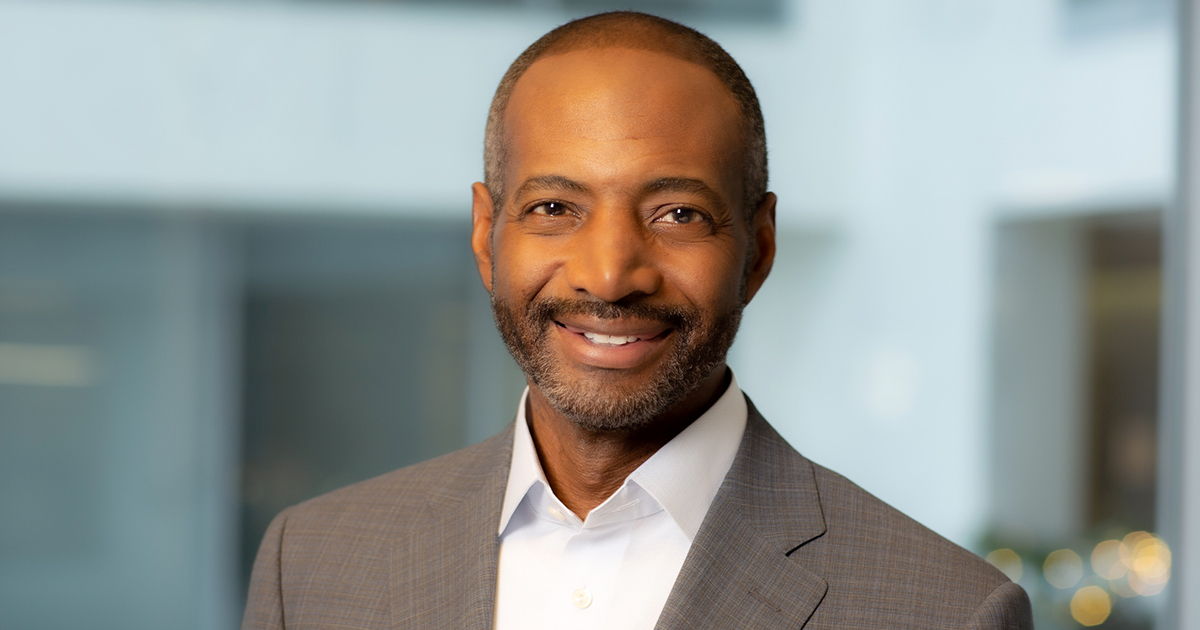 "With Management Expo, Babson demonstrated the importance of being more inclusive, encouraging diversity, and welcoming people into the environment," Perry says. "If you invest early, then you'll see the benefit of having more perspectives and more experiences brought to bear and create a richer fabric for the school in general.
"That's why, even to this day, I am a strong believer in the power of early-access programs to expose young people to the school and opportunities in ways that they may not otherwise have."
Now, as the newly elected chair of the Babson Board of Trustees, Perry has taken on a larger role to help the College continue creating those opportunities for young students and lifelong learners of all ages and developing them as entrepreneurial leaders.
'The Light Bulb'
In high school, Perry was beginning to think about a career in business, because of another early-access program, INROADS, a career-development program for diverse students. He was eyeing an Ivy League undergraduate education followed by an MBA, but that week in Wellesley and experience at Management Expo altered his course.
"It's one of those things where the light bulb went off for me personally, and I remember coming back home and telling my mother that I want to go to Babson College," Perry says. "Babson was really the fulfillment of launching and accelerating my career. Once I got on campus, there were just so many things to take advantage of."
Perry naturally gravitated toward leadership opportunities. He was a resident hall assistant and director, vice president of Theta Chi fraternity, president of Cardinal Key Honor Society, and, most notably, president of what is now the Black Student Union as a sophomore.
"In each one of those roles, there were different lessons that I learned about leadership, about how to position an organization, and about how to lead a community that really supplemented everything I was learning in the classroom," Perry says. "If I look back on my Babson experience, I feel that I really benefited from being in the environment, but I also felt that I contributed to the environment, and it was something that was very foundational for my overall growth and development."
In particular, as president of the Black Student Union, Perry not only dramatically raised its profile and impact on campus, but he also prioritized that its members recognize that "we were contributing as much to the fabric of Babson College as we were benefiting from being there," he says. "It just brought a different perspective for the organization."
By graduation, he was honored with the prestigious Roger W. Babson Achievement Award, which still sits on the bookshelf in his home office. "That was a significant achievement," he says, "and I really appreciated getting that award."
'Positive Impact on Young People'
After Babson, Perry earned his MBA from Harvard Business School and embarked on a successful business career, including an impressive 16-year run at EY, one of the Big Four professional services networks. He retired from EY in 2020 and founded his own consulting firm, Lead Mandates LLC, based in Chicago.
By that point, Perry also had built an impressive résumé of nonprofit work over two decades. He has served as chair of the board of directors of Chicago Children's Museum since 2016, and he served three years as the chair of the national board of directors of INROADS—the first alumnus of the program to chair its board. Since retiring from EY, Perry can now serve on for-profit boards as well, and he was named board director at Fortune Brands in December.
He joined the Board of Trustees in 2016, not only to serve his alma mater but also because it fit nicely with his growing portfolio of nonprofit work. He says, "I've always been passionate about serving organizations that have a positive impact on young people."
On the Babson board, Perry served on the Advancement Committee before chairing the Academic Excellence Committee. His tenure has included the search and hiring of President Stephen Spinelli Jr. MBA'92, PhD, the Centennial celebration, the groundbreaking gift from Arthur M. Blank '63, H'98 for the creation of The Arthur M. Blank School for Entrepreneurial Leadership, and, of course, navigating the immense challenges of the pandemic.
"It's been a very dynamic few years," he says. "Now more than ever, the world needs entrepreneurial leaders, and Babson is uniquely positioned to thrive by developing them and empowering them globally."
Humbling and Historic
When Marla Capozzi MBA'96 stepped down this year as chair of the Babson Board of Trustees, Perry was a natural option to replace her. His appointment, which he calls humbling, also is historic. Perry is the first parent of a current student to serve as board chair; his second son, Donovan '23, is a rising junior.
Perry also is the first Black chair of the Babson board, an important milestone for the College.
"I think it's significant for Babson, and I recognize the significance of it," he says. "For me personally, I've often been the first, but it's less important about being the first but hopefully not being the last."
As he adds to his track record of breaking new ground, Perry continues to pave the way for others to capitalize on opportunities and discover their own paths to success.