Phillip H. Bender (Omega/Penn State 1982) recently sat down with the Belmont University newspaper, The Belmont Vision, to detail not only why he chose to go back to college, but also how important it is to have fun. Before earning his first college degree, however, he knew Theta Chi would be at the top of his list once recruitment started.
"I would say a lot of it had to do with my older brother," explains Bender. His older brother, Paul Bender (1979), was three years ahead of Phillip and was even in the chapter during his time as a pledge in Omega Chapter. "Through him, I was already exposed to Theta Chi and knew about the organization while in high school."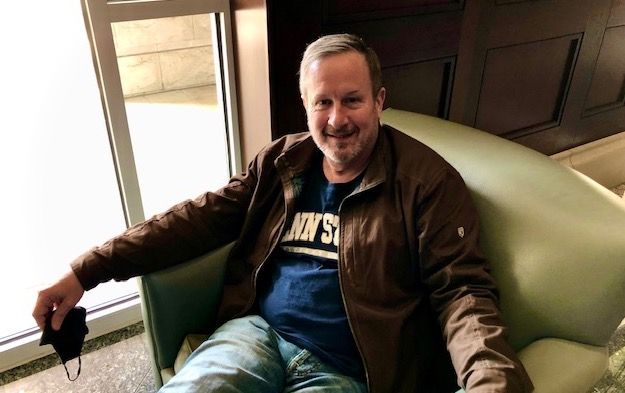 While the Fraternity was already a common name to Bender, joining the organization was more than just about being a legacy. "The chapter had a diverse mix of guys back then—this was a group of guys with a wide variety of experiences and backgrounds," he explains. "We weren't a jock chapter or a 'smarts' chapter, but we were a group of guys who were there for each other."
Theta Chi is truly a brotherhood to Bender, as he felt the men in Omega Chapter were his family. "We were there to help each other just figure it out. The ideal of the Helping Hand really resonated with me—if you take care of folks, they'll take care of you."
Of course, the skills Bender learned in the Fraternity were of vital importance as he used these skills later in the military and other experiences. "I think a big takeaway is that life is about teamwork—this is especially true in the military," notes Bender. "But it was in Theta Chi where, for a lot of us, it was our first experience away from home. We're in an environment where we have to manage a house, manage a budget, organize cooks, organize intramurals… being in a Fraternity really gives you a jump start."
If there's one piece of advice Bender could give to collegians today, it's to keep in touch. "I've lost touch with many of my brothers upon graduation, where now I may only talk to half-a-dozen of them," he remarks. "Stay in contact with your brothers after graduation and leverage those relationships. These are lifelong relationships—make them continue."
Bender tells a story where just a few weeks ago he reunited with Ronald Biernacki (1981) during his recent move to Nashville and the two haven't missed a beat. "We got together—the last time was in college, over 30 years ago—and it's like 30 years never happened," he describes. "It was just like college all over again."
-----------------
The following story is an excerpt from Bender's interview with the Belmont Vision, written and photographed by A.J. Wuest.
Behind the Bruin: 62-year-old freshman and veteran Phillip Bender on making life fun
For all 62 years of his life, Phillip Herbert Bender has truly desired one thing.
Fun.
And as a Theta Chi at Penn State University in the early 80s, he admits he may have had a little too much of it.
"I just went there and partied," he said. "You know the movie 'Animal House?' It's supposed to be a comedy. It's really sort of like a documentary. That was my life," he said, closely comparing himself to Bluto, the frat brother played by John Belushi in the college-romp film.
"I was a terrible student," he pauses with a grin. With reluctance, he jokingly continues. "You can't print this off, all right?"
"But no, back then, I didn't know what I wanted to do."
After several changes to his field of study while in college, he settled on horticulture with little clue of what he wanted to do with it.
"You know, I always sort of thought I'd be a gardener. But then I was like nah, that's not gonna be exciting enough, and so I joined the Army," he said.
"The Army was like the fraternity; you work hard, but you play hard," he said. "A lot of playing hard, so it was fun."
Because he enlisted with a bachelor's degree, Phillip qualified for Officer Candidate School right out of basic training. After completion, he was commissioned as an infantry officer in 1984 and was quickly assigned to Hawaii as a mortar platoon leader.
After three years of commanding his platoon, Phillip decided to switch his profession to something a little more — well, fun.
"I never joined the Army thinking it was gonna be a career. Figured I'd take it one day at a time," he said.
Phillip found his fun in, of all places, foreign counterintelligence.
"It was always fun," he said. "I always said, when the fun is over, I'll quit. And that lasted 40 years."
Phillip's fun and secretive career allowed him to exploit, detect and manipulate in order to obtain crucial knowledge on foreign and enemy whereabouts.
Among his stations were Camp Zama, Japan; Fort Meade, Maryland; Augsburg, Germany; Bagram, Afghanistan, Pearl Harbor, Hawaii and the Pentagon during the span of his career.
He achieved the rank of colonel and several awards for his work including Legion of Merit, Bronze Star and Meritorious Service Medal.
Oh, yeah: he's also enshrined in the Officer Candidate School Hall of Fame.
The humble 62-year-old, however, can't discuss what he did in his decorated career.
"I'd like to tell you some stories one day that I can't even tell my daughter," he said. "But they'll throw me in jail."
He pauses and chuckles.
"But it was fun."
Phillip's military service follows in the footsteps of two generations of Army officers. With his daughter, a recent West Point graduate and currently an Acquisition Education and Training officer at Fort Bragg, the Bender family now consists of four generations of them.
It all began on a lie.
After fabricating his age, Phillip's grandfather joined the Army at 16, went to France and served as a cavalryman during World War I. By the second World War, he found himself in occupation forces with Gen. Douglas McArthur in Southeast Asia.
His daughter — Phillip's mother — attended Sophia University in Tokyo and soon after met the love of her life, an U.S. Army intelligence man stationed in Japan.
They married and had two sons; Phillip was the younger of the two by three years.
While stationed in Japan nearly 30 years later, that younger son would meet his wife roughly five miles from the very spot his parents met.
Today, a happily divorced and freshly retired Phillip lives in Nashville, Tennessee, where he takes Charlie, his furry four-legged friend of 17 years, out for walks around the Parthenon.
But with everywhere he's roamed, why settle in Nashville?
Phillip longed for a place to have a good time. His retirement city needed to be affordable, have an international airport in the case of having to implement his emergency bug-out plan and it needed to have good restaurants and bars.
The final candidates included the suburbs of Frankfurt, Germany, as well as towns in Portugal and Poland.
Just before Phillip purchased a place in Portugal, however, it dawned on him that he also had another country in mind.
His homeland, the United States of America.
Phillip included in his list Boston, San Francisco and Nashville.
"I picked Nashville," he said. "We'll see how it goes. If I don't like it, Portugal is still on the list."
But there was still something missing — he needed a new pasture.
Phillip decided to give college yet another go around and enrolled at Belmont University, majoring in liberal studies.
What?
Why would a retired 62-year-old veteran go back to school?
Please, allow Phillip to explain.
"The only reason I'm doing it," he said, "is to enlighten myself."
"This is really just what I want to pursue to expand the mind. Keep me active. Give me new ways of thinking about things. You're never too old for that, and that's what I like about the student body because it gives me a different perspective," he said.
For Phillip, college life this time differs from his previous experiences.
"Just the workload," he said. "And it's almost more than work. I know, in my occupation we were busy. There were times of surge and wars and deployments, but generally, it's a 40-50 hour week, Monday through Friday, unless there's a crisis or something."
"And what I'd forgotten as a student, I mean, every night you got homework, you got something. I mean, there's stuff hanging over you all the time. Which is like, 'wow, this isn't retirement.' I'm as structured now as I was then."
Initially, the veteran wasn't sure about the whole idea of going back to college, but he quickly found a home among Belmont students.
He loves hanging out at the veteran center on campus where he shares stories with fellow vets.
Phillip regularly commiserates with his classmates, many of whom are 40 years younger, about the "unfair" workload the professors give.
He tries to not be perceived as a show-off or superior figure to his younger counterparts.
With his laid-back personality, he typically sits reserved in class with ears open and mouth closed, ready to absorb as much knowledge as possible.
Many of his professors are not fooled, though, noticing his vast knowledge and intelligence in class.
"He often has some interesting insights that other students don't necessarily have," said Belmont history professor Dr. Daniel Schafer.
When one class discussion broached the Muslim holiday Ramadan, Phillip stayed afterward and shared with Schafer his own experiences visiting Jordan in the Middle East during the celebration.
"You know, sometimes he doesn't share those in the midst of class, I think, because he doesn't want to be seen as showing off his experiences," Schafer said.
And he has plenty to draw from — and he plans to keep growing what he knows.
For Phillip, settling is not an option. Even during breaks, he aspires to constantly travel and learn.
Just like his classmates, Phillip looks forward to the liberating three-and-a-half month summer break where he can travel to some of the national parks in the U.S. with his old mutt.
"I think my real hobbies have always been traveling," he said. "Not just living overseas but vacationing and seeing different people, different cultures. Probably the least I've seen is the U.S. so that's on my list now."
As for his classes, they're fun, he said.
Phillip strives to always keep his life exciting and keep his life active.
To keep his life fun.
And for now, his fun is found at Belmont, where he wants to stay for the next three years, finishing his degree.
"The student body is really impressive to me," he said. "The whole student dynamic has really shifted over the years to where I'm just really impressed at how advanced it is and the amount of work involved."
"I've enjoyed it," he said.
"College is fun."
—
PHOTO: 62-year-old freshman Phillip Bender. AJ Wuest / Belmont Vision