Boston University Colonized
Boston – On January 30, 2021, Theta Chi officially colonized a group of interested students at Boston University. This new colony is looking to become the eighth chapter installed in the state of Massachusetts.
The journey to becoming a colony started when members first met one another through classes at school. Since they were in the same classes, they often spent time studying at the library together. As they met more and more potential recruits, they would invite them to their study sessions. Outside the classroom, they found themselves hanging out with one another, playing basketball and video games.
As they got to know each other better, they looked for a way to cement their friendship, a way to make it more permanent. The idea of joining a fraternity popped up and they started looking around campus. When they couldn't find a fraternity that fit what they were looking for, they decided to start their own.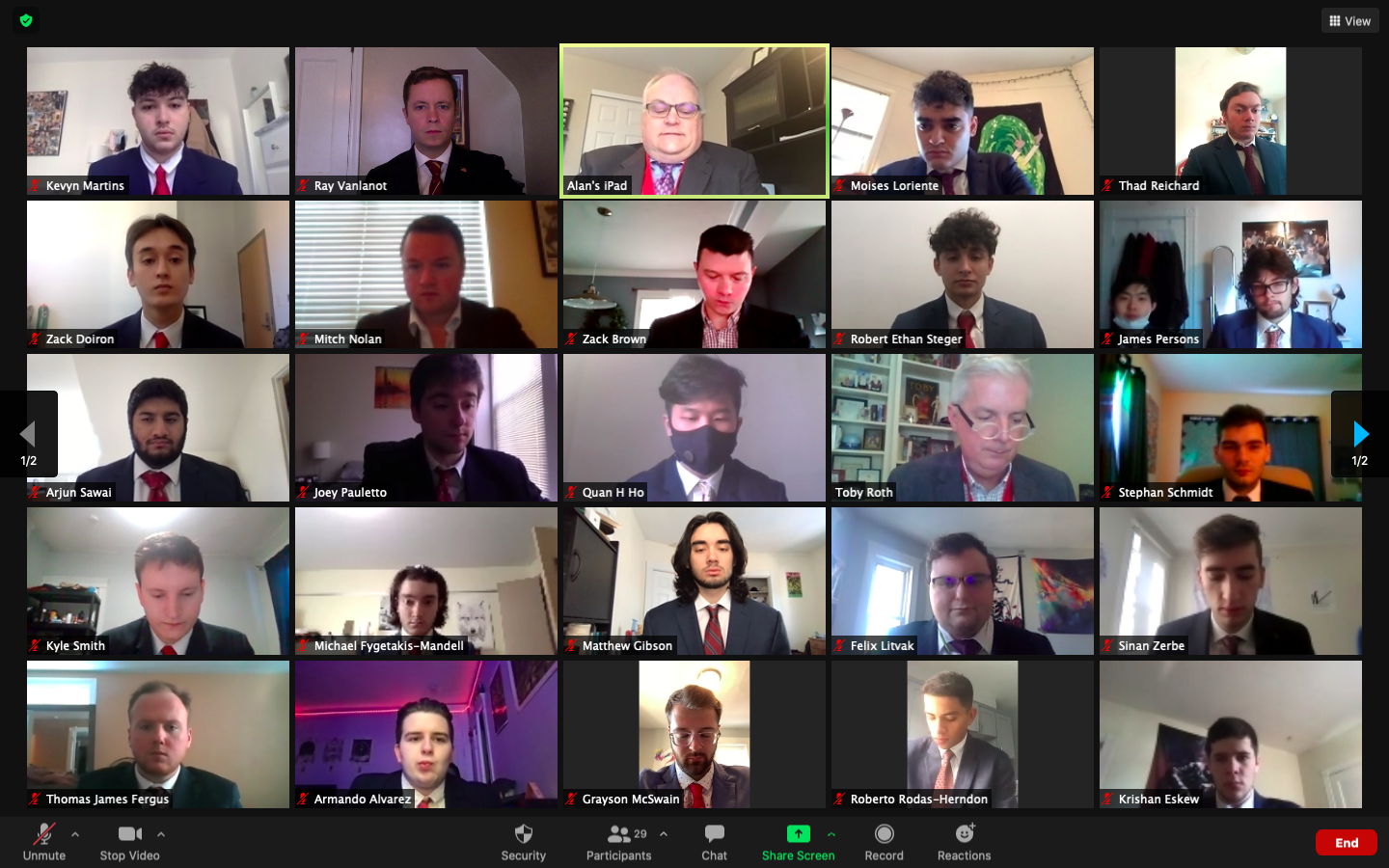 There were multiple discussions on which fraternity to start. After carefully researching their merits, the group decided on Theta Chi for its commitment to alma mater and the motto of an Assisting Hand. "We want to be leaders on campus," explained Grayson McSwain. "When looking at what we want our group to be, we all knew we wanted to start something that would represent the Boston University campus in a positive light."
Their desire to display the Helping Hand was prevalent when a local diner, Steve's Kitchen, was vandalized. Already reeling due to the pandemic, the diner was burglarized – cash registers were taken and thousands of dollars went missing. The colony members took it upon themselves to do a fundraiser through Instagram, where $3,500 was raised. Actions like these speak louder than words and helped attract other men to the group, raising the size of the group to 24 members.
Upon having their petition approved by the Grand Chapter, the interest group at Boston University was officially colonized on January 30, 2021.
Due to COVID-19 restrictions, the Colonization Ceremony took place virtually over Zoom with International Chaplain Toby Roth serving as the Presiding Officer. Others in attendance included International Vice President Creig Andreasen, International Marshal Al Copeland, Chief Operating Officer Ray Vanlanot, Senior Director of Training and Development Zack Brown, and Director of Chapter Development Mitch Nolan.
The 24 colony members are: Guillermo Alonzo, Armando Alvarez, Brian Buckley, Zack Dorion, Krishan Eskew, Tom Fergus, Michael Fygetakis-Mandel, Matt Gibson, Tom Hayes, Quan Ho, Ashburn Hu, Felix Litvak, Kevyn Martins, Moises Loriente, Grayson Midkiff, Joey Pauletto, James Persons, Thad Reichard, Roberto Rodas-Herndon, Arjun Sawai, Stephan Schmidt, Kyle Smith, Robert Steger, and Sinan Zerbe.
The colony members are involved with numerous organizations on campus including: Asian Student Union, Big Brothers Big Sisters, BOSMUN, BU Chess Club, BU Economics Association, BU Math Department, BU Rugby, BU Running Club, BU Smash, BU Sports Management Club, Campus Tutors, Delta Kappa Alpha National Cinematic Professional Fraternity, Delta Phi Epsilon Foreign Service Fraternity, Hispanic Association, Innovation Pathway, Kilachand Honors College Mentor, Peer Health Exchange, Questrom Business Club, Pre-Law Society, Stage Troupe, and WTBU Radio.
Chief Operating Officer Ray Vanlanot said, "While unfortunately we couldn't gather in-person, quite fortunately, we virtually recognized and conferred colony status to an incredibly deserving group of future Theta Chi brothers. These young men had a vision, and they impressively execute that vision daily; as a result, the Boston Colony of Theta Chi continues to make history in our Fraternity and at Boston University."
Colony President Kyle Smith stated, "We're all really fired up over here and excited to get going. We've been working toward becoming a colony since early in the fall semester, and after a lot of organization, we were finally able to make it official. Although having to resort to a virtual Colonization Ceremony was not the route anyone wanted to take, in this era of the pandemic it is necessary to make compromises. Despite the challenges COVID-19 will undoubtedly continue to pose, we are enthusiastic about fostering a community of resolute men at Boston University with Theta Chi, and it is our goal to create an organization and family that will make these challenging times a bit easier on those who decide to join us."
Congratulations to our newest colony members at Boston University!
Congratulatory notes may be sent to Colony President Kyle Smith. You can follow the progress of this colony via their Instagram account.

Founded in 1856, Theta Chi Fraternity is a men's collegiate fraternity with more than 196,000 initiated members and has established 245 chapters. Leadership development, personal development, and service to alma mater are fundamental to Theta Chi Fraternity's mission.