Bull Take Reins of Gators' Student Union
Portions of this article originally appeared on the University of Florida Division of Student Life's website, authored by Halle Marchese; photo by Matt August.
The University of Florida Division of Student Life has named Dwayne Isaacs (Iota Nu/South Florida 2010) senior director of the Reitz Union, the roughly 450,000-square-foot student hub on UF's campus.
As a member of Theta Chi Fraternity, Isaacs can pinpoint areas in his life that were improved from joining the Fraternity. "I think a few of the skills I took away were patience, dedication, and a strong sense to serve my surrounding community in a positive way," Isaacs said. He further illustrated how specific ideals of the Fraternity are exhibited every day in both his work and personal life. "This leads into how I live my life and approach my work. I am a servant leader who is inclusive and committed to the success of those around me. I work hard to value my team, my colleagues, and my loved ones and lead with inclusion as my foundation. Theta Chi often provided me the experiences to strengthen these values and I'm thankful to be part of a brotherhood that so closely aligns to who I am and my mission in life."
Isaacs, previously director of the Division of Student Life and Engagement at the University of South Florida St. Petersburg, will oversee the advancement of the student union – which currently includes a hotel, a game room, an auditorium, two ballrooms, and meeting rooms – and Newell Hall, a 24-hour study space.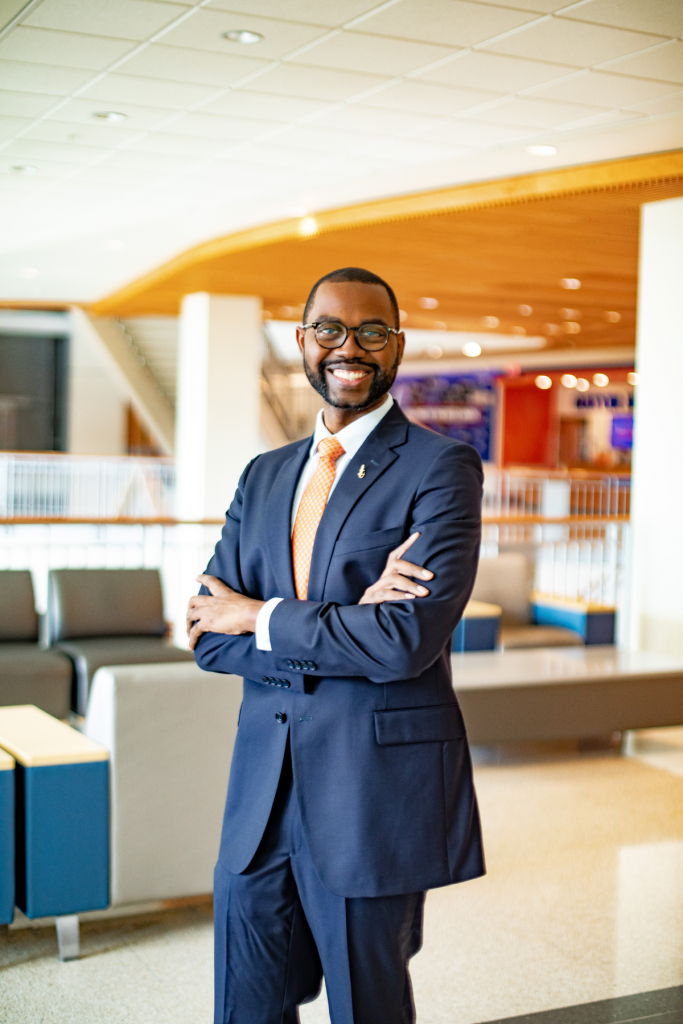 "It's more than just a building. There's something special about hanging out in the union, talking to friends, or walking into the building for the first time. There's a sense of excitement," Isaacs said of the Reitz. "Now, more than ever, every institution needs a student union experience – what better place is there to bring a campus community together?"
Isaacs said he will focus on shaping the union around students based on campus ecology, or how they interact with their surroundings, to create an environment where all students feel welcome. Previous projects he has worked on – including the installation of a Peace Pole at USF St. Petersburg to symbolize harmony – have created a warm environment at their heart.
"You have to listen to what people are looking for out of this space, right?" he said. "You have to create a space students can see themselves in so they can interact with it the way they want."
Since his first on-campus job as an undergraduate, the potential for central student spaces to enrich campus communities was a passion of Isaacs'. While he earned his master's in higher education, he worked as a graduate student in the facilities management division of USF, where he helped with the construction of the Phyllis P. Marshall Student Center.
"It was a massive undertaking, and I fell in love with the process," said Isaacs, who is now earning a Ph.D. in higher education administration. "I always thought to myself, 'This is so great. I get to take part in this project and bring this space to life.' I was hooked. I knew I wanted to do this for the rest of my life."
Isaacs was recently voted in as an at-large member of the Association of College Unions International 2022 Board of Trustees and will take office in March at the association's Annual Conference. One of the oldest associations in higher education, the organization strives to establish inclusive, welcoming communities through the work of student unions and activities. In addition to volunteering with the association as a regional director and conference chair, Isaacs is also a member of its Diversity, Equity, and Inclusion Team. Now, as part of the Board of Trustees, he will attend conferences, design task forces, and vote on new initiatives and related decisions.
Guaranteeing that the student union at UF is an inclusive space goes hand in hand with tailoring the resources there to student needs, Isaacs said. Listening to students and advocating for their needs will also be a key part of his role.
Becoming the director of a student union was his dream job, partly because of the support he received when he was a student, he said. Isaacs spent his first two years at USF in the Student Support Services Program, a program designed to support first-generation and low-income students. Now, he wants his work at the student union at UF to indicate to students that they belong.
"Don't second guess it – you're a Gator and you're here for a reason," he said. "I'm talking to people like me, if I'm being honest, who probably didn't believe that they were able to make it or that they can be successful in college. I hope to bring that energy to the Reitz Union and to UF."
Read the original article here.