David A. May Named the 143rd Recipient of the Distinguished Service Award
David A. May (Zeta Sigma/Wisconsin-River Falls 1970) was named the 143rd recipient of Theta Chi Fraternity's Distinguished Service Award. The Distinguished Service Award is the highest honor that the Fraternity may confer upon a member and publicly recognizes and properly honors Theta Chi alumni who, by reason of outstanding international service, personal effort, and unselfish interest, have made distinguished contributions to the lasting good and general welfare of Theta Chi Fraternity. At no time can the number of awards made exceed the number of years in age of the Fraternity.
Brother May joined the Sigma Tau Epsilon local fraternity at Wisconsin State University-River Falls in 1968. Sig Tau had formed on campus in 1963, and as Brother May was joining, the local fraternity was in the process of affiliating with a national fraternity. On February 10, 1968, after studying six national groups, Sig Tau decided to ask Theta Chi Fraternity for affiliation. Having been found to be acceptable by Theta Chi Fraternity, Sig Tau was scheduled for installation at the end of the semester. Dave May was initiated as a Charter Member during the installation of Zeta Sigma Chapter on June 1, 1968.

Dave maintained his involvement in the newly established chapter of Theta Chi and ultimately graduated from the spring of 1970 with a degree in Agriculture Economics.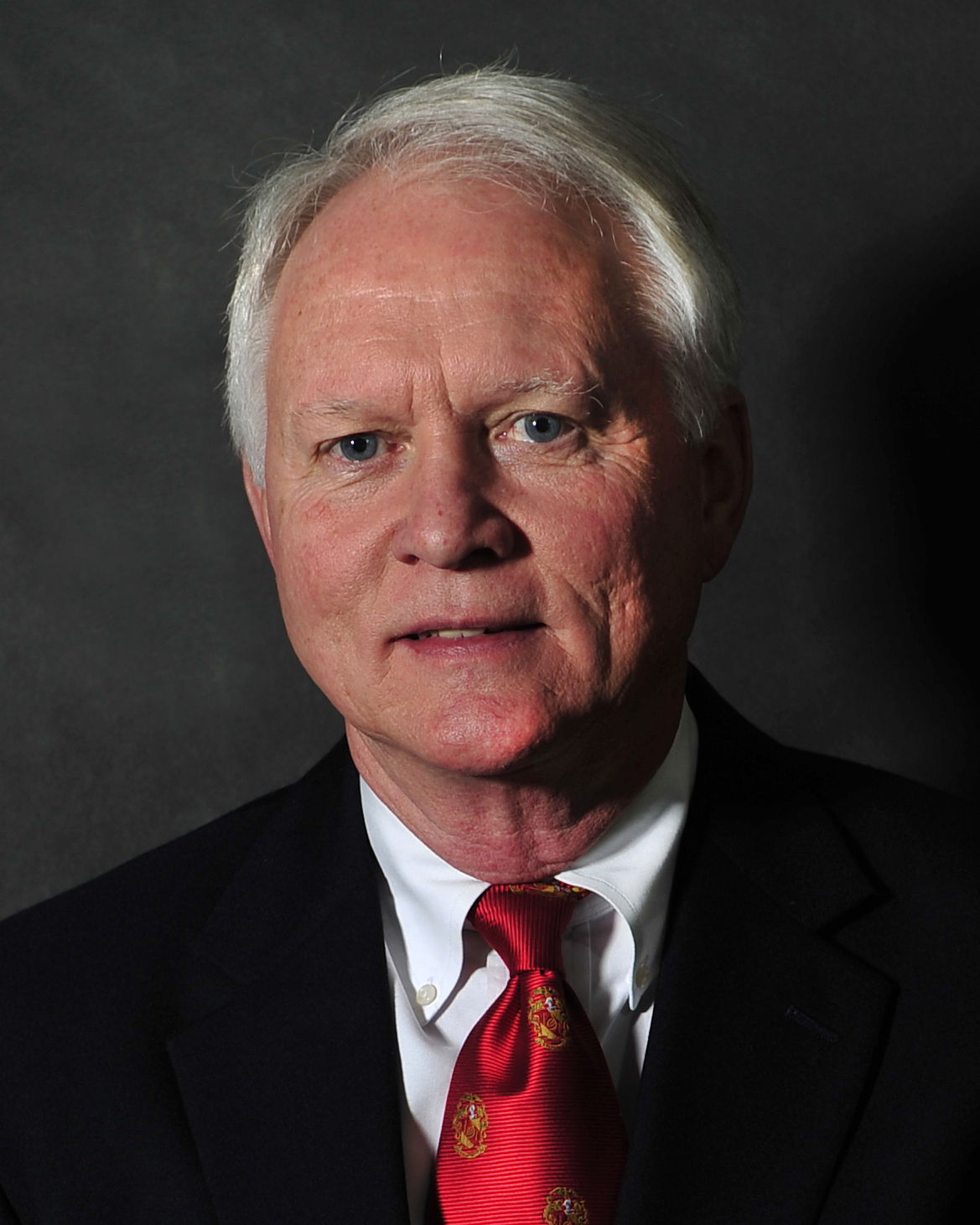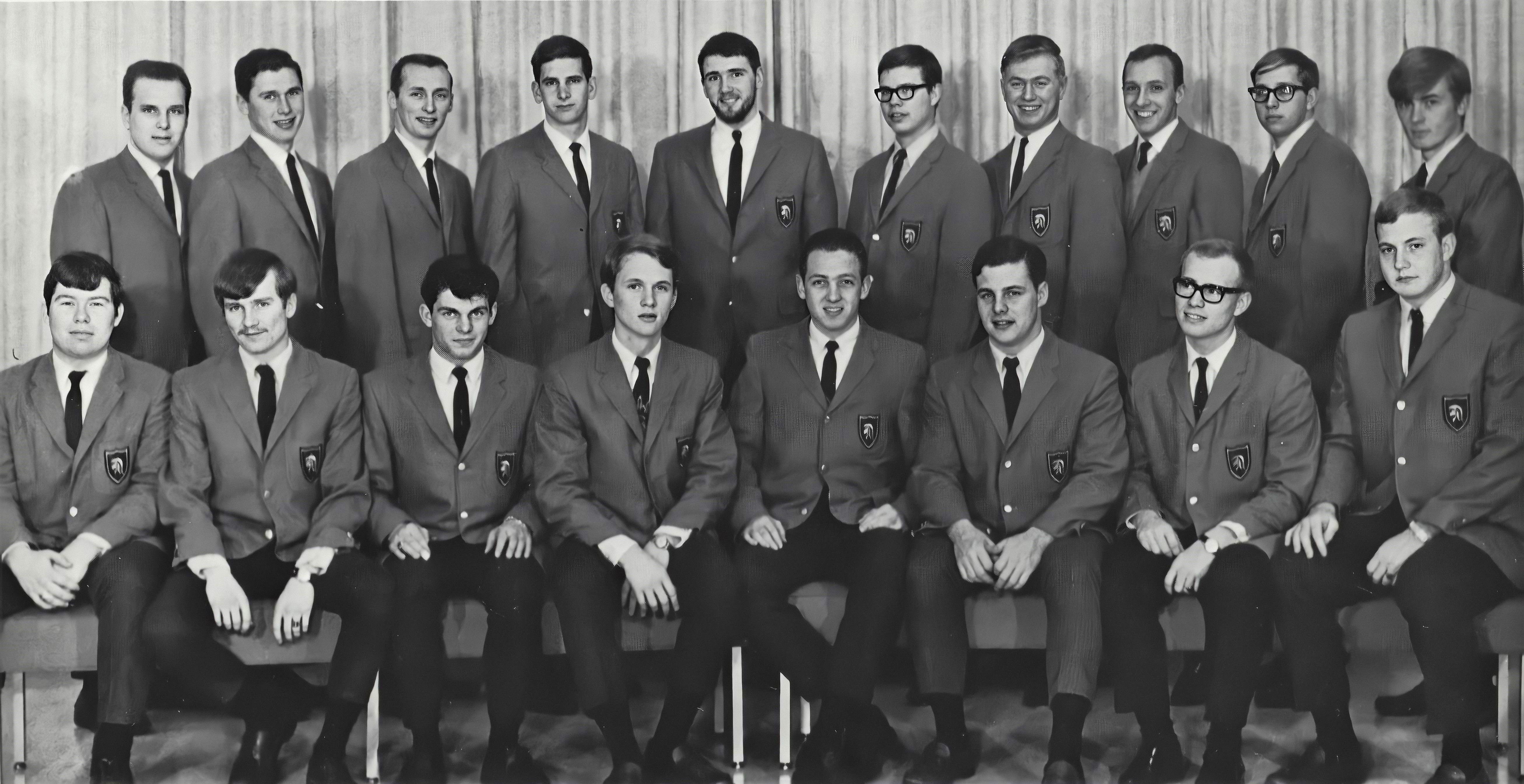 After completing his degree, Dave worked in the restaurant business until moving to the field of real estate in 1979. He is still active in the real estate business today. Brother May has served in most local, statewide and some national leadership roles in the real estate associations. He had the honor of serving as the state association President in 1991 and as a national association regional Vice President in 1995 as well as President of the local association in 2001. In addition, he most recently served as the President of the St. Paul Realtors Charitable Foundation.
Brother May first served on the Foundation Chapter of Theta Chi Fraternity, Inc.'s Board of Directors from 2005-2013, serving as President from 2011-2013. After a brief break, he returned to the Foundation Chapter board and is now serving his fourth term and is currently serving as Vice President. With the help of Fred Wiese (Zeta Sigma/Wisconsin-River Falls 1992), Dave successfully brought an effective local fundraising event from Zeta Sigma Chapter to the International Fraternity – an alumni auction composed of items and experiences donated in kind by Theta Chi brothers. The auction has been a popular event at many Conventions and has continued to grow.
He is a recipient of the Silver Legion and Golden Guard, the Citation of Honor from the Zeta Sigma Alumni Association, the George T. Kilavos Alumni Award from Zeta Sigma Chapter in 2000 and from the Grand Chapter in 2010, and the Earl D. Rhodes Theta Chi for Life Award.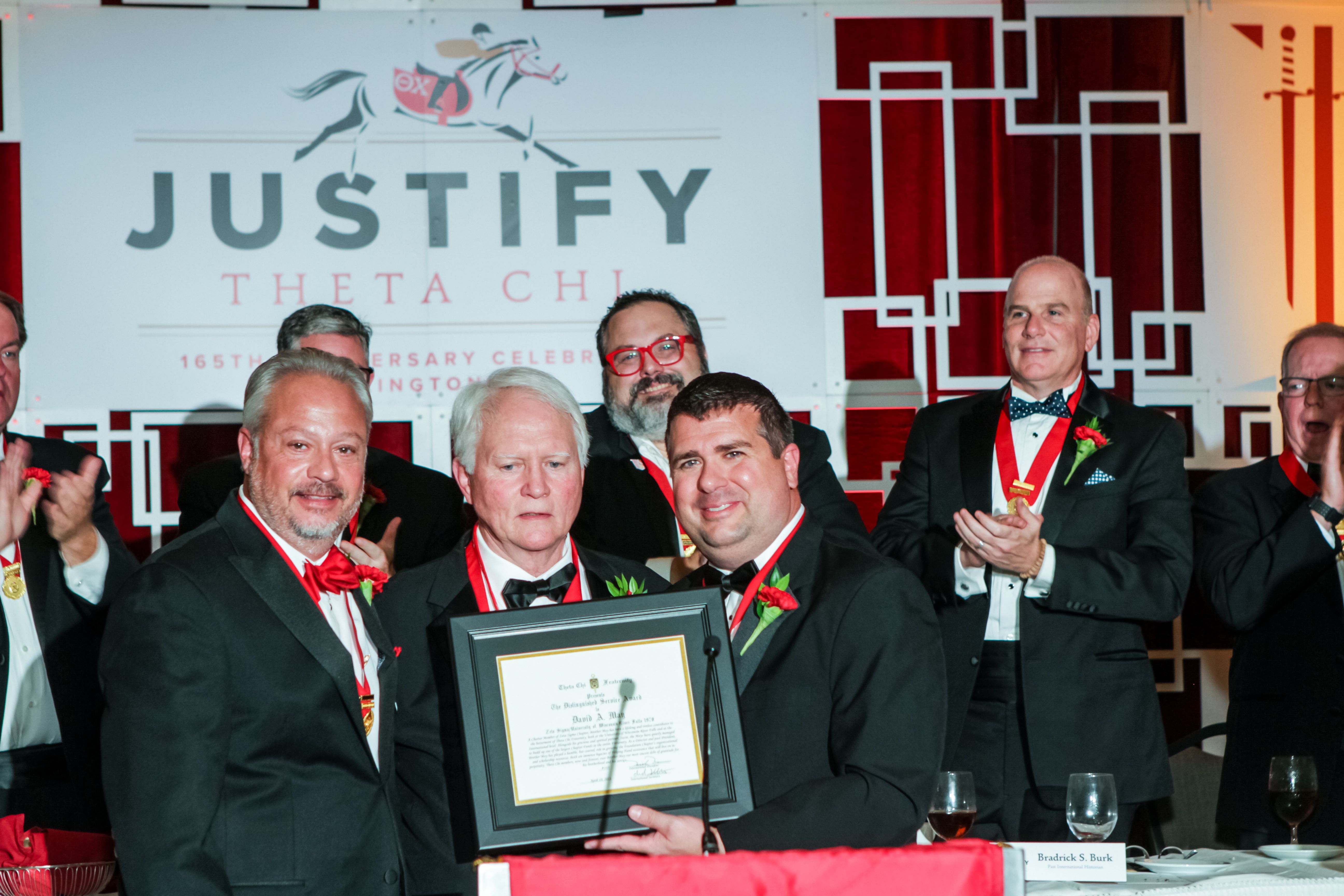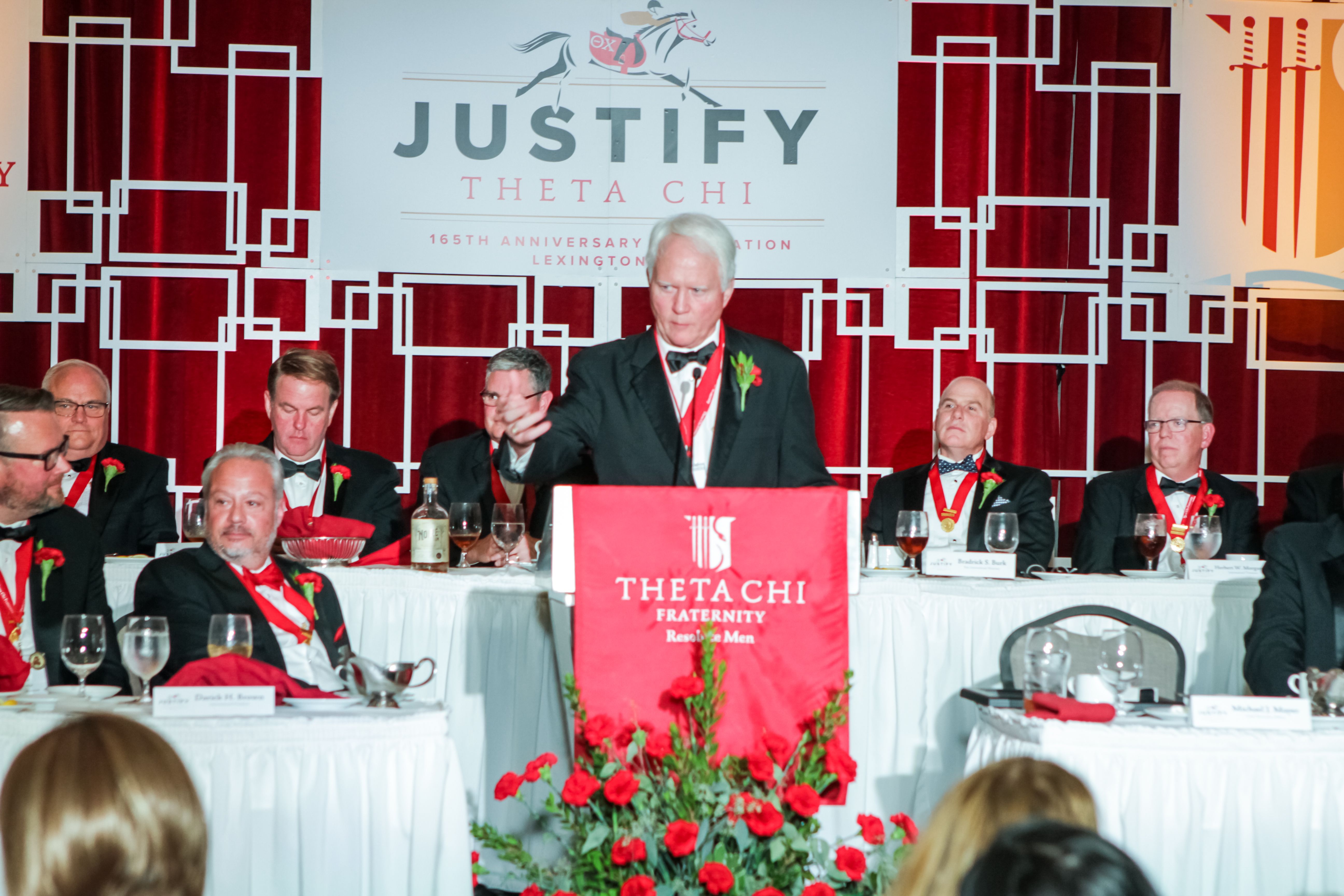 Theta Chi is better for Dave May's quiet, humble, and hands-on leadership. His pragmatic approach to problem solving and sense of brotherhood will not be forgotten. He is a true and passionate example of 'brother helping brother."
Brother May's award was presented (to his complete and utter surprise) during the awards and recognition banquet during the Fraternity's 165th Anniversary Celebration held in Lexington, KY, on July 31, 2021.
The citation covering his award reads as follows:

A Charter Member of Zeta Sigma Chapter, Brother May has been a lifelong and tireless contributor to the betterment of Theta Chi Fraternity, both at the University of Wisconsin-River Falls and at the International level. Alongside his gracious and spirited partner, Suzie, the Mays have quietly managed to build up one of the largest Chapter Funds in the entire Fraternity. As a Director and past President, Brother May has played a humble, but central, role in growing the Foundation Chapter's organizational and scholarship resources. Both immense legacies of the Helping Hand will live on in perpetuity and Theta Chi members, now and forever, owe Brother May our most sincere debt of gratitude for his brotherhood and his service.
---
Former Chief Development Officer Philip Thornton shared, "During my time working with the Foundation Chapter of Theta Chi, Dave was a staple of the organization. Dave served on the Board for my entire tenure on staff; to me, there is no Foundation Chapter without Dave May. While Dave has served in many capacities on the board, what is most important is that Dave brings his own brand of enthusiasm to what we do. He is very passionate about supporting our collegiate brothers and is happy to encourage other alumni to join in doing so. Dave has a genuine knack for it, likely honed at many Zeta Sigma Founder's Day events. Dave provides great leadership to the development staff, which thrived during his tenure. But Dave also embodies a true fraternal spirit. I loved spending an evening at "Camp David" along with many others in 2014. Quite spectacularly, Dave cooked 30+ steaks for his guests to a perfect medium rare; a feat lesser men could only dream of. There is no more humble and honorable man to be selected for the Distinguished Service Award of Theta Chi."
Foundation Chapter Treasurer Kirby Montgomery shared, "I have had the pleasure of serving with Brother David May on the Foundation Chapter Board for eight years, while Dave has served as Vice President. Brother May studiously reviewed board materials and offered sound recommendations and advice. Brother May was also the initiator for the Foundation Chapter auction held at Theta Chi Conventions, which have raised significant funds for the Foundation. Hats off to Brother May and his recognition for his distinguished service to Theta Chi!"
Former Grand Chapter and Foundation Chapter officer Herb Morgan wrote, "I'm not surprised to hear of Brother May's award: he did offer it up for bid during the Foundation Chapter's auction."
Former Grand Chapter and Foundation Chapter officer Brad Burk said, "Brother May epitomizes servant leadership. His humble nature often masks a dedicated passion to make an impact on the lives of others. Theta Chi for Life means answering the call whenever and however asked. Rest assured, Brother May is always there to quietly lend the Helping Hand. It was an honor to serve with him."
Past International President and Past Foundation Chapter President Pat O'Connor said, "Brother May has been a quiet leader in our Fraternity for many, many years. His service to Theta Chi is unmatched. He certainly deserves this award."
Past International Vice President and Past Foundation Chapter President Jim Moylan wrote, "Dave May was recruited to join the Foundation Chapter's board of directors in 2005. I had the pleasure of serving with Dave on the Foundation Chapter until I stepped down in 2011. I do not recall Dave ever missing a Foundation Chapter or related Committee meeting – he was always on time, well prepared, thoughtful, respectful to his fellow board members, and fashioned creative solutions to any matter coming before the Foundation Chapter. He has served on the Foundation Chapter's board of directors for 16 year and eight months. That is quite a record of accomplishment! He is a brother and friend for life. Thank you, Dave, for your selfless and dedicated service to our Fraternity."
Zeta Sigma Chapter brother Pat McLaughlin (1978) said, "He is thoughtful and cares about his brothers and the organization. He knows how to get things done and how to motivate others to action – all that while having a great time doing it. I am proud to call him my brother."
Former Leadership and Education Consultant and Zeta Sigma Chapter Brother Kyle Weaver (2004) writes, "The first time I met Brother Dave May, I was a freshman at UW-River Falls. I was in the process of joining Theta Chi and I was asked if I would like to help out at a dinner fundraiser at Dave and Suzie May's family cabin on the St. Croix River. Twenty plus years later, I can still say I have never been more grateful for an opportunity to park cars and wash dishes.
Aptly named The Cornerstone Dinner, the event has been a cornerstone for Zeta Sigma Chapter through the years. By now, a whole lot of people know about the tradition of dinners, auctions, fundraising, and fellowship that Cornerstone became; and laudable are the efforts made to copy its success at the national level. I am so proud of Brothers Dave May and Fred Wiese for taking the old school live auction concept, in particular, to that next level and proving it can work.
But for all the money raised for Zeta Sigma scholarships and beyond, what you really need to know is that behind the scenes there is a growing group of once-young men who got the opportunity to watch and learn from Dave May--the master himself--about hospitality, generosity, gratitude, and plain old hard work.
At Cornerstone, I started out parking cars. The May's cabin is uniquely situated along the bluffs of the St. Croix River, down a narrow driveway on a hill, the kind that induces almost every northerner to ask, 'How on Earth do they plow this in winter?' The cabin offers limited parking, so Dave and Suzie turned an obstacle into opportunity. Have people to park on the road, up on top of the hill, and get a collegiate valet to drive people down. As a Leadership and Education Consultant, I lost count of how many times I repeated that lesson, if not that story: Don't dwell on what you can't do, figure out what you CAN do.
As I went through school and continued to serve at Cornerstone, I got promoted as I went along. You start out as a valet, then work your way up to dishwasher, server and, by the time you're a senior, you get to be the bartender. Through each of these roles, Dave's training was hands-on. Whether it was little stuff like pouring the wine properly or serving meals, all of it was built firmly around the idea of being a gracious and attentive host. The lesson: take care of your guests and they'll take care of you.
My senior year, after Cornerstone was over, I recall plopping down for a moment with a beverage in my hand while there was still a flurry of activity in the cabin--dishes being done, furniture being put away, and so on. Mid-flurry, I asked Dave some unimportant question. Without stopping what he was doing, Dave said something to the effect of "Not now. I need to keep working while I still have help." Thinking back on it now, man, what a leadership lesson! Dave knew if he sat down, as I had, the clean-up effort might've come to a halt and he might have been stuck cleaning the cabin the next day by himself. As long as others were still working, he needed to still be working. Leadership by example. As many times as I've discussed, studied and taught the concept over the years, Dave's example is still one I remember best.
There are more stories I can tell about Dave and Suzie May and certainly there were more lessons, most of them unspoken. But I'll wind things up and say: that's Dave. He has never been the guy to stand up, raise his voice, and preach. He has always quietly gone about his business, doing the right thing, and putting in the effort where it was needed.
Dave and Suzie still insist on having a crew of collegiate brothers to help serve the meals and park cars at Cornerstone, even now after the event has long outgrown the May cabin and moved to a local golf course. I know the Mays say they get as much out of interacting with a fresh group of young men every year as they put into keeping the event going. But speaking on behalf of those who've worked the event, I hope they realize just how much those young men truly got out of the experience."