Delta Kappa recolonized at Ball State University
The fifteen-man class includes two legacies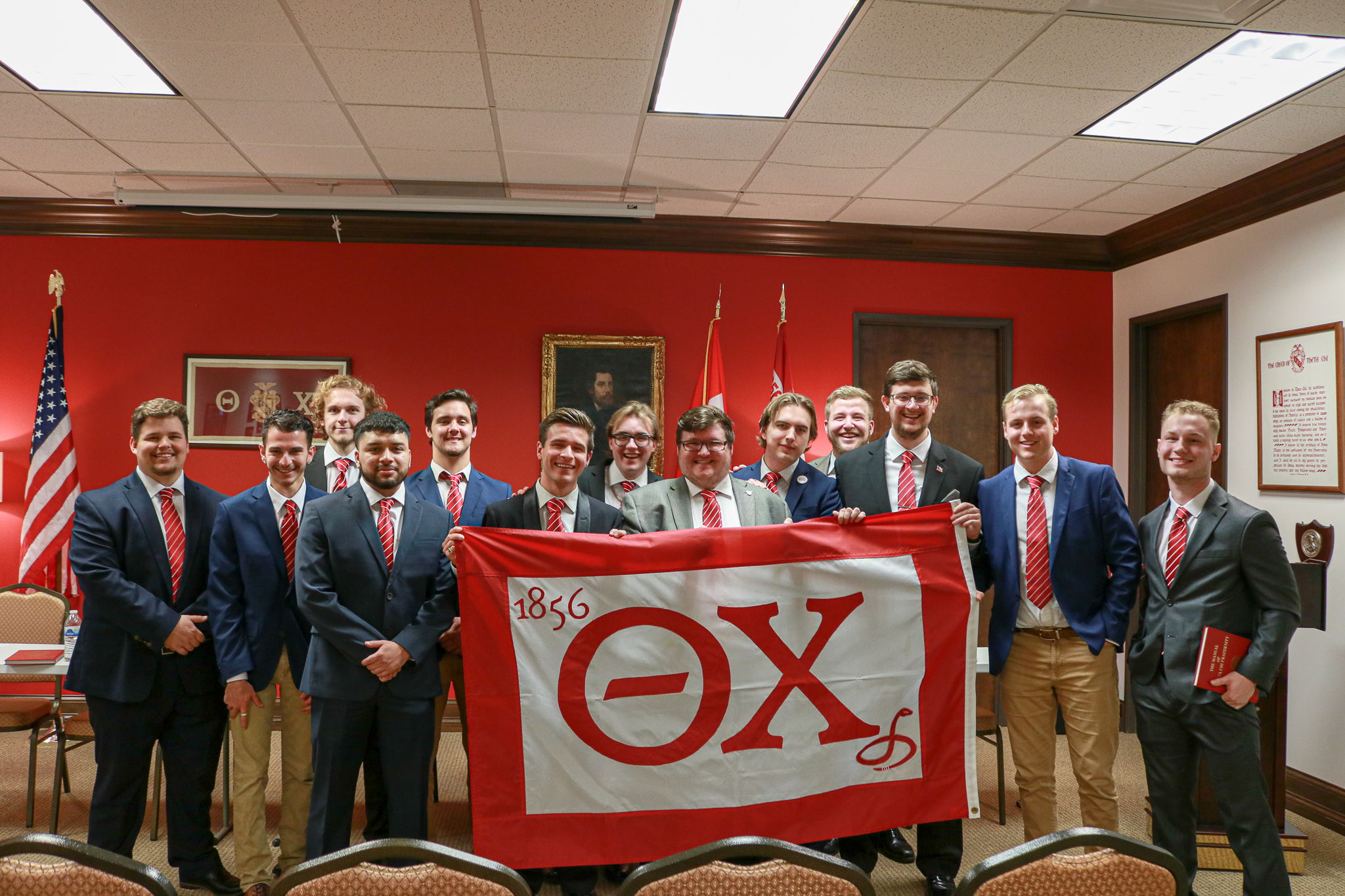 On November 21, 2021, a crisp fall afternoon at Theta Chi's International Headquarters in Carmel, IN, 11 young men from Ball State University were formally pledged and bound together as Delta Kappa Colony and publicly professed their desire to reestablish Theta Chi on their campus.
The men were recruited by Theta Chi International Headquarters Growth Specialist Cody Cline, who was dispatched to Ball State University in mid-August. After forming a core interest group, he began to teach and instill the basics of Theta Chi and fraternity life. "My experience was filled with high and lows," explains Cline. "Moving to a campus of over 20,000 students as a stranger, tasked with recruiting men to be a part of Theta Chi, was a bit overwhelming at first, but the project has been one of my most rewarding and exciting experiences."

The group of men who pledged are as follows:
Zinedine Avalos (2024)
Chase Braden (2022)
Allerdyce Fidler (2023) – son of David Fidler (Delta Kappa/Ball State 1999)
Sam Feasel (2024) – brother of Zak Feasel (Delta Kappa/Ball State 2017)
Austin Kasmer (2024)
Hunter Luzadder (2024)
Davis Odom (2022)
Ty Simon (2025)
Jackson Vice (2025)
Tommy West (2024)
Scout Wampler (2024)
Note: Two additional men, Bachka Batjargal (2024) and Brian Turell (2025), were unable to attend and formally pledged at a separate ceremony held the following week.
The journey these men have begun has been a rewarding one thus far. While working to build fruitful relationships with other student and Greek-letter organizations, the men have also been working to establish meaningful relationships with Ball State administration. This group of 15 campus leaders, who are involved with organizations like Student Government Association, Dance Marathon, and College Republicans, are actively working to rebuild Delta Kappa's legacy and ensure the chapter is and remains a valuable part of the Ball State campus and community.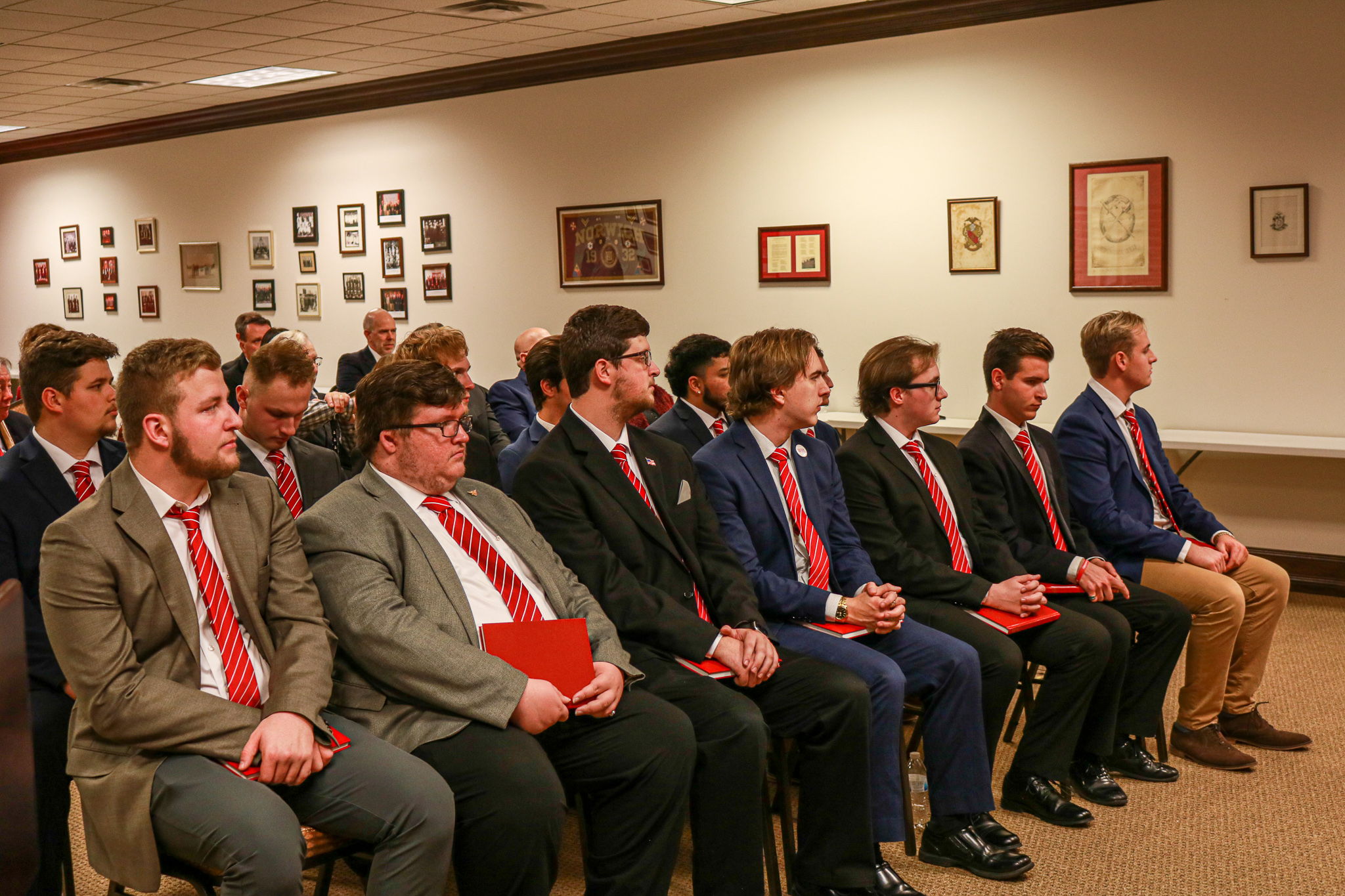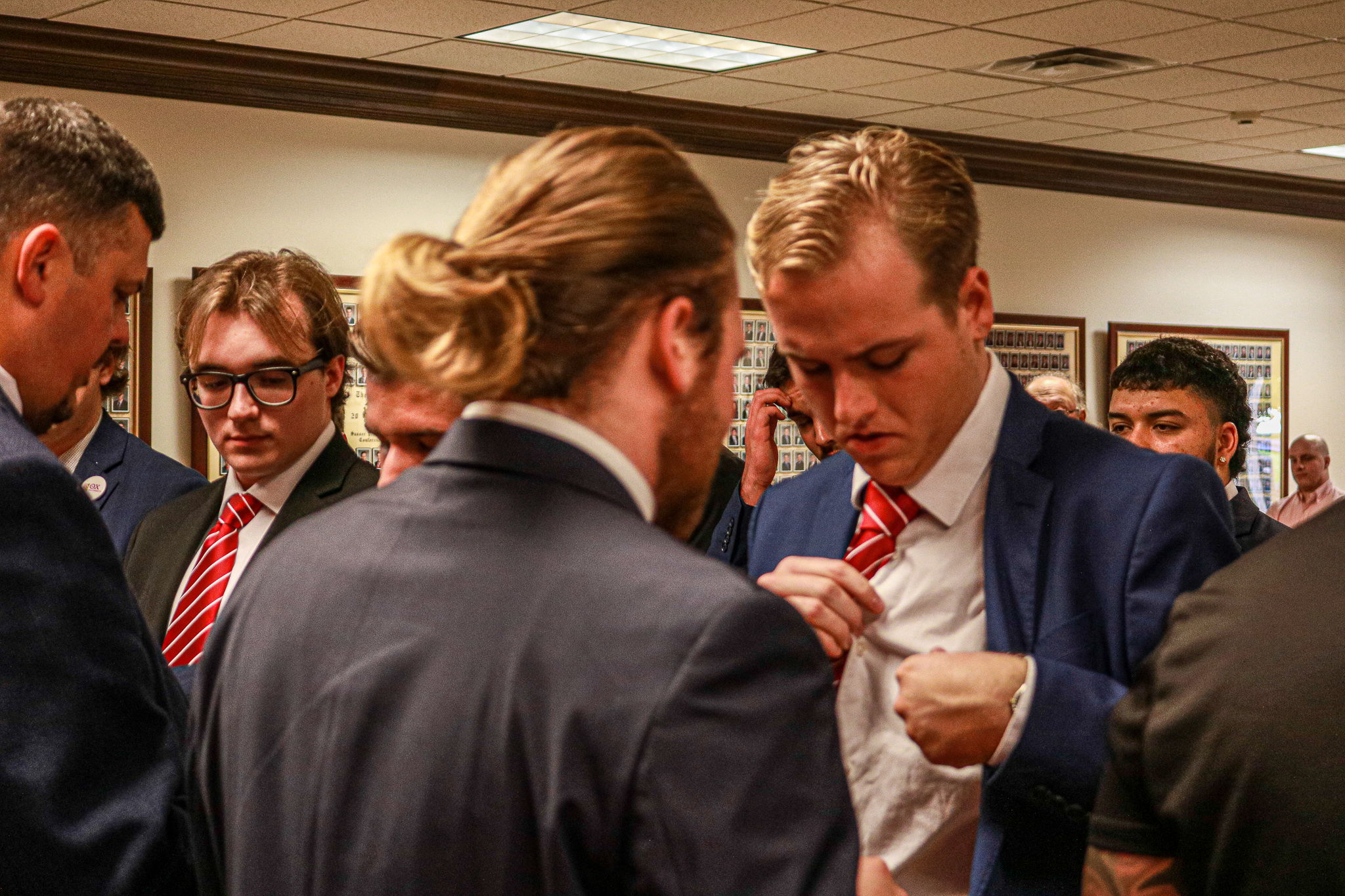 The strategy for becoming a valuable organization at Ball State includes working aggressively to be involved in and create numerous community service events and become involved in a wide-variety of events, both on-campus and off. Further, the men of Delta Kappa Colony hope to build a lasting culture and experience that breaks the status quo of other fraternities at Ball State—they want to be better. "Whether it's parents, incoming or outgoing students, we want them to think of Theta Chi being synonymous with Ball State," explained Sam Feasel (2024), who was recently elected Treasurer of the new colony. The younger brother of Zak Feasel (Delta Kappa/Ball State 2017), it's his hope to become a chapter of Theta Chi Fraternity as soon as possible. "To the outside, I want us to be known as the top fraternity at Ball State again," he says.
Delta Kappa Chapter can trace its history back to 1921 with roots in the Triangle Club, which ultimately was installed as the Delta Kappa Chapter of Theta Chi Fraternity on January 20, 1951. For over 50 years, the chapter produced notable alumni including community leaders, faculty advisers, and even a Dean of Students.
Delta Kappa alumni tied the new group to rich heritage of their past when Tom Axon (1976) presented his own original Pledge Button to Allerdyce Felder during the ceremony.
The original Delta Kappa Chapter was also represented by members of their Colony Advisor Board (CAB). CAB members present at the Colonization Ceremony included Colony Adviser Jereme Grinslade (1999), Ben Csikos (2002), Brandon Benesh (2017), Kevin Shettle (2016), Eric Madden (2006), Brad Justus (1999), Zak Feasel (2017), Andrew Beemer (2016), and Michael Brutout (2012).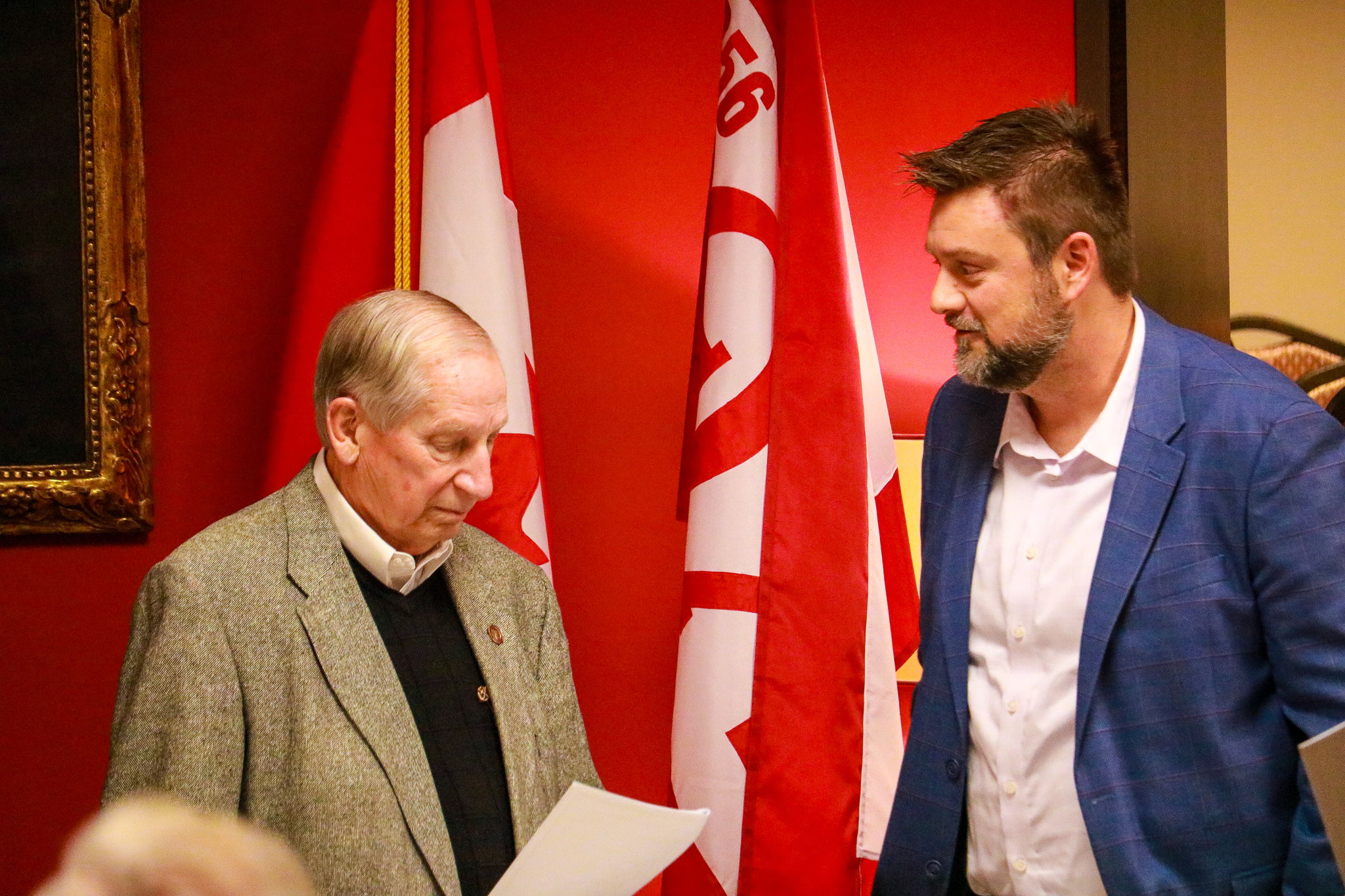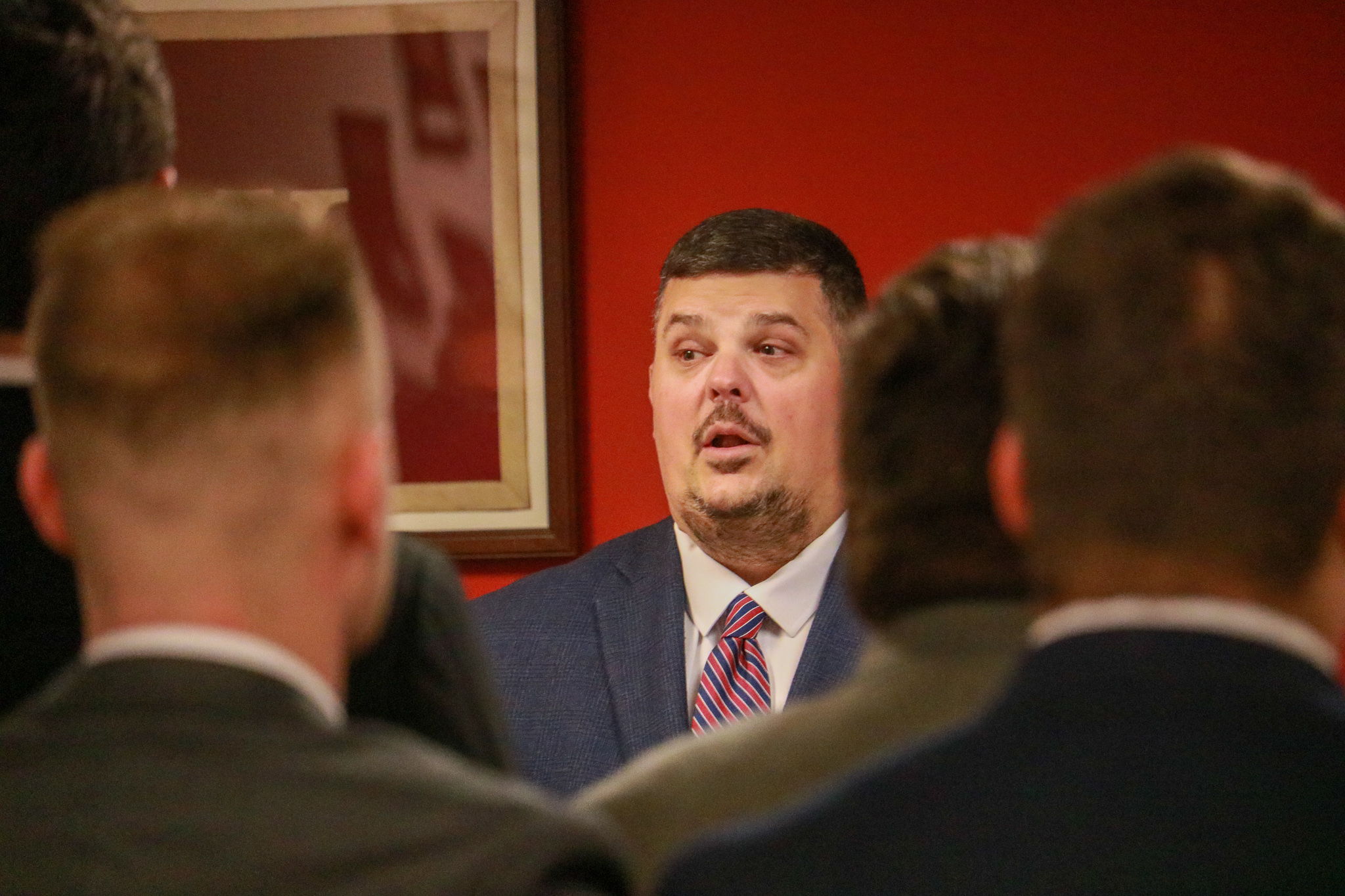 Delta Kappa alumnus and former International Headquarters staff member Scott Thomas (1997) served as Presiding Officer during the Recolonization Ceremony. He later shared what the men and their families could expect during the pledging process and with thoughts on what Theta Chi means to him, his experiences at Delta Kappa, and how his membership in Theta Chi is for life. "I've had the opportunity to preside over many ceremonies during my time as a Theta Chi, but this one was very special," said Thomas regarding the recolonization. "We have a great group of men representing Theta Chi at Ball State University, and it will be even sweeter to be a part of the Reinstallation of the chapter."

Senior Director of Growth Zack Brown challenged each member of the new colony to be successful, encouraged them all to be the best they can be, and briefly touched on the duties of the International Headquarters and those staff members who were present. "Theta Chi is one step closer to bringing back a historical chapter in Indiana," Brown announced. "The Delta Kappa Colony aligns itself with Theta Chi's core ideals and mission. That is why this group will ultimately be successful. As a colony, [these men] are probably the most involved in other organizations comparted to others… recruiting through these channels will help the Delta Kappa Colony significantly in growing their membership."
Additional staff members present included Senior Director of Chapter Development Rebecca Easterling, Director of Growth Jermaine Merritt, Director of Communications Dalton Fischer, Assistant Directors of Chapter Development Derek Hatzenbuhler and Bobby Kakoleski, and Growth Specialist Cody Cline.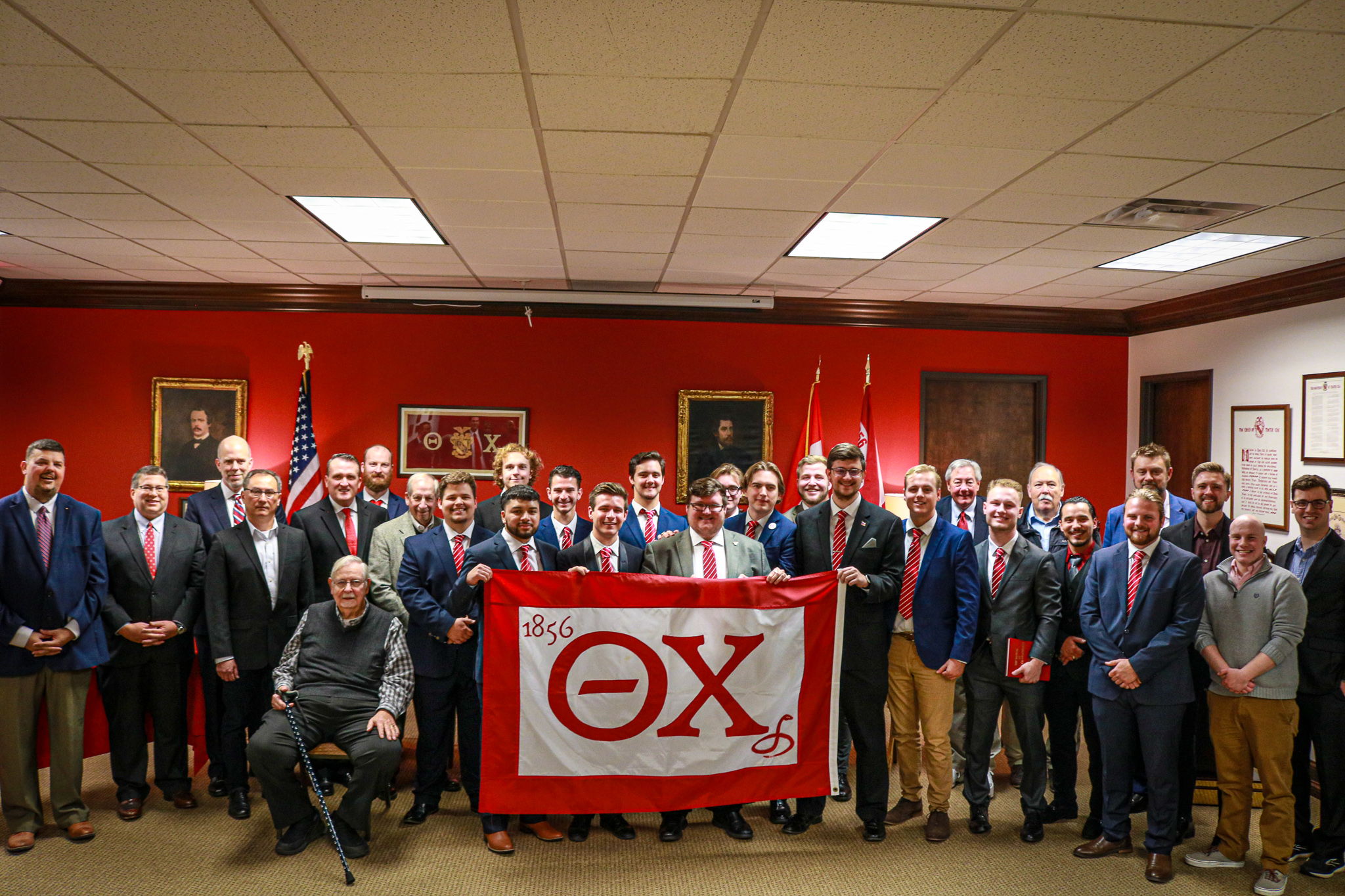 Allerdyce Fidler (2023) was tapped to serve as Delta Kappa Colony President. When reflecting on the eventful afternoon he shared, "The Recolonization Ceremony was a very special thing for me and the guys who were there. Seeing all of the alumni who came to support us was amazing, and I am thankful they were there for us." Looking forward to the future, he stated, "We have a lot of good guys who are excited to get this show on the road… I am looking forward to growing and recruiting this spring semester. This has been a really exciting time for us."
We are excited for these young men and wish them the best as they work toward reinstallation. You can follow Delta Kappa Colony's progress on their Instagram, Twitter, and Facebook. The complete photo library of the Delta Kappa Recolonization is available below and also here on Flickr. Good luck, gentlemen!