Delta Rho/NC State Recolonized
Raleigh, NC – Theta Chi Fraternity is proud to announce that is has recolonized the Delta Rho Chapter at North Carolina State University. This colony is working to become the fourth active chapter in the state of North Carolina.
In August 2019, Field Executives Kofi Ladans and James Jackson were dispatched to Raleigh, NC, to start the process of rebuilding the Delta Rho Chapter. In just a few short months, they recruited 52 members.
On October 19, 2019, the Fraternity held the Recolonization Ceremony at the North Carolina State University Club in Raleigh, NC, with CEO Mike Mayer as the presiding officer. Other International Headquarters staff in attendance included Director of Chapter Development Mitch Nolan and Field Executives Kofi Ladans, James Jackson, and Daniel Mendoza. Brothers in attedendance included CAB Ambassador Rich Santoriello (Epsilon Sigma/Wagner 1987), Delta Rho/NC State Alumni Sam Blanton (2014), Tom Church (1964), Jay Graves (1998), Smokey Hay (1979), Ramey Kemp (1964), Sean Lloyd (1996), Blake Petti (2014), Charlie Townsend (2015), Ken Updegrave (1990), Baron Weaver (1966), Steve Weaver (1972), and Frank Williams (1993), Eta Alpha/Clemson Chapter Adviser Eric DeWerth (Eta Alpha/Clemson 1994), Roger Pettit (Alpha Mu/Iowa State 1981), and Jason White (Eta Alpha/Clemson 2021).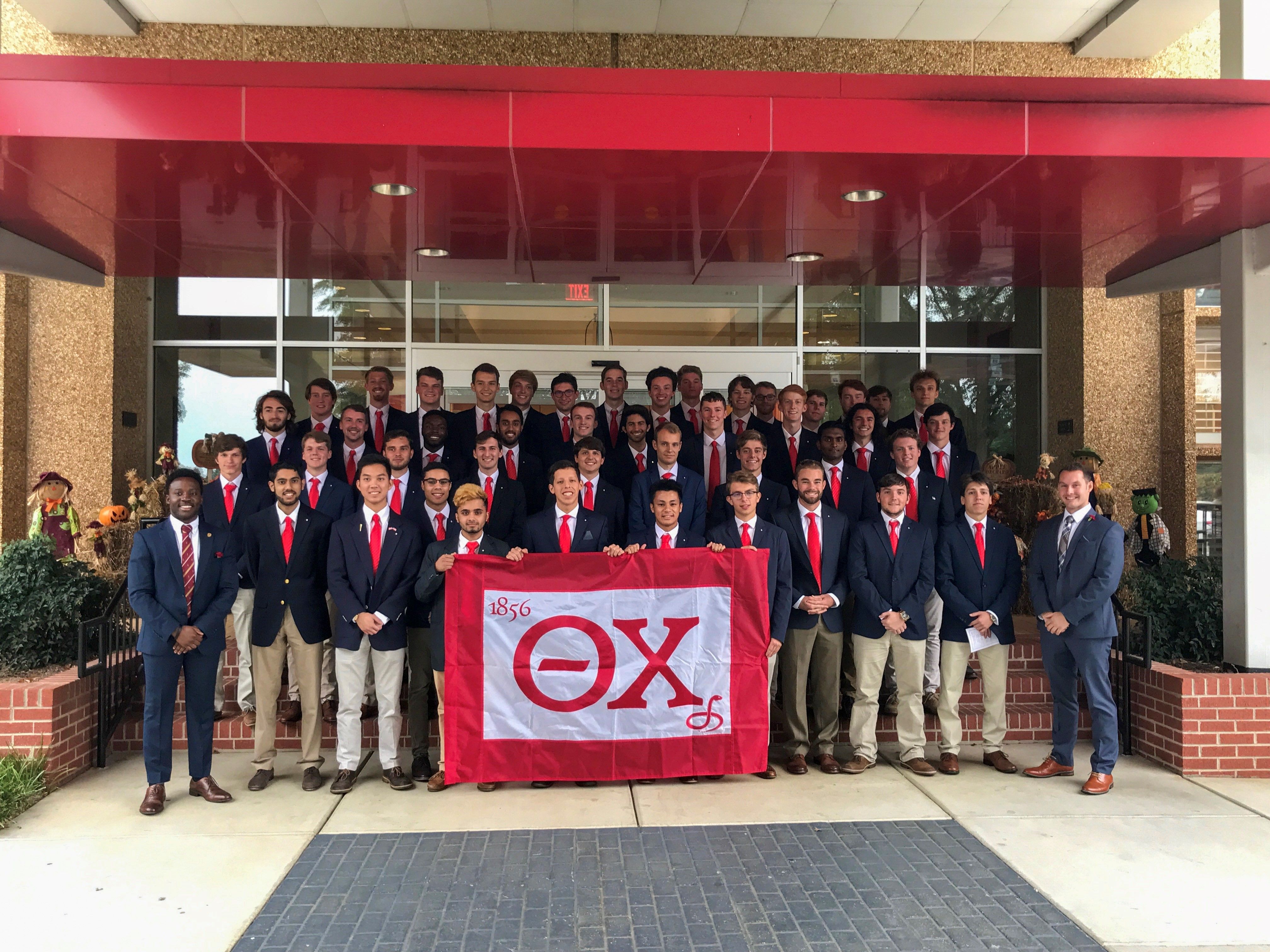 A reception was held in the Lutz Ballroom of the University Club. Those in attendance at the reception included the brothers listed above along with NC State's former Director of Fraternity and Sorority Life, Mindy Sopher, and friends and family of the new colony members. Remarks were made during the reception by Mike Mayer, Mitch Nolan, James Jackson, Kofi Ladans, Rich Santoriello, and Charlie Townsend.

The 52 members of Delta Rho Colony are: Joey Abriola, Rojal Adhikari, Guillaume Ballaeux, Aemon Barber, Zach Baugher, Sam Blue, Grant Booker, Noah Bowman, Zachary Brown, Seth Bullman, Josh Cooper, Andrew Cox, Rex DeMatteis, Manny Edmonds, Jonas Forsberg, Jack Forsythe, Sam Fowler, Rahil Goyal, Kevin Hogan, Dylan Inman, Drew Jackson, Yahssain Khan, Braeden Kivett, Salim Koroma, Brandon Kottmer, Benjamin Lail, Seth Lamoreaux, Michael Macomson, Simon Max, Jared Medford, Shrikar Mummadavarpu, Rohit Pasi, Erik Petursson, Brendan Popella, Quinn Porter, Paul Rigsby, Devlin Santos, Tyler Schachner, Will Sherrill, Jordan Smith, Jared Spurlin, Peyton Stamey, Austin Stella, Noah Tran, Bryce Tricas, Nate Uy, Anthony Vaccaro, David Villafuerte, Christian Wakeford, Logen Weber, Tyler Whitt, and Fulton Williams.
Two of the colony members are legacies: Bryce Tricas, son of John Tricas (Gamma Theta/San Diego State 1979), and Drew Jackson, son of Chip Jackson (Eta Kappa/James Madison 1989).
The colony members are involved in numerous areas on campus including: American Society of Agricultural and Biological Engineers, Club Lacrosse, Engineers Council, Forestry Club, International Student Association, Intramurals, Orientation Leaders, Pre-Health Club, Pre-Med Club, Pre-Optometry Club, Resident Assistant, RUF Christian Group, Running Club, Student Alumni Association, Student Wolfpack Club, University Scholars, and Zoology Club.
Congratulations to our new colony members at Delta Rho/NC State!
You may follow the progress of the Delta Rho/NC State Colony via their Twitter and Instagram accounts.
Founded in 1856, Theta Chi Fraternity is a men's collegiate fraternity with more than 191,000 initiated members and has established 241 chapters. Leadership development, personal development, and service to alma mater are fundamental to Theta Chi Fraternity's mission.