Delta Upsilon/Arizona State Recolonized
Tempe, AZ – Theta Chi has recolonized Delta Upsilon at Arizona State University. This colony is working to become the third active chapter in the state of Arizona.
After going inactive in 2015, International Headquarters staff worked with Arizona State and secured Theta Chi's return for the fall 2018 semester. During the spring 2018, Director of Recruitment and Expansion Taylor Dahlem worked to finalize details for Theta Chi's return during the upcoming semester. In August 2018, Field Executives Kofi Ladans and John Schoenle were dispatched to Tempe, AZ, to help restart Delta Upsilon. In just over two months, they were able to amass an interest group of 22 members and Delta Upsilon/Arizona State was officially recolonized on October 20, 2018.
The recolonization ceremony was held at the Greek Village Community Center on Arizona State's campus with Past International President Mike Maloney, a member of Delta Upsilon Chapter, presiding. Other members in attendance for the ceremony included Foundation Chapter Board Member (and Delta Upsilon member) Walt Davis, Chief Development Officer Philip Thornton, Chief Operating Officer Ray Vanlanot, and Field Executives Kofi Ladans and John Schoenle. Delta Upsilon/Arizona State alumni in attendance included Joe Bacskay (1961), Rob Barry (1996), Capt. Helmuth Eggeling (1995), Antonio Espinoza (1978), Fred Miles (1966), and Kyle Ross (1999). Additional attendees included brothers from Alpha Rho/Washington, Beta Iota/Arizona, Beta Omicron/Cincinnati, Iota Kappa/Northern Arizona, Kappa Beta/Long Island-Post, and friends and family members of the new colony members.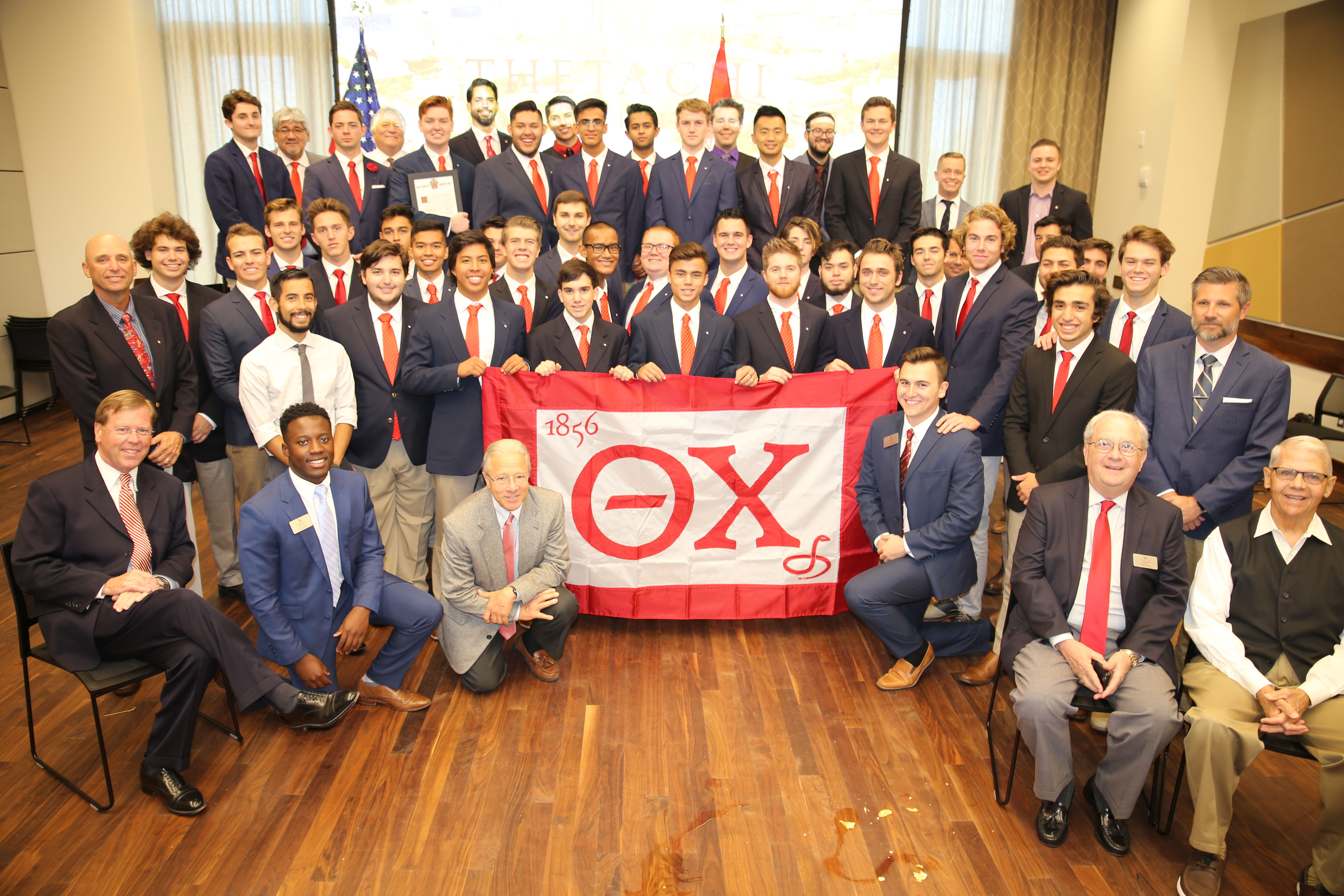 The 22 members of the Delta Upsilon Colony are: Connor Cruz, Harry DiRaddo, Victor Flores, Aldwin Galang, Chance Hanefeld, Andrew Hopson, Chase Houk, Joshua Jeide, Xiaoyi Liu, Bailey Madrigal, Devin McClay, Michael Nelson, Stephen Patterson, Gabriel Peña, Viplav Pimrale, Connor Regan, Justin Rudick, Nikolas Spradling, Anthony Venturi, Alejandro Villa, and Chase Walther.
Colony members are involved in many areas on campus including: America Reads, Club Baseball, Intramurals, Just Write, Leadership Society of Arizona, Programming and Activities Board, Snow Devils, Student Alumni Association, Undergraduate Student Government, and the United States Institute for Theatre Technology.
The banquet that followed the recolonization ceremony was held in the ballroom of the Greek Village Community Center. Those in attendance included the brothers and family members listed above along with members of Arizona State's Panhellenic community. Speakers at the banquet included Walt Davis, Mike Maloney, Tony Espinoza, Ray Vanlanot, Kofi Ladans, John Schoenle, and Colony President Connor Regan.
"We are all feeling very excited to restart and rebuild the Delta Upsilon Colony to its former glory at Arizona State," stated Connor Regan. "This opportunity gives us the ability to impact not only our lives and the lives of others, but the ability to impact the Greek community at ASU. Our group of guys has a bright future, and I am excited to see where this opportunity goes."
Congratulations to our new Delta Upsilon Colony members!
Congratulatory notes may be sent via email to Colony President Connor Regan.
You may follow the progress of the Delta Upsilon Colony via their Facebook, Twitter, or Instagram accounts.
Founded in 1856, Theta Chi Fraternity is a men's collegiate fraternity with more than 191,000 initiated members and has established 239 chapters. Leadership development, personal development, and service to alma mater are fundamental to Theta Chi Fraternity's mission.