Ducks Mourn Passing of Jernstedt
The following was published on September 10, 2020, via the University of Oregon Athletics (goducks.com). It was reprinted with permission from Robert Moseley, the Editor of GoDucks.com. The article spotlights the legacy of Tom Jernstedt (Alpha Sigma/Oregon 1966).
---
The Oregon athletics community is mourning the passing of Tom Jernstedt (BS '67, MS '73), the former UO football player and administrator who went on to spend nearly four decades with the NCAA and helped make its men's basketball tournament one of the marquee events in American sports.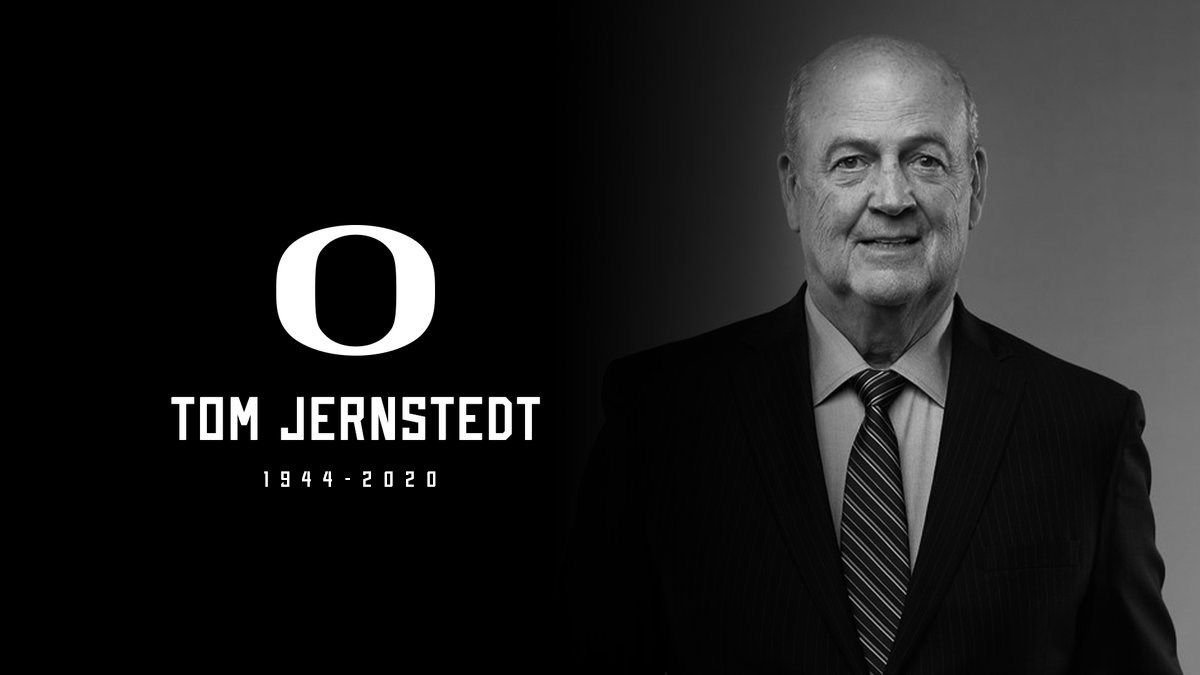 A native of Carlton, southwest of Portland, Jernstedt passed away this past weekend. He was 75.
"We were deeply saddened to learn of the passing of Tom Jernstedt," UO director of athletics Rob Mullens said. "Tom was an outstanding leader and his impact on college athletics was immeasurable, including his tremendous work building the NCAA Tournament and the Final Four. Our thoughts are with his family during this difficult time."
As a proud Oregonian and passionate Duck, Jernstedt once dreamed of being the athletic direction at Oregon. But after working briefly for the UO athletics department out of college, Jernstedt took a position with the NCAA and ended up spending 38 years there.
During his tenure, Jernstedt helped spearhead the initiation of NCAA championship events in women's athletics, and his impact on the growth of the men's basketball tournament was such that he became known as the "Father of the Final Four" and was inducted into the Naismith Memorial Basketball Hall of Fame in 2017.
"A decade after his departure from the NCAA, Tom Jernstedt's fingertips remain visible during March Madness and the Final Four," NCAA senior vice president Dan Gavitt said in a statement to The Associated Press. "His innovation and superb ability to develop relationships turned a basketball tournament into a three-week phenomenon that became a global event."
From 1976 to 2004, Jernstedt served in various roles with USA Basketball, including vice president for men, board member, vice president and president.
In 2001, Jernstedt received the Naismith Hall of Fame's John W. Bunn Lifetime Achievement Award as an individual who has contributed significantly to the sport of basketball. In 2009 he received USA Basketball's Edward S. Steitz Award for valuable contributions to international basketball. The UO Alumni Association in 2001 honored Jernstedt with its Distinguished Alumni Award, the group's highest award of distinction that is reserved for those who have served the nation, state or the university – or have distinguished themselves by personal endeavor.
Jernstedt was a 1967 graduate of the University of Oregon, having played for head coach Len Casanova's football team as a quarterback. After Casanova retired from coaching, he served as athletic director, and Casanova hired Jernstedt for his first administrative position in college athletics.
"As I've traveled the country and beyond, I would not have had the career I've had if I hadn't gone to the University of Oregon," Jernstedt told the UO Alumni Association on the eve of his Hall of Fame induction in 2017. "I love the state of Oregon, I love the University of Oregon, and I wish I were there now. It's a special place, and I would not have had the career and the good fortune that I've had if I had not been offered a scholarship from Mr. Casanova."
An executive vice president by the time his tenure with the NCAA ended in 2011, Jernstedt went on to serve with the College Football Playoff selection committee from 2014-17. His tenure with the CFP overlapped for one year with that of Mullens, a committee member from 2017-19 and the committee chair the past two years.
To honor his memory, you can contribute to the Tom Jernstedt Student-Athlete Scholarship. To learn more about this scholarship visit www.goducks.com/TomJernstedt.
---
You can learn more about Brother Jernstedt's impact on the NCAA Men's Basketball Tournament through our article, Mr. March Madness. For more on his legacy, check out the article written on him in the New York Times.