Eagle on Final Hole Gives Brown First Senior Victory at MPGA Senior Public Links
The following article appeared on July 19, 2020, via the Minnesota Golf Association (www.mngolf.org). It was reprinted with permission from Nick Hunter, the author of the article, which highlights Tony Brown (Gamma Tau/Drake 1992).
---
RAMSEY, Minn. – Holding a slim lead on the final hole at Rum River Hills Golf Club Sunday, Tony Brown sank his eagle opportunity from 15 feet to claim the 69th Minnesota Public Golf Association Senior Public Links Championship by three strokes.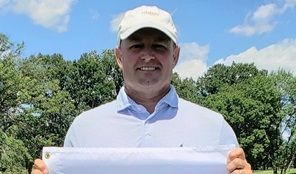 Brown survived a late surge by two-time Minnesota Golf Association Senior Men's Player of the Year Steve Whittaker, who aced the 118-yard, par-3 14th hole, shooting 2-under 140 to collect his first state victory since his win at the MPGA Public Links Championship in 2014 at Eagle Valley Golf Club.

"I knew it was going to be extremely difficult with the wind today—it was so gusty," Brown said Sunday. "You're just trying to not make a big number and I thought at even par I'd be right in there and then I'd have to make a decision at 18.
"The last hole I had 210 in and I was thinking 4-iron. I knew I had a one-shot lead and figured I'd hit it long if I had to. With so much wind I got it to the middle of the green and was fortunate to get a good read off [Don Howe] and I cashed it."
Brown shared the opening-round lead with Eric Przybyla after both fired rounds of 2-under 69 Saturday. Playing his first seven holes in 1-over Sunday, Brown got into trouble at the eighth by hitting his approach over the green, leading to double-bogey and dropping him to 1-over for the tournament. He would bounce back by sinking his birdie chance at the ninth to take outright possession of the lead at even par.
"My thought was to go and hit nine greens on the back," Brown said after turning in 2-over during his final round. "I was rolling the ball pretty well and wanted to give myself nine chances—I think I hit eight greens on the back."
Chipping within tap-in distance at the par-5 12th, Brown took a step back with a bogey at the 13th, but rebounded by hitting a wedge to 15 feet at the 14th and would convert his birdie chance to take a two-shot lead over Whittaker.
Following a bogey at the 17th, Brown reached the par-5 final hole in two and rolled in his chance to earn his first state win in six seasons.
"I played in the [State Amateur] last week at Edina and I had two bad holes—I had a triple and a double, but I knew I was playing good golf," Brown said. "I like this golf course, but it's not advantageous for me because I'm probably one of the longest guys in the field, and probably the youngest, but I only hit about five drivers today.
"My ball-striking has been as good as its been all year, but I've struggled with the putter to try to get that going. Recently I've started to putt a little bit better."
Brown won the 2001 MGA Mid-Amateur Championship when it was contested at Edina Country Club and has since qualified for three USGA championships, most recently the U.S. Mid-Amateur Championship in 2008 at Milwaukee Country Club.
He's also claimed four titles at the Labor Day Classic at Worthington Country Club in 2000, 2002, 2012 and 2016. After graduating from Drake University, Brown bounced around on mini tours as a professional before regaining his amateur status.
Playing his first event as a senior at the Minnesota Senior Open last month after turning 50 in November, Brown posted back-to-back rounds of 74 to finish tied for 13th. Making Sunday's win even sweeter for Brown, is the fact that he's won at each step of his golf career.
"It's exciting because now I've won at the junior level, the collegiate level, professionally, amateur, and now to win as a senior is kind of neat to break the ice."
Whittaker tied a tournament-low Sunday, carding a 2-under 69 for just the third round below par for the championship. Opening with a 74 Saturday, Whittaker played his first 10 holes in 2-under Sunday and would momentarily earn a share of the lead thanks to his third-career ace at the 14th. A late bogey derailed Whittaker's hopes of earning his sixth senior title in the state. He finished three shots back at 1-over 143.
Skip Schultz overcame a two-stroke deficit entering Sunday's final round to post a 78, claiming victory in the 65 & Over Division by shooting a 36-hole total of 13-over 155, edging both Charlie Whitcher and Robert Casura by one stroke.
An up-and-down front nine saw Schultz turn in 2-over for the round, but he would card birdie at the par-4 10th to move to 8-over for the championship. Schultz managed to hang on during a rough final seven holes, including a double-bogey at the 18th to win the 65 & Older age group.