Edward Bancroft Williston - For Distinguished Gallantry
Williston writes: "My horse "Pony" was a pure Morgan born in Vermont. I got him in Washington DC in Dec. 1861 and rode him all through the war. Being ordered to California in 1865, I gave him to my brother-in-law. Pony was wounded several times and several musket balls worked their way under the skin and were cut out after the war ended. He was a fine saddle horse, afraid of nothing. I had several other saddle horses but I loved Pony the best. He knew more than some people, was dull of fun, would shake hands and do several other things."
---
One Hundred Fifty-Five Years Ago, the actions of 1st Lt. Edward Bancroft Williston (Alpha/Norwich 1856) on June 12, 1864 at the Battle of Trevilian Station, VA led to his nomination for a Medal of Honor. Williston commanded Battery D, 2nd United States Artillery during the Civil War.
Theta Chi's first initiate following the founding, (Roster #3), received the Medal of Honor for "distinguished gallantry in action" while engaging elements of the 4th, 5th, and 6th South Carolina Cavalry of Gen. Matthew C. Butler's division in a battle that took place on June 11-12. An estimated 1,600 Confederate and Union Soldiers lost their lives.
Brig. Gen. Wesley Merritt's official report and recommendation stated,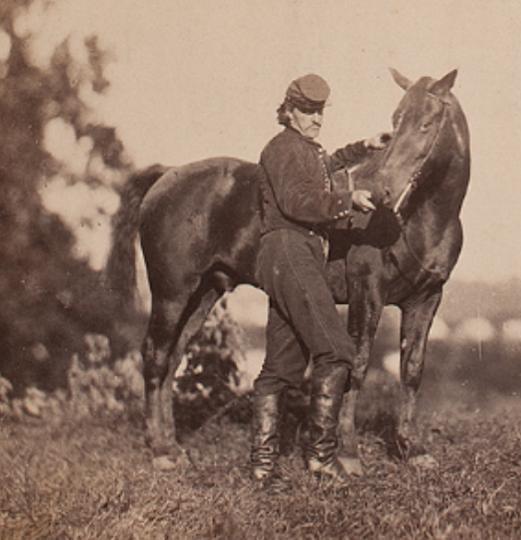 "I have the honor to recommend that Major E.B. Williston, 3rd United States Artillery, be awarded. . . a Medal of Honor for having specially distinguished himself at the action of Trevilian Station, Virginia, June 12, 1864. . . . In the crisis of the action at Trevilian, when my lines were being pressed by an overwhelming force of the enemy, Lieutenant Williston planted three guns of his battery in an exposed by favorable position for effective work; and then personally moved the fourth gun onto the skirmish line. Using double charges of canister he, by his individual efforts, greatly aided in resisting successfully the charges of an enemy on our front. The loss of the brigade, reduced at that time in strength, was twelve (12) officers killed and wounded and two hundred twenty-two (222) men…
…Right gallantly did the battery come up in the midst of a heavy musketry fire, we being at that time so close to the enemy their shells all flew far over us. Planting three guns of the battery in his position, where it dealt the enemy heavy blows, Lieutenant Williston moved one of his brass 12-pounders onto the skirmish line. In fact, the line was moved to the front to allow him to get an eligible position, where he remained with his gun, in the face of the strengthened enemy (who advanced to its very muzzle), dealing death and destruction in their ranks with double loads of canister…
…I cannot speak too highly of the battery on this occasion. The light 12's were magnificent. It has always been my good fortune while commanding the Reserve Brigade to have good batteries connected with it, and consequently our standard is high, but Williston and [William N.] Dennison have always come up to our best expectations, if not exceeded them. These two officers can justly challenge a parallel to their conduct in the history of this war."
Throughout the war, Williston was brevetted with several promotions in rank. A brevet was a warrant authorizing a commissioned officer to temporarily hold a higher rank. He was brevetted captain in May 1863 for "gallant and meritorious service" in action at Salem Heights, VA, as major following Gettysburg, as Lieutenant Colonel following the Battle of Winchester, and as Colonel in March 1865 for service during the war. A true promotion did not occur until March 1865 when Williston was promoted to captain. Following the war, Williston remained in the Army and was promoted to Major in 1885, and Lt. Colonel in 1895.
Following his nomination by Gen. Merritt, Williston was formally presented the Medal of Honor in the spring of 1892. Of interest is that according to War Department notes in the National Archives, Williston had requested the medal be engraved with the word "conspicuous gallantry" rather than just "gallantry." After review it was decided that Williston had a point. He was issued a new medal with the words "distinguished gallantry" in the citation. Assistant Secretary of War Lewis A. Grant further ordered that in the future "the issue of medals of honor [that] the words "distinguished gallantry" will be used."
Williston noted in his journal:
"Naturally I am proud of having received this medal…Brevets were made cheap, and common, by being bestowed on lots of people in 1865 who deserved none – they were given to officers who never were in a fight or under fire for "faithful service." In 1890 Congress passed a law which took away all value a brevet had. These [Medals of Honor] are awarded by the President in the name of Congress for distinguished bravery in battle and very few officers have them. I do not pretend to say that I ever did anything during the war that entitled me to any especial recognition or reward – but if I did, it occurred at the following places: Battle of Salem Church (Heights) May 3d 1863; Battle of Yellow Tavern May 11th, 1864; Action at Trevillian Station, June 12 1864; Action at Smithfield, Aug. 28th, 1864."
---
In 2006, Norwich University commissioned renowned historical artist Dale Gallon to paint a depiction of Williston's actions from June 12, 1864. After extensive research, including a visit to the actual battlefield, Gallon painted a scene entitled "For Distinguished Gallantry" that portrays Williston directing the fire of his forward placed 12-pound Napoleon cannon:
Robert G. Poirier, Norwich alumnus and author of By the Blood of our Alumni: Norwich University Citizen Soldiers in the Army of the Potomac stated in the Spring 2007 issue of The Rattle, "If you can picture the battlefield, here is Williston moving a single gun forward – right up to, if not ahead of, the troops he is supporting…He's an American hero." Poirier assisted Gallon with historical research and background for the painting. Poirier also shares that Williston's actions were brought to the attention of President Harry Truman nearly a century later. Poirier wrote,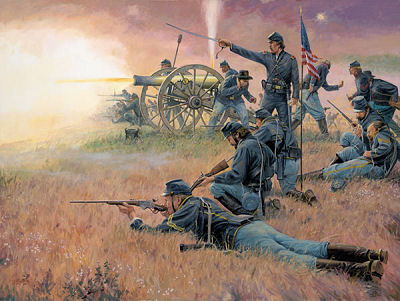 "Truman had an intense interest in the Medal of Honor, and once stated he would rather have won the medal than be President of the United States. Major General Harry H. Vaughan, the President's personal military aide, was searching through the Medal of Honor files for a Civil War artilleryman Truman could related to, when he came upon Williston's citation. "Eureka! Here it is" exclaimed Vaughan. Truman, like Williston, had also commanded a Battery D in combat."
In the summer of 2007, Dan Fleetham, Sr. (Alpha/Norwich 1934) and Dan Fleetham, Jr. (Theta Chi/GC Honorary 2006) generously presented a framed print to the International Headquarters. Fleetham, Jr. was able to personally deliver the autographed painting to Indianapolis while on a trip with his family: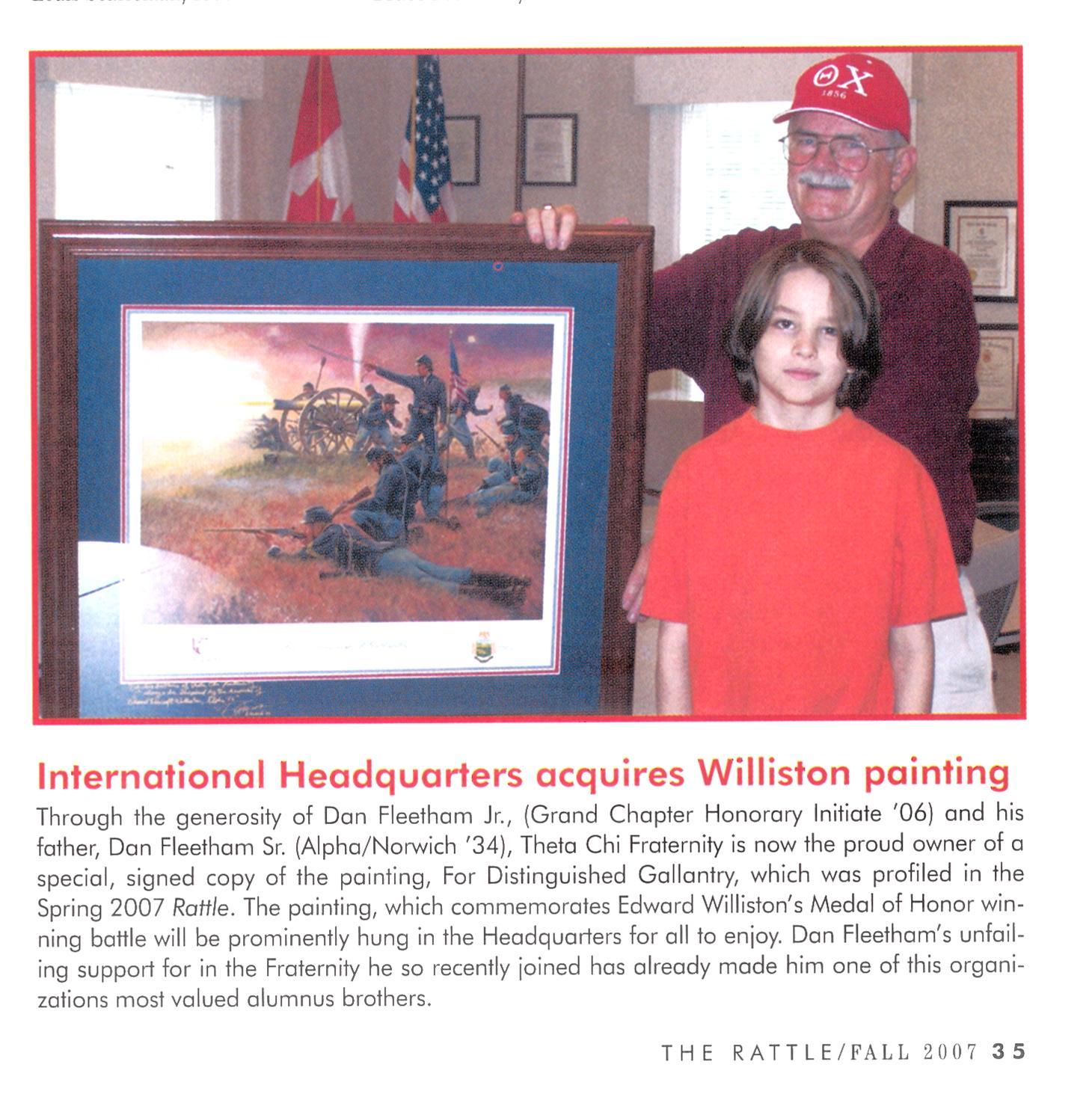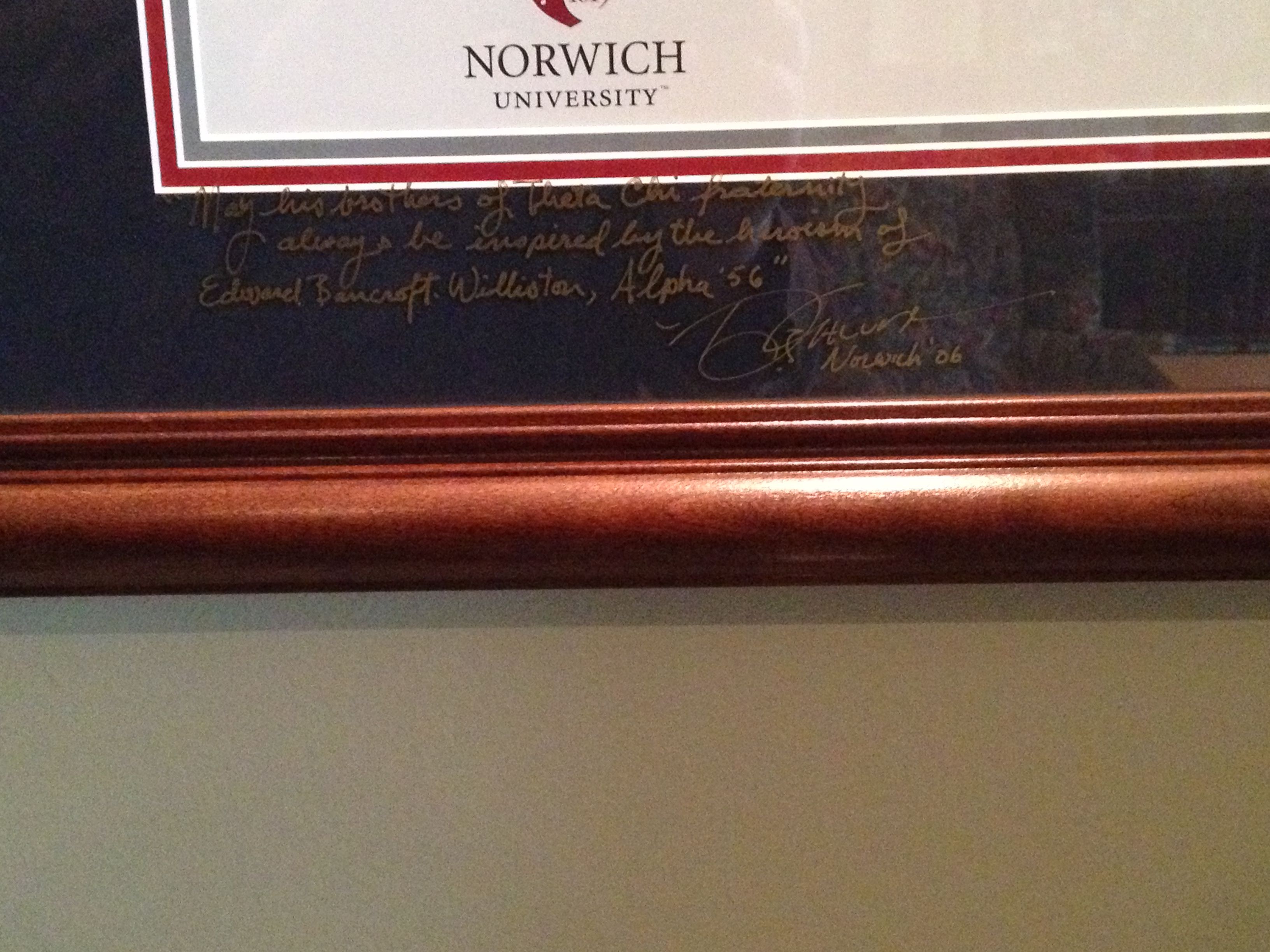 "May his brothers of Theta Chi Fraternity always be inspired by the heroism of Edward Bancroft Williston, Alpha '56" – Dale Gallon
Williston retired to Portland, OR and joined the Chapter Eternal on April 24, 1920. He is buried in Arlington National Cemetery.
Theta Chi Fraternity salutes Brother Williston and his heroism and service to Country. To read more about Brother Williston and his service, click here.
If you are interested in owning a print of the Williston Painting, you may obtain it directly from Dale Gallon's gallery located in Gettysburg, PA.
For more information and an opportunity to obtain a copy of Robert Poirier's "By the Blood of our Alumni: Norwich University Citizen Soldiers in the Army of the Potomac", click here.
Founded in 1856, Theta Chi Fraternity is a men's collegiate fraternity with more than 191,000 initiated members and has established 240 chapters. Leadership development, personal development, and service to alma mater are fundamental to Theta Chi Fraternity's mission.