Epsilon Delta/Youngstown State Reinstalled
Youngstown, OH - On March 17, 2018, Theta Chi Fraternity reinstalled the Epsilon Delta Chapter at Youngstown State University in Youngstown, OH. This is the Fraternity's tenth active chapter in the state of Ohio.
The road back to Youngstown State started at the beginning of the fall 2016 semester when then-Field Executives Kevin Kutner (Iota Sigma/Towson 2015) and Drew Marsh (Zeta Tau/Michigan-Flint 2016) arrived on campus and were tasked with reestablishing the chapter. Just a few months later, on November 19, 2016, Epsilon Delta was recolonized with 18 men. During the following spring semester, the colony hit a setback when several members had to leave the group due to personal circumstances. Before the start of the fall 2017 semester, the colony members sat down and agreed that their main goal for the upcoming semester would be recruitment. Through various events and word of mouth, they were able to build the colony back up and, by the end of the semester, their petition for reinstallation was approved by the Grand Chapter.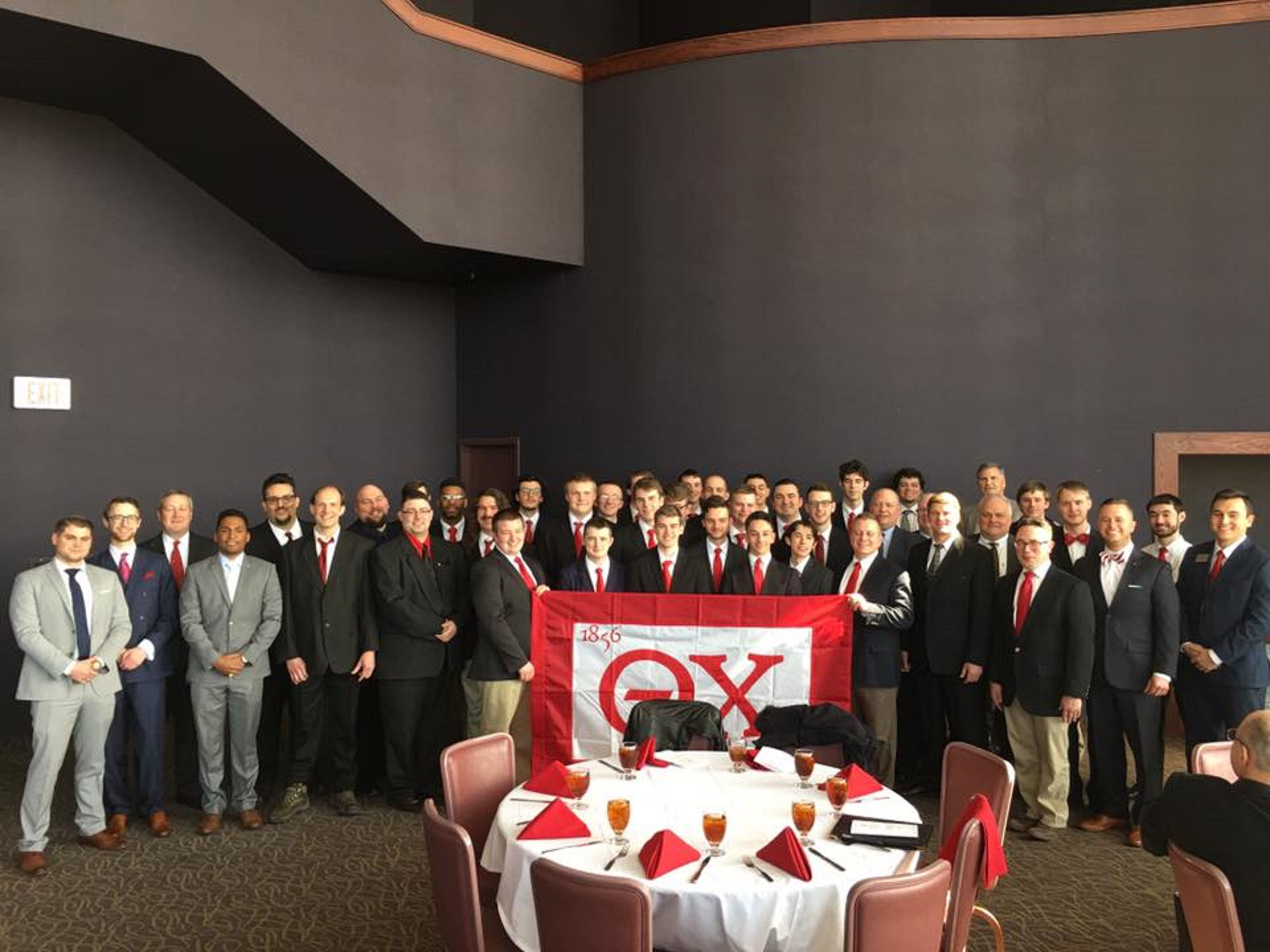 The reinstallation ceremony was held at the Kilcawley Center on campus. It was presided over by International President Joseph Couch (Chi/Auburn 1996), with assistance from Chief Operating Officer Ray Vanlanot (Alpha Iota/Indiana 2008), Director of Recruitment and Expansion Taylor Dahlem (Zeta Rho/Kentucky 2015), and Field Executives John Schoenle (Delta Pi/Indiana State 2017) and Jonathan Barrow Demaris (Epsilon Tau/Stephen F. Austin 2017). Other attendees for the reinstallation ceremony included alumni from Beta Lambda/Akron, Beta Nu/Case Western Reserve, Epsilon Delta/Youngstown State, Zeta Beta/Adrian, Zeta Lambda/Westminster, Zeta Tau/Michigan-Flint, Eta Zeta/Edinboro, Eta Mu/Findlay, and collegians from Epsilon Psi/NJIT. Following the reinstallation, a banquet was held at the Stadium Club at Stambaugh Stadium, the home of Youngstown State's football team. Attendees for the event included those listed above along with parents of the new brothers, Assistant Director of Student Activities Carrie Anderson, and University President Jim Tressel.
Those who spoke at the banquet included Joseph Couch, Ray Vanlanot, John Schoenle, Chapter Adviser Dan Lewis (Epsilon Delta/Youngstown State 2001), Carrie Anderson, and Jim Tressel. During the banquet, five alumni were presented with the David E. DeVol Award: Dan Lewis, Sam Carbon (Epsilon Delta/Youngstown State 2009), John Stumpff (Zeta Lambda/Westminster 2014), Jack Beggs (Epsilon Delta/Youngstown State 2005), and Tom Libeg (Epsilon Delta/Youngstown State 1974). Local chapter awards were also presented to the following brothers:
The Assisting Hand Award: Caleb Self (2020)
Scholar of the Year: Nick Jackson (2020)
Brother of the Year: Bradley Linton (2020)
Epsilon Delta Alumni Award: Dan Lewis
"Reinstalling the Epsilon Delta Chapter has easily been one of the most challenging, yet rewarding experiences of my life," stated Chapter President Joe Gorospe. "A lot of hard work and effort has gone into making it happen, but that's why I can say this is one of my most proud achievements. Becoming a Rechartering Member has shown me what it truly means and takes to be a brother of Theta Chi, and I couldn't be more appreciative to be a part of such a great Fraternity."
Founded in 1856, Theta Chi Fraternity is a men's collegiate fraternity with more than 188,000 initiated members and has established 236 chapters across North America. Leadership development, personal development, and service to alma mater are fundamental to Theta Chi Fraternity's mission.