Epsilon Phi/Central Missouri Alumnus leaves his lasting Mark on Northwest Missouri State
The following article appeared on April 10, 2019, via the Northwest Missourian (nwmissourinews.com). It was reprinted with permission from Tucker Franklin, the author of the article, which highlights Mark Rosewell (Epsilon Phi/Central Missouri 1977).
---
Storied Northwest tennis coach leaves his lasting Mark

Sometimes, in the realm of sports, the greatest stories have the most unusual beginnings. Like sports itself, predicting a champion can be entirely unpredictable.
Kurt Warner went from bagging groceries to a Super Bowl-winning quarterback. Lorenzo Cain didn't play competitive baseball until he was 15 then won a World Series. Tom Brady was drafted in the sixth round 199th overall to become a six-time Super Bowl champion.
For one of Northwest's most notorious coaches, his start fell under the unusual category.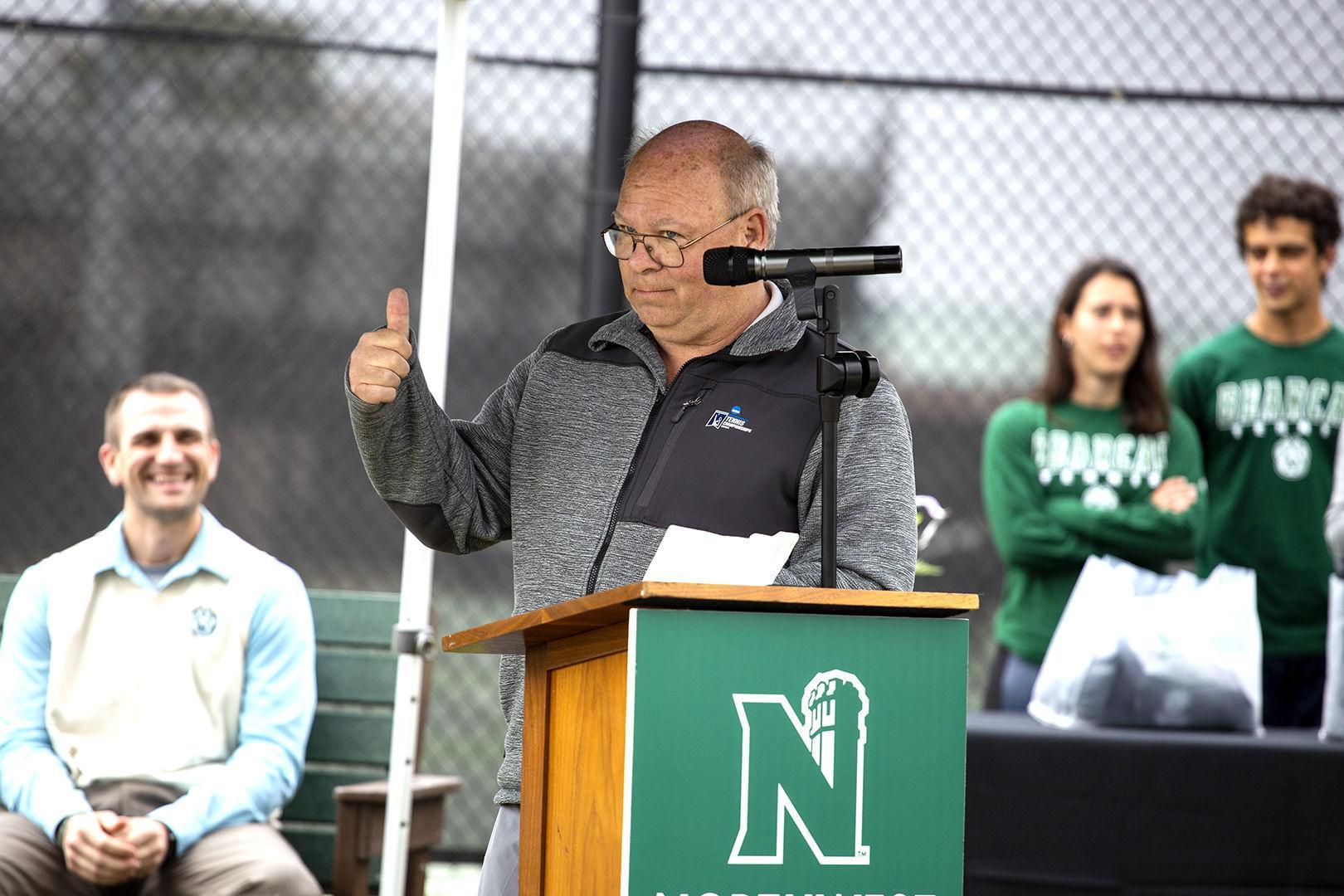 "I was going to be a high school wrestling coach," Northwest tennis coach Mark Rosewell said. "That's what I had in mind (after college). It's funny how things change and you get opportunities and chances on things, but things worked out a lot differently than I thought it was going to."

Rosewell hails from Lexington, Missouri, a town of 5,388 when he resided there. Home to the Battle of Lexington, the largest battle in the western front in the American Civil War, Lexington High School was aptly-nicknamed the Minutemen for the history.
With a school the size of Lexington, the selection of sports was limited in the spring season.
"To be honest with you, in high school, a lot of the schools have high school baseball, and I came from a smaller school, and we play baseball in the summer," Rosewell said. "I wasn't very good in track because I wasn't very fast. … I had good hand-eye coordination, so about eighth grade or so I started playing tennis and kinda fell in love with the sport."
When his time as a Minuteman expired, Rosewell looked for another place to continue his career as a tennis athlete.
"I visited here at Northwest," Rosewell said. "I think they wanted my best friend more than they did me, but I did come up on a recruiting visit, and they were extremely good. I wouldn't have played on the team at that time … so I went to Central Missouri where I had a chance to play."
Rosewell filled the No. 5 and No. 6 slot for the Mules in his four years at Central Missouri. The Lexington native was able to collect the best career winning percentage during his playing days in the '70s.
Rosewell was later a graduate assistant for the tennis program while he finished his post-graduate degree. Before he finished his degree, Rosewell was named the head coach for both the Mules and Jennies. He served in that role for two years and collected a record of 22-27.
"I could see at the time that Central Missouri wasn't really interested in having a strong tennis program," Rosewell said. "They ended up cutting the program when I left."
In 1984, Rosewell embarked on what would be an extraordinary tenure at Northwest taking over for John Byrd a head tennis coach for both teams. Rosewell inherited a men's program that hadn't won the conference in six years and a women's team that was still relatively new to the MIAA landscape and hadn't yet made its mark.
Rosewell was able to turn around both programs, and in 1987, the Bearcats won both the men's and women's conference titles. Since the turn of the century, Rosewell and company have won 16 regular season titles between the men and women. After the championship tournament was introduced in 2010, the Northwest men have won it every season, except for once.
A part of the strong men's teams in the early 2000s was Drury coach and former three-time All-MIAA selection, Jarrod Smith. From the time Smith and Rosewell met, Smith explained how the already decorated coach drew him to Northwest.
"He hit me as a guy who was a caring person who wanted to win," Smith said. "You want to have both. You want to have somebody who is going to care about you as a person but then will kick your butt when it needs to be kicked, that will push you in ways to better yourself for the program."
Now a coach in his own right, Smith has guided the Panthers for 14 seasons and has tried to replicate the same type of atmosphere that Rosewell provided him in his time with the Bearcats.
"We felt like family," Smith said. "We went to war, to battle together all the time, and (Rosewell) created an environment where we were able to push each other to be our best. I think that helped each individual player, and it helped me a ton."
While the words "family" and "culture" are thrown around substantially in the athletic department, Rosewell explained the motif that has been popularized by football and basketball has been in practice for quite some time.
"They talk about all this culture and family and all that, I think we've been doing that for a long, long time," Rosewell said. " … Coach Byrd, in the 70s, was the one that got it started. I copied him."
Not only has family been prevalent in the tennis program but it reveals itself from sport to sport. The popular motto isn't just exclusive to one program, but to the entire department, everyone is family.
"That's exactly what it is, and it's been that way for a long, long time," Rosewell said. "I tell people all the time it's a great community. It's a great place to coach because the University is committed to the athletic department."
Rosewell has been known to support other programs during his time at Northwest. This showed true in coach Ben McCollum's second year at the helm of the men's basketball program.
McCollum told the story of a struggling basketball team in his early years. In the midst of a 10-16 season, Rosewell walked into McCollum's office without saying a word and wrote a quote on the dry erase board the two-time national championship winning coach wouldn't forget, then left.
"He said, 'If you don't believe in yourself, then who will?'" McCollum said. "You know, that was when we weren't very good, so you start to lose a little bit of faith in yourself, and he wanted to make sure I didn't lose that faith. He's always been extremely supportive of all the other programs."
Keeping in line with the family motto, during the offseason of tennis, Rosewell said he tries his best to go and support all of Northwest's athletic programs, including giving advice to the other coaches.
"I think you've got to support other programs," Rosewell said. "And I've always tried to do that. I'll go to all the basketball and football games, but I'll go to the volleyball games and softball and baseball too. … I'm getting close to the end of the line here, so I really try to give back and help the other coaches."
Rounding up his 37th season as a tennis coach, Rosewell said he still has the same passion for the sport that he had when he started playing, which he hopes will keep him going for "at least a couple more years."
Rosewell was the second MIAA coach in any sport to reach 1,000 wins, and earlier this year, the renowned coach collected his 1,100th win. Along with the wins, Rosewell has been named MIAA Coach of the Year 27 times and has won both the men's and women's MIAA championships in the same year six times, good enough for best in the conference.
"It's really been going so fast," Rosewell said. "It just seems like yesterday I was getting 1,000 wins. Now that's been two or three years ago, which I thought was a big deal now here we are at 1,100. Of course, I coach two sports, so there is always two chances of winning the match."
The milestone Rosewell achieved was heard around the region as Smith explained he sat his players down and figured out that 1,100 wins are equal to winning a game every day for just over three years.
"It's mind-blowing; it's astronomical when you think of it." Smith said. " … It's hard to fathom and comprehend that much winning. It just blows your mind to think of how long that takes, and the dedication it takes and struggles because you don't win them all. It's amazing."
Northwest dedicated the tennis center at the Frank Grube Tennis Courts to Rosewell April 5 to honor his historic career in Bearcat green. Since taking over the program in 1984, Rosewell has produced 14 men and 12 women MIAA Regular Season Championships, nine MIAA Tournament Championships and 37 NCAA Tournament appearances between both men's and women's teams.
"He deserves it," McCollum said. "Everything he's done for tennis and the kids that have graduated here, he's had so many successful student-athletes that go on and have great careers in their fields. It says a lot about who he is as a person, and obviously, I think he wholeheartedly deserves that tennis complex to be named after him."
With all of his accomplishments on and off the court, Rosewell has been widely considered as the best coach in Northwest history but to him, that conversation isn't warranted.
"There's been a lot of good coaches, I don't ever say that," Rosewell said. "I mean I've won a lot of matches and stuff but Henry Iba coached here, Ben (McCollum) … , Mel Tjeerdsma won how many, five, six national championships? Adam Dorrel. There's been a lot of good coaches here and right now too."
After the dedication of the tennis center to Rosewell, he described it as "the best day of my life," and explained how he was happy he could share this moment with his loved ones.
"It really gives credibility to me as far as my life-long work, and it means a lot to me and my family both," Rosewell said. "For my family to be able to come to this along with all our former players and alumni and people close to the program and close to me, I'm elated. … It's great for our tennis programs down the line."

From a career spanning just nearly four decades, Smith echoed the sentiment that was common between the hundreds of former players and the even more people who have come in contact with Rosewell.
"I think I speak for all my teammates and the generations of Bearcats that go through just how fortunate we were to play for coach Rosewell," Smith said.