Epsilon Rho/Rider Reinstalled
Lawrenceville, NJ - On March 24, 2018, Theta Chi Fraternity reinstalled the Epsilon Rho Chapter at Rider University in Lawrenceville, NJ. Serving as the third active chapter in the state of New Jersey, Epsilon Rho had the distinction of being the closest chapter to the Fraternity's International Headquarters when it was located in Trenton, NJ.
Bringing back the Epsilon Rho Chapter started during the spring 2017 semester with the arrival of then-Field Executive Marc Bodine (Gamma Delta/Florida Southern 2015), who was tasked with building a colony by the end of the semester. He started the process by reaching out to leaders of student organizations and, in turn, the leaders reached out to their friends about starting a new fraternity. In just a few short months, the group quickly grew to 23 men and was colonized on March 5, 2017. Before leaving campus, Marc implored the new pledges to build the group through 365 recruitment and getting involved on campus. Taking his advice, the members assembled a team for Relay for Life, raising $2,400 for the American Cancer Society. They also held weekly events to expand the brotherhood and meet potential new members. During their first time participating in Rider's Greek Week, the colony finished in third place overall (first amongst fraternities). Throughout the remainder of the spring 2017 and into the fall 2017 semesters, the colony steadily grew until they hit 57 members and were installed and initiated as brothers on March 24, 2018.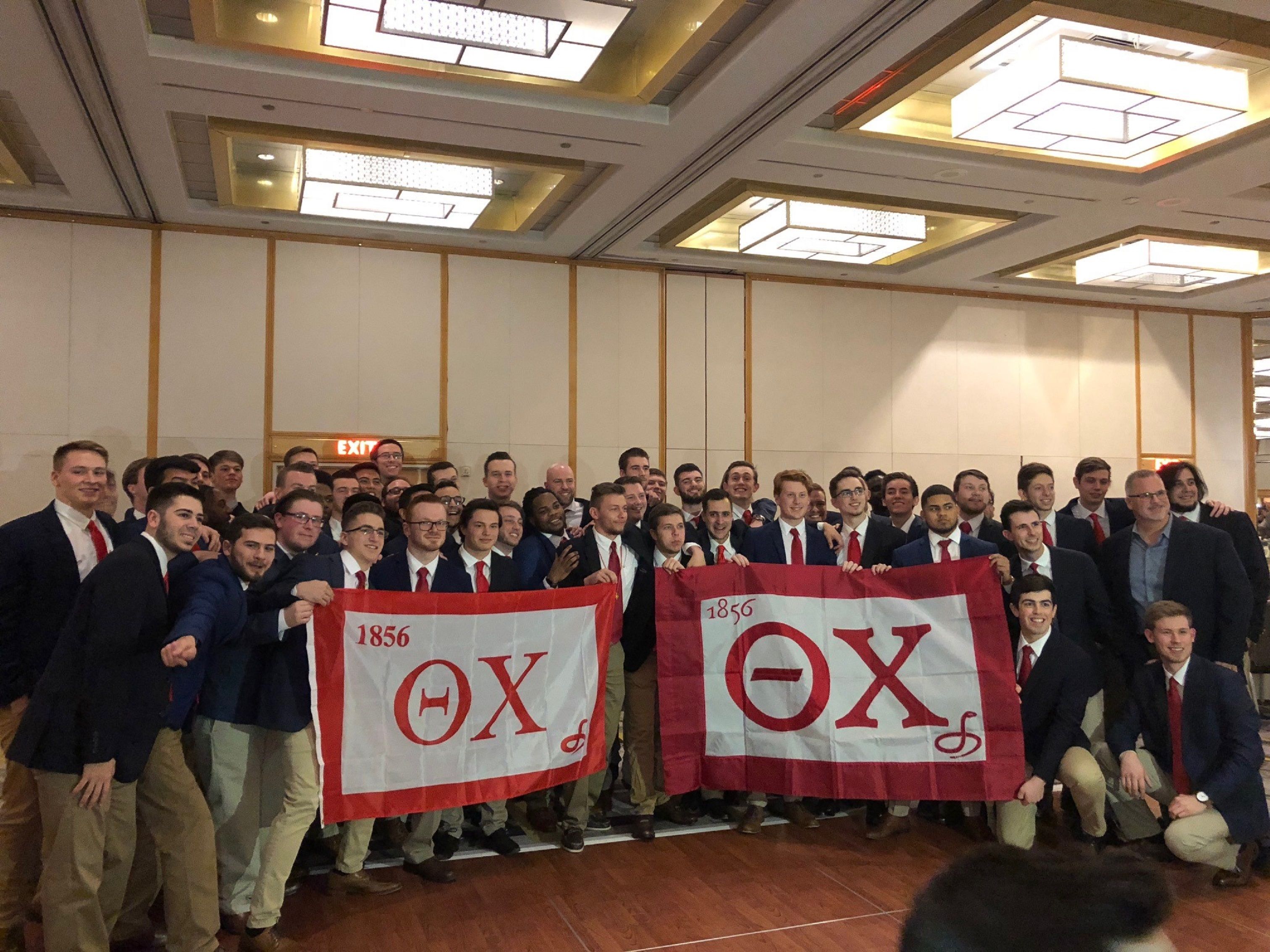 The reinstallation ceremony was held in Memorial Hall on Rider's campus. The ceremony was presided over by International Counselor Darick Brown (Eta Gamma/Morehead State 1989) and included assistance from past International Vice President Joe D'Amore (Eta Pi/East Stroudsburg 1977), Director of Volunteer Development Zack Brown (Eta Beta/Eastern Kentucky 2014), past Interim Director of Educational Programming Marc Bodine, Field Executive John Schoenle (Delta Pi/Indiana State 2017), Counselor Rich Santoriello (Epsilon Sigma/Wagner 1987), alumni from Gamma Rho/Florida State and Epsilon Rho/Rider, and collegians from Epsilon Psi/NJIT and Iota Sigma/Towson. Following the reinstallation ceremony, a banquet was held at the Hyatt Regency Princeton in Princeton, NJ.

Guests at the banquet included those listed above along with Coordinator of Greek Life Amanda Elise, President of Rider University Gregory Dell'Omo, and the family members and dates of the newly initiated men. Speakers for the banquet included Darick Brown, Amanda Elise, Zack Brown, Marc Bodine, John Schoenle, Chapter Adviser Jim Benton (Epsilon Rho/Rider 1973), past Colony President Branden Escott (2018), and newly-installed Chapter President Michael Peczinka (2020). During the banquet, David E. DeVol Awards were presented to Jim Benton, Mike Mehlhorn (2009), and Kenneth Isky (1977). Local chapter awards were presented to the following brothers:
Assisting Hand Award - Joseph Caruso (2020)

Brother of the Year - Branden Escott (2018)
Scholar of the Year - Tyler Gorman (2018)
Senior of the Year - John Modica (2018)
"When I was offered a bid to join Theta Chi, it was one of the greatest moments of my collegiate career," stated Chapter President Michael Peczinka. "Over the last few months with my Fraternity, I have had the pleasure of seeing my brothers grow, I have been able to gain a better connection with my community, and accomplish some pretty rewarding goals."
"Our reinstallation was a day that none of us will ever forget. It was a day full of emotion, excitement, and relief. Our colony worked cohesively and with an energy that can't be replicated by many in order to get to where we are. I know we could not be more grateful for each other and for Theta Chi Fraternity for bringing us together as friends and brothers for life."
Founded in 1856, Theta Chi Fraternity is a men's collegiate fraternity with more than 188,000 initiated members and has established 236 chapters across North America. Leadership development, personal development, and service to alma mater are fundamental to Theta Chi Fraternity's mission.