Eta Alpha/Clemson University Recolonized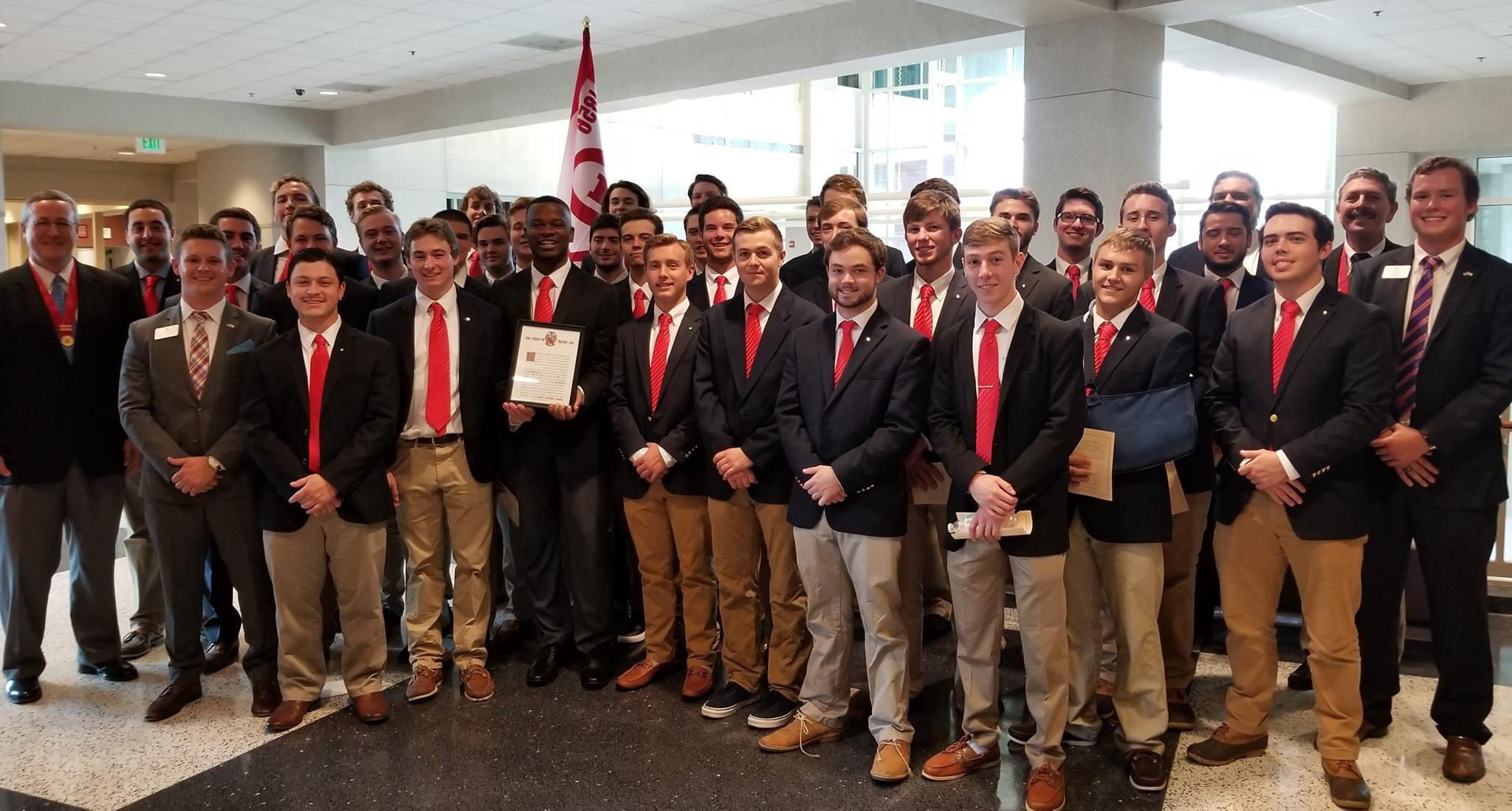 Photo courtesy of Shickre Sabbagha (Beta Psi/Presbyterian College 1989)
Clemson, SC – On November 5, 2017, the Eta Alpha Chapter at Clemson University was recolonized. The ceremony saw 34 collegians become pledges in an effort to solidify Theta Chi's foundation in the state of South Carolina.
Colonization efforts began through the work of Chief Operating Officer Ray Vanlanot and Director of Recruitment and Expansion Taylor Dahlem, who twice traveled to campus to present to the university on the prospect of Theta Chi returning. After securing a bid to return, Field Executives Shaun Hamlin and Blake Whitley arrived on campus in August 2017 to begin the colony building process. It took them just over 2 months to construct a colony of 34 men.
The November 5th recolonization ceremony was held in the David Pebbles Room in the Hendrix Student Center on campus. International President Joseph Couch presided over the ceremony that included assistance from past Foundation Chapter President and past Grand Chapter member Warren Hoffman, past President of the Theta Chi Funds for Leadership and Education Bill Schuetze, Director of Volunteer Development Zack Brown, Field Executives Shaun Hamlin and Blake Whitley, alumnus brothers from Delta Chi/Lenoir-Rhyne University, Beta Psi/Presbyterian College and Eta Alpha/Clemson, and collegiate brothers from Iota Psi/South Carolina.
A celebration banquet followed the colonization ceremony included the same attendees as above, along with Clemson University Associate Director of Sorority and Fraternity Life Dave Walthius, and parents of the members of the new colony. Speakers included Joseph Couch, Warren Hoffman, Dave Walthius, Zack Brown, and Shaun Hamlin, who all spoke to the excitement of Theta Chi's return to campus and the impact these men can have on the university and in the community.
"It was a very uplifting ceremony", stated colony member Tristan Benson. "It's inspired me to work hard for my soon to be brothers, my fraternity, and for myself. I can't wait to install".
By the end of the spring 2018 semester, the main goals for the group include growing to 80 members and installing, to raise $2,500 through philanthropy and community service efforts, to have a top five cumulative grade point average among the fraternities on campus, to have each member serve eight hours of community service, and to hold one campus-wide Sacred Purpose event.
Founded in 1856, Theta Chi Fraternity is a men's collegiate fraternity with more than 185,000 initiated members and has established 235 chapters across North America. Leadership development, personal development, and service to alma mater are fundamental to Theta Chi Fraternity's mission.