URI alumni, fraternity brothers race to Poland to help Ukrainians fleeing war
Pair provides transportation from border to safety, generators to keep hospitals, field sites running
The following article is courtesy of David Lavallee (Eta/Rhode Island 1979), Assistant Director of Communications for the Department of Marketing and Communications at the University of Rhode Island.
---
KINGSTON, R.I, – April 21, 2022 – University of Rhode alumni and Theta Chi Eta Chapter brothers Lorne Adrain (1976), and Jim Buehler (1978) were well into their mission to help Ukrainians escape the carnage of the Russian invasion when the duo witnessed one of many heartbreaking scenes at the Ukraine-Poland border
"I saw a woman in her 60s who has a son with disabilities, and she had all of their belongings in a plastic bag that was tearing apart," Adrain said. "We took them to a train station in Warsaw where they were proceeding to Berlin."
"Their entire life was in a breaking plastic bag," Buehler added.
Buehler charged across the street to a local shopping center to buy the woman a suitcase so she could push her son's wheelchair without having to worry about their belongings being scattered on the ground.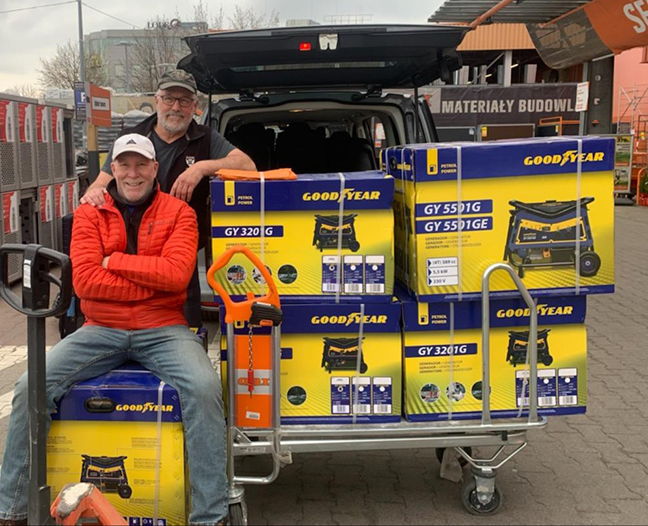 Before leaving in March for their 12-day trip to Poland, the pair raised $5,000, which helped them provide fleeing Ukrainians with rides to hotels and homes in Poland, chainsaws to help Ukraine forces block roads, generators to keep hospitals and aide sites running, and provide power for those still in Ukraine who had lost electricity during the invasion, as well as items for personal needs.
But as Buehler and Adrain shared what they were doing on social media, email, and text messages to a few thousand people, they were able to raise another $75,000 during the duration of the trip. You can continue to support the efforts of Buehler and Adrain here.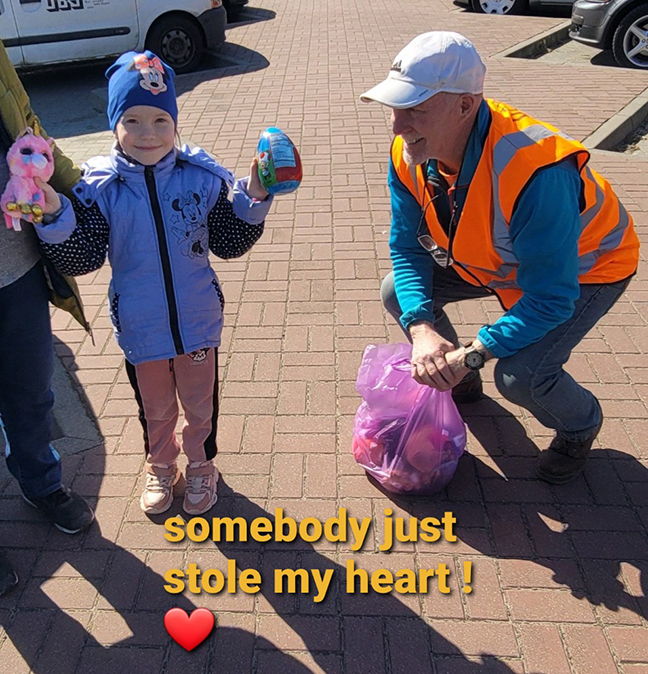 Adrain, a financial representative for Northwestern Mutual Life and co-founder of Social Enterprise Greenhouse, and Buehler, a senior vice president with Wells Fargo who has a practice in wealth management, made almost a spur-of-the-moment decision to leave their jobs and families to help people thousands of miles away in an unfamiliar country.
"This all started when Jim let me know that a website had been created to help people serve as hosts for Ukrainians fleeing their country," said Adrain, of Providence, former chair of the Rhode Island Board of Governors for Higher Education and former chair of the URI Foundation & Alumni Engagement's Executive Board. "I then learned that my neighbor had just packed her bags and flew to Poland to help refugees. I thought that was really wonderful; I thought I could go when she came back."
Adrain asked his neighbor if she would join a Zoom call to discuss her trip and what was involved. He invited Buehler and a few other friends to join the call.
"After the call, Jim messaged me and said, 'How about you and I be wingmen for each other and I come with you (to Poland)?'"
Shortly after, the two bought their plane tickets and headed to Poland just a few days apart. And on a Friday in March, Buehler and Adrain began driving from Warsaw to key stops in Poland to provide assistance and get refugees to safe havens.
Buehler of Annandale, New Jersey, said they operated in an area he described as a triangle with Warsaw, a destination for many refugees, at the top of the triangle. To the southeast was Hrebenne on the Poland/Ukraine border. The other point of the operational triangle was Krakow.
"Where we went was determined by where someone might need a ride," said Buehler, a member of the University of Rhode Island Athletics Hall of Fame. As a senior captain, he led the 1977 Rams soccer team to an NCAA tourney berth and was named to the All-Yankee Conference First Team.
"Where we were helping out, the United Nations wasn't there," Adrain said. "The Red Cross wasn't there, and there were a couple of nonprofit groups, but the overwhelming majority of people were volunteers like Jim and me, who came from all over the world. They just showed up and coordinated what needed to be done on WhatsApp."
Adrain compared the operation to what might happen when a large group responds to a text. "A message would come in saying that a family just crossed the border and they needed a ride to Krakow. Jim and I would see that, and say, 'We have five more seats in our van and we can do that trip this afternoon or tomorrow.'"
"We saw a mother, maybe fortyish, with four teen boys, and I kept thinking these are just middle-class folks wearing regular clothes who need to go from this shopping center turned refugee center to Lublin, and then stay with a host family," Buehler said. "Just about every family had a boyfriend, husband, or son, who was staying behind to fight, any male from age 16 to 60."
Adrain said one family with whom he and Buehler are still in touch, is now living in Dublin, Ireland. "This was a woman of about 50, and she had her mom with her, who is 75, and her daughter. We took those three generations together to the airport in Warsaw where they then flew to Dublin so the woman could find work. We have been sending her cash so she and her family can live and eat. We're sending people like that actual cash because they need to eat today," Adrain said.
A 27-year-old woman who they helped had left her boyfriend behind in Ukraine because he was old enough to fight.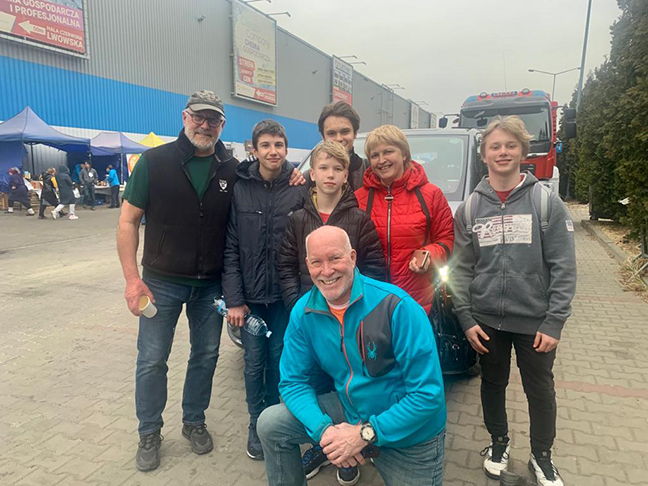 "She was having a very hard time, wondering where she was going to stay and worrying about her boyfriend," Adrain said. "It was all very raw. The people are scared and tired. I felt really challenged by the thought of helping a person just get through the day.
"As difficult as it was, it was also so inspiring. The Ukrainians were so grateful. When Jim got the suitcase for the woman and her son, she hugged him and kissed him."
"The Polish people are very proud to proclaim that you will not see a refugee camp in their nation," Buehler said. "There is no such thing. Krakow has about 750,000 residents, and they took in between 80,000 to 100,000 Ukrainians. Warsaw (which has a population of 1.76 million) took in 1.25 million refugees. Time after time, the Poles have said there are no refugee camps. They say they have taken everyone in who needed a home or needed to move on."