Eta Kappa Entrepreneur in the OBX
This article originally appeared on Outer Banks This Week, here. Reprinted with permission.

Phil Wayland (Eta Kappa/James Madison 2000) and his wife Laura's three businesses, Chip's Wine & Beer, Front Porch Café, and Outer Banks Olive Oil were spotlighted by Outer Banks This Week and they sat down for an interview with the online publication. A brief of the story can be found below.
Behind every Outer Banks business are people doing their best to make a living while still finding time to enjoy this beautiful place they call home. In this edition of Get to Know the Locals, you'll meet two of them: Laura and Phil Wayland, owners of three thriving Outer Banks businesses: Chip's Wine & Beer, Front Porch Café and Outer Banks Olive Oil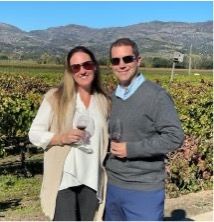 Phil's background is in consulting, data management and healthcare. Laura developed her business skills while building a nationwide team through an in-home wine-tasting company as a stay-at-home mom. After devoting seven years to her company, it folded in 2010. She took the knowledge she gained through her experience and purchased a wine and beer store, subsequently developing unique olive oil wine shops and in 2021 purchasing three locations of Front Porch Cafe. With 19 years in the wine industry and 11 years as retail store owners, Laura and Phil have achieved success through pursuing their passions.
Laura says she and Phil have learned to be resourceful and strategic, adding that her background in a direct sales business shaped her knowledge in dealing with customers, managing and motivating a team of employees and working effectively when every dollar counts.
Mainly, though, it's people who drive their business.
"We believe community, customers and our employees are the backbones to making a successful business," Laura says. "All the pieces work together in creating an environment that customers want to shop in, the community wants to support and employees want to work in. Our goal is to create a culture that supports all three of these."
Read on at Outer Banks This Week to learn more about these successful entrepreneurs and their life on the Outer Banks.