A full write-up recounting Eta Mu/Findlay's 50th anniversary will be featured in the upcoming Winter 2022 Edition of The Rattle. For now, we invite you to enjoy this report from Jeannie Wiley Wolf at The Courier on Eta Mu's. The original article can be found here.
Brothers of the University of Findlay's Eta Mu Chapter of Theta Chi Fraternity recently celebrated the golden anniversary of their fellowship.
Installed as an active brotherhood in 1972, the chapter is the longest consecutively active men's fraternity at Findlay and has members from all over the world and the majority of the United States.
Steve Kinn, who was an active member in the 1990s, said he found the fraternity purely by chance during his sophomore year.
"I was in class, knew a couple of guys from class that said, 'Hey, why don't you come over, hang out for a little bit?' The next thing I know, I'm joining," he recalled.
Kinn's family is from Findlay, but his father served in the Navy, so he lived all over before graduating from high school in Pensacola, Florida. When his parents divorced, Kinn returned to Findlay with his mother.
He said the best thing about being part of a fraternity was all of the different people he has met.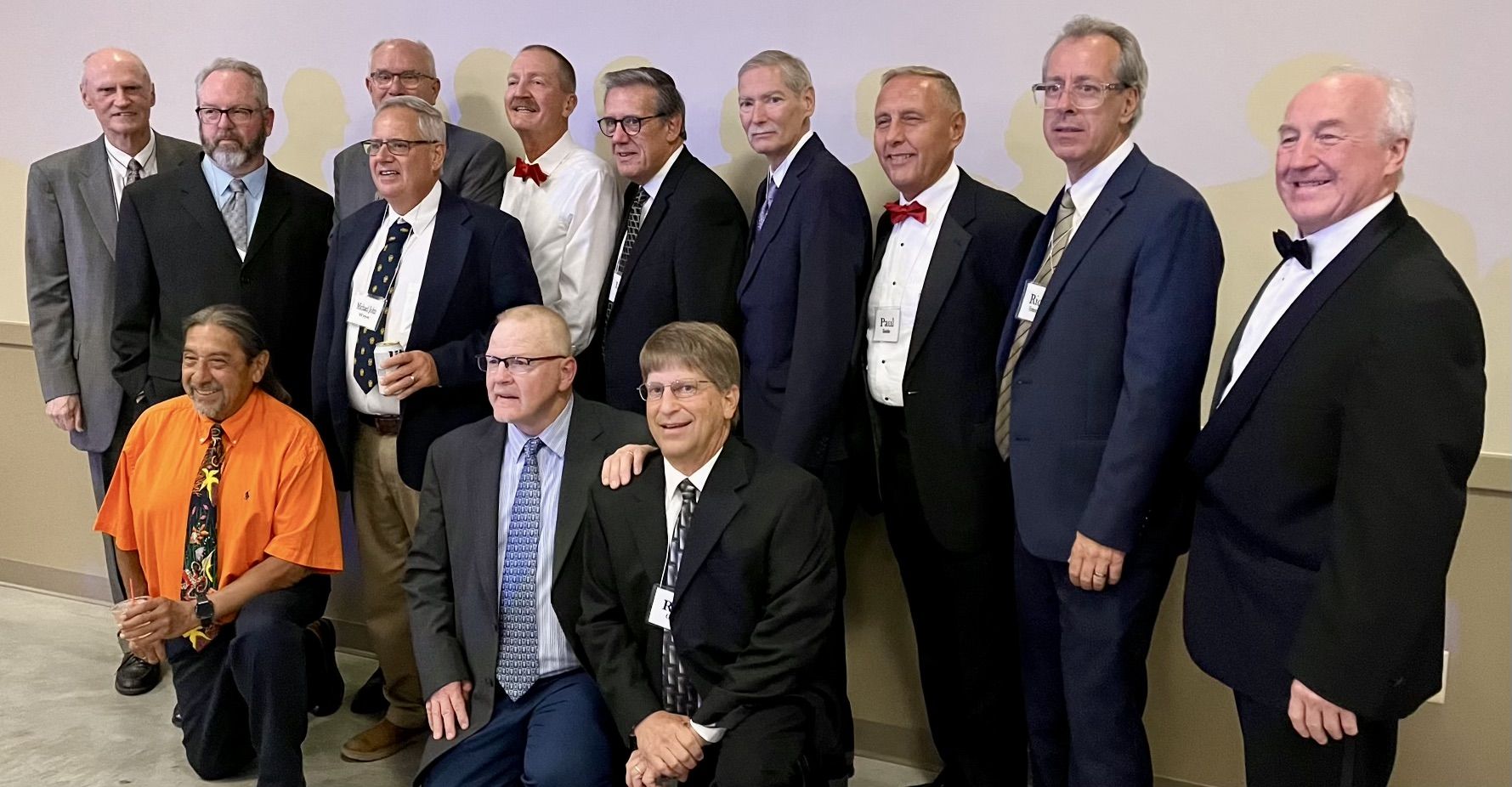 "There are no two brothers alike. We've got veterinarians, business people, lawyers, some that went on to get their engineering degrees," Kinn said. "It's a complete mix, and that's one of the things I liked best about it was that I wasn't going and hanging out with a bunch of people like me. We had every race that was on campus was a brother, different religions, different viewpoints."
They didn't always get along, he acknowledged, but they were still all brothers.
"I think that was the coolest thing about it was being a brother taught you better to learn how to deal with that. You learn that, hey, we don't have to agree. We have wide varying political opinions in our fraternity and guess what, I want that. I don't want to be grouped with people that think just like me. That would be boring," he said.
The Findlay chapter actually got its start in 1968, comprised primarily of young men returning from Vietnam. Kinn explained that when a new group wants to become a chapter of Theta Chi, it starts out as a colony.
"They use that time to organize and also try to show the university, hey look, we can get people that do like this (the fraternity's) principle," he said.
The colony was granted its charter by the national office on May 20, 1972. Tom "Reggie" Hoch was the first president of the new established chapter, and the ritual was performed by Ohio Northern University's Zeta Kappa Chapter.
Kinn left the fraternity in 1994 when he attended the University of Akron for a semester but then returned and officially graduated from UF in 1995. Incidentally, his mother, Leslie "Cookie" Kinn, also earned her degree from the university at the same time, he said. They both majored in environmental and hazardous materials management.
There are now more than 240 Theta Chi chapters across the country, said Kinn.
The local chapter has 563 brothers as of this fall — which includes active members and alumni.
"The last count, I think we have brothers from nine different countries that are currently living in six of them. Three are back in the United State now. But Greece, South Africa, South Korea, Columbia, Mexico. And we have brothers from 45-plus states," he said.
The chapter house is located at 316 Howard St. Previous houses were located at 1200 N. Main St. and 229 Davis St. These properties were purchased by the university, Kinn said, and have become parking lots.
Other than the past two years during the pandemic, the chapter holds a golf outing each year for charity. A formal event is also held annually. This year, money raised from the golf event and other reunion weekend activities — which included a reception at the Mazza Museum, alumni meeting, lunch at The Fern, a formal and Frisbee football — will benefit the USO.
About 110 brothers attended the reunion from 16 different states, he said.
"Right now we're experiencing a downtime (in membership)," said Kinn, who believes part of the trouble involves national hazing incidents.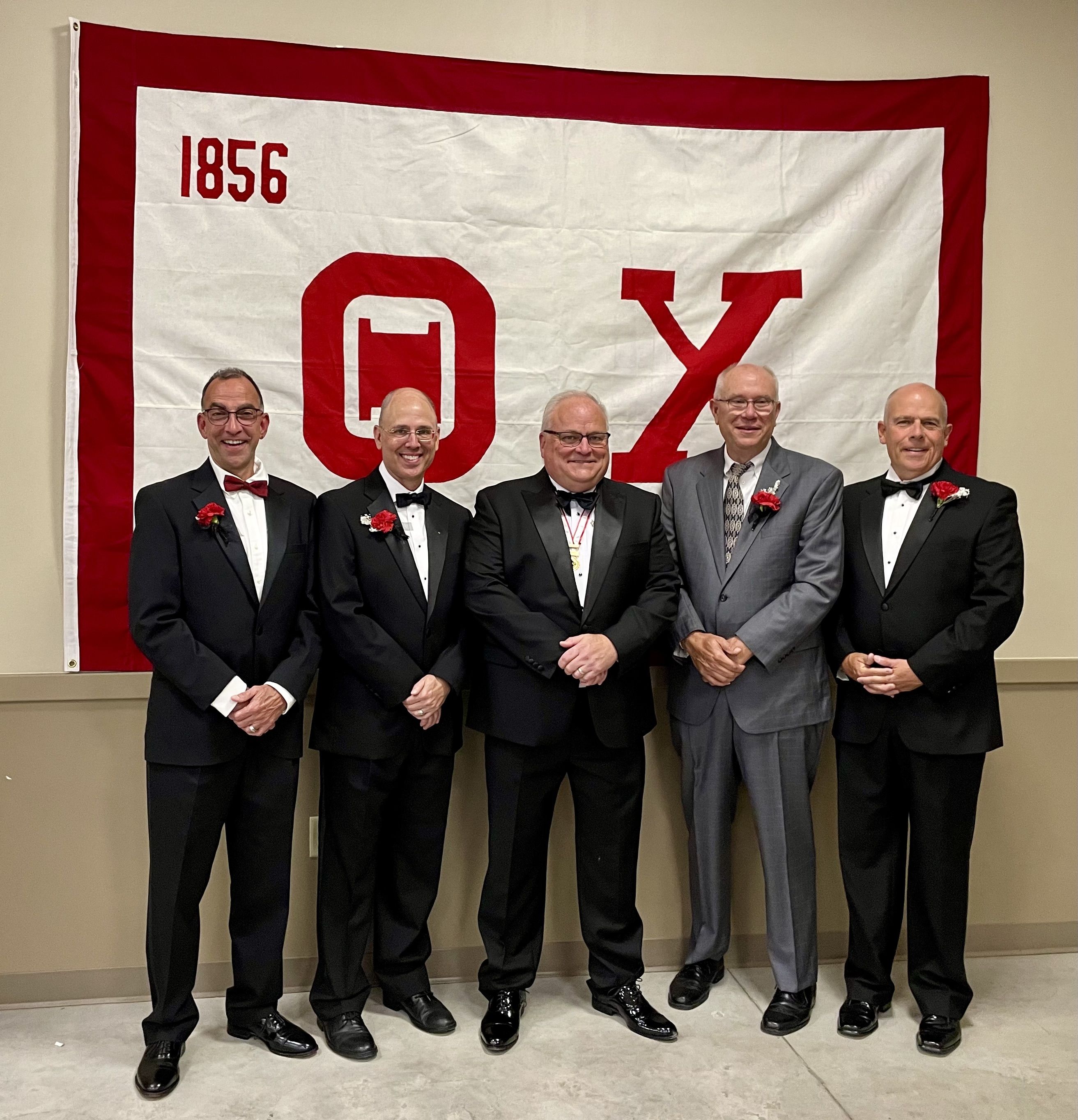 COVID has also played a role, he said, adding that a lot of students used to come out when the fraternity would sponsor an event.
"And they're not as eager to go out and mix and mingle now, so it's harder to get them to come to things and get to meet people," he said. "I think that's a struggle of the new age."
He said alumni hope to help active members figure out a way to reverse that trend, then look at hosting some fun activities again.
"One of the things they did in the 1970s and 80s was dribbling a basketball from here to Ohio Northern University and back," he said. "Findlay would dribble the basketball relay style all the way to ONU, and then ONU Theta Chi's would dribble all the way back to Findlay. And then they would get sponsors for every mile and raise money," he said. "I hope we'll be able to do some of those kinds of things again."