Browns Edge Partnership Scholarships Awarded
This article appeared on October 29, 2018, via the Findlay Newsroom (newsroom.findlay.edu). It was reprinted with permission from Joy Brown, the author of the article and the Media Relations Coordinator for the University of Findlay. The article features Jacob Hanzlik (Eta Mu/Findlay 2019).
---
Seven University of Findlay undergraduate students recently received Browns Edge Partnership scholarships, made possible through the partnership between UF and the Cleveland Browns franchise.
Jacob Hanzlik, a senior from Streetsboro, Ohio, and Colin Emert, a junior from Brunswick, Ohio, each received a $5,000 Browns Edge Partnership Leaders Award for completing internships or volunteering with the Cleveland Browns, and submitting superior 500-word essays that reflected on their internship experiences and how it will help them with future professional endeavors. Scholarship applicants were also interviewed by the Browns Steering committee prior to final selection.
Receiving $2,000 Scholars Awards were Alexandria Laker, a freshman from Auburn, Indiana; Sara Bornhorst, a senior from Fort Loramie, Ohio; Morgan Eckstein, a freshman from Mansfield, Ohio; Mackenna Eldredge, a junior from Frankfort, Indiana; and Amy Sager, a freshman from Saugus, California. Their winning essays focused on how they intend to "earn their stripes" through hard work and accountability to their education at the University, internships, and their careers.
More than 100 students entered the competition.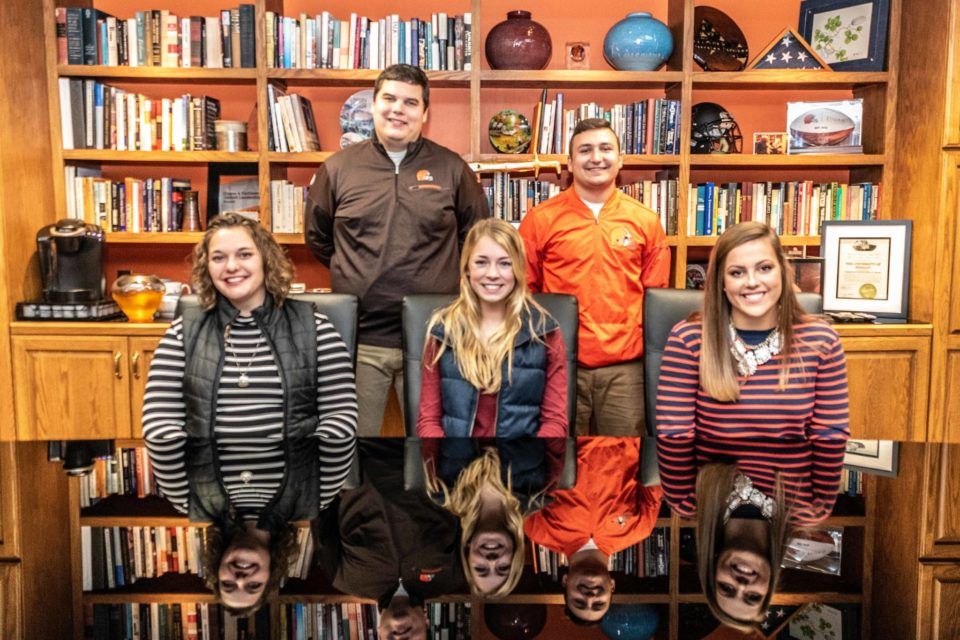 Jacob Hanzlik (Top Left) with the other scholarship recipients