Fifteen Gamma Chi Alumni Named to Randolph-Macon's All-Time Men's Soccer Team
The following article was published on December 16, 2020, via the Randolph-Macon Athletics Department (rmcathletics.com). It was reprinted with permission from Phil Stanton, Director of Athletic Communications. The article features alumni of Gamma Chi/Randolph-Macon.
---
Hall of Famers Highlight Men's Soccer All-Time Team

ASHLAND, Va. – Members of the R-MC Athletics Hall of Fame headline the Men's Soccer All-Time Team, based on online voting.
Hall of Famers Matt Bitsko, Mickey Bourdeau, Jeff Burns, Mark Cola, Mike Gloster, Mike Henning, Tetsu Kimura, Griff Sims, Rob Trafton, Ryan Traynor and John Wolff were voted onto the All-Time Team.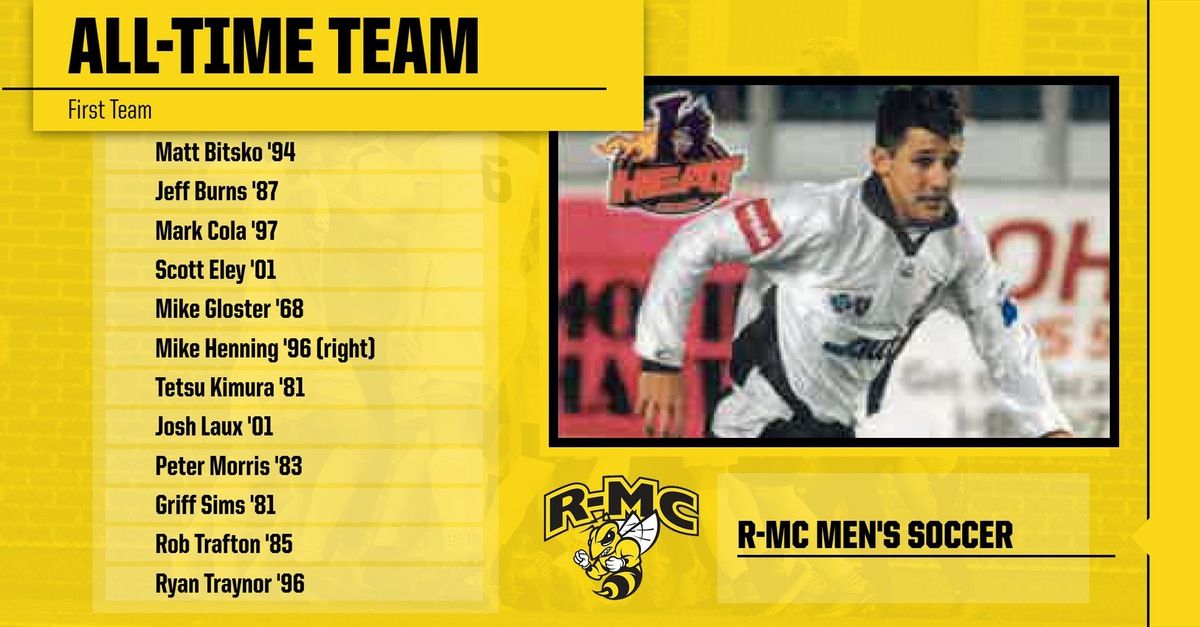 First Team
Matt Bitsko (1994), 23 goals, 3 assists, 49 points, All-Decade First Team, All-America First Team, Regional All-America First Team, 3-time All-ODAC First Team, VISA All-State, All-South Region First Team
Jeff Burns (1987), 6 goals, 6 assists, 18 points, All-Decade First Team, R-MC Hall of Fame, two-year captain, All-Region First Team
Mark Cola (1997), School-record 13 shutouts in a season, School & ODAC records with 35 career shutouts, 78 games, 362 saves, All-Decade First Team, All-America Third Team, 2-time Regional All-America First Team, 3-time All-ODAC First Team, ODAC Player of the Year, 3-time VISA All-State First Team, VaSID State Player of the Year
Scott Eley '01, third in program history with 103 career points, 5th with 37 career goals, 3rd with 29 career assists, All-Decade First Team, All-Region Second Team, All-Region Honorable Mention, All-ODAC First Team, All-ODAC Second Team twice
Mike Gloster '68, 2nd in program history with 44 career goals, 4th in program history with 102 career points, All-Decade First Team, Two-time All-America Third Team, Two-time All-Mason-Dixon, Four-time All-State, Two-time All-South, Co-Captain
Mike Henning (1996), School-record 120 career points, 2nd in program history with 44 career goals and 32 career assists, All-Decade First Team, 2-time All-America, 3-time Regional All-America, 4-time All-ODAC First Team, 4-time VISA All-State First Team
Tetsu Kimura (1981), 4 goals, 9 assists, 17 points, All-Decade First Team, All-America, two-time All-South Region First Team, four-time All-State First Team, four-time All-Division First Team, four-time All-District First Team
Josh Laux '01, fifth in program history with 21 career assists, 61 career points, 20 career goals, All-Decade First Team, Compton Award Winner, All-Region Second Team, All-Region Third Team, All-ODAC Second Team three times, ODAC Rookie of the Year, VaSID All-State Second Team
Peter Morris (1983), 5th in program history with 37 goals, 7th with 91 career points, 10th with 17 career assists, All-Decade First Team, All-District First Team, All-Division First Team, All-South Region Second Team, VISA All-State, VISA All-Region
Griff Sims '81, 1st in program history with 45 career goals, 5th with 99 points, All-Decade First Team, three-time All-State First Team, three-time All-District First Team, three-time All-Division First Team, two-time All-South Region Third Team
Rob Trafton '85, 1st in program history with 36 assists, 2nd with 116 points, 4th with 40 goals, All-Decade First Team, All-America First Team, three-time Regional All-American, VISA All-State First Team
Ryan Traynor (1996), 6th in program history with 93 career points, 7th with 36 career goals, 5th with 21 career assists, All-Decade First Team, All-Region Second Team, 3-time All-ODAC, VISA All-State Second Team
Second Team
Mickey Bourdeau '77, 10th in program history with 29 goals and 66 points, All-Decade First Team, Co-Captain, Compton Award Winner, All-State First Team twice, All-VCAA First Team
Dima Brodsky (1997), 2 goals, 10 assists, 14 points, All-Decade First Team, Regional All-America Second Team, All-Region First Team, 2-time All-ODAC, VISA All-State First Team
Matt Cooper '06, 11 goals, 11 assists, 33 points, All-South Region Second Team twice, All-ODAC First Team twice, All-VISA twice, ODAC All-Tournament Team twice
Allen Gray '83, 3 goals, 3 assists, 9 points, All-Decade First Team, All-Division First Team, All-District First Team, All-South Regional All-American First Team, two-time VISA All-State, VISA All-Region
Wijnand Jongen '85, 23 goals, 12 assists, 58 points, All-Decade First Team, VISA MVP, All-America Second Team, All-Region First Team, VISA All-State, VISA All-Region
Kang Lee (1991), 3 goals, 5 assists, 11 points, All-Decade First Team, 2-time All-Region First Team, 2-time All-ODAC First Team, 2-time VISA All-State First Team
Bryan Lutz (2018), 19 goals, 7 assists, 45 points, All-Decade First Team, United Soccer Coaches NCAA Division III Scholar All-America Third Team, All-South Atlantic Region Third Team, All-ODAC First Team, All-ODAC Third Team, VaSID All-State Second Team, CoSIDA Academic All-District Team, 2017 United Soccer Coaches NCAA Division III Scholar All-South Region Team, ODAC All-Academic Team
Mike Thorell (1994), 9 goals, 6 assists, 24 points, All-Decade First Team, All-Region Second Team, 3-time All-ODAC, 2-time VISA All-State, Regional All-Academic Team, Compton Award winner
Hunter Tyree '93, 7th in program history with 19 career assists, 8th with 30 career goals and 79 career points, All-Decade First Team, 3-time All-Region, 3-time All-ODAC, 3-time VISA All-State
Nick Warner (2006), 65 games, 63 goals against, 20 shutouts, 308 saves, 8 combined shutouts, All-Decade First Team, Compton Award Winner, All-Region First Team, ODAC Co-Player of the Year, VaSID State Player of the Year, VISA All-State First Team, All-ODAC First Team, All-ODAC Second Team
John Wolff '65, 56 career points, 23 career goals, All-Decade First Team, All-America Second Team, Two-time All-South, Two-time All-State, Two-time All-Mason-Dixon, State Offensive Player of the Year
Third Team
Mike Anderson (1985), 3 goals, 9 assists, 15 points, All-Decade First Team, two-time VISA All-State First Team, two-time VISA All-Region First Team
Anthony Astruc '20, 17 goals, 17 assists, 51 points, All-Decade First Team, All-ODAC selection four times, once First Team and once Second Team, All-South Atlantic Region Third Team
Brian Breslin (2019), 247 saves, 25 shutouts, 1.11 GA, All-Decade First Team, VaSID All-State Second Team, ODAC All-Tournament Team, Gary Smith Invitational All-Tournament Team, Delmarva Cup All-Tournament Team
Paul Duffy '20, 11 goals, 6 assists, 28 points, All-Decade First Team, All-ODAC Second Team
Jamie Flynn '06, 1 goal, 6 assists, 8 points, All-Decade First Team, All-Region Third Team, All-ODAC First Team, All-ODAC Second Team twice, VaSID All-State First Team, ODAC All-Tournament Team, 1st Team All VASID
Jeffrey James '77, 8th in program history with 30 career goals, 9th with 70 career points, All-Decade First Team, All-State twice, All-District First Team
Jack Maxey '17, 6 goals, 2 assists, 14 points, All-Decade First Team, All-ODAC Second Team, All-ODAC Third Team, VaSID All-State Second Team, ODAC All-Academic Team
Jacob McHugh (2018), 11 goals, 6 assists, 28 points, All-Decade First Team, All-South Region Third Team, All-ODAC Second Team, ODAC All-Tournament Team, ODAC All-Academic Team
Logan McHugh '17, 9th in program history with 17 assists, 8 goals, 33 points, All-Decade First Team, All-South Region First Team, All-ODAC three times (First Team once, Second Team once), VaSID All-State twice, ODAC All-Tournament Team
Alan Teeters '76, 51 career points, 13 career goals, 25 career assists, All-Decade First Team, Co-Captain, VCAA Player of the Year, All-State First Team twice, All-VCAA First Team twice, All-Mason-Dixon, All-South
John Walker '79, All-Decade First Team, Compton Award Winner, All-District First Team three times, All-State First Team twice, All-State Second Team twice, All-South twice