Following in Father's Footsteps

Theta Delta/Santa Clara Reinstalled
Santa Clara, CA - Theta Chi Fraternity reinstalled Theta Delta Chapter in Santa Clara, CA, after 17 years of being inactive. This is the Fraternity's twelfth active chapter in the state of California.
The road back to Santa Clara started during the fall 2016 semester. Matthew Richmond (2020) had just gone through the Greek recruitment process. As he made his rounds to the fraternities on campus he came to the realization that they were not the best fit for him. Some of his friends, who were stand-out students in high school, expressed a similar sentiment. "The idea then popped into my mind of how great it would be to start a fraternity with these guys," stated Richmond.
He proposed this idea to his friends Joey Rubino (2020), Robert Arnold (2020), and Osa Adler (2020), who were immediately on board with Richmond's proposition.
The next step was to decide on what fraternity they would like to start. The first fraternity to interest Matthew was Theta Chi since his dad, Ed Richmond (1988), had been a Charter Member and was one of the two primary organizers that had brought Theta Chi to Santa Clara in the 1980s. After researching Theta Chi's ideals and traditions, the men officially decided to pursue the recolonization of Theta Delta Chapter.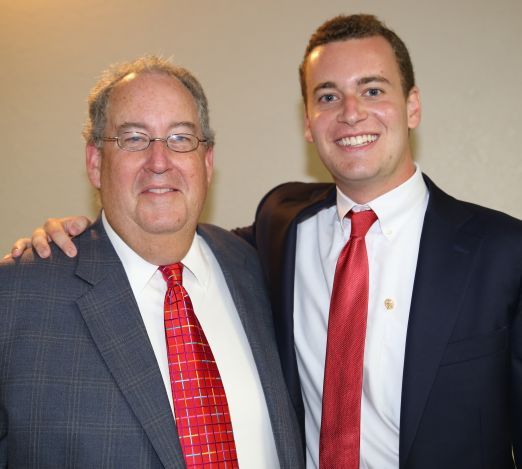 History Repeats Itself:
Theta Delta Charter Member Ed Richmond (1988) celebrates with his son Matthew (2020), one of Theta Delta's Rechartering Members.
The group of three soon discovered the challenges in starting a fraternity at a school that does not recognize nor support Greek life. Theta Chi would not be able to hold any official event of any kind on campus, including philanthropies, fundraisers, and recruitment events.
On April 9, 2017, Theta Delta was recolonized with 18 men. Before the end of the spring 2017 semester, they were able add a few more men and lay the foundation to grow during the fall 2017 semester. The colony members understood that they needed to grow their presence on campus. By capitalizing on the intrigue of a new fraternity, the colony grew from 21 to 34 members during the fall 2017 semester. With the group growing, they understood the need to instill infrastructure, which included the creation of by-laws to help smooth and simplify the process as it pertained to social, philanthropic, scholastic, and recruitment efforts for the colony.
With the beginning of the spring 2018 semester, the colony members knew they were closer than ever to reinstallation. While increasing their membership, the colony was able to hold social events to meet other members of the Greek community and held their first philanthropy event, a car smash that raised $500 for the USO. The men also participated in three brotherhood events including camping, hunting, and going to a Dodgers vs. Giants baseball game.
Colony members were involved in many areas on campus including: Acapella Club, African-American Student Association, Alpha Kappa Psi Business Fraternity, Armenian Club, Association for Computer Machinery, Bronco Film Society, Business Calculus Tutors, Club Golf, Club Ice Hockey, Club Lacrosse, Club Soccer, Club Volleyball, Club Ultimate Frisbee, College Republicans, Electronic Music Club, Finance Club, Finance Tutors, Global Engagement ISS, Green Club, History Club, Intramural Sports, Kids on Campus, KSCU Campus Radio Ruff Riders Club, SCU Real Estate Association, Stand-up Comedy Club, Student Government, and Swim Club.
In a letter of recommendation, Elizabeth Bollard, Director of Social Enrichment for Alpha Delta Pi Sorority, noted, "These men have already taken steps to show their support of the preexisting Greek community at Santa Clara. My sorority holds a capture the flag philanthropy event every spring and they have gone out of their way to make multiple teams which helped us raise even more money, and they have always shown up in high spirits with enthusiastic attitudes. Not only this, but they have sent flowers to our chapter house accompanied with brothers who serenaded us. They have established that they are gentlemen who value Greek relations, and I see no problems ensuing with their addition into our Greek community…As a fellow member of the Greek community, I can attest to how important it is to be surrounded by like-minded individuals who truly represent what it means to be kind, honest, and loyal. These are all qualities that I see in the men of Theta Chi and they have already proven that they embody a brotherhood."
All of their efforts came together on June 2, 2018, when Theta Delta Chapter was reinstalled with 40 men.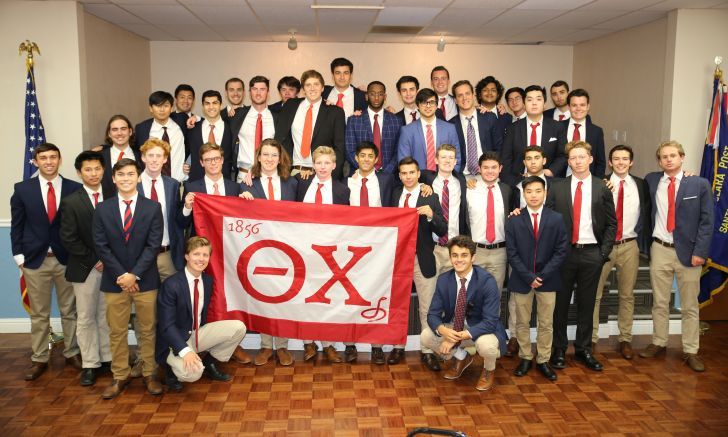 The 40 Theta Delta Rechartering Members are: Osa Adler (2020), Rob Arnold (2020), Michael Ayala (2021), Connor Azzarello (2021), Nathan Barnes (2020), Chris Batula (2020), Matt Bavuso (2020), Jack Benscheidt (2021), Neel Bothra (2020), Jack Bunton (2020), Beau Burnight (2020), Jordan Cho (2019), Nick Davis (2020), Emerson De Klotz (2020), Ishaan Desai (2021), Yan Dichev (2020), Yaphet Girmay (2021), Tommy Haddad (2019), Garrett Halvorson (2020), Adam Hanig (2020), Trevor Huffard (2019), Chuckie Hunter (2020), David Ibarra (2020), Luke Kotlowitz (2020), Kent Maynard (2021), Diego Mendoza (2020), Kyle Metzger (2019), Robert Ota (2020), Matthew Richmond (2020), Patrick Roberts (2020), Matthew Robinson (2019), Joey Rubino (2020), Jay Shah (2020), DJ Shakib (2021), Max Sueoka (2020), Rishi Surana (2021), Mina Tawfik (2020), Bryson Vernon (2020), John Winchester (2020), and Ian Zindel (2020).
The Reinstallation Ceremony was held at the American Legion Post 419 in Santa Clara and with International Marshal Herb Morgan presiding. Other Theta Chi Official Family in attendance included Chief Development Officer Philip Thornton, Director of Recruitment and Expansion Taylor Dahlem, Director of Education Shaun Hamlin, Field Executive Jonathan Barrow, and Counselor Jim McMahon.
Nine Theta Chi chapters were represented including Gamma Theta/San Diego State, Gamma Xi/San Jose State, Epsilon Tau/Stephen F. Austin, Zeta Epsilon/Long Beach State, Zeta Rho/Kentucky, Theta Delta/Santa Clara, Theta Iota/UC-Santa Cruz, Theta Mu/CSU-East Bay, and Iota Eta/Pacific. Each brother who attended became an Honorary Member of Theta Delta Chapter.
The Reinstallation was a reunion of California Theta Chi volunteers, many of whom had befriended each other during their collegiate years. Theta Delta's Chapter Adviser Mark Geenen (Eta Omega/Chico State 1983) had transferred from Gamma Xi/San Jose State in 1981 and led the charge to expand Theta Chi to Chico State. After graduation, he moved back to the Bay Area and would lend a Helping Hand to other young brothers trying to expand Theta Chi to their own campuses during the 1980s: Ed Richmond at Theta Delta/Santa Clara and Herb Morgan and Barry Peters at Theta Iota/UC-Santa Cruz. As a collegiate member, Ed had also initially worked with then-Field Representative Jim McMahon (Zeta Epsilon/Long Beach State 1979), who had made the trip from Long Beach.
Theta Delta Charter Member Ed Richmond (1988) proudly pinned the Badge on his son, Matthew (2020). "It took lots of hard work, dedication and patience for Henry Dehlinger (1988) and I to start the Theta Delta Colony of Theta Chi Fraternity at Santa Clara University back in 1985," explained Ed. "My son, Matthew, and his friends have now gone down that same path in the reinstallation of the chapter. Matthew and I will forever have these memories to share through the brotherhood of Theta Chi. Kudos to every member of Theta Delta for the effort put forth to bring glory back to Theta Delta."
The Reinstallation Banquet was also held at the American Legion Post 419. Special guests included parents of the newly initiated brothers. Speakers included Philip Thornton, Taylor Dahlem, Jonathan Barrow, Herb Morgan, and Theta Delta Chapter President John Winchester (2020). During the ceremony, Herb Morgan presented Ed Richmond with the David E. DeVol award for exemplary service.
"I am privileged to be able to call this group of men my brothers," stated Chapter President John Winchester. "Our collective efforts, led by former President Matthew Richmond, have helped us all develop as gentlemen and leaders. Theta Chi Fraternity has allowed us to emphasize those values in Santa Clara. We are very excited to see what the future holds for this organization."
Former Colony President Matt Richmond commented, "This experience has changed my life for the better and I will carry it with me for the rest of my life. I am proud of every single one of the men in this chapter and their extraordinary accomplishments. It gives me a sense of pride that we have the opportunity to continue the legacy of Theta Delta Chapter, which existed from 1986-2002. We are committed to continued success and will not become complacent. We will continue to grow and strive for the values that Theta Chi Fraternity stands for and uphold the legacy of the more than 300 initiated brothers from Theta Delta's history. I cannot express how much Theta Chi Fraternity means to me and how grateful I am that the Grand Chapter approved our petition. I am proud of all we have accomplished in this short time and I'm excited for the bright future ahead."
The newly reinstalled chapter will continue to be supported by a Chapter Advisory Board composed of the following alumni:
• Chapter Adviser Mark Geenen (Eta Omega/Chico State 1983)
• Charles Hodgdon (Zeta Epsilon/Long Beach State 1989)
• Ed Richmond (Theta Delta/Santa Clara 1988)
• Matthew Furlo (Iota Eta/Pacific 2009)
• Tyler Whaley (Zeta Epsilon/Long Beach State 2006)
• William Logsdon (Eta Omega/Chico State 1988)
Congratulations to our new brothers of Theta Delta Chapter!
Congratulatory notes may be sent via email to Chapter President John Winchester.
You can follow the progress of Theta Delta Chapter on Facebook or Instagram.