Four Theta Chi Alumni are Top CEOs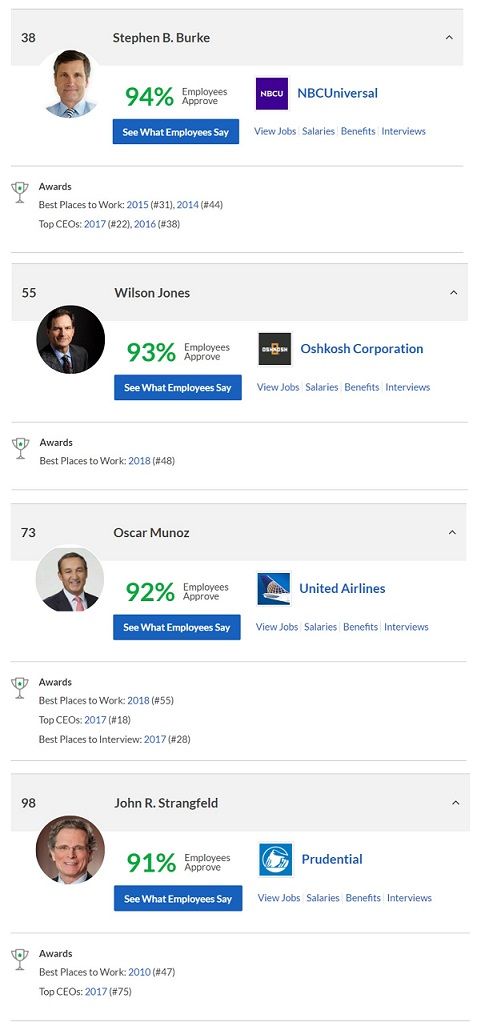 Carmel, IN - Glassdoor recently released its annual report highlighting top leaders employees love working for in countries throughout North America and parts of Europe.
Four Theta Chi alumni have been named as Glassdoor's Highest Rated CEOs for 2018:
Stephen B. Burke (Iota/Colgate 1980), President & CEO, NBCUniversal & Executive Vice President, Comcast

Wilson R. Jones (Delta Phi/North Texas 1984), President & CEO, Oshkosh Corporation

Oscar Munoz (Beta Tau/Southern California 1982), President & CEO, United Airlines

John R. Strangfeld (Beta Omega/Susquehanna 1975), Chairman & CEO, Prudential Financial Inc.
Glassdoor's report is based on the anonymous and voluntary reviews employees shared on their website throughout the past year. The average CEO approval rating of the 770,000 companies reviewed on Glassdoor is 69 percent. When employees submit reviews about their company on Glassdoor, they're asked to rate various factors about their employment experience, including their overall satisfaction and other workplace attributes like senior management. As part of these ratings, employees are also asked to rate whether they approve, disapprove, or are neutral about the job their CEO is doing.
See the complete list of Glassdoor's 2018 Highest Rated CEOs here.
Congratulations, brothers!