Gamma Mu/Bowling Green Reinstalled
Bowling Green, OH – After a nearly 21-year absence from campus, Theta Chi Fraternity reinstalled the Gamma Mu Chapter at Bowling Green State University on October 17, 2020. Gamma Mu became the 11th active chapter in the state of Ohio.
In 2015, Theta Chi was granted permission to return to campus during the fall 2017 semester. With that announcement, alumni such as Bob Curtis (Gamma Mu/Bowling Green 1965) started to prepare for Gamma Mu's return by rallying alumni to offer support for the eventual return of the chapter. One of those alumnus volunteers included Roc Starks (Gamma Mu/Bowling Green 1988), an instructor for Bowling Green's Insurance Department. Roc agreed to serve as the adviser whenever the chapter recolonized. With the start of the fall 2017 semester quickly approaching, he began meeting with some collegians at Bowling Green to introduce them to the idea of starting a new fraternity. In August 2017, Field Executives James McGuire and John Schoenle arrived on campus and were able to recolonize just a month and a half later on October 1, 2017.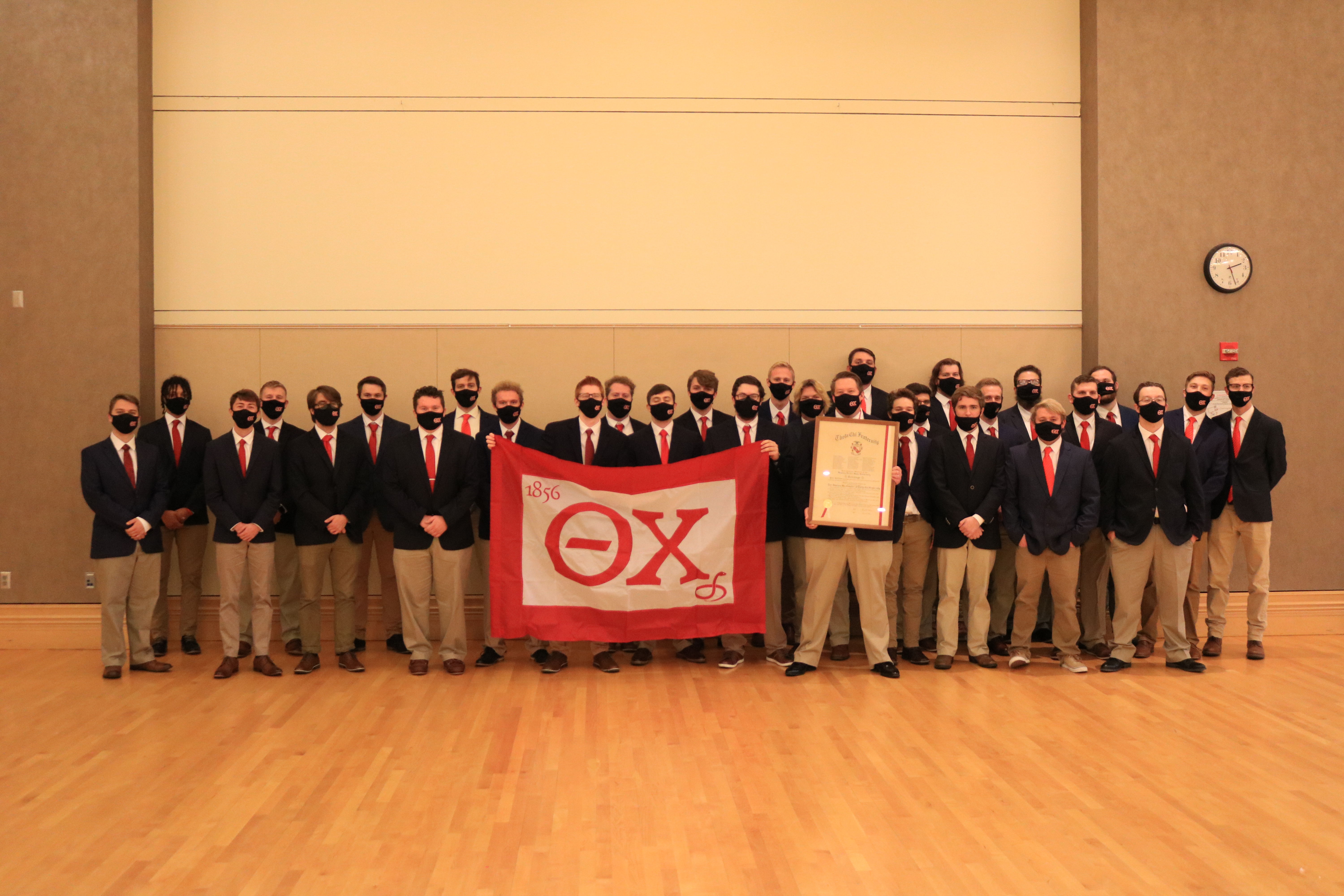 The group worked to get their name out on campus, and in the community, by supporting the Boys and Girls Club of Toledo, hosted multiple events to support the USO, and hosted multiple Sacred Purpose Events pertaining to Fire Health and Safety and Sexual Misconduct Prevention.
Members were also involved in multiple organizations on campus: Acapella Choir, BGSU Guitar Club, BG Pokémon Scene, BG Radio Sports, Bowling Green College Republicans, Club Dodge Ball, Esports, Justice Student Association, Marine Biology Association, Outdoor Adventure Club, Sports Marketing Alliances, Student Constructions Management Association, Student Government, Undergraduate Psychology Association, and Young Life.
Even though the group dwindled down to 6 members the previous year, they built their membership back up to more than 30. The Colony, with the support of their alumni, also obtained housing on campus in BGSU's newly built Greek Village. Demonstrating their perseverance and love of Theta Chi, the group was approved for reinstallation.
The Reinstallation Ceremony took place on October 17, 2020, at the Lenhart Grand Ballroom in BGSU's Bowen-Thompson Student Union. International Marshal Alan Copeland served as the Presiding Officer. Others in attendance included Chief Communications Officer Ben Hill, Field Executive Bradley Murphy, CAB Ambassador Jim Grissinger, alumni from Gamma Mu/Bowling Green, Zeta Beta/Adrian, and Eta Zeta/Edinboro, and collegians from Zeta Beta/Adrian.
The 33 Rechartering Members are: Ethan Archers (2023), Robert Barno (2023), Ross Beaverson (2024), Evan Carmean, Gabe Carrington (2022), Xavier Cordonnier (2021), Matthew Diehl (2023), Sean Edmonds (2024), Carson Ford (2021), Gavin Gibson (2024), Dylan Hicks (2022), Alex Holwerda (2024), Austin Huddleston (2024), Kyle Huth (2022), Joseph Irwin (2023), Joseph King (2021), Marcus Latta (2024), Hayden Lintz (2024), Sean McGowan (2022), Luke Mengos (2021), Derek Rethman (2023), Noah Riha (2021), Isaac Rogers (2020), Giordon Romey (2024), Gabe Roof (2022), Conor Ryan (2020), Joseph Secura (2024), Kaleb Sowards (2021), Robert Steffen (2021), Ben Terry (2020), Maxwell Vincent (2021), Jason Walden (2022), and Cole Wilson (2021).
There was one legacy present: Conor Ryan (2020), the son of Michael Ryan (Gamma Mu/Bowling Green 1987). As part of the adapted Initiation Ceremony, Michael had the opportunity to pin the Badge on Conor.
After the Reinstallation Ceremony, brothers met just west of campus for an informal gathering at the Wooster Green. Catering was provided by Beckett's Burger Bar, owned by Gamma Mu alumnus George Strata (1996).
During the gathering, International Marshal Al Copeland congratulated the new chapter and reminded them on the importance of being committed. Chapter Adviser Roc Starks implored the men to stay dedicated to reaffirming Gamma Mu on campus.
"I was glad to see Theta Chi return to Bowling Green," stated International Marshal Al Copeland. "In my collegiate years, my chapter was very close to Gamma Mu Chapter, as witnessed by the fact that several members of Zeta Beta/Adrian attended the reinstallation. This colony persevered and overcame several misfires in their attempt to return to BGSU. To come together and recruit successfully during COVID restrictions was a particularly impressive achievement. It was similarly gratifying to meet several alumni from the chapter who maintained a strong commitment to Theta Chi and helped get the colony over the finish line."
"Gamma Mu faced numerous adversities over the past few years," said Field Executive Bradley Murphy. "They had plenty of chances to give up, but they showed great perseverance and grit to install after a 20-year absence on Bowling Green's campus."
"Theta Chi is finally back at Bowling Green State University as a vibrant and thriving chapter," stated Gamma Mu Alumni Association President Tom Dalton (Gamma Mu/Bowling Green 1965). "We are all immensely proud of the members of the chapter who worked through some extremely difficult times despite the COVID-19 Pandemic."
"As the faculty advisor for Gamma Mu, and a proud alumnus, I think I can speak for all the brothers of Gamma Mu Chapter of how encouraged we are by this impressive group of young men," said Roc Starks (1988). "They have worked very hard, in an extremely difficult environment, to reestablish the Theta Chi traditions here at Bowling Green State University. We're looking forward to great things in their collective future."
"We are excited to finally be able to say that we are a chapter," explained Chapter President Joe King. "It has been a long three years of fighting to get reinstalled, but we finally made it. We are all excited to see what the future holds for us."
Welcome and congratulations to our new brothers at Bowling Green!
Congratulatory notes may be sent to Chapter President Joe King.
You can follow the progress of Gamma Mu Chapter via their Facebook, Twitter, and Instagram accounts.
Founded in 1856, Theta Chi Fraternity is a men's collegiate fraternity with more than 196,000 initiated members and has established 244 chapters. Leadership development, personal development, and service to alma mater are fundamental to Theta Chi Fraternity's mission.