Gamma Nu/New Mexico State Recolonized
Las Cruces, NM – Theta Chi has recolonized Gamma Nu at New Mexico State University. This colony is working to revive Gamma Nu, Theta Chi's sole chapter in the state of New Mexico which has been inactive since 1995.
In 2016, then-Chief External Relations Officer JD Ford reach out to New Mexico State University about Theta Chi making a return, and an agreement was secured to begin building a new colony in fall 2018. In August 2018, Field Executives Colin Ogle and Jacob Barker arrived in Las Cruces, NM and started contacting men on campus about restarting Theta Chi at NMSU. In just over two months, they were able to amass an interest group of 15 members and Gamma Nu/New Mexico State was officially recolonized on October 27, 2018.
The recolonization ceremony was held at the Corbett Student Union Center on New Mexico State's campus with Executive Director Mike Mayer serving as the presiding officer. Those in attendance included Chief Operating Officer Ray Vanlanot, Director of Recruitment and Expansion Taylor Dahlem, Field Executives Jacob Barker and Colin Ogle, and NMSU's Director of Campus Activities, Bruce Vandevender. Gamma Nu/New Mexico State alumni in attendance included David Chavez (1978), Michael Perkins (1981), and Craig Wilson (1978). Other attendees included brothers from Delta Upsilon/Arizona State, Theta Iota/UC-Santa Cruz, and Kappa Delta/Texas-El Paso, family of the new colony members, and members of the New Mexico State Panhellenic community.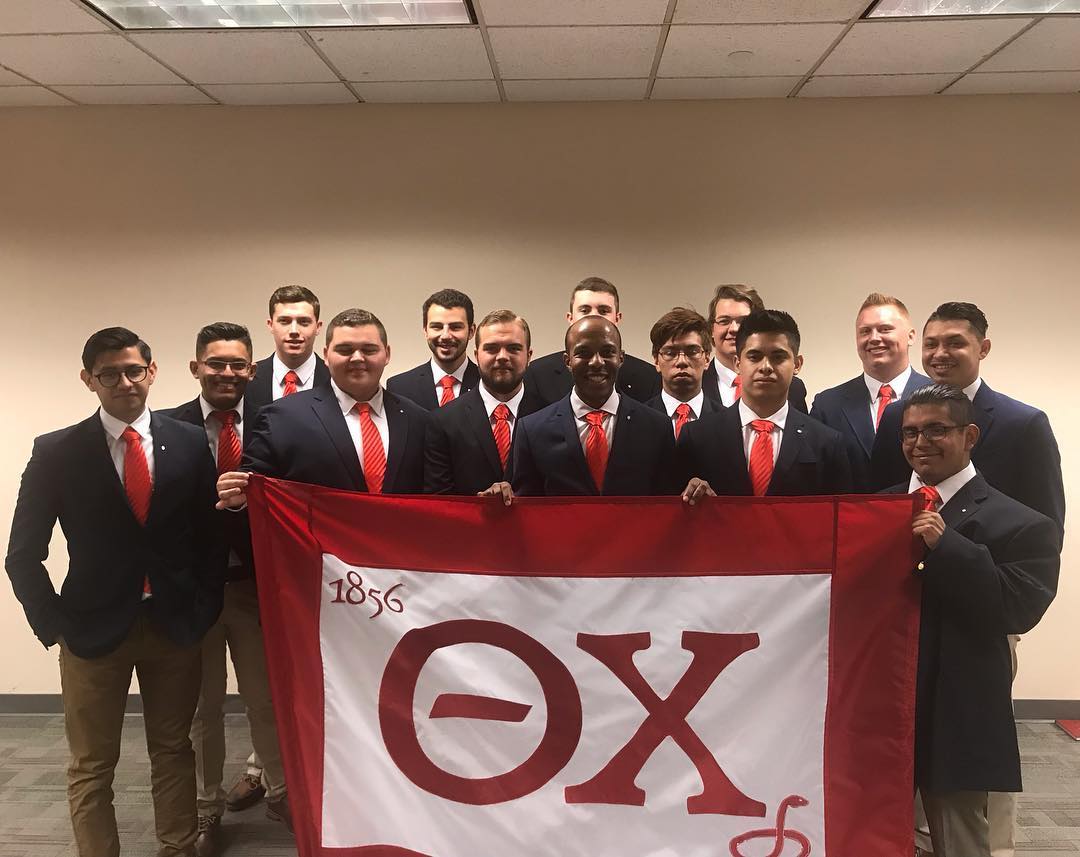 The 15 members of the Gamma Nu Colony are: Andrew Gallagher, Benjamin Groves, Christian Soto, Connor Stringam, Grady Griffin, Irvin Sigala, José Ramirez, Joseph Legger, Joshua Mader, Kyle Helms, Levi Beaty, Marcello Morales, Marco De La Cueva, Miguel Najera, and Samuel Lee.
Colony members are involved in many areas on campus including: Alpha Phi Sigma Criminal Justice Honorary Society, ASNMSU (student government), Chi Alpha Chi Campus Ministry, Delta Sigma Pi Honor Society, Gamers Club, Housing and Residential Life, Indian Student Organization, Institute of Electronic/Electrical Engineers, Intramural Sports, Naval Reserves, Pre-Med Club, and University Singers.
The banquet that followed the recolonization ceremony was held at the Corbett Student Union Center as well and included the same attendees listed above. Speakers at the banquet included Mike Mayer, Ray Vanlanot, Taylor Dahlem, Jacob Barker, and Colin Ogle.
"I am proud to be a part of bringing Theta Chi to campus, and all members are excited to change the culture of fraternities on our campus," stated Colony President Connor Stringam (2020). "We want to show pride in Alma Mater and how we can help each other become better students, but more importantly better men."
Congratulations to our new Gamma Nu Colony members!
Congratulatory notes may be sent via email to Colony President Connor Stringam.
You may follow the progress of the Gamma Nu Colony via their Facebook or Instagram accounts.
Founded in 1856, Theta Chi Fraternity is a men's collegiate fraternity with more than 191,000 initiated members and has established 240 chapters. Leadership development, personal development, and service to alma mater are fundamental to Theta Chi Fraternity's mission.