Gamma Pi/University at Buffalo Reinstalled
Buffalo, NY - On April 21, 2018, Theta Chi Fraternity reinstalled the Gamma Pi Chapter at the University at Buffalo in Buffalo, NY. This is the Fraternity's ninth active chapter in the state of New York.
The journey back to Buffalo started with Jack Welsh (Eta Chi/George Mason 2019), who transferred schools to be closer to home. In February 2017, he contacted the International Headquarters about re-establishing the Gamma Pi Chapter, stating he had an interest group of five men. By the time Director of Recruitment and Expansion Taylor Dahlem (Zeta Rho/Kentucky 2015) arrived to meet the group in March of 2017, Jack had managed to build the interest group to 30 collegians. The group was recolonized on September 10, 2017. Throughout the remainder of the school year, the colony continuously recruited until they managed to build up to 41 men and were reinstalled on April 21, 2018.

The reinstallation ceremony was held at the Natural Science Complex on the Buffalo campus. It was presided over by International Secretary Doug Miller (Zeta Beta/Adrian 1990) and included assistance from International Chaplain Creig Andreasen (Alpha Pi/Minnesota 1990), Chief Operating Officer Ray Vanlanot (Alpha Iota/Indiana 2008), Taylor Dahlem, Field Executives Matt Lynch (Zeta Pi/Old Dominion 2016) and Mitch Nolan (Delta Psi/Kansas 2017), alumni from Omega/Penn State, Gamma Pi/Buffalo, and Zeta Beta/Adrian, and collegians from Eta Chi/George Mason. Following the reinstallation ceremony, a banquet was held at the Natural Science Complex as well.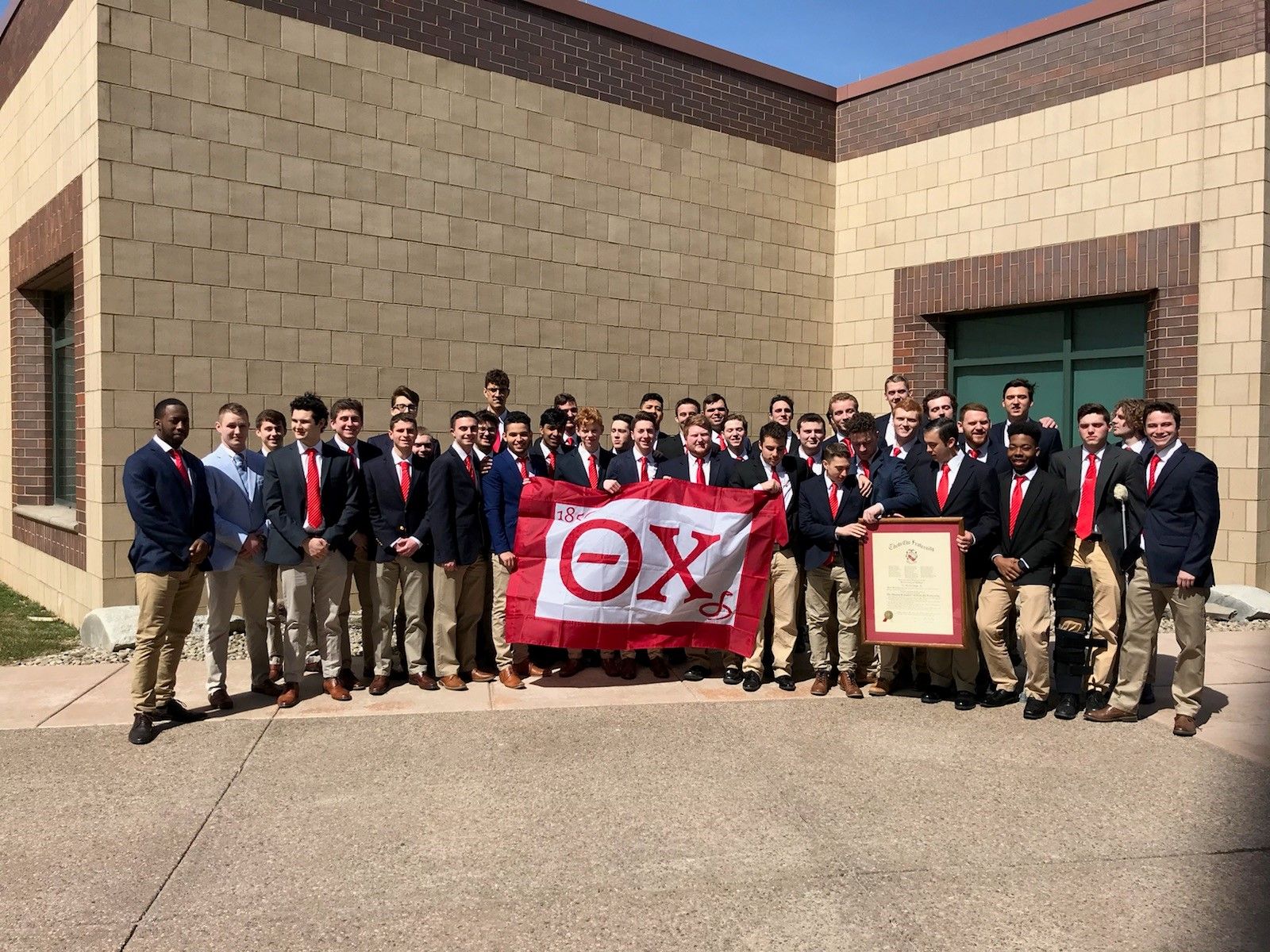 Guests at the banquet included those listed above along with family and friends of the newly initiated brothers. Speakers at the banquet were Ray Vanlanot, Mitch Nolan, Chapter Advisory Board member Jim Grissinger (Zeta Beta/Adrian 1990), and past colony President Josh Lagerwall (2019). During the banquet, the chapter was presented with the original charter and gavel for when Gamma Pi was originally installed in 1949. Jim Grissinger was presented with the David E. DeVol award for his work with the colony. Along with this, local chapter awards were presented to the following brothers:
Assisting Hand Award – Joe Corio (2018)

Brother of the Year Award – Josh Lagerwell (2019)

Outstanding Senior Award – Jake Schoelles (2018)

Scholar of the Year – Jake Schoelles (2018)

"It felt really good to see a year's worth of hard work and determination come to fruition that weekend and to look around the room to see how far we've come in contrast to where we started," stated Chapter President Greg Polsinelli (2020). "The chapter is very excited to continue spreading its positive influence across campus and build the Gamma Pi Chapter into something to be enjoyed and cherished by exceptional Buffalo students for years to come."
Founded in 1856, Theta Chi Fraternity is a men's collegiate fraternity with more than 188,000 initiated members and has established 236 chapters across North America. Leadership development, personal development, and service to alma mater are fundamental to Theta Chi Fraternity's mission.