Graham Kenneweg Receives Distinguished Service Award
Carmel, IN – A. Graham Kenneweg (Delta Gamma/WV Wesleyan 1952) was named the 138th recipient of Theta Chi Fraternity's Distinguished Service Award. The Distinguished Service Award is the highest honor that the Fraternity may confer upon a member and publicly recognizes and properly honors Theta Chi alumni who, by reason of outstanding international service, personal effort, and unselfish interest, have made distinguished contributions to the lasting good and general welfare of Theta Chi Fraternity. At no time can the number of awards made exceed the number of years in age of the Fraternity.
Brother Kenneweg's dedication to Theta Chi Fraternity spans nearly seventy years. He is a recipient of Theta Chi Fraternity's Citation of Honor, two George T. Kilavos Alumni Awards, including one from the Grand Chapter, and the Earl D. Rhodes Theta Chi for Life Award.
After graduating from West Virginia Wesleyan in 1952, Brother Kenneweg served as an informal chapter adviser for Delta Gamma Chapter until 1959. That same year, Graham purchased a beautiful house next to campus as Delta Gamma Chapter's home – which it remains six decades later. He established Delta Gamma Chapter's House Corporation, serving as its first President, and continued in that role for nearly 40 years. He served in many additional roles locally at Delta Gamma Chapter and gave countless hours in service to Theta Chi.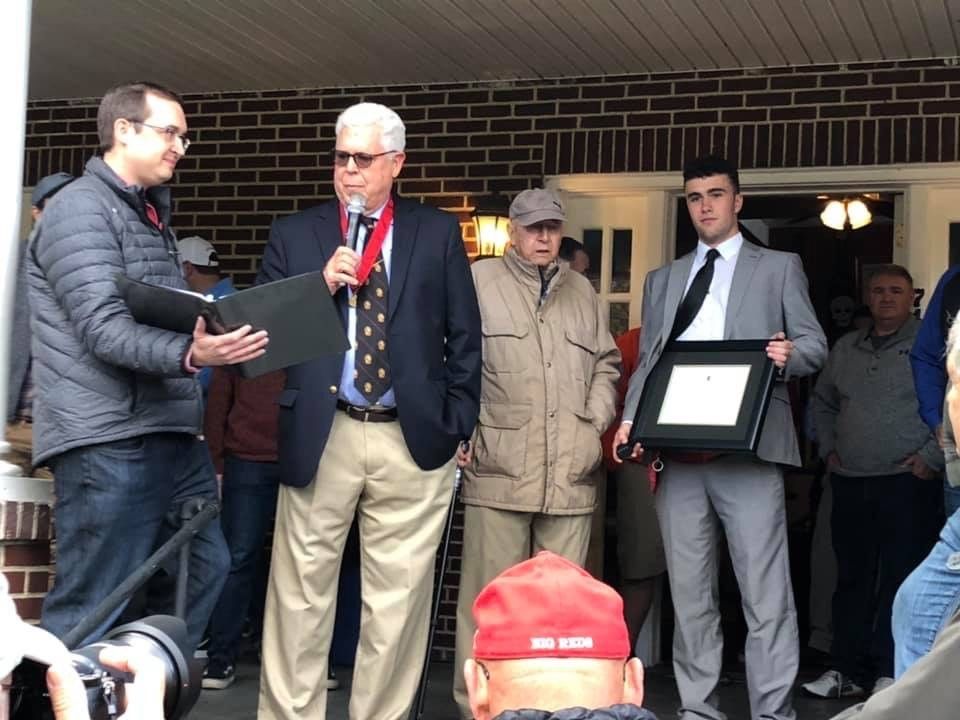 In recognition of Delta Gamma's 50th Anniversary of its installation, Graham worked with other alumni to piece together Delta Gamma Chapter's history and compiled and edited a fantastic history book to document the beginnings and first five decades of the chapter.
Following the closure of his beloved Delta Gamma Chapter in 1993, Graham did everything in his power to assist with the reestablishment and reinstallation of the chapter, resulting in its return in 1996.
In the early 1990s, Graham helped West Virginia Wesleyan establish the Alumni Interfraternity Council and served as its first President. The Alumni IFC has been instrumental in improving the College's Greek community.
At the International level, Graham served as a Regional Counselor, where he assisted with the installation of Epsilon Omicron Chapter at Waynesburg University and made visits to Alpha Kappa Chapter at West Virginia University and other chapters in western Pennsylvania. Living in Morgantown, WV, Graham continued to extend a Helping Hand to Alpha Kappa Chapter over the years.
In 1991, Brother Kenneweg continued his service at the International level with Theta Chi Funds for Leadership and Education, Inc. where he served as a member of the Advisory Committee as well as Board Secretary and Vice President. He remained on the board of Theta Chi Funds for eight years and assisted in providing leadership education and academic scholarships to hundreds of brothers.
Brother Kenneweg has always stood for upholding the values of our Fraternity and has helped many to attain them through his servant leadership.
The citation covering his award reads as follows:
In recognition of a lifelong servant to Delta Gamma and Alpha Kappa Chapters, and as an outstanding board member of Theta Chi Funds for Leadership and Education, Inc., Brother Kenneweg is a loyal alumnus of the Fraternity. His contributions to our brotherhood are many.
Brother Kenneweg's award was presented by Past Grand Chapter member Tom Van Cleave at the Delta Gamma Chapter House during homecoming at West Virginia Wesleyan on October 12, 2019.
Many brothers shared their thoughts and stories about Brother Kenneweg:
"Graham Kenneweg has been a fixture of devoted service and genuine support to the brothers of Theta Chi for over seven decades! His Delta Gamma Chapter at West Virginia Wesleyan College owes him a lifetime of gratitude and fraternity honors. He has always been great at getting to know brothers and connecting with them in meaningful ways. I had the privilege as a Chapter President and long-serving alumni board member to work closely with Graham on the recolonization of the chapter, many fundraising initiatives, fraternity business, and chapter house projects. Graham has never hesitated to give his time, energy, talent, and resources to make Theta Chi better. It was an honor in 2000 to be involved in the process of establishing the endowed Theta Chi Kenneweg Scholarship at West Virginia Wesleyan in honor of Graham to support active brothers each year. His fraternal legacy will be felt for many decades to come. Congratulations Graham on receiving the Distinguished Service Award and thank you for setting the example for all of us."
– Bill Fahrner (Delta Gamma/WV Wesleyan 1996)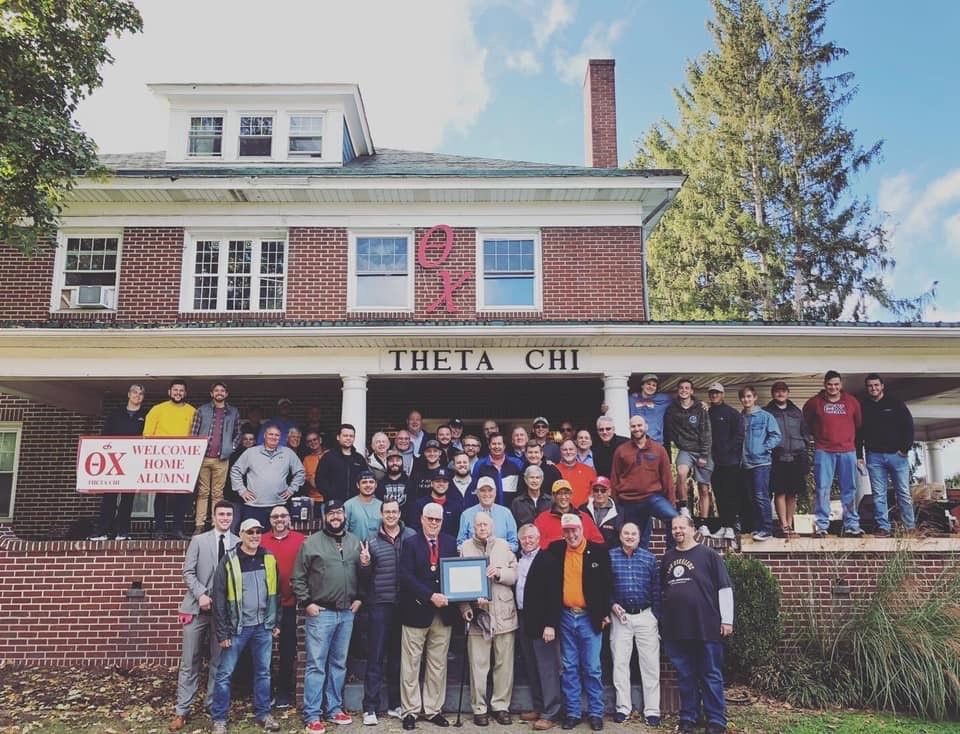 "Graham Kenneweg reflects the most positive qualities of an alumnus of our Fraternity, yet he has never been impressed with himself or his commitment to Theta Chi or his Delta Gamma Chapter at West Virginia Wesleyan. During a number of ups and downs for the chapter including a period of time when it was closed, Graham never wavered in his leadership and commitment. He also found the time to be objective and to think in critical terms about the chapter and its relationship to the institution--to Graham, "Alma Mater first, and Theta Chi for Alma Mater" meant exactly that--our commitment to the mission of the mother institution. Rather than lashing out at the International Fraternity or the college during difficult times, Graham always led from a position of ethical leadership."
– Past International Vice President and Past CEO Dave Westol
"Brother Graham Kenneweg is the penultimate Gentleman and a dedicated, passionate, distinguished Theta Chi alumnus. He has the heart and compassion of a true servant-leader. It was a tremendous pleasure to work with Graham and be blessed by his friendship during the decade I was privileged to serve on the staff of Theta Chi Funds and The Foundation Chapter."
– Former Theta Chi Director of Development El Ahlwardt
"Graham is a living example of the Assisting Hand of Theta Chi Fraternity. We are all very fortunate to be the beneficiaries of his many contributions to our Brotherhood."
– Theta Chi CEO Mike Mayer
"Graham is one of only a few alumni I know who have had a profound impact on more than one chapter. I know West Virginia and West Virginia Wesleyan benefitted greatly from his counsel and support for more than 50 years. Strong experience with our chapters is what makes one's service at the international level so valuable, and what distinguishes Graham as one of our All Stars. He is a gentlemen's gentleman and I always looked forward to hearing stories of his antiquing road trips at our Foundation Board meetings."
– Past Foundation Chapter President Warren Hoffman
"I remember traveling up to see Graham (and Keith Buchanan and several other brothers) when I spoke at Delta Gamma Chapter's 50th anniversary celebration. Graham was a close friend and key supporter back when many of us International volunteers were attempting to restore stability to the operations of the Fraternity."
– Past International President Jim McEachern
"Brother Kenneweg is a great brother, a loyal and dedicated alumnus of Delta Gamma Chapter, and a volunteer at the International level. We both served on International boards during the same timeframe, and, as a representative of the Grand Chapter, I had the pleasure of traveling to Buckhannon, West Virginia with Mr. Theta Chi, Howard Alter, to celebrate an event with the chapter. What I remember most about the visit was the warm and sincere welcome we received from Brother Kenneweg, and the brothers from the chapter. Graham was so very proud of the collegians and the chapter house. He gave us a personal tour of the property…but mostly talked about the brotherhood. You see, Theta Chi to him is more than bricks and mortar….it's a Brotherhood."
– Past International Vice President Al Calarco
"Any successful organization dreams of having someone who creates a vision, inspires others to come along on the journey, and builds a lasting legacy that can be sustained for generations.
While our original Founders did just that for Theta Chi, Graham Kenneweg fulfilled that role for the Delta Gamma Chapter of Theta Chi.
It was through Graham's efforts that a decision was made to form our Alumni Association who subsequently purchased our Chapter House at 74 College Avenue in Buckhannon, WV, directly across from the beautiful campus of West Virginia Wesleyan. The year was 1959 and the classic home was built in 1932 (somewhere around the year Graham was born). Somehow that's very fitting because when you think of our chapter and the love everyone has for our iconic house, it has become the symbol and reflection of the very essence of Graham and the love he has demonstrated for Theta Chi and its members.
My journey with Graham and our alumni association started in 1998 when, after attending an alumni association meeting at Homecoming, I was elected to the Board of Directors and given the role of establishing alumni connections and fundraising. I linked up with past Chapter President Bill Fahrner (1996) who was working in Wesleyan's development office and we worked together to resurrect of our chapter newsletter, The Sidewinder, and the beginning of the 'Delta Gamma 2000 Campaign.'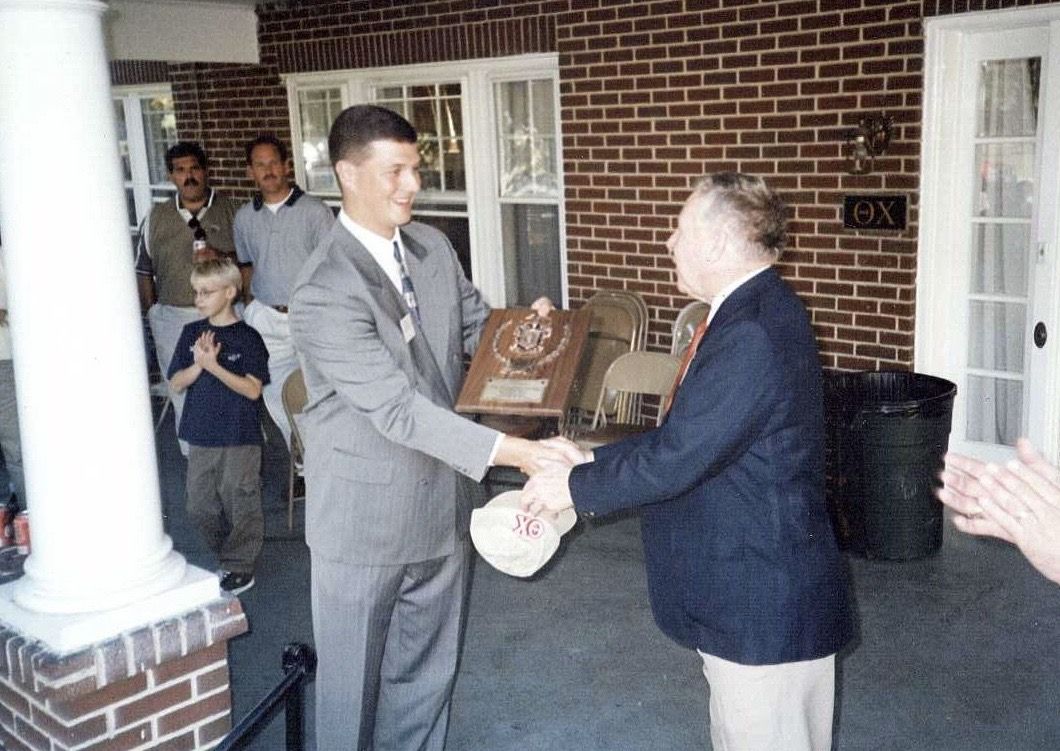 The initial stage of the campaign kicked off when Graham handed me the baton in 2000 during the 50th Anniversary of our Installation with a celebration at our chapter house attended by Theta Chi International and Wesleyan leadership. That year, we established the engraved brick 'Wall of Honor' with Graham's brick being placed first in a group now numbering over 100 brothers. This symbolic foundation of our chapter has been our primary fundraising engine and continues to be as we installed the new 'Brick Line' to kick off 2020 and our 70th Anniversary.
2000 was also the year that Graham and I sat down and wrote and published our chapter's history. That process took many months during which I traveled to Graham's home or favorite breakfast place in Morgantown, or he traveled to Buckhannon bringing along a legal pad full of notes and reminiscences. The experience was priceless as I got to know Graham on many levels and reveled in his amazing memory for people and details which brought the history alive for all to share supported with pictures we were able to copy from decades of yearbooks at the Alumni Office at Wesleyan. The result of all these efforts since 2000 has produced over $40,000 in gifts to the 'Theta Chi/Kenneweg Scholarship' endowment fund that continues today.
More importantly, every year at homecoming, Graham has come back and holds the longest running string for returning to his Alma Mater and second home at 74 College Avenue. And every year since 2000, we have taken what has become affectionately known as the "Porch Photo" where often more than 100 bothers gather to celebrate friendships and brotherhood.
Looking ahead to our 70th Anniversary in October of this year, we hope we'll have a great turnout with Graham standing in the middle of his brothers in the 'Porch Photo.' And, we hope, as always, if you look closely, you'll see what appears to be a smile of contentment on his face."
– Keith Buchanan (Delta Gamma/WV Wesleyan 1970), Past President, Delta Gamma Chapter Alumni Association.
Congratulations to Brother Kenneweg — Thank You for all you have done for Theta Chi!
Founded in 1856, Theta Chi Fraternity is a men's collegiate fraternity with more than 191,000 initiated members and has established 243 chapters. Leadership development, personal development, and service to alma mater are fundamental to Theta Chi Fraternity's mission.