Hail to Pitt!
14 men recolonize Alpha Beta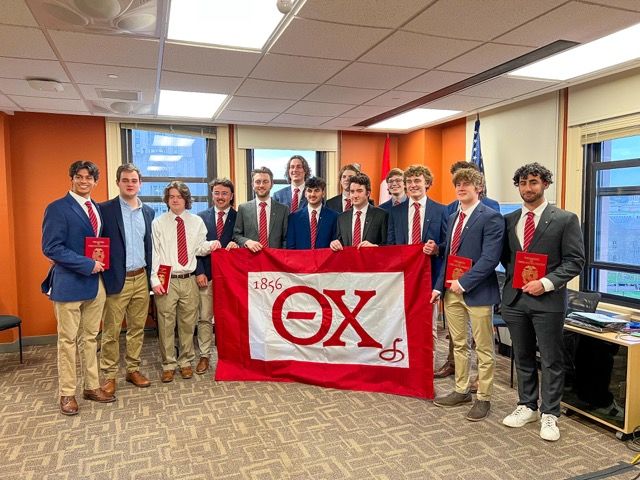 A group of 14 young men at the University of Pittsburgh have come together to recolonize Alpha Beta Chapter after a more than 20-year absence. On a campus with 19 different fraternities, an environment described by the men as "saturated," these 14 Panthers yearend for an experience different than the status quo and an effective way to make an immediate impact on campus. The following men made their formal pledge to Theta Chi Fraternity during the Alpha Beta Recolonization Ceremony:
Jacob Bernens (2023)
Cameron Bunner (2023)
Nevan Crossey (2025)
Jack DeLorenzo (2025)
Brennan Hipkiss (2025)
Lane Miller (2025)
Sean Mingus (2023)
Karim Obaidi (2025)
Connor Pirokowski (2023)
Mark Sarachman (2025)
Kenichi Shay (2023)
Gabe Stahl (2025)
Austin Throop (2025)
Amogh Vellore (2025)
The colony has an impressive showing of campus involvement with men involved in various intramurals, billiards club, climbing club, engineering and physical science club, bio-med club, club golf team, Alpha Kappa Psi business fraternity, and Epsilon Eta Delta honors fraternity. The Fraternity's maxim is extremely important to the colony with an average GPA of 3.38.
Serving the colony on its Colony Advisory Board are Zeta Alpha/Slippery Rock alumni Brody McKenna (2019) and James Jackson (2019) along with Abner Diaz (Iota Alpha/UNC-Wilmington 2005).
After securing Theta Chi's return to Pitt several years ago and postponing expansion efforts due to the pandemic, International Headquarters Growth Specialists Eric Lehman and Cody Cline were ultimately dispatched and traveled to campus in early January 2022 to begin initial meetings for Alpha Beta's return. The team faced initial difficulty when Pitt's formal recruitment was pushed back two weeks due to COVID regulations, but ultimately found success in recruiting Resolute Men and bringing the group together.
Cline is proud of the men who accepted their bids and are working toward reinstallation. "I believe the Alpha Beta Colony is well on their way to being a top Fraternity at the University of Pittsburgh within the next year," Cline says. "The men are a charismatic, down-to-earth, and driven group who strive to be the best in everything they do. Simply put, they are just a fun crew to be around. I look forward to seeing their achievements as they take the next step in their journey."
Drawn initially to Theta Chi by their entrepreneurial spirit, the core group came together in a domino effect—beginning with five members who then recommended other men they knew to be a part of the interest group. While some of the group had always been interested in joining a Greek-letter organization, others originally had no interest in fraternities. The idea of starting something new became the common thread that weaved this group together, as the hope of setting a new fraternal standard at Pitt will steer the colony in the right direction.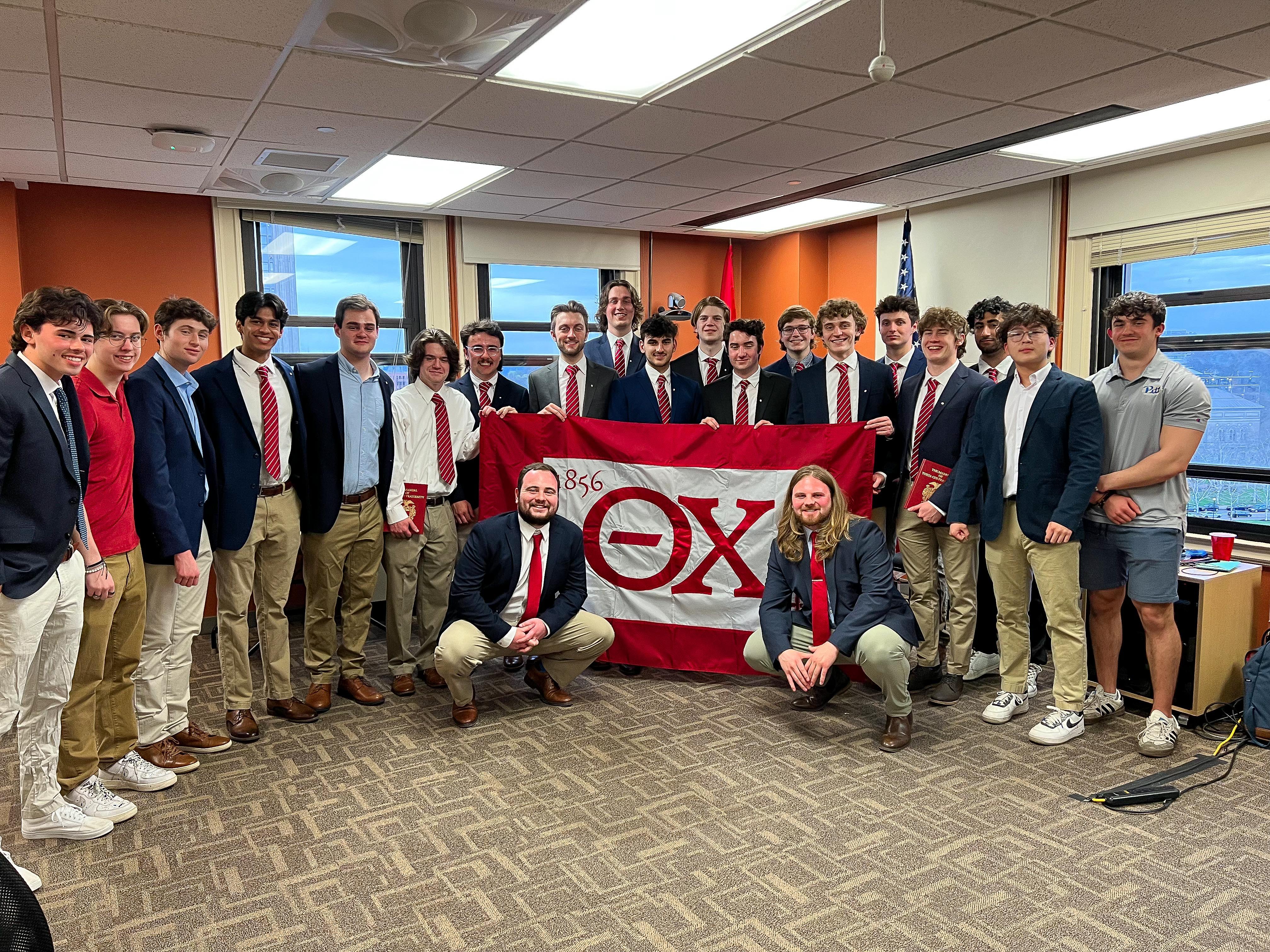 Looking toward the future, Colony Vice President Sean Mingus understands the importance of both recruitment and retention of members. "Knowing what it takes to prioritize recruitment will be crucial in leading the group," Mingus says. "I was brought into the organization understanding the core values and expectations of Theta Chi. It will be my job to hold my executive board and colony members accountable to these values and expectations."
Recruitment Chairman Brennan Hipkiss shares this same drive towards recruitment efforts. "I have always enjoyed communicating and making connections with others, as well as managing the same amongst my peers within the group," Hipkiss explains. "I am most looking forward to the opportunity to plan future events and start bringing new members into the group."
Concerning philanthropy and community service, the colony has already identified numerous organizations and causes they believe could use the Assisting Hand of Theta Chi. The USO is top of the list as the colony plans to not only hold events and donations drives on campus, but they also intend to carve out time to visit and volunteer at Pittsburgh International Airport's USO center. Additional organizations identified include Pittsburgh Dance Marathon, Greater Pittsburgh Community Food Bank, and Toys for Tots. In fact, a week after the Recolonization Ceremony, the colony raised $419 through a social media campaign and winning an inter-fraternal sports tournament.
Alpha Beta Colony is excited to try new things, meet new people, and create more opportunities for themselves with businesses and activities slowly reopening in their community. It's the ideals of Theta Chi Fraternity this group of men believe separate the colony from other fraternal organizations at Pitt. With fresh ideas and plenty of time, Alpha Beta Colony believes they will leave a lasting legacy at the University of Pittsburgh and become the best fraternity on campus.
The importance of Theta Chi's Sacred Purpose is well displayed by this group, with Vice President of Health and Safety Kenichi Shay leading the way. "Placing an emphasis on the well-being of the brotherhood is something I want to be tied to the culture of Alpha Beta Colony," Shay remarks. "I am especially interested in mental health awareness, an issue most college students face. My dedication and connection to the Sacred Purpose topics will help program successful events."
The Recolonization Ceremony, held at the University of Pittsburgh's Student Union, began at 6:30 p.m. on Friday, April 22, 2022. International Marshal Alan Copeland served as the Presiding Officer and was assisted by Senior Director of Growth Zack Brown. Two alumni from the original Alpha Beta Chapter were present for the recolonization: Scott Liebold (1975) and Mike Adamski (1998). Other attendees included Patrick Heslin (Alpha Lambda/Ohio State 2015), Abner Diaz (Iota Alpha/UNC-Wilmington 2005), along with Zeta Alpha/Slippery Rock's Logan Tupper (2019) and Julian Gonzalez (2019).
Following the ceremony, Al Copeland spoke on Theta Chi's rigid stance against hazing of any kind while challenging each of the men of the colony to hold each other accountable and to a higher standard. Zack Brown offered a well-deserved congratulations to the group, but also warned of complacency, pushing the colony to work hard towards the next step in becoming and reinstalling Alpha Beta Chapter.
On the path to becoming Alpha Beta Chapter, this colony understands the amount of work and dedication that will be required of them, but they are eager, excited, and ever-ready to take on this challenge. Follow Alpha Beta Colony on Instagram to see this group continue to grow.