Hall of Fame - Bob McCurdy
The following is a hall of fame profile from Shippensburg Athletics (shipraiders.com). It was reprinted with permission from Bill Morgal, Sports Information Director for Shippensburg. The profile highlights Bob McCurdy (Zeta Omicron/Shippensburg 1987).
---
Bob McCurdy is one of just three NCAA Division I All-Americans in wrestling in Shippensburg University history, having placed eighth at 177 pounds back in 1985 as part of a standout four-year varsity career.
Overall, McCurdy was a two-time NCAA Division I qualifier and a two-time NCAA Division I East Region Champion at 177 pounds, achieving the feats in both 1985 and 1986. He went 21-9 as a freshman with a team-high nine pins. He went 26-8 with six pins as a sophomore, concluding the season with his All-America classification.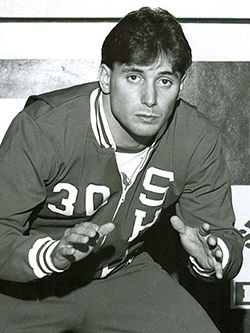 As a junior, McCurdy went 31-5, was the runner-up at 190 pounds at the PSAC Championships, and competed for the second time at nationals. He began the NCAA meet with an 8-0 decision over Weber State's Mel Robinson, but then suffered a 6-5 setback to Mark Tracey of Cal PolyTech and a 9-1 loss to N.C. State's Norm Corkhill. He was also named the PSAC Wrestler of the Week for winning the Maryland Open.
Overall, McCurdy was 85-24 with 20 pins spanning the 177 and 190-pound weight classes. The majority of his competition was spent at 177.
As a high-school wrestler, McCurdy went 89-7 in three seasons at Northern York. After posting a 23-3 record as a sophomore, McCurdy went 66-4 over his final two seasons, placing second in the state as a senior in 1983. He went 32-3 in 1981-82 and 34-1 in 1982-83 as a 155-pound competitor. McCurdy also won three sectional titles (1981-83), and was the school's first two-time district champion (1982-83).
Outside of athletics, McCurdy was the president of the Varsity Club, treasurer of Theta Chi fraternity, and assisted with the Big Brother/Little Brother program. He went on to receive his master's degree in early childhood education from Shippensburg in 2001. For the last 25 years, McCurdy has worked as a first-grade teacher in the Shippensburg Area School District.
His civic responsibilities continued in the local Shippensburg community, serving for 14 years as the treasurer of the Shippensburg Area Education Association and the March to Destiny, a local civil war re-enactment organization. He was a long-time assistant wrestling coach at the middle school level as well.
McCurdy is the proud father of three children: Brittany, Amanda and Ben. In recent years, McCurdy re-united with his college sweetheart, Laura, and the couple was married in 2017. He was inducted into the District III Wrestling Hall of Fame in 2010 and the Northern York High School Wrestling Hall of Fame in 2012. McCurdy still assists Theta Chi fraternity to this day with a role as an adviser; he also works as a handyman and partner at Battlefield Brew Works in Gettysburg.