Hunter N. Smith Named 2021 Reginald E.F. Colley Award Recipient
CARMEL, IN - Theta Chi Fraternity is proud to announce Hunter N. Smith of Gamma Phi Chapter at Nebraska Wesleyan University as the recipient of the 2021 Reginald E.F. Colley Award. Brother Smith is Gamma Phi's third Colley Award recipient. The Colley Award is Theta Chi's most prestigious collegiate honor and annually recognizes distinguished service to alma mater, Fraternity, and community.
In fall 2017 when Hunter joined the Gamma Phi Chapter, it was the smallest fraternity on campus with 28 members and had a mediocre GPA below 3.2 which was lower than NWU's all-men's average.
By the time Hunter graduated in spring 2021, Gamma Phi membership had soared to 41 brothers and they had raised their GPA to 3.56, the highest on campus. Nearly 20 percent of NWU's student government senators are Theta Chis, Theta Chi is represented in eight varsity sports, and Theta Chi's campus involvement has ballooned to membership in over 65 various organizations.
Brother Smith served Gamma Phi Chapter as President for two terms and as Scholarship Chairman. He also served on its Standards Board and Public Relations Committees. He was one of eight members tapped for Theta Chi's inaugural Chapter Presidents Advisory Council in 2020. This past spring, he was recognized as a Resolute Man.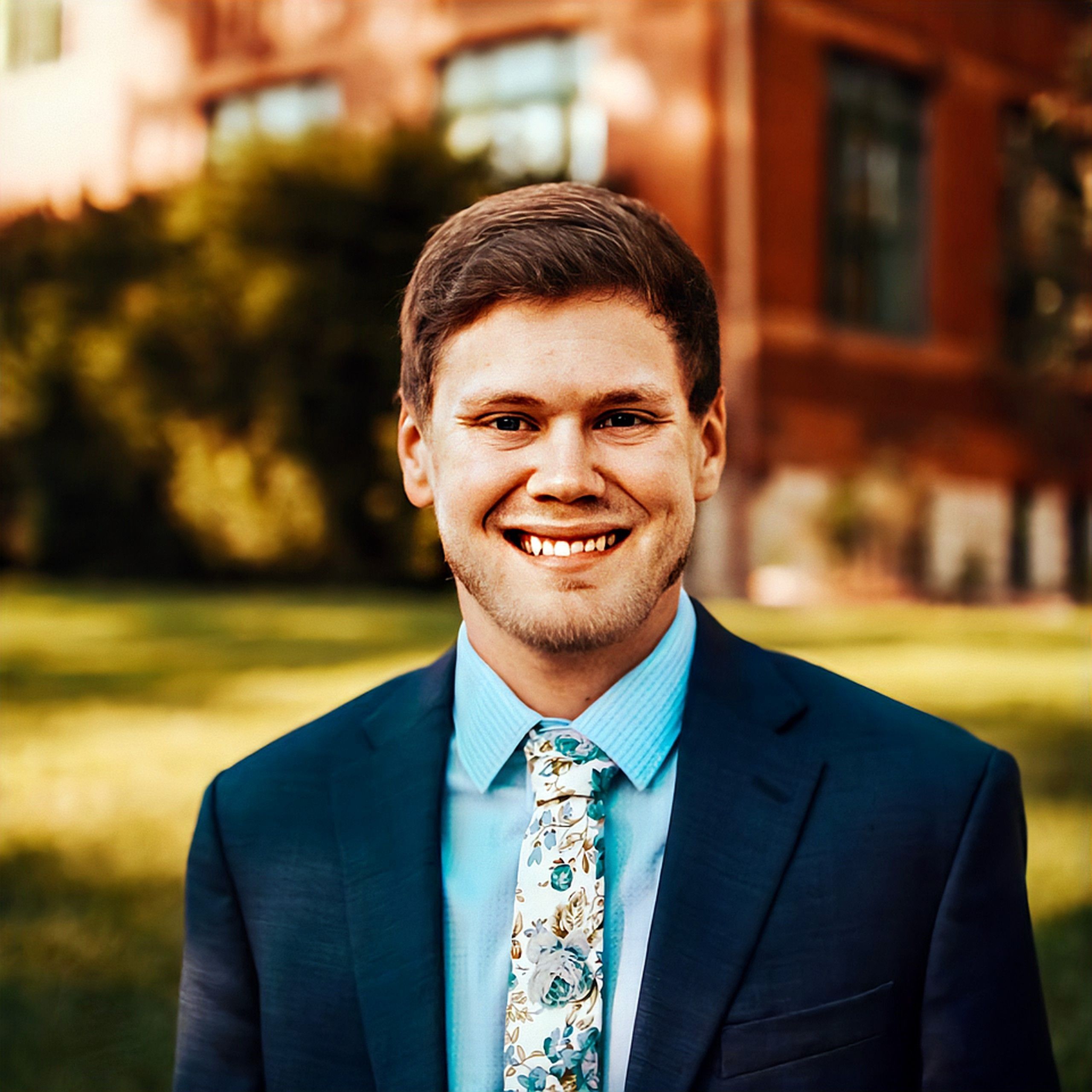 Hunter led Gamma Phi in raising over $15,000 for philanthropic causes, including the USO, American Cancer Society, Junior Achievement, and the Nebraska Strong Initiative. Hunter personally rose to support the Nebraska Strong Initiative and their efforts to provide assistance to local Nebraska families affected by the historic flooding in March of 2019. Hunter hosted a philanthropy dance in the chapter house basement to raise money for flood victims. The day following the dance, he donated all the proceeds from the dance to sign up his brothers to run in a 5k event sponsored by First National Bank of Omaha that in turn doubled the Gamma Phi donation to local flood victims. As a result, Hunter raised $4,800 for local flood victims in one weekend.
Hunter also raised the required number of semesterly service hours per member to 18 hours. This resulted in Gamma Phi collectively attaining over 1,000 of service hours during his two terms as President. In addition, he expanded Gamma Phi's partnership with FoodNet to deliver leftover food from the NWU dining center to local food pantries and missions. He created a partnership between Meals on Wheels of Lincoln and the Gamma Phi Chapter to create a weekly schedule and delivery route for Theta Chi brothers to deliver meals to community members.
Brother Smith also built relationships with Gamma Phi alumni through his involvement as a member on the Gamma Phi Building Corporation and the Gamma Phi Alumni Association. Hunter established a '4.0 GPA Luncheon' to bring alumni brothers back to Lincoln to have a meal with the brothers that earned a 4.0 GPA. He also worked with the Alumni Association in 2020 to create a capital fundraising campaign to help raise money to renovate the individual bathrooms within the Gamma Phi chapter house. Ultimately, the campaign under Hunter's presidency raised over $101,000 for building improvements.
Hunter carried Gamma Phi Chapter to new levels of achievement: under Hunter's leadership, the chapter received a 2018/2019 Chapter Achievement Award and Theta Chi was named the 2018/2019 NWU Greek Chapter of the Year. One year later, Gamma Phi received the 2019/2020 Howard R. Alter, Jr. Award for Chapter Excellence.
Within the Nebraska Wesleyan Greek community, Brother Smith received the Emerging Greek Leader Award, the Most Outstanding Chapter President Award (twice; the first NWU student to have been recognized with this honor), and was named 2020/2021 Greek Man of the Year this year.
Hunter was highly involved on campus, balancing ongoing commitments to NWU's Student Affairs Senate (where he has served as chairman of the Campus Grounds and Safety Committee and the Academic Affairs Committee), a student member of NWU's Board of Governors and the only student member of NWU's Academic Affairs Strategic Planning Committee. He was also involved with NWU's baseball team as a varsity player, a Student Captain of NWU's Ambassador Team (student-led tours to prospective students and their families), NWU College Democrats and Student Education Association of Nebraska, where he previously served as Vice-President of Engagement. He has balanced co-curricular involvement with ongoing campus employment as an Admissions Department Intern all four years at NWU. He also spent several months working as a Field Organizer for Kate Bolz for Congress in 2020 and he has spent many summers working as an electrical apprentice in his hometown.

In 2019, Hunter received the prestigious Summer Fulbright Scholarship to study 'Education for Transformation' at Queen's University Belfast in Belfast, Northern Ireland. He served as a Student Teacher at Lincoln Southeast High School where he taught 12th grade Government and Politics and 11th grade United States History.
After an education psychology class his sophomore year, Brother Smith conducted extensive research over food insecurity amongst college students at Nebraska Wesleyan. Before leaving for Belfast, he provided his research to school administrators, teachers, and campus ministries, which led to the school partnering with the local United Way to open a food pantry for students and members of the community. He led canned food drives within the chapter to collect more than 400 cans of food for the pantry.
A member of Order of Omega Greek Honor Society, Blue Key Honor Society, and Phi Alpha Theta National History Honor Society, Brother Smith graduated with a 3.95 grade point average while majoring in history and minoring in political science. He is currently teaching history and serving as an assistant football coach at Waverly High School just outside of Lincoln, NE. Hunter plans to start a Master's program in 2022 in either Educational Leadership/Administration or in Public Policy with an education emphasis.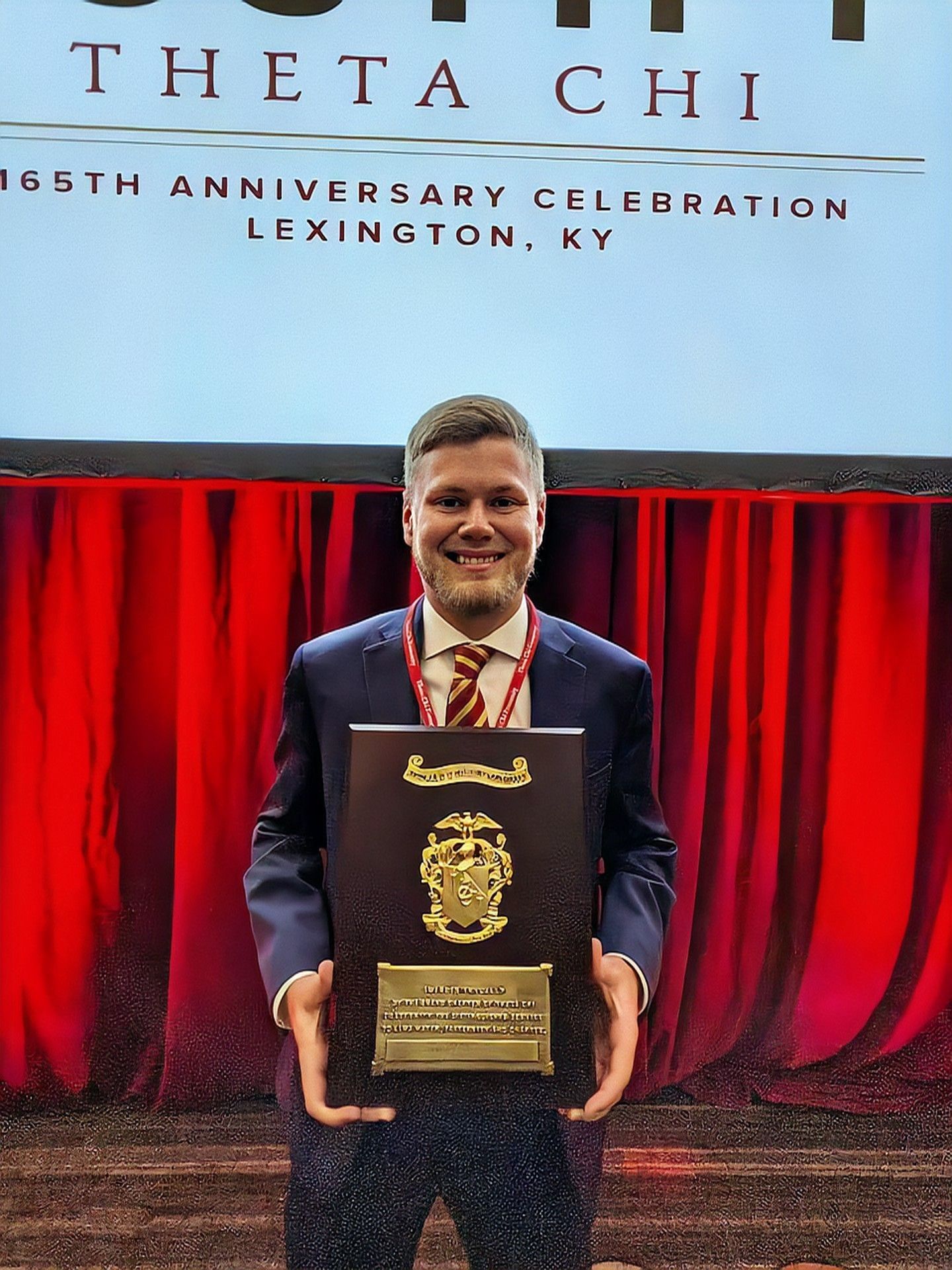 Hunter receiving his Colley Plaque during the 165th Anniversary Celebration
Gamma Phi Chapter President Kyle Goodban (2023) wrote, "Brother Smith is a member of Theta Chi Fraternity that excels at every activity within and outside of the Fraternity. He exemplifies what it means to be a member of Theta Chi to those who are outside of the Fraternity and he is a mentor and leader to those within." He continued, "Individuals on our campus see Hunter as the face of Theta Chi and know that his character directly represents the values and beliefs of the Fraternity. Members of the Fraternity confide in Hunter and seek his thoughts and advice on complex matters as they know they can trust his word." Brother Goodman concluded, "I have yet to meet another brother whose heart contains as much passion and desire to help others as Hunter's does. [His] devotion to leading our chapter to new heights in academics, recruitment, service, and philanthropy, while extending the Helping Hand when student teaching the next generation, maintaining high academic standards, and being an outstanding brother is what makes Hunter the best candidate for the Colley Award."
Gamma Phi Chapter Adviser Dustin Bartley (Gamma Phi/Nebraska Wesleyan 2003) wrote, "Mr. Smith was integral to Gamma Phi Chapter's response to the COVID-19 pandemic, taking a strong leadership role as NWU shut down and all members returned home, but also in planning for a safe return to campus in fall 2020 and deftly navigating campus/community restrictions and members cycling in and out of quarantine and isolation. Mr. Smith took the lead in organizing multiple Zoom meetings during the spring and summer to keep his chapter brothers connected, but he also regularly reached out to individual members to check in and provide ongoing encouragement. His genuine concern and empathy for his brothers kept the chapter together, blunted pandemic-related attrition, and led to a successful fall recruitment despite all of the pandemic-related obstacles."
In his letter of recommendation, Dr. Darrin Good, President of Nebraska Wesleyan University, wrote, "I was able to observe Hunter engage deeply, thoughtfully and under confidentiality with significant and complex discussions during his time on NWU's Board of Governors." He added, "Hunter has a genuine hunger for developing a depth of knowledge and a theoretical foundation for public policy, especially in education. He has then applied his knowledge, experience and leadership skills to improve student experiences on our campus as well as making profound improvements in his fraternity." Dr. Good concluded, "On a personal level, Hunter is a thoughtful, jovial fellow. He is the sort of person you would be happy to take off with on a cross-country trip or a long hike through the mountains. He is incredibly good-natured (he gets along well with peers as well as his professors and our Board members) and is passionate about helping others as a servant leader. He is ethical, responsible and conscientious."
As the 2021 recipient, Smith joins two other recipients from Gamma Phi Chapter: 1997 recipient Bradley K. Stock (1998) and 2019 recipient Dan Novinski (2019).
Brad Stock said, "Great news! Always excited to see success for the Gamma Phi Chapter!"
Dan Novinski shared, "Watching Hunter grow as a leader is one of my most cherished memories during my time as a collegiate member, though "grow as a leader" doesn't quite do Hunter justice. From the moment I first met him during his freshman year, I knew he'd be a force to be reckoned with. Hunter has an innate ability to exude leadership and confidence. He isn't the kind to seek a reputation, but earned one both in our chapter and the NWU student body and administration for his incredible diligence, work ethic, and character. He raised Gamma Phi to new heights by instilling a sense of pride and ownership in our chapter and fraternity. His dedication to his schoolwork, alma mater, and brothers elevates and inspires everyone fortunate enough to be around him. I am wholeheartedly proud of Hunter for earning this achievement and consider myself lucky to not only call him a peer and brother, but also a dear friend."
Hunter Smith remarked, "It is truly humbling to be selected as the 2021 recipient of the Colley Award. In talking to and learning from brothers in my own chapter as well as with other brothers from around the world whom I met at conferences and conventions throughout my collegiate experience, I have been able to see firsthand the diverse leaders Theta Chi has within its membership. Personally, I know without the support of all my brothers, I could not have accomplished the things I did fraternally and academically. Seeing the amazing things my brothers were doing, both near and far, and how they continually offered 'an Assisting Hand' to others inspired me to be a better man for my brothers. I hope my brothers in the Gamma Phi Chapter at Nebraska Wesleyan know this individual award is as much a testament to their hard work as it is to mine. By receiving this award, I hope my Theta Chi story and experience can serve as an inspiration for the next leaders in Theta Chi."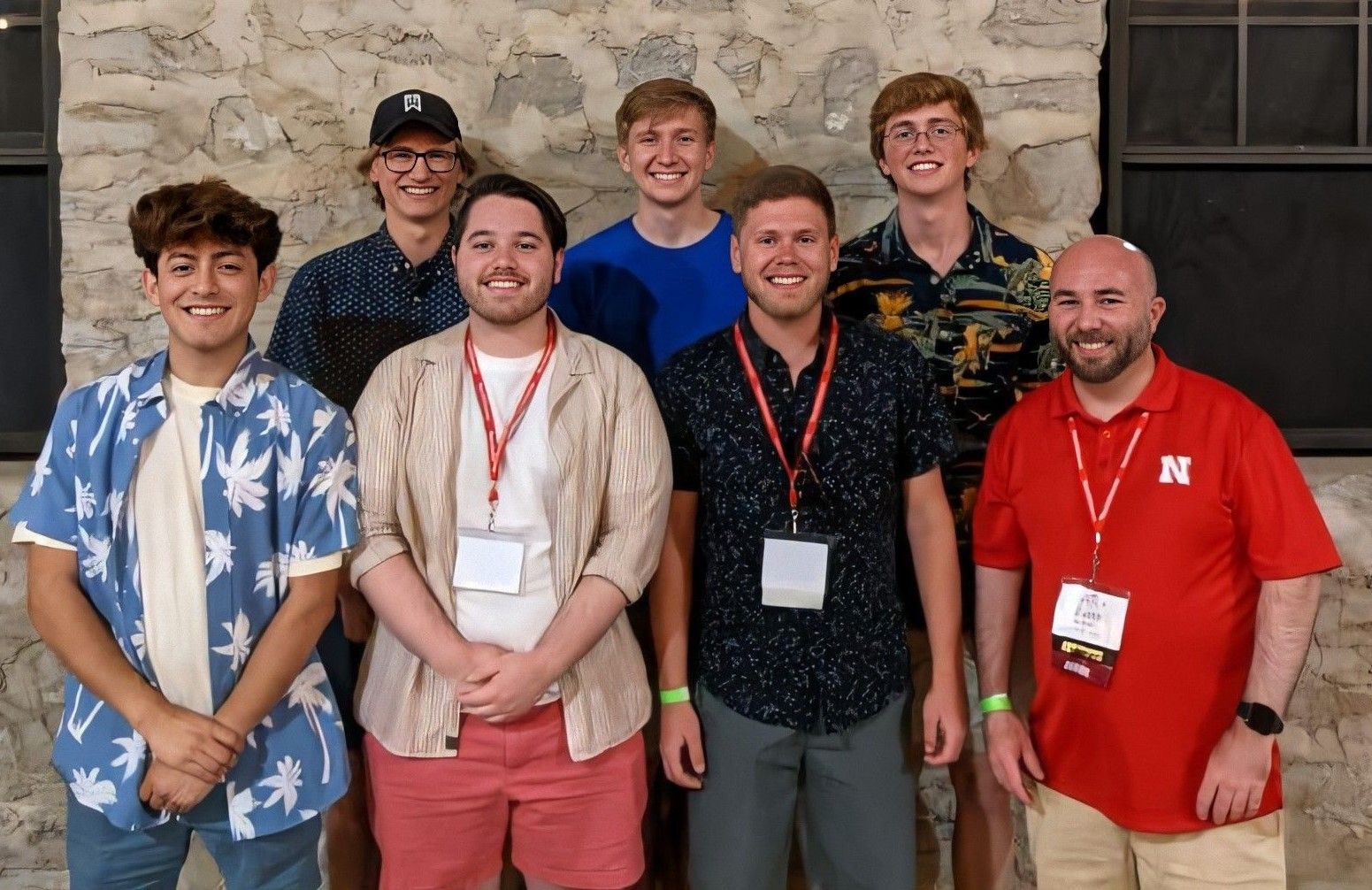 Hunter (bottom row, second from the right) with fellow Gamma Phi/Nebraska Wesleyan brothers during the 165th Anniversary Celebration
He also added, "During my four years as a collegiate member of the Fraternity, I fully credit Theta Chi for my growth as a man and as a brother. Theta Chi presented me with numerous opportunities to grow my leadership skills while maintaining the responsibility of offering an Assisting Hand to others. Theta Chi allowed me to become more confident in my leadership skills, but more importantly, the diverse perspectives and viewpoints within Theta Chi taught me how to become an empathic leader." Hunter concluded, "Being a 'Resolute Man' is not just a slogan, but rather, being a 'Resolute Man' is a moral guide that can shape a young man's life into one of purpose. I am so thankful for the opportunities Theta Chi provides all brothers, including myself."
Brother Hunter Smith reminds us that it is our greatest calling to serve our Alma Mater, our chapter, and our Fraternity. His example is one that represents the very best of our brotherhood. He truly is a Resolute Man.

First presented in 1929, the Colley Award is named for Reginald E.F. Colley, a World War I veteran and past member of Theta Chi's board of directors, the Grand Chapter. As a member of Phi Chapter, Brother Colley developed a celebrated reputation as a campus, community, and civic leader. He graduated in 1915 and eventually headed overseas to fight for the U.S. Army on the Western Front. Brother Colley died at the age of 39, but his legacy of leadership continues to inspire future generations of talented Theta Chis. Today, the Colley Award is treasured as the Fraternity's most prestigious collegiate honor.
Founded in 1856, Theta Chi Fraternity is a men's collegiate fraternity with more than 196,000 initiated members and has established 244 chapters. Theta Chi's mission is to develop college-age men into successful students, good citizens, lifelong brothers, and resolute leaders.