In Memoriam: Past International Chaplain Paul R. Brause
The Fraternity is saddened to report that Past Grand Chapter member Paul R. Brause (Alpha Lambda/Ohio State 1955) joined the Chapter Eternal on April 1, 2021.
Brother Brause was elected to the Grand Chapter in 1966 at the 110th Anniversary Convention held at the Royal York Hotel in Toronto. Following his election, he was appointed International Chaplain. He served one term on the Grand Chapter and stepped off the board in 1970 at the 114th Anniversary Convention in Biloxi, MS.
Prior to serving on the Grand Chapter, Brother Brause volunteered as a Regional Counselor and supported chapters in Ohio.
Brother Brause was a recipient of the Citation of Honor, the Kilavos Alumni Award (from the Grand Chapter), and the Theta Chi for Life Award.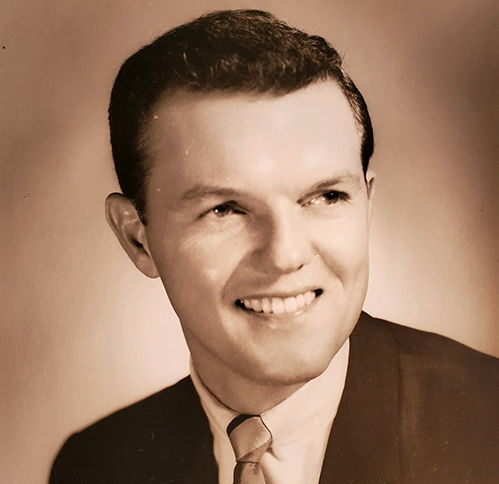 After earning his degree, Brause became a teacher and taught English at Jones Junior High School near Toledo, OH. He was recognized by students as an excellent instructor and was a recipient of a Teacher of the Year award. Brause later became a professor at Franklin College.
Alpha Lambda/Ohio State's Roger Obenauf (1977) shared, "Paul was a loved and respected brother whose impact on Alpha Lambda spanned an entire generation. I referred to him as G.O.M.A.L. (Grand Old Man of Alpha Lambda)." He continued, "I met Paul when I pledged as a freshman at Ohio State in 1973. I can remember one spring day in the early '70s when Paul invited the entire chapter to his ski club and got each and every one of us up on water skis that day. Paul was a very cool and classy mentor for us 'young bucks'. Later in life, I got to know him better at our monthly Theta Chi alumni luncheons, where he was a regular participant. Paul's entrance and smile would light up the room. On nice days, he'd arrive in his classic '65(?) Olds convertible. A Founder's Day Celebration never officially started until Paul arrived."
Alpha Lambda Chapter Adviser Pete Hackman (Alpha Tau/Ohio 1987) reflected, "Paul was a man for others. I know that one way he did this was in being a tutor for under privileged youth for many years. He told stories of his days on the Ohio State debate team and the great successes they enjoyed at that time."
Brother Brause attended the reinstallation of his beloved Alpha Lambda Chapter on April 8, 2017 and was proud to serve on the Reinstallation Committee.
International President Darick Brown remarked, "I met Paul during Alpha Lambda's reinstallation. He was very proud of his service to Theta Chi and our chapter at Ohio State."
International Marshal Al Copeland previously served as a colony/chapter adviser for Alpha Lambda. He recalled, "I remember how excited Paul was to see Alpha Lambda return to OSU and that he was impressed with the new chapter. Despite being in pain and unable to drive, he made it to the ceremony and actively participated in the entire event. I am sad to hear of his passing."
The Resolute Men of Theta Chi Fraternity thank Paul Brause for his service to Alpha Lambda Chapter and the International Fraternity. We will meet again.
Brother Brause's obituary is found below.
Paul R. Brause, age 87, of Columbus, OH, passed away on April 1, 2021 at the Kobacker House. The son of Harold and Lorella (Foreman) Brause, he was born on May 16, 1933 in Columbus, OH. Paul is survived by his close cousin, Sandra Powers-Fischer, and Patti Lewis and their families, all of OH, FL and CO; as well as his childhood friends, Ruth White of Socorro, NM and Blair Reardon of Columbus. Paul was a retired Colonel of the U.S. Army Reserves and also a retired Professor at Franklin University. He was a member of the Columbus Aqua Ski Club, Theta Chi Fraternity and the Columbus BoyChoir. Some of Paul's other hobbies included model trains, playing bridge and waterskiing. A sincere thanks to his neighbors, Stolz, Sylvan, Kring and Hildred Adams for their help and assistance these past few years. Special acknowledgement to his caregivers, Chase Williams, and Lisa Mickunas of Heart Crossings. Paul will always be remembered for his holiday homemade cookie parties for family, neighbors and friends. A celebration of life gathering will be held on Tuesday, April 13, 2021 from 6-8pm at Ohio Cremation & Memorial Society, 5464 N. High St., Columbus, OH. Burial will take place at Union Cemetery at a later date. Memorial contributions may be made to Ohio Health Hospice Foundation, 3430 OhioHealth Parkway, Columbus, OH 43202. To send a message of sympathy to the family, please visit: www.OhioCremation.org
To Plant Memorial Trees in memory, please visit our Sympathy Store.
You can view the obituary here.