In Memoriam: Past International Vice President Dr. Donald D. Gehring
Theta Chi Fraternity is saddened to report Past International Vice President Dr. Donald D. Gehring (Alpha Nu/Georgia Tech 1960) has entered the Chapter Eternal.
In 1998 at the 142nd Anniversary Convention, Brother Gehring was elected to the Grand Chapter and served two years as International Marshal and two years as International Secretary. In 2002 at the 146th Anniversary Convention, he was reelected to a second term and served another two years as International Marshal before being elected International Vice President during the 148th Anniversary Convention in 2004.
Brother Gehring is the 124th recipient of the Distinguished Service Award, Theta Chi Fraternity's highest honor, as well as the Earl D. Rhodes Theta Chi for Life Award. He had Honorary Memberships in Iota Gamma/Grand Valley State and Iota Theta/Central Florida where he served as Installing Officer at the chapter installation ceremonies.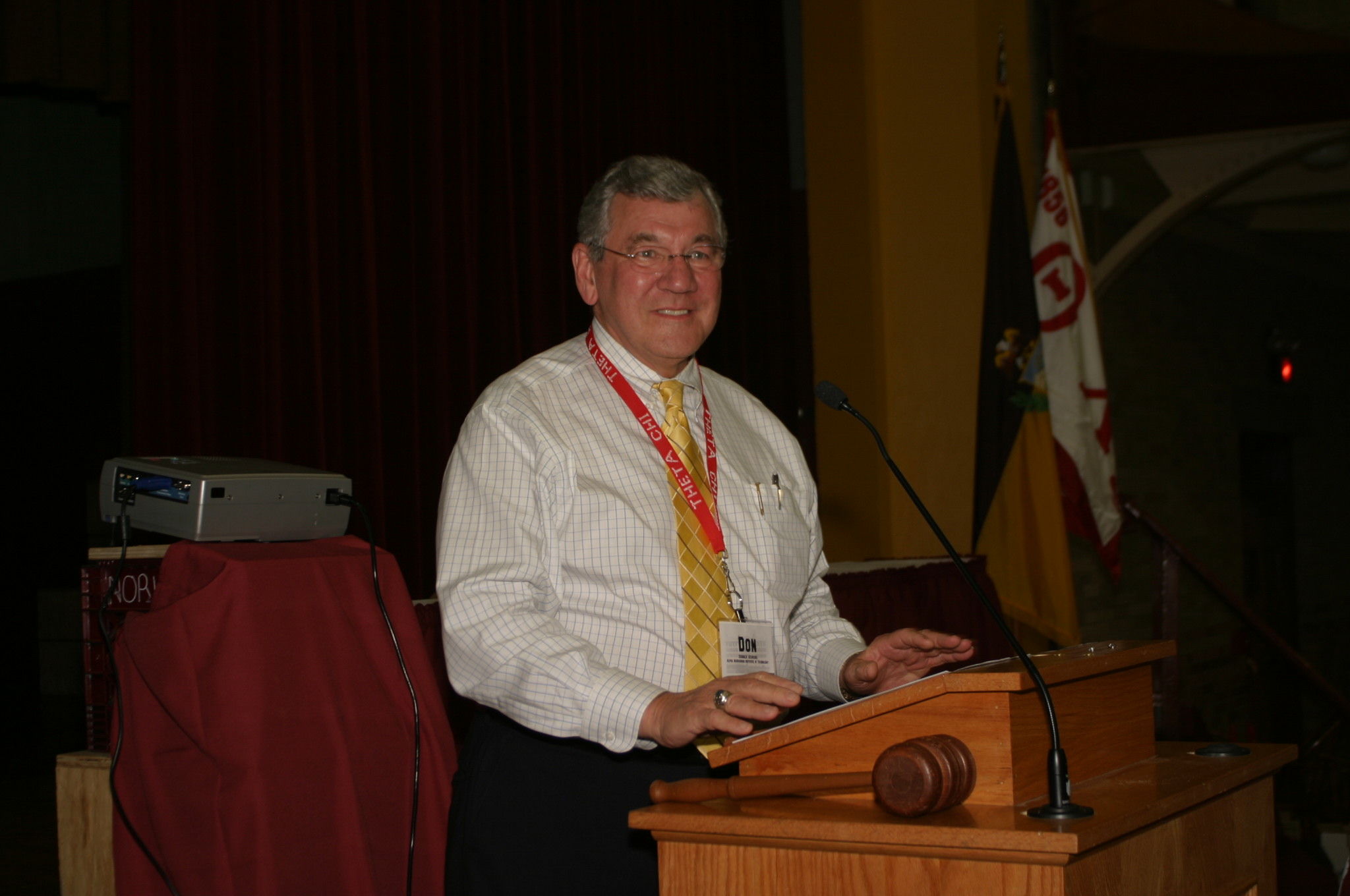 Professionally, Brother Gehring was Professor Emeritus and past Director of the Higher Education Administration Doctoral Program at Bowling Green State University. In 1988, he founded the Association for Student Judicial Affairs (ASJA) and served as its first president; the organization now boasts 1800 members from 850 institutions in the United States and Canada. In honor of his expertise and service, the highly lauded ASJA judicial training seminar was re-named as the Donald D. Gehring Campus Judicial Affairs Training Institute in 1994.

Brother Gehring also co-authored "Alcohol on Campus" (1989), contributed chapters on legal issues to numerous other books, and wrote numerous articles on critical law and policy issues in higher education.
His impressive array of national awards and commendations include the National Association of Student Personnel Administrators (NASPA) Award for Outstanding Contribution to Literature and the Robert H. Shaffer Award for Excellence as a Graduate Faculty Member. Additionally, NASPA has recognized Dr. Gehring as a "Pillar of the Profession." Likewise, the American College Personnel Association elected him to Senior Scholar status, the Southern Association for College Student Affairs has awarded him the Melvene D. Hardee Award for Outstanding Contribution to Student Affairs in Higher Education, and the Association of College and University Housing Officers-International has bestowed him with the Distinguished Service Award.
Theta Chi Fraternity extends its deepest condolences to Don's family, friends, and all those influenced by him. He was a Theta Chi for Life and will be greatly missed.
Founded in 1856, Theta Chi Fraternity is a men's collegiate fraternity with more than 191,000 initiated members and has established 241 chapters. Leadership development, personal development, and service to alma mater are fundamental to Theta Chi Fraternity's mission.