Indiana, Our Indiana: Alpha Iota Celebrates 100 Years at IU
Alpha Iota Chapter at Indiana University was installed on March 19, 1921. Located just over 50 miles south of Indianapolis in Bloomington, IN, IU was established in January 1820, as the "State Seminary" and has since grown to become the flagship of the Indiana University system.
On January 14, 1905, the Delphian Literary Society was formed at Indiana University for the purpose of perfecting literary ideals. Its membership was limited to 13 students of the College of Liberal Arts, either men or women. The colors were apple green and purple. The motto was: Finis coronat opus, which translates to 'the end crowns the work'.
In February, 1916, the men of the Delphian Literary Society formed an auxiliary known as the Dalethian Club with the idea of promoting good fellowship and developing broader ideals. Shortly afterwards the membership was extended to students of other colleges and departments of the University and the club began to assume the aspect of a local fraternity. The colors of the Dalethian Club were red and white. The pin was a black shield on which a Phoenician Delta was engraved in gold and mounted on a golden equilateral triangle.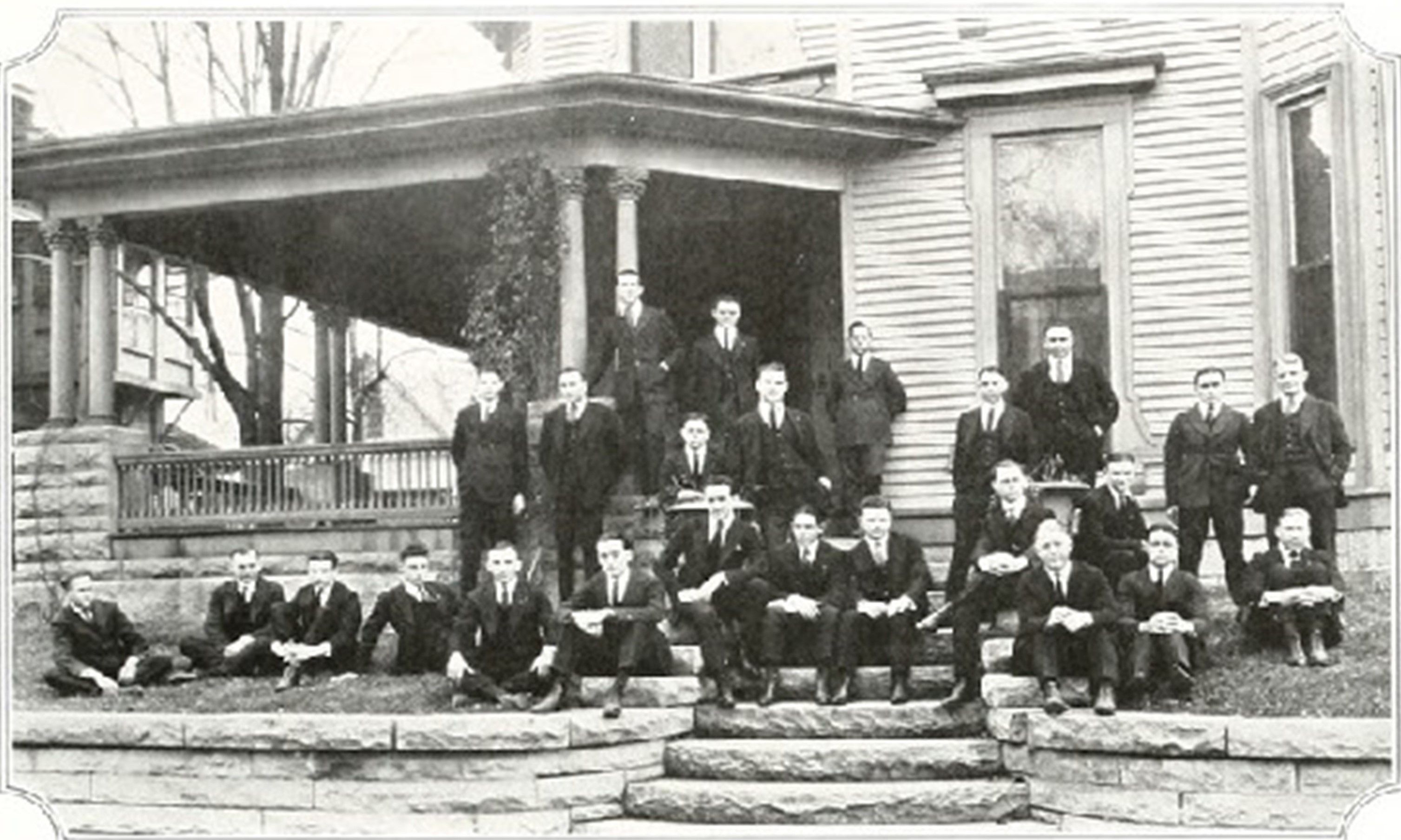 Charter members of Alpha Iota/Indiana
The charter members of the Dalethian Club were:
Virgil French, Edwin Terrell, Lertie M. Hylton, Arnett Owens, Ernest D. Wade, Loyde D. Waid, Lawrence Henderson, Cecil P. Clark, Maurice V. Kahler, Vern Washburn, Ralph Ruddell, Herbert Smith, Vernon D. Brigham, Maurice Hughes, Lowell S. Martin, Lee Kellam, Freedman hinds, John K. Lanahan, Claud Curry, Luther V. Davis, George W. Capouch, and Ansell La Follette.
Shortly thereafter in 1916, the Dalethian Club began to search for a fitting national fraternity with which to affiliate. The Club selected Theta Chi and petitioned the Grand Chapter for more than five years.
The names of the petitioning members were: Chester A. Amick (1920), Harold E. Curry (1922), Clarence O. Davisson (1923), Herman H. Davenport (1924), Emil W. Fischer (1923), Edmund B. Haggard, (1923) Lertie M. Hylton (1920), Wendell H. Kinsey (1923), S. Clyde Lacey (1922), Dewey H. Mannan (1924), Arlow R. Pifer (1923), J. Edwin Purple (1922), Jasper A. Reynolds (1924), Gilbert D. Rhea (1922), Virgil D. Reed (1922), Wilbert B. Rhinehart (1924), Roy E. Shanks (1923), James F. Slack (1922), Leslie E. Smith (1923), Donald F. Teeters, William G. Thompson (1922), Donald C. Van Hoy (1923), J. Byron Walker (1923), Kelsie R. Warne (1922), Robert C. Waters (1923), Wray R. Waters (1923), Jesse L. Weaver (1923), Russell E. Wise (1923), Walter A. Wise (1922), and Eldo W. Wood (1921).
Those most instrumental in securing the charter were: Edwin Purple (1922), Emil Fischer (1923) and Lertie Hylton (1920).
The Grand Chapter approved their petition on February 18, 1921 and set their installation for March 19, 1921 in Bloomington, IN.
The Installation Committee appointed by the Grand Chapter consisted of Chairman Robert N. Green (Delta/RPI 1911), Walter W. Ludwig (Iota/Colgate 1919), Christian A. Schwier (Alpha Delta/Purdue 1921) and members of Alpha Gamma/Michigan including George Starr Lasher (Michigan 1911), William H. Granse (1920), Erwin E. Dreese (1920) and H. Reed Every (1921).
These brothers were joined on the Installation Committee by other brothers who traveled to Bloomington to assist: Thomas E. Eubank (Alpha Gamma/Michigan 1921), nine additional brothers from Alpha Delta/Purdue: Dr. George C. Brandenburg (1910), James E. Maxwell (1920), Cecil L. Pigg (1920), K. H. Holloway (1922), G. F. Isley (1922), Henry S. Jones (1922), Clarence Leuck (1922), M. L. Ogden, Jr. (1922), and Kenneth G. Baker (1923); and three from Rho/Illinois: Merwyn Q. Lytle (1921), Arthur W. Schmoeller (1921), and Frank W. Messing (1923). Another Rho brother, alumnus Hilton C. Nichols (1919), arrived late Saturday afternoon.
An informal smoker was held at the Dalethian Club's house on the evening of Friday, March 18, for the Dalethian alumni and the visiting members of Theta Chi. George Starr Lasher served as toastmaster and short talks were given by various members of Theta Chi and Dalethian.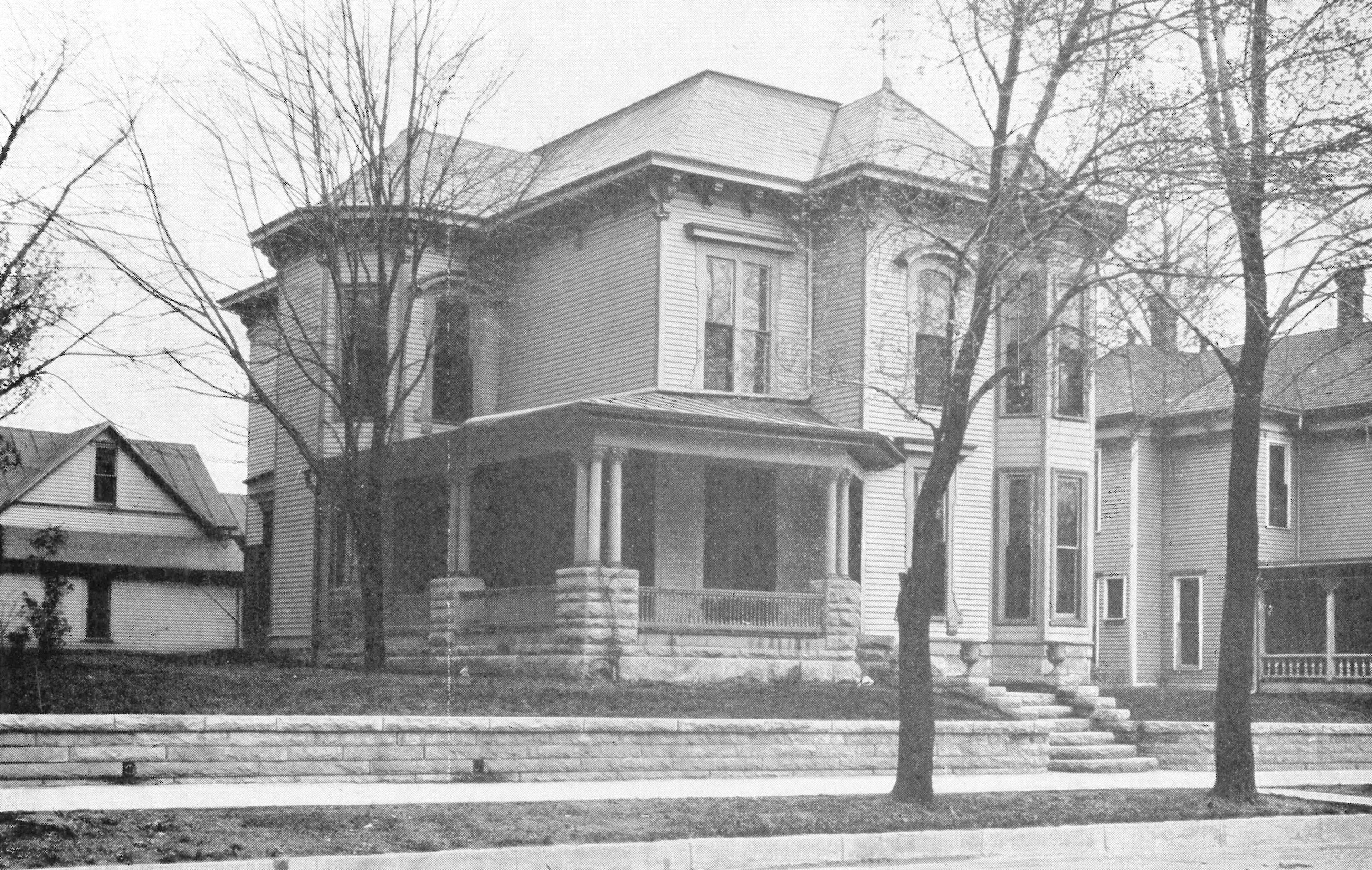 The Dalethian Club House
The Installation Ceremony started the next morning at 8:30 a.m. and recessed at noon for lunch. The meeting came back to order at 1:00 p.m. and lasted until 4:30 in the afternoon.
The Charter Members of Alpha Iota are: Chester A. Amick (1920), Maurice S. Barton (1924), Lawrence E. Carlson (1924), Earl H. Chaney (1923), Clarence O. Davisson (1923), Herman H. Davenport (1924), Emil W. Fischer (1923), Alfred B. Geyer, Jr. (1924), S. Clyde Lacey (1922), Dewey H. Mannan (1924), Wyatt E. May (1924), Lewis R. Pettit (1921), J. Edwin Purple (1922), Virgil D. Reed (1922), Jasper A. Reynolds (1924), Wilbert B. Rhinehart (1924), Samuel Schlosser (1925), Everett V. Scott (1923), Roy E. Shanks (1923), James F. Slack (1922), William G. Thompson (1922), Gordon A. Vizard (1923), J. Byron Walker (1923), Allen H. Warne (1924), Robert C. Waters (1923), Jesse L. Weaver (1923), Wray R. Waters (1923), Russell E. Wise (1923), Walter A. Wise (1922), and Eldo W. Wood (1921).
Following the Installation, IU's 14th and newest fraternity hosted a formal banquet in honor of the visiting members of Theta Chi. Roy E. Shanks (Alpha Iota/Indiana 1923) acted as toastmaster and short talks were made by Arthur Schmoeller and George Starr Lasher. Indiana University faculty and administrators were well represented with speakers including C. M. Hepburn, Dean of the College of Law, Prof. B. D. Myers, Secretary of College of Medicine; S. E. Stoute, Dean of the College of Liberal Arts, Horace Hoffman, past Dean of the College of Liberal Arts, John W. Cravens, Registrar; and Dr. William Lowe Bryan, President of Indiana University.
Immediately following the banquet, a formal dance and reception, lasting until midnight, was held on campus in Assembly Hall and was attended by approximately 150 couples. The hall was appropriately decorated in Theta Chi colors.
The new Alpha Iota Chapter claimed 420 South Fess Avenue as their home but realized that they were in need of something better – and bigger.
In 1923, a group formed the Theta Chi Building Association for the purpose of raising money to purchase a chapter house. This group included Clarence O. Davisson (1923) (its first President), J. Byron Walker (193), Everett V. Scott (1923), Walter C. Shelton (1925), Earl H. Chaney (1923), Elisha A. Metzger (1925), Leo W. Shumaker (1926), Perle Small (1925), Wray R. Walters (1923), and Caryl Zollner
The original stock offering was for $20,000 of stock with a par value of $50/share. At its initial offering more than $8,500 was already pledged. Throughout the first years of the chapter, these capital stock purchases paved the way to purchase and furnish the chapter house.
In 1926/1927 Alpha Iota succeeded in becoming a homeowner, purchasing a lot and building a luxurious Georgian Colonial home at 101 North Jordan Avenue squarely in the center of IU's new Fraternity Quadrangle.
In the decades ahead, two brothers served admirably and demonstrated Theta Chi for Life: Emmett "Doc" Arnett (1916) was on the IU faculty and served as chapter adviser and Al Warne (1924) administered the capital stock program from 1927-1992 and was very instrumental in the acquisition of Alpha Iota's current chapter house.
In 1969, due to the tremendous growth of IU's campus, the university acquired the Alpha Iota chapter house (and several others in the Fraternity Quadrangle) and the chapter moved north to its current location at 1440 North Jordan Avenue. With an occupancy of 82 and space for a house director, the new house was one of the largest at that time on campus and in the nation for Theta Chi.
Over the decades, Alpha Iota remained a force on campus and a fierce competitor in IU's annual Little 500 bike race held each April.
When the charter was revoked in 2001, plans were made to quickly reestablish Alpha Iota's presence on IU's campus. In January 2005, then-Leadership and Education Consultants Mike Mayer and Nate Hibben officially began recruitment for an interest group to restart the Alpha Iota Chapter. By the end of the semester, 28 men pledged Theta Chi and took the first steps to officially bring the chapter back to campus. Their hard work and determination would revive Alpha Iota in less than one year, with a nearly-60 man chapter being reinstalled March 4, 2006 with Raymond W. Vanlanot (2008) being installed as Alpha Iota's first new Chapter President.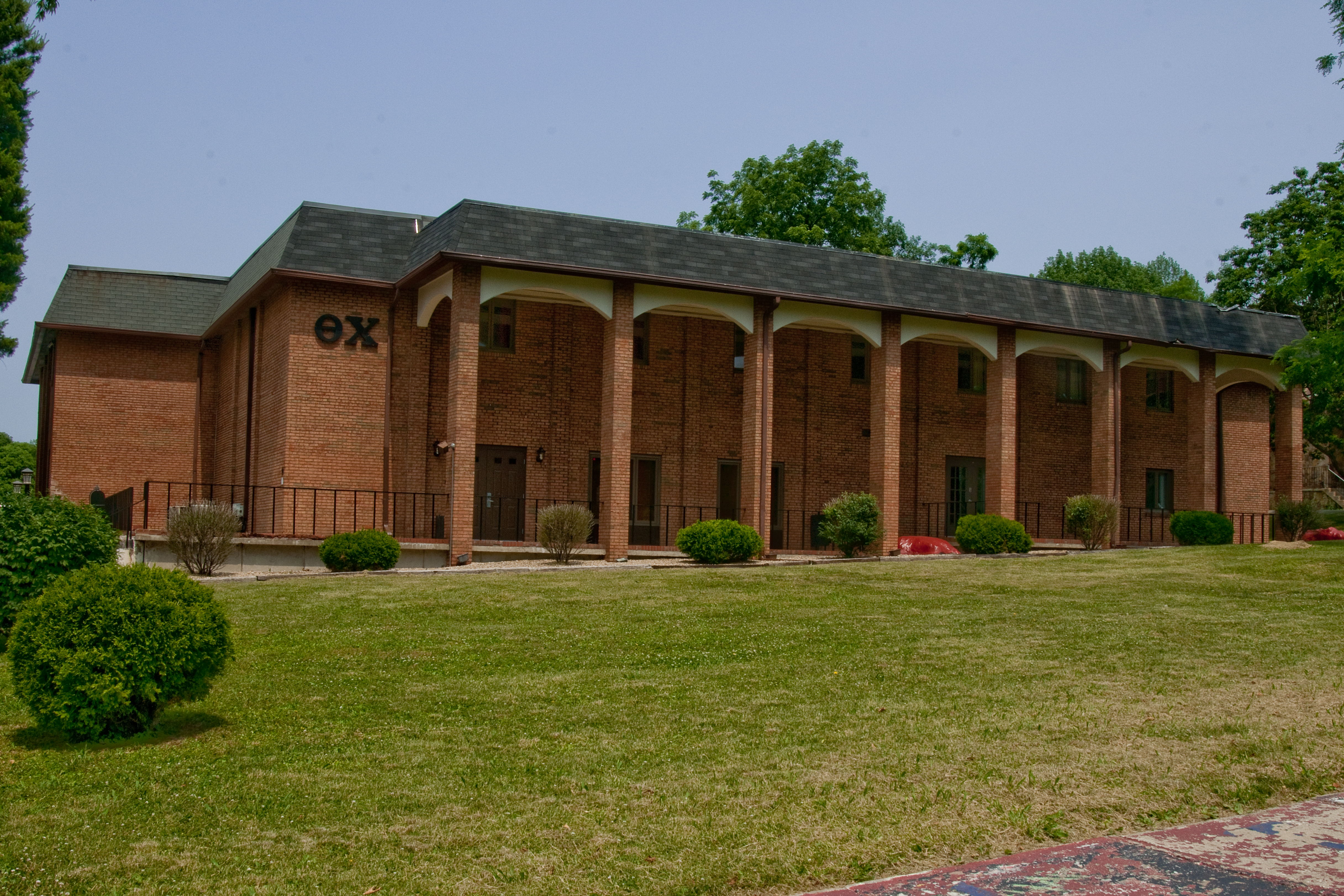 The current Alpha Iota Chapter House at 1440 N. Jordan Ave.
Over the years, many brothers contributed to the welfare of Alpha Iota, providing advice and counsel or serving behind the scenes. An incomplete listing would include members of the Theta Chi Realty Corporation Board, who continue to make improvements and upgrades to the chapter house, completing another renovation project during the summer of 2020. These brothers have maintained such an excellent chapter facility that Alpha Iota's home has served as the primary site for Theta Chi Fraternity's premiere leadership education programming for emerging leaders, The Initiative Academy. We recognize brothers such as Dick Davisson (1953), Jim McClusky (1954), Jim Sandifer (1956), Warren Hoffman (1976), Jim Hurley (1977), Dick Tetrick (1977), Steve Dum (1979), Kevin McIntosh (1980), Tom Cooler (1981), Jerry Gordon (1981), William Davisson (1984), Matt Coffman (1985), and many, many others who served on the Realty Corporation Board.
We also salute brothers who served on the Alpha Iota Educational Foundation including Bruce Pennamped (1970), Ken Daemicke (1974), Warren Hoffman (1976), Rick Miller (1977), David Himebrook (1977), and many others. We specifically recognize Sherwood Blue (1926), Rear Adm. Ralph Faucett, M.D. (1938), and the Scott family (Jane & John E. Scott) who provided financial gifts, creating opportunities for academic scholarships.
We also honor Warren Hoffman (1976), Kevin McIntosh (1980), Fr. Myles Smith (1984), Don Stradling (1986), and DJ Sirota (1987) and so many other brothers who dedicated their time for chapter meetings and to help with any questions from officers, members, and pledges. We also pause to remember the wonderful chefs and house mothers who served Alpha Iota over the years, including Mom Liz Faubion.
[Editor's Note: We wish no offense if a name has been omitted; indeed it is admirable that Alpha Iota has so many that extend a Helping Hand that it is hard to keep track!]
Notable Alumni
To date Alpha Iota Chapter has initiated 2,490 brothers!
Among the nearly 2,500 are some of Alpha Iota's most notable alumni, including:
Russell P. Harker (1913), the IU band director who wrote Indiana University's fight song "Indiana, Our Indiana"
Vergil D. Reed (1922), a vice president at J. Walter Thompson Co. and served as president of the American Marketing Association
Johnny Bothwell (1939), a jazz alto saxophonist and bandleader
David B. Richardson (1940), who was the most highly decorated journalist in World War II
Author Joe L. Hensley (1950)
Richard P. Woltman (1952), Trustee Emeritus of Girard Securities, Inc.; former president and CEO Spelman/Sentra Securities; Trustee, University of San Diego
Actor Daniel Resin (1953) who is known to some as a Broadway actor, others as 'that guy in all the commercials' / the "Ty-D-Bowl Man" and to many as the iconic Dr. Beeper in Caddyshack
Randall L. Tobias (1964), former CEO, Eli Lilly, former CEO, AT&T International
Author and journalist Radley P. Balko (1997)
Two members of IU's premiere a capella group, Straight No Chaser including

Jerome A. Collins (1998)
Ryan L. Ahlwardt (2003) who pledged Alpha Iota and was later initiated at Delta Kappa/Ball State
Alpha Iota also produced a number of athletes including:
MLB players: Vernon S. Wilshire (1935) and Sam Esposito (1954), who was later head baseball coach at NC State.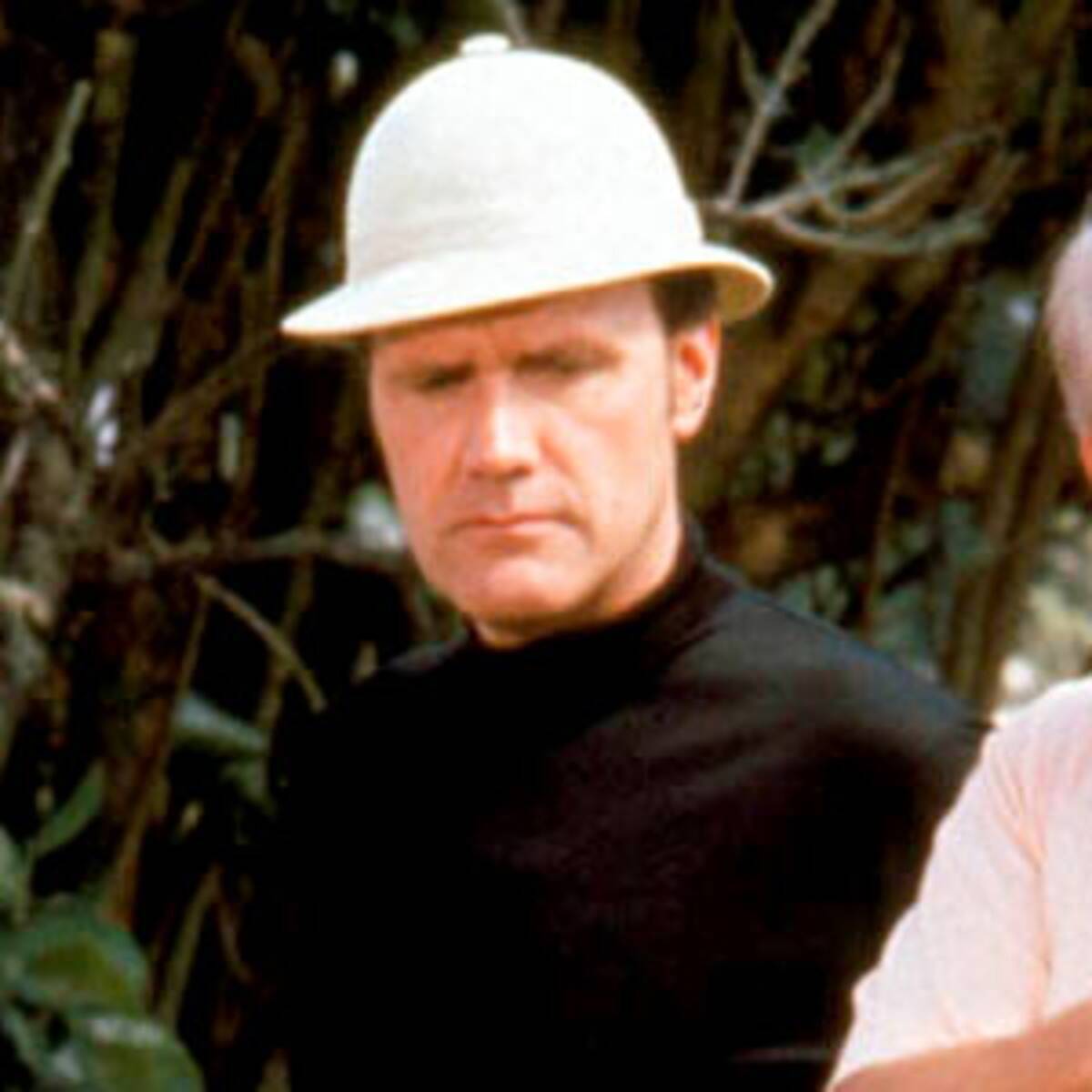 Dan Resin as Dr. Beeper in Caddyshack
NFL players: Bob Hoernschemeyer (1947) and Bob Ravensberg (1947).
NBA player: Bill Tosheff (1951).
And an Olympic medalist: James E. Henry (1970) who won Bronze in 1968 in the 3-Meter Springboard diving event.
A number of Alpha Iota alumni have served Theta Chi Fraternity at the International level:
Charter Member Allen H. Warne (1924) served four terms on the National Board of Trustees (now the Norwich Housing Corporation) from 1971-1991. He served as NBT President from 1978-1980 and again 1986/1987. Brother Warne also served on the Board of Directors for the Foundation Chapter of Theta Chi Fraternity, Inc.
Sherwood Blue (1926) was elected to the Grand Chapter in 1946. He served two terms and ended his final two years, 1952-1954, as National President. While National President, Brother Blue established the Foundation Chapter of Theta Chi Fraternity, Inc. and served as its President 1953-1993. A bequest from Brother Blue, and his wife Janet, established the Sherwood and Janet Roberts Blue Memorial Scholarship which are awarded to brothers pursuing undergraduate or graduate degrees who demonstrate scholastic aptitude and financial need.
After graduation, Warren E. Hoffman, II (1976) left Indiana and relocated in Southern California. He volunteered his time with area chapters and became involved with the San Diego Alumni Association and other Gamma Theta/San Diego State alumni. Brother Hoffman was elected to the Grand Chapter in 1986 and served two terms, completing his service in 1994. Relocating back to the Indianapolis area, he continued his fraternal service volunteering on the Alpha Iota Realty Corporation, Alpha Iota Educational Foundation, and on the board of Theta Chi Funds for Leadership and Education, serving as President 1999-2000. Following the merger of Theta Chi Funds into the Foundation Chapter, Brother Hoffman served on the Foundation Chapter and as its President 2007-2009. Moving yet again, Brother Hoffman's relocation to South Carolina put him within distance of another group in need of a Helping Hand. With Brother Hoffman's support, a group of hardworking young men established Iota Phi Chapter at the University of South Carolina.
Brothers Bruce M. Pennamped (1970) and Gerald R. Redding (1928) also served on the boards of the Foundation Chapter and Theta Chi Funds for Leadership and Education, Inc.
During World War II, B. Nelson Deranian (1931) was a member of the famous "Cloak and Dagger" outfit of the Office of Strategic Services. Following the war, he had a career as a corporate attorney and an adviser to U.S. Senators. Brother Deranian bequeathed several works of art to the Foundation Chapter. The art was sold at auction and the proceeds were invested and ultimately used to financially support an annual training conference for Chapter Presidents. The B. Nelson Deranian Presidents Conference was held from 1995 to 2015. When the Fraternity's Cornerstone Campaign provided a necessary financial boost (due to the growing number of chapters) the conference was renamed but each year, Chapter Presidents are asked to join the Deranian Society by making a pledge to continue financial support of the Presidents Conference after they graduate and settle in their careers.
Six Alpha Iotas served on the International Headquarters staff including Tom Vander Luitgaren (1992), Kyle Mauch (2010), and four current staff members: Associate Executive Director & Chief Financial Officer Jim Powell (who transferred to Delta Pi Chapter at Indiana State), Director of Education Bryan Alig (1999), our current Chief Operating Officer Ray Vanlanot (2008), and Director of Communication Nick Hoke (2014). Incidentally, the Fraternity's Director of our LEAD Program from 2001-2002, Andrea (Eickhoff) Anderson, is a member of Phi Mu women's fraternity and a 1997 graduate of Indiana University.
Six Alpha Iotas volunteered as Regional Counselors: James G. Antrim (1942), Bruce D. Blue (1979), Joseph R. Doyle (1955), Dr. Robert E. Hill (1951), Warren E. Hoffman, and Daniel P. Walsh (1991).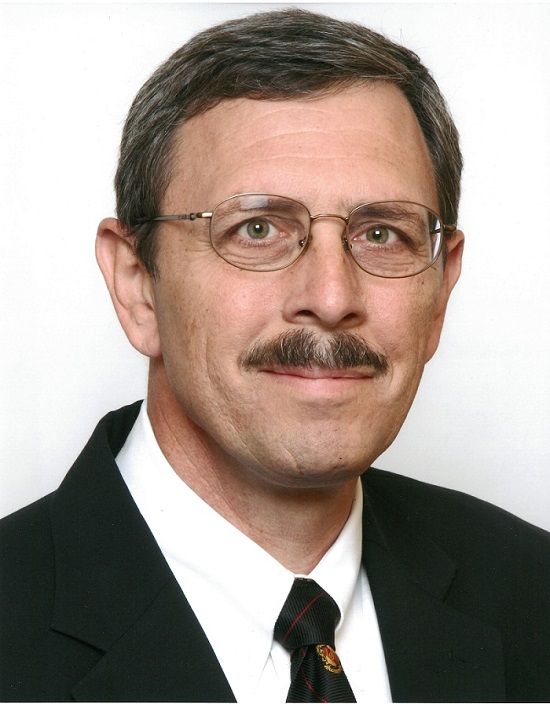 Warren E. Hoffman, II (Alpha Iota/Indiana 1976)
Awards
Over the years, Alpha Iota Chapter and its members have been recognized by the International Fraternity with several awards. Sherwood Blue, Allan Warne, and Warren Hoffman each received the Distinguished Service Award, Theta Chi Fraternity's highest award. These three brothers also received the Earl. D. Rhodes Theta Chi for Life Award.
In 2008, Ray Vanlanot was named First Runner-Up for the Reginald E.F. Colley Award which recognizes the top collegiate member in the Fraternity.
The chapter received the James M. Holland Award as the chapter that initiated the most members on four occasions: 1993/1994; 1994/1995; 1996/1997; and 2004/2005. Alpha Iota is also a 16-time recipient of the Phil S. Randall Award which recognizes chapters that initiate 25 or more men in an academic year (1997-2000; 2008-2020). Finally, Alpha Iota won the Most Improved Chapter Award in 1936/1937.
Also of note, in 2006 during Alpha Iota's reinstallation, IU's long-serving dean of students, Richard McKaig, was presented Theta Chi's Chapman-Alter Award for Interfraternal Excellence for his years of dedicated service to the Greek system at IU.
Congratulations to the alumni and collegiate brothers of Alpha Iota Chapter on 100 years at IU – Go Hoosiers!
You can send personal notes of congratulations to Alpha Iota Chapter President Colin Gorney by clicking here. Alpha Iota's Centennial Celebration will be held July 23-25 in Bloomington. Click here to register.
For more information, visit the Alpha Iota Centennial Celebration Facebook Group here.
In honor of their Centennial Celebration, we are re-printing early articles about Alpha Iota and their chapter's Installation from the May 1921 issue of The Rattle.
Installation of Alpha Iota, One of the Triplets.
By George Starr Lasher, Alpha Gamma
There is no evidence of low birth rate in the ѲX family. The arrival of triplets in a family is, to say the least, a notable event, but when such an affair necessitates the services of three groups of attendants because the arrival of the infants takes place in three widely separated parts of the country it becomes historic. If the other infants are as lusty and as promising as the one christened Alpha Iota, which will grow up in the friendly atmosphere of Indiana University, then ѲX may well designate March 19, 1921, as a most noteworthy date in its history.
Those who were in charge of the ushering of Alpha Iota into the fraternity world are: Brothers Robert N. Greene, Delta, chairman; Walter W. Ludwig, Iota; C. A. Schwier, Alpha Delta;
Erwin E. Dreese, H. Reed Every, and George Starr Lasher, Alpha Gamma. They evidently believed that, even in such vital matters as this, a union schedule should be strictly maintained.
As a result of western efficiency methods the infant chapter was not only duly received, but was given all the necessary instructions and even assisted in learning to walk by 4.30 o'clock, Saturday afternoon, exactly eight hours from the time the operation started. When it is realized that Alpha Iota starts out on its career with fifteen alumni and thirty actives, including two who received the full ritualistic work, one can appreciate that the task of the committee was no slight one. To have completed it on schedule time would have been impossible without the splendid co-operation of brothers who came from the University of Illinois, Purdue University, and the University of Michigan to welcome an addition to the Western Conference family, ѲX group.
The following brothers filled the respective offices for the installation ceremonies: Brothers E. E. Dreese, Alpha Gamma; C. S. Brandenburg, Alpha Delta; G. S. Lasher, Alpha Gamma; W. W. Ludwig, Iota; A. W. Schmoeller, Rho; G. F. Isley, Alpha Delta; F. W. Messing, Rho; H. R. Every, Alpha Gamma; H. S. Jones, Alpha Delta. Those who assisted in the initiatory work were: Brothers C. A. Schwier, K. H. Holloway, K. G. Baker, Clarence Leuck, M. L. Ogden, C. L. Pigg, and J. E. Maxwell, Alpha Delta; M. Q. Lyttle and F. W. Messing, Rho; T. E. Eubank, Alpha Gamma. Brother R. N. Greene, Delta, impressively installed the officers elected by Alpha Iota Chapter. The only visiting brother who did not participate actively in the ceremonies was H. C. Nichols of Rho, who arrived late Saturday afternoon.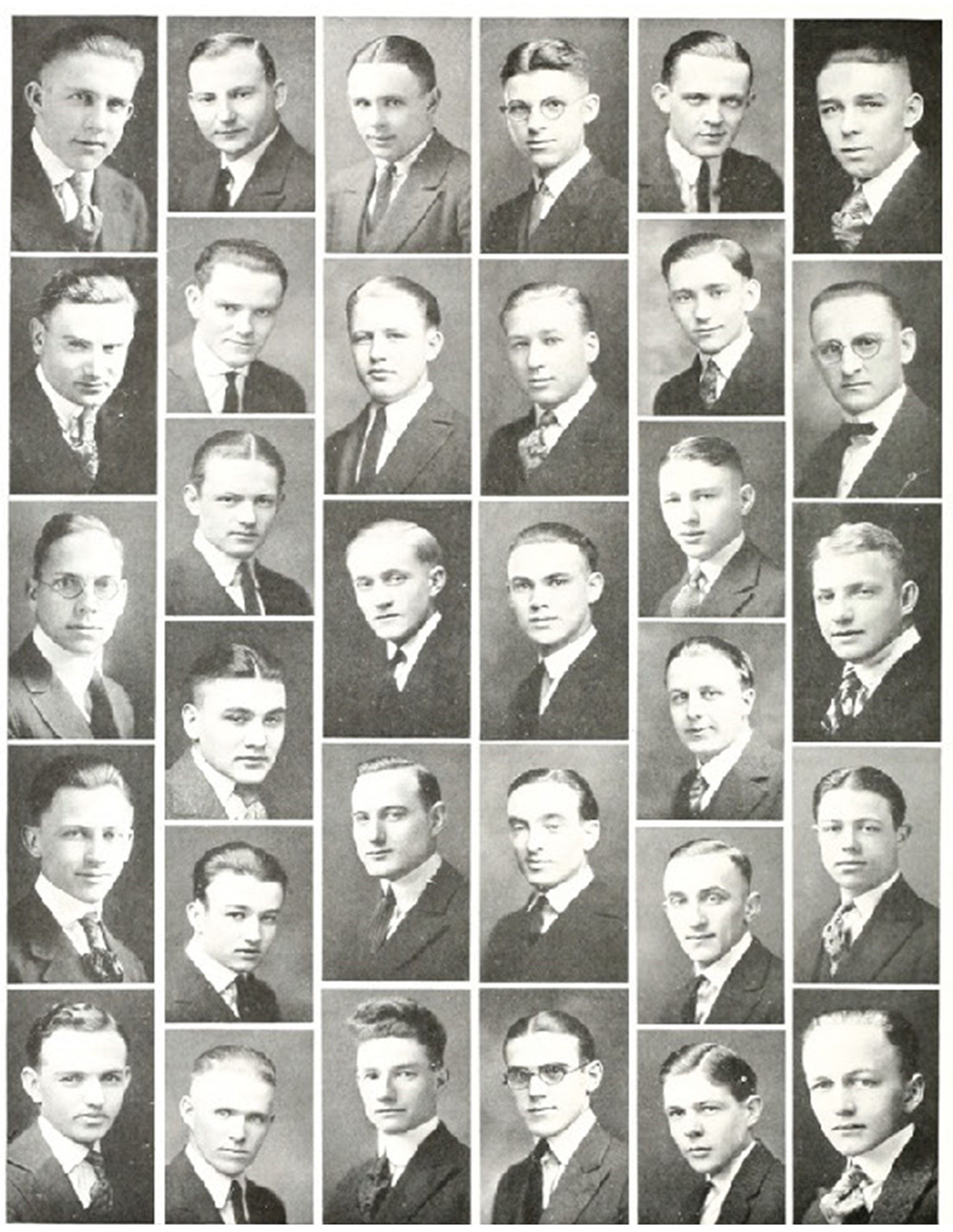 Charter Members of Alpha Iota/Indiana
The new chapter was given an unusually effective exemplification of the initiatory degrees. This was due largely to the efficiency of Brother Schmoeller; who was in charge.
Social activities preceded and followed the installation of Alpha Iota. An informal dinner and smoker in the spacious living rooms of the Dalethian house Friday evening served the very desirable purpose of making everyone feel that they were acquainted with everyone else. Rousing songs of the various universities represented, as well as Dalethian and ѲX songs, were sung between the dinner courses with characteristic collegiate enthusiasm. Brother Lasher, to whom the task of toastmaster had been delegated, tried to make everyone comfortable by stating that each person present should be prepared to speak as no one, not even himself, knew who should be called upon. This warning proved to be adequate, for the responses from visiting Theta Chis and Dalethians, old and young. were distinctly of the snappy variety and contained meat as well as spice. Those who responded were Messrs. C. A. Amick, E. W. Arnett, L. E. Carlson. and S. C.
Lacey of the Dalethians, Brothers Greene on behalf of the Grand Chapter, Lytle and Messing of Rho, Isley and Pigg for Alpha Delta, Dreese and Every for Alpha Gamma. The spirit of the affair was indicative of the spirit of brotherhood which was to prevail throughout the events of the following day and assured the visitors that there would be no question as to the loyalty and enthusiasm of Alpha Iota for ѲX.
Saturday evening the Blue Lantern was the scene of a formal banquet in honor of the installation. Seventy men sat down at well-appointed small tables after the stirring Indiana University anthem had been sung. This event was marked by a unique feature. It not only had after dinner speeches but a before-dinner speech. President W. L. Bryan of Indiana University was unable to remain for the banquet on account of a previous engagement, but he extended the greetings of the University to ѲX and assured the Fraternity that if the group which it had honored by the granting of a charter made as good a chapter in the Fraternity as it had as the Dalethian Club it would be a credit to the University and the Fraternity.
Brother Roy E. Shanks served agreeably as toastmaster. Dean S. E. Stout, Dean C. M. Hepburn, Dr. B. D. Myers, and Professor John W. Cravens, members of the Indiana University faculty, extended congratulations to Alpha Iota Chapter and the ѲX Fraternity, mingling with them sage advice and praise for the new chapter. Brother C. O. Davisson spoke feelingly of the pride and the satisfaction that the new chapter felt in receiving a charter in the ѲX Fraternity and pledged himself and his associates to loyalty to ѲX and to Indiana University. Brother Arthur Schmoeller of Rho discussed "ѲX's Place in the Conference" m0st effectively, and incidentally paid a high tribute to the new chapter, which he had investigated before the charter was granted. Brother Lasher took as the subject for his toast, "The Fraternity, a Practical Investment."
The banquet was followed by a most attractive reception and dance at the University Assembly Hall, which was artistically decorated for the event. An arched canopy of red and white streamers covered "the space reserved for dancing, while latticework partitions, through which vines were entwined, made charming booths around the outer edges of the hall. Guests at the affair included besides the visiting brothers and their dancing partners, prominent members of the faculty and representatives of the various fraternities and sororities on the Indiana campus.
An end comes even to the best of things, and so at the midnight hour the festivities attendant upon the installation of Alpha Iota Chapter came to a dose. With such an auspicious start upon
its career in ѲX there should be little doubt that success will mark the future of the Indiana Chapter. This is further guaranteed by the excellent caliber of men who make up its membership, the enthusiasm of the alumni, and the thorough-going desire expressed by both actives and alumni to prove themselves worthy of ѲX.
ACTIVES.
Clarence Owen Davisson, Russell Ewald Wise, John Edwin Purple, William Glenn Thompson, James Foster Slack, Herman H. Davenport, Walter Andrew Wise, Lewis Roy Pettit, Robert Clarence Waters, Gordon Austin Vizard, Chester Albert Amick, Maurice Stuart Barton, Lawrence Edward Carlson, Earl Hubbell Chaney, Emil William Fisher, Albert B. Geyer, Jr., Sherrill Clyde Lacey, Dewey Hobson Mannan, Wyatt Eugene May, Virgil Daniel Reed, Jasper Andrew Reynolds, Wilbert B. Rinehart, Samuel Schlosser, Jr., Everett Vernon Scott, Roy Edwin Shanks, James Byron Walker, Allen Henderson Warne, Jesse Lumpkin Weaver, Wray Randolph Waters, Eldo W. Wood.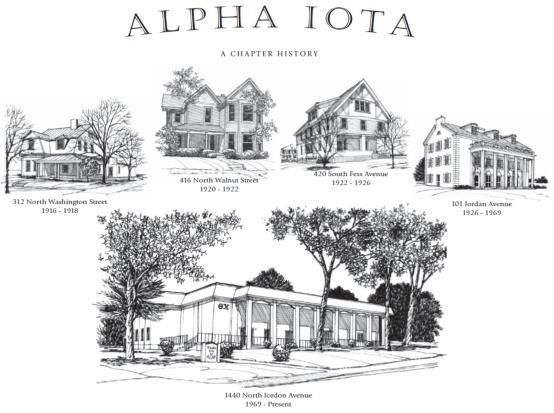 History of Alpha Iota/Indiana's Chapter Houses
ALUMNI.
E. W. Arnett, West Lafayette, Ind.; Herbert Smith, S. M. Hylton, Brownsburg, Ind.; Bert C. Elliot, Jasonville, Ind.; James H. Butler, Edmund B. Haggard, Charles O. McCormick, Indianapolis, Ind.; Gilbert D. Rhea, James C. Rhea, Eminence, Ind.; Donald Van Hoy, Pendleton, Ind.; Wendell H. Kinsey, Mentone, Ind.; Kelin R. Warne, Tipton, Ind.; Leslie G. Smith, Hagerstown, Ind.; Russell P. Harker, Frankfort, Ind.; Harold S. Spencer, Thornton, Ind.