Iota Alpha Recolonized at UNC-Wilmington
Wilmington, NC – On Saturday, April 24, 2021, Iota Alpha at the University of North Carolina Wilmington was officially recolonized. The colony is looking to become the fifth active chapter in the state of North Carolina, in the hopes of reestablishing Theta Chi's presence at UNC-Wilmington for the first time since 2007.
The idea to start a fraternity at UNC-Wilmington originated from colony member Obinna Nwosu. After going through the formal recruitment process, he found that none of the current fraternities were a good fit for the type of experience he was looking for. After mentioning this to some of the other future colony members, he realized he wasn't alone. They all wanted an experience that would be a fresh start, a fraternity that promoted brotherhood and philanthropy.
The obvious next step was which fraternity to start. They agreed they wanted to start one that would allow them to take the good aspects they experienced during recruitment and mix them all together. Theta Chi was one of the first fraternities to be mentioned – Obinna had visited friends who are brothers from Delta Rho/NC State and Epsilon Iota/East Carolina and had a great time, while Gabe Lynn had a friend from Nu/Hampden-Sydney. Those connections led to them selecting Theta Chi and bringing back Iota Alpha Chapter.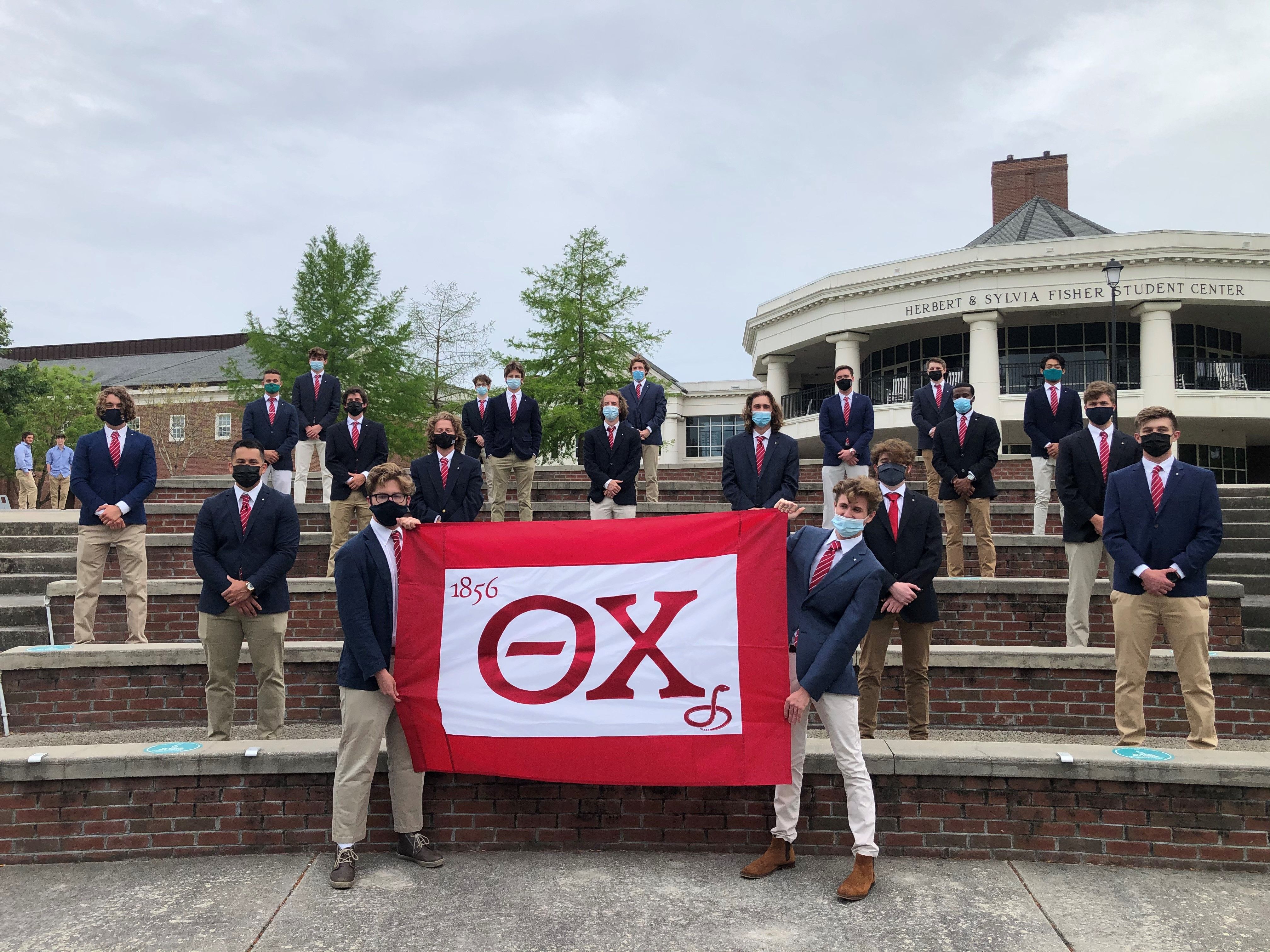 As the interest group grew, their petition for recolonization was approved by the Grand Chapter and on April 24, 2021, Iota Alpha was officially recolonized.
The ceremony took place at the Fisher Student Center with International Marshal Al Copeland serving as the Presiding Officer. Others in attendance included past International Vice President Al Calarco, Senior Director of Growth Zack Brown, CAB Ambassador Rich Santoriello, past Field Executive Kofi Ladans, Assistant Director for Fraternity and Sorority life at UNC-Wilmington Lindsey Trione, and collegians from Delta Rho/NC State.
The 20 new colony members are: Donny Campuzano, Caden Chips, Tyler Dameron, Logan Dimier, Winston Hawkins, Drew Hayes, Chris Janovetz, Gabriel Lynn, Colby Lyon, Daniel McGeever, Obinna Nwosu, Jake Peterson, Mason Phinney, Ben Poirier, Smith Scholtz, Carson Singleton, Makinley Timmons, Riyaadh Winqvist, Maurisio Zaldivar, Avi Zheng.
The colony members are involved with numerous organizations on campus including: Club Baseball, Club Lacrosse, Honors College, Scuba Club, Seahawk Links, Skim Board Club, Snowboard Club, Surf Club, UNCW Brew Club, and UNCW DU.
"This colony is an impressive group of young men and I am looking forward to welcoming them as a full-fledged chapter in the near future," said International Marshal Al Copeland. "It was also great to see brothers from NC State on site to assist with the ceremony, and I appreciate the Assistant Director for Fraternity and Sorority Life, Lindsey Trione, attending and showing her support for these men as well." He concluded, "I think we can all expect them to build a strong chapter at UNC-Wilmington."
Senior Director of Growth Zack Brown agreed. "I am beyond excited for the men of our Iota Alpha Colony at UNC-Wilmington. I have worked with them since they started as an interest group of around 14 individuals. They are a group of collegians who are motivated, sociable, and true gentlemen. When I initially met the group in-person, my first impression was that many of them could use a haircut. All kidding aside, I was very pleased to hear the reasons in which they wanted to start a fraternity at UNC-Wilmington. The colony is interested in creating an environment of servant leadership, member development, and positivity. These men are up for the challenge, and I'm excited for them to reinstall the Iota Alpha Chapter of Theta Chi Fraternity."
Colony President Gabriel Lynn shared, "We are thrilled to bring Iota Alpha back to the University of North Carolina Wilmington. In doing so, we commit ourselves to building upon the history of this organization at UNCW and lending An Assisting Hand to the university, the community, and to each other."
Congratulations to our newest colony members at UNC-Wilmington!
Follow the progress of the Iota Alpha Colony via their Instagram account.
Congratulatory notes may be sent to Colony President Gabriel Lynn.
Founded in 1856, Theta Chi Fraternity is a men's collegiate fraternity with more than 196,000 initiated members and has established 245 chapters. Leadership development, personal development, and service to alma mater are fundamental to Theta Chi Fraternity's mission.